Is the Nuna Mixx Worth Buying? I Tried it to Find Out!
As my son nears 16 months old, we've been using the Nuna Mixx for over a year in many different iterations. When he was a newborn, we used it with the bassinet and car seat and now that he's older, it's our go-to when we'll be out for a good chunk of the day and want lots of storage.
But is it worth buying at the hefty price tag? Let's chat about the pros and cons of the Nuna Mixx before you make the big investment:
Why Invest in Nuna?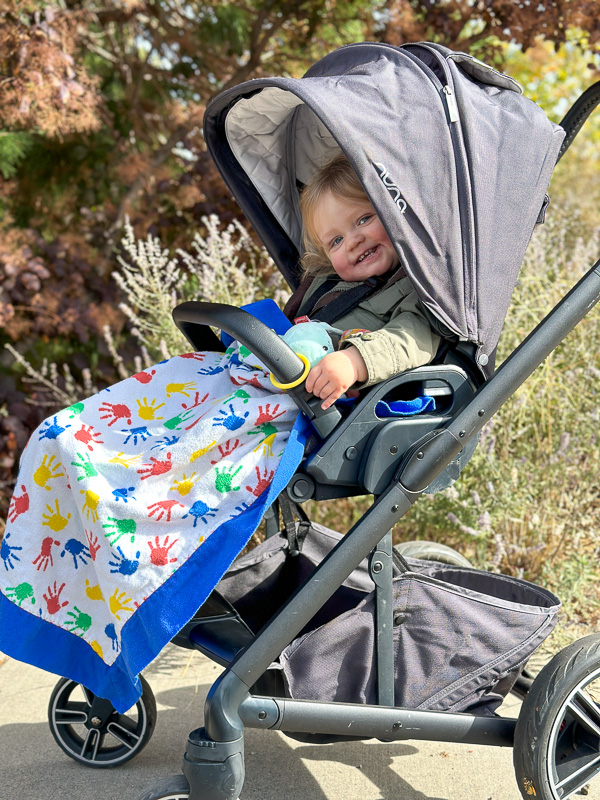 Nuna is known for being one of the higher end brands that are Greenguard Gold certified, meaning the products "have been thoroughly tested and certified to meet stringent emissions standards for over 360 volatile organic compounds (VOCs) and chemical emissions."
This means there is less risk for chemical exposure for you and your baby. They also make their car seats flame-retardant free, further reducing exposure.
This is what led me to Nuna in the first place. I wanted something that could meet rigorous safety standards while being a quality stroller (and car seat) that I could use for the long haul. If you're like me, that probably means you're weighing Nuna vs. UppaBaby. I honestly like both, however we ultimately went with the Nuna stroller.
Nuna MIXX Next Specs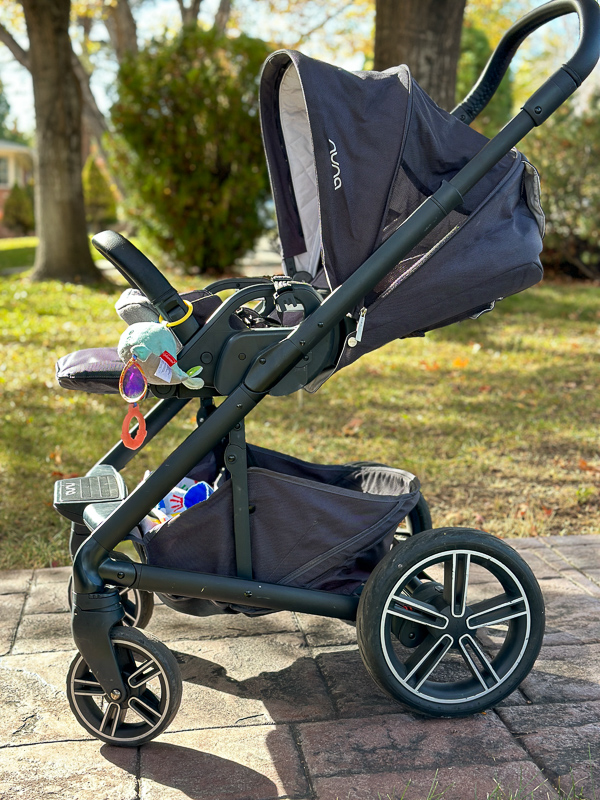 Maximum child weight/height: Accommodates children up to 50 lb.
Stroller weight: 28.3 lb.
Unfolded dimensions: 45.3″ x 32.7″ x 23.6″
Folded dimensions:19″ x 27.5″ x 23.6″
Fold: One-piece compact fold; both forward- and rear-facing; automatic quick-click fold lock; stands when folded.
Recline: One-hand adjustable, five-position recline; true flat reclining seat.
Seat can face either direction
Tires: Rubber, foam-filled tires; lockable front-swivel wheels; all-wheel suspension with Free Flex suspension in the rear; one-touch rear-wheel braking system.
Compatibility: All PIPA™ car seats and MIXX series bassinets (all sold separately) can be easily paired with the stroller.
Nuna MIXX Next Pros
What I like about the stroller is it has it all – it can recline almost fully, but it also sits nicely upright. My son hates strollers that force him to slouch even a little bit, so the upright position makes this his favorite stroller.
The seat is also nicely padded. It seems like a truly comfortable ride. When we were aged out of the bassinet but not quite ready to fully face forward, it was nice being able to have him face me on walks.
The storage is the biggest perk of the stroller. When I know we're going to be out for most of the day, I reach for this stroller since I can stash our diaper bag, a blanket, my water bottle, and purse in the bottom basket. It has an extendable divider that makes it a dual compartment. I'm not sure what the point of it is, but perhaps it helps with organization?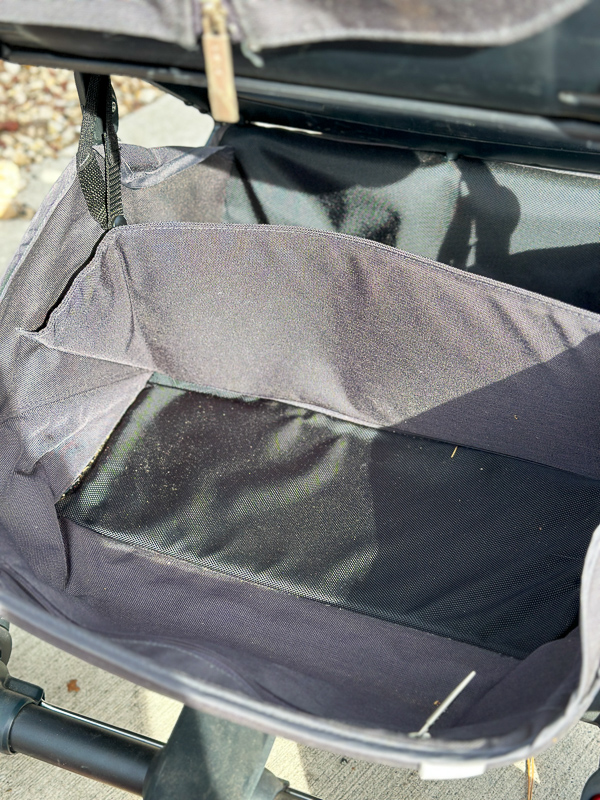 I have the older model of the Nuna Mixx, but all of my qualms with it have been resolved with the Next, which has an easier, magnetic buckle, and a more compact fold away axle. It can also stand on its own now. The one I have takes up most of a car trunk, but the newer model is more compact.
The canopy is also nice, with a peek a boo mesh window at the top and full coverage with an SPF 50+ material. It has a zippable extra panel that when extended, provides amazing coverage, especially when the seat is fully upright.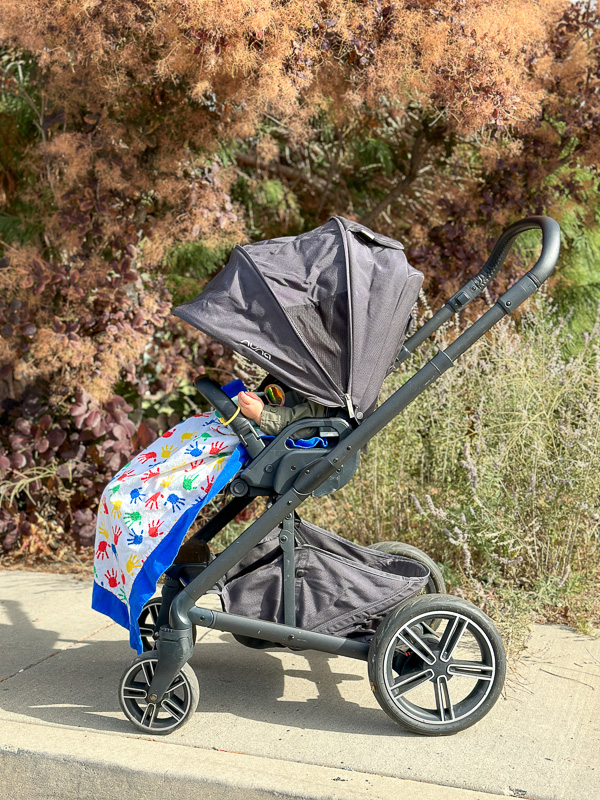 The handles are an ergonomic, plus feel – both the adjustable push handle and the lap handle for baby. They're both thick and strong.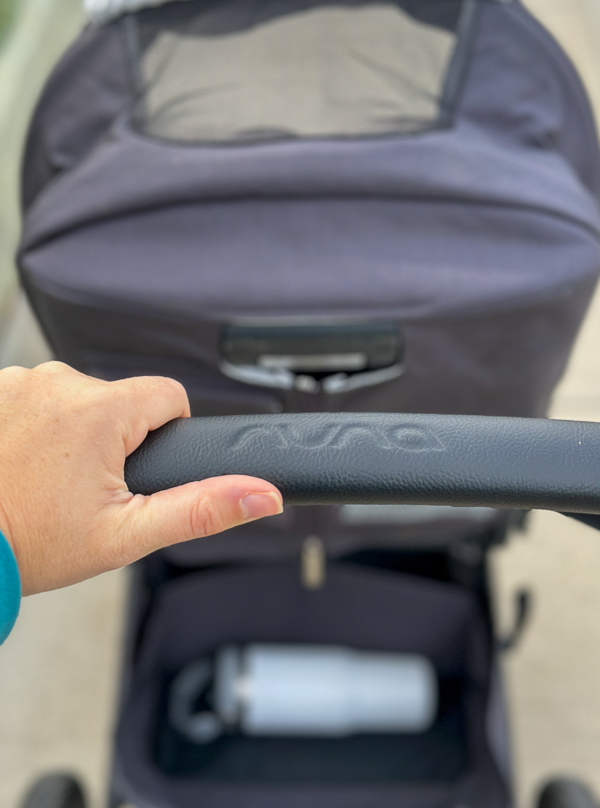 The fold is also nice. For a stroller its size, the Nuna Mixx Next folds nicely and easily. I find it easier and quicker than some of our travel strollers (like the Babyzen and Ergobaby Metro+).
For a stroller at this price point, you'd expect it to feel luxurious and have all of the bells and whistles, and it does.
Although I initially wanted a stroller that would be compatible with the Nuna Pipa car seat (which all Nuna strollers are), after reading more about the importance of babies not sleeping in the slouched position, we went with the bassinet as well and it was a great choice. When he was younger, it replaced our need for a travel bassinet when we took him on trips. The stroller bassinet creates a safe baby sleep environment from birth, and we could roll it right into the hotel room.
Keep in mind the stroller does fully recline, so if you aren't leaving the baby to sleep overnight, having them strapped into the stroller for supervised naps is fine, too. For most people, the bassinet may not be necessary.
All of that said this is a large stroller that I wouldn't necessarily try to bring all the way through security and to the gate at an airport. On road trips? Sure. But international flights? Not so much. Many parents would, so this is a personal preference.
Nuna MIXX Cons
Although this is a great stroller for certain situations, it's not a perfect stroller that can fit any scenario.
For one thing, all of that storage and the premium materials come with one big downside – it's a big and heavy stroller. For me, that rules it out as a stroller I'd want to use in the airport, much preferring strollers that can fit in the overhead bin. The catch with those is they're not great everyday strollers since they lack storage and can't handle any bumps with their tiny wheels, so for our lifestyle, just one stroller doesn't really cut it.
The other downside is although the wheels are good and have all-wheel suspension, they still can't do what a bigger-wheel, all-terrain/jogging stroller like the BOB or Guava Roam can do. If you're mostly in the city and using sidewalks, it's just fine, but if you're on dirt trails or want a stroller that can handle curbs, this one won't do as well.
If you were hoping to have one stroller to meet all your needs, the Guava Roam comes close. It isn't quite as high end as the Nuna and isn't newborn appropriate, but we use it more often now that my son is older.
The Nuna MIXX Next is also one of the most expensive strollers on the market. Is it really necessary to spend that on a stroller? While that's going to be subjective, you don't have to buy it brand new. We got ours secondhand for $250 at a local children's thrift store, and Goodbuy Gear (read my Goodbuy review for a better understanding of who and what it is) regularly has them, and the bassinets, for a discount. The only thing I won't buy secondhand is the car seat for safety reasons.
Not everyone wants to buy secondhand baby items, but keep in mind that since Nuna retains its value and is a quality product, you can always sell it once you're done.
Nuna MIXX Next Add-Ons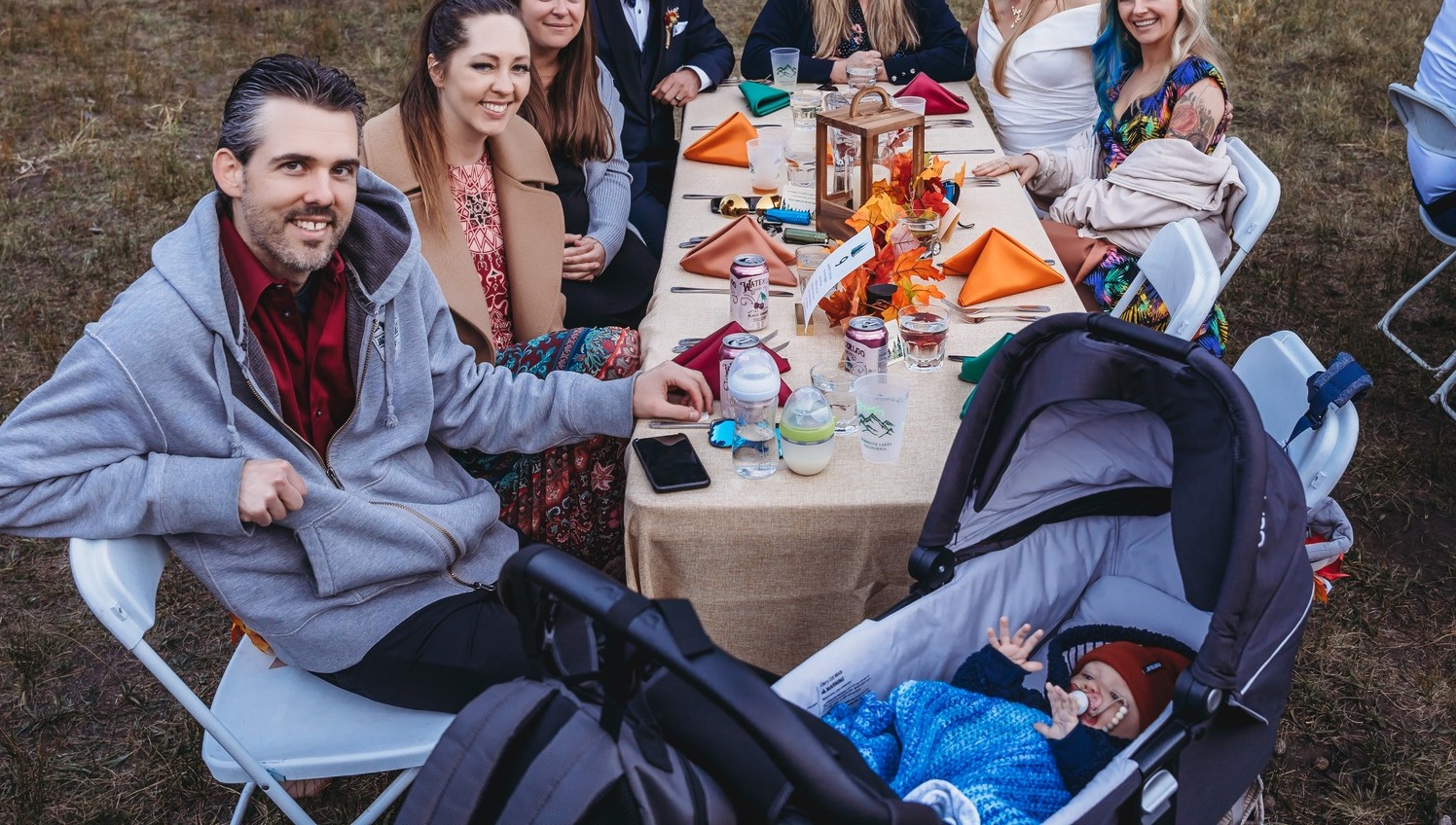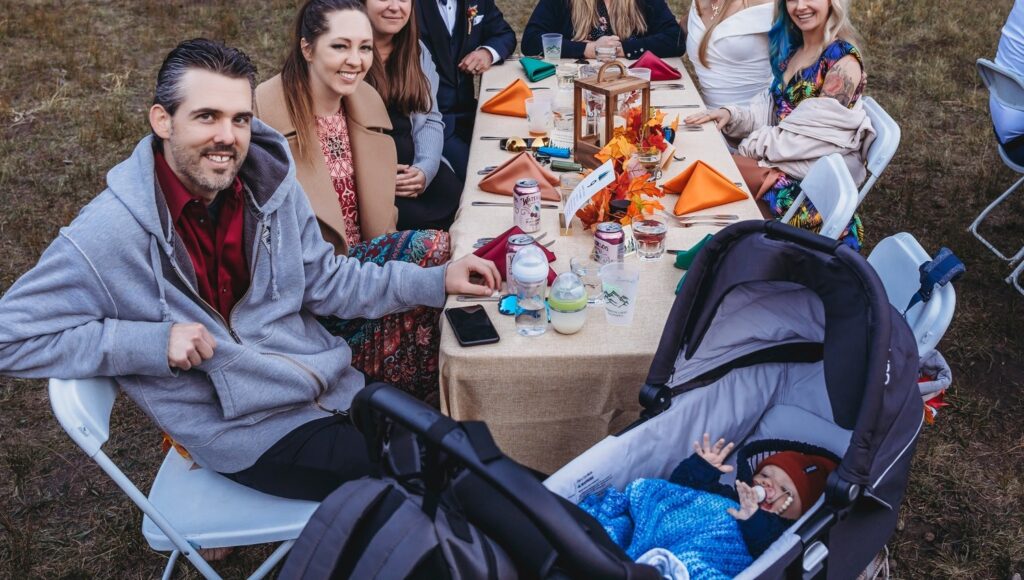 I wouldn't see myself having bought this stroller if it hadn't come with the car seat connector (which we barely used since we opted for the bassinet), and the bassinet option.
However even if you didn't get either of those, this stroller stands on its own from birth since it can fully recline, which isn't true of many other strollers. The Babyzen Yoyo, for example, needs a baby kit, car seat adapter kit, separate foot rest, and all kinds of add-ons to have all of the features of a stroller like this one.
Nuna MIXX vs. Nuna TRIV, TAVO, and DEMI Grow
While the Nuna Mixx is the largest and most expensive — and also most popular — Nuna stroller, you don't have to opt for this one if you want something more applicable to travel, more affordable, or meant for multiple kiddos.
The Nuna TRIV is a travel stroller weighing 9lbs less than the MIXX with a fold of L 25.3 in x W 21 x H 17.5 inches. It also costs less at $500. It can also face forward or rear and has three recline positions rather than 5 (it cannot go flat). It comes with an included rain cover, is compatible with Nuna car seats, and comes with the ring adapter. Get it here.
The Nuna TAVO is a more budget friendly option at $550. It weights 23.3 lbs, but does not include winter seat insert, canopy, or arm bar. It's a similar fold size at L 28.4 X W 22.4 X H 20.9 inches. However unlike all other Nuna strollers, no adapters are required to snap the Pipa car seat in place. It also has 4 recline positions, including flat. You can get the whole TAVO system with the Pipa car seat for $900 here.
The Nuna DEMI Grow is able to accommodate two kids, and is compatible with Nuna car seats. It can fully recline, with space for one child on top and one below. The stroller is 27.4 lbs and 43.5″ x 39.5″ x 24″ unfolded and 35″ x 23.5″ x 24″ folded. It retails for $950. Get it here.
Nuna Mixx vs. UppaBaby Vista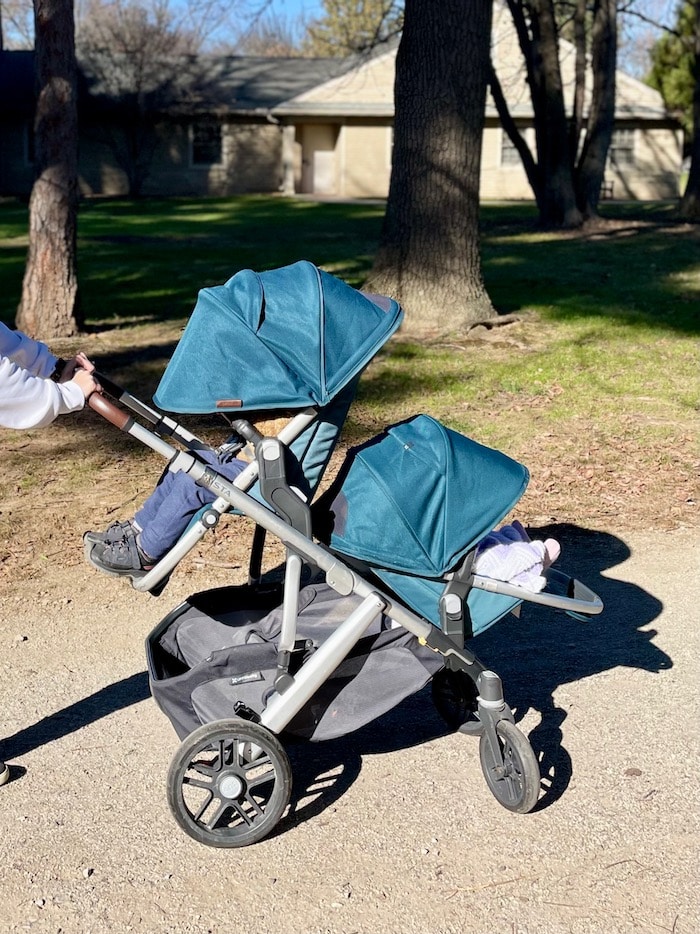 For many parents, the choice comes down to Nuna vs. UppaBaby. They're comparable premium brands that both prioritize nontoxic materials. We've used both at Parenthood Adventures, and honestly both are great stroller systems.
The biggest difference is how many kids the strollers can accommodate. The Vista can go up to 3 kids (the third would be on a board on the back), while the Mixx can only accommodate one (though for multiples the Demi Grow is your best bet with Nuna, and I like the configuration much better). Fold and weight-wise, they're quite similar.
The whole Vista system with Bassinet and car seat runs $1300 new while the Nuna Mixx with car seat runs $1200 and the bassinet is an additional $350. The Vista is also compatible with more car seats.
Uppababy also makes a smaller, more affordable stroller. Read our comparison of the Uppababy Vista vs. MINU here.
Between the two, I'd say they're quite comparable. The Vista is a bit cheaper, and the compatible car seat is honestly great. However, I've tested both the Uppababy Mesa and the Nuna Pipa, and I give the edge to the Nuna Pipa.
Personally, I based my decision on which one I found a better deal on. I don't think you can go wrong.
Final Thoughts on the Nuna MIXX
The Nuna Mixx is a great large stroller that has plenty of storage and is compatible with the associated car seats. For the days when I don't want to wear our diaper bag on my back or strap it to the stroller handle, I love this stroller. It feels comfortable for both of us with the adjustable handle and upright seat, plus I liked how versatile it was all throughout my son's infancy until now.
But for our purposes, it's not the one and done stroller that can fit every situation. If we lived in a city and mostly used sidewalks, I think it would be the most obvious choice since it has so much storage and is so adjustable, but we travel a lot, and this stroller is too big to make sense for airport situations. We also like to take our strollers on trails, and this isn't really an off-piste stroller.
This is a great product that's low in chemical emissions and works great for us in many situations, and I'm still glad we got it. The best part is, it stays in great condition and when we're done, we'll be able to sell it to another family, too.
*Some links in this post are affiliate links that support this site at no extra cost to you when you purchase through them. Everybody wins!