40 Tips for Skiing with a Toddler
When I think of my favorite childhood memories, skiing with my siblings and my parents always rises to the top of the list. Skiing together as a family is a tradition we carried forward into adulthood, and the memories have only became more special.
So when my husband and I had our first child, we couldn't wait to introduce him to the slopes. We started skiing with our son when he was a few months shy of two years old, and he instantly loved it.
We've done loads of research on the best toddler ski gear, and we've loved teaching our youngster to master the snow.
From packing your equipment to planning your days on and off the mountain, we've rounded up our 40 most helpful tips for going on a ski trip with your toddler:
The Gear
Let's start with everything your little one will need to wear while skiing:
1. Use a protective children's helmet.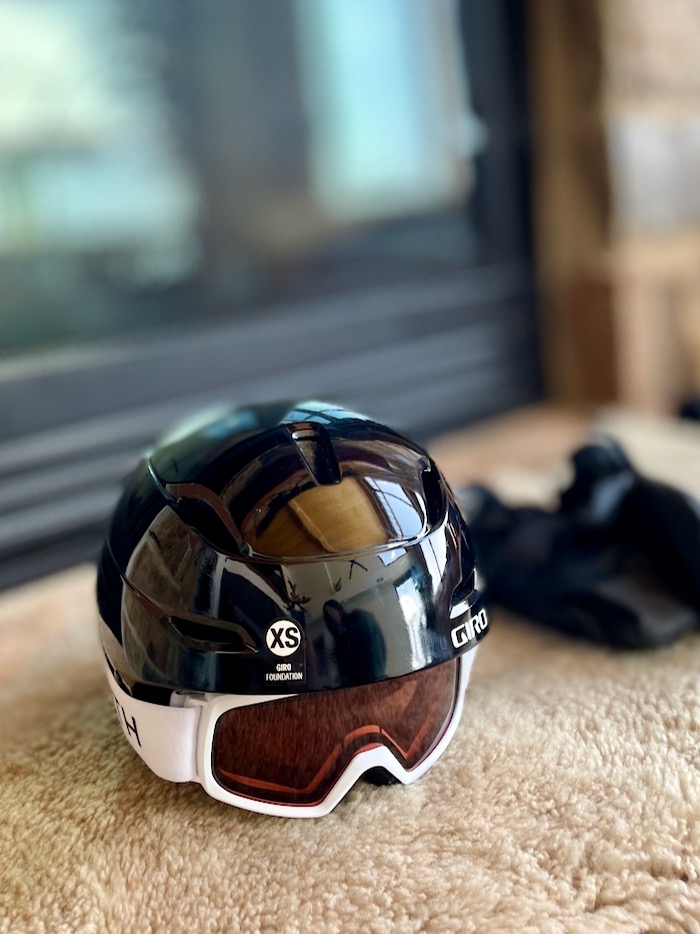 Most modern helmets incorporate MIPS technology, which reduces the rotational impact on the brain in the case of head injury. Children's ski helmets are usually available to rent for the season. For the past couple winters, our son has worn a protective Giro helmet rented from our local ski shop.
2. Invest in a warm snowsuit.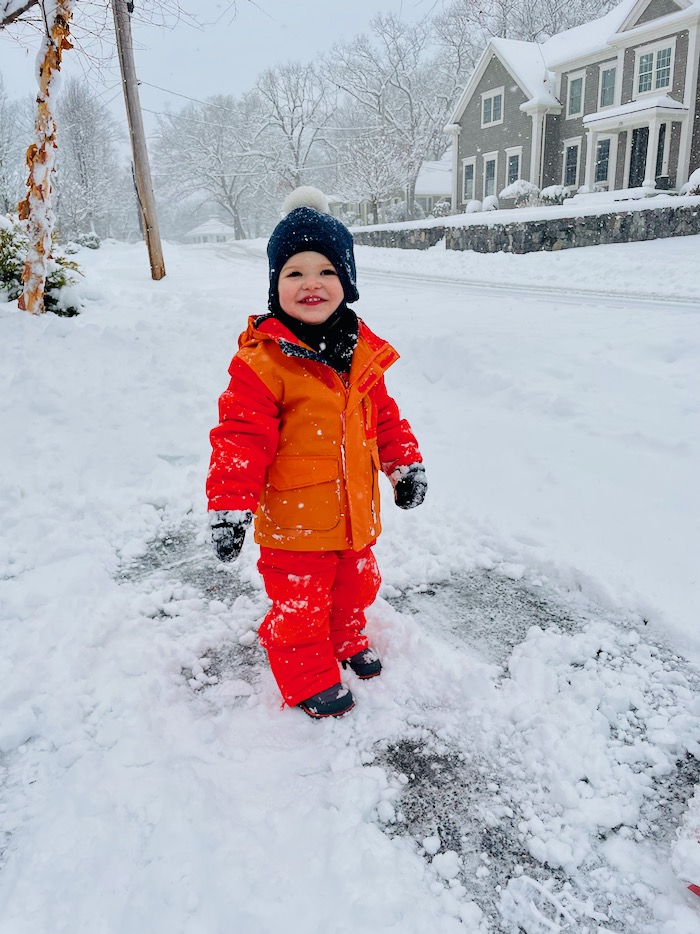 I always opt for a bright snowsuits to help spot kids on the slopes. We love our son's coat and bibs from Lands' End. Our other favorites are these vibrant one-piece snowsuits from Burton and Boden.
3. Rent skis and boots.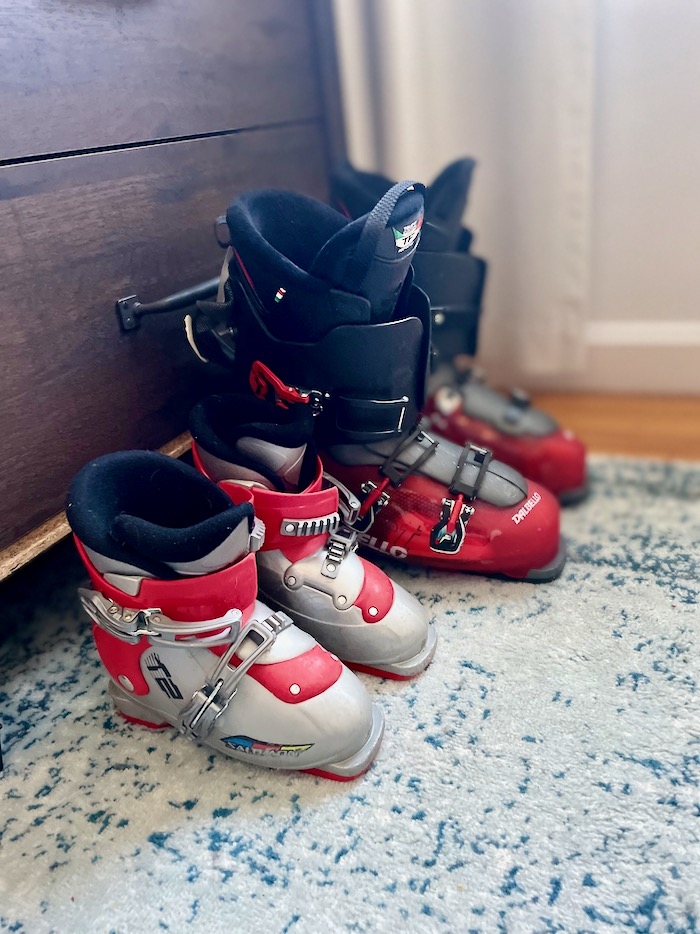 It's typically more cost-effective to rent from the local ski shop rather than buy children's skis and boots. Be sure to inquire about season-long rentals, which are often similar in price to shorter-term rentals for children's gear.
4. Bring insulated mittens.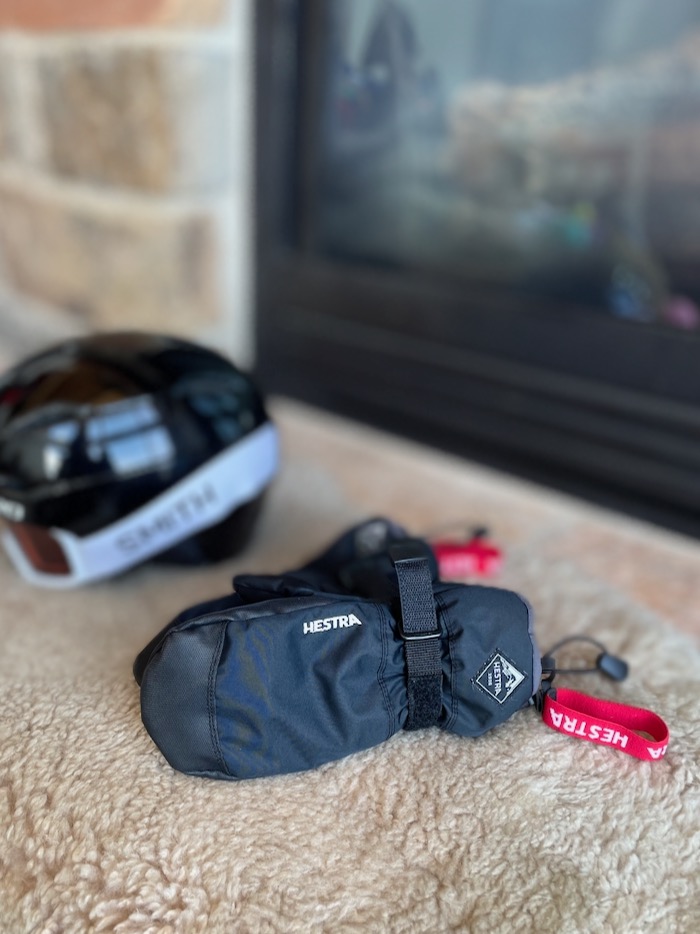 Rather than risking full toddler meltdown status due to frigid fingers, equip your youngster with some high-quality mittens. We love these insulated ones from Hestra; they come up high over the sleeve of your toddler's coat to prevent any exposed wrists, and an attached wrist strap prevents tears from lost mittens.
5. Pack long underwear.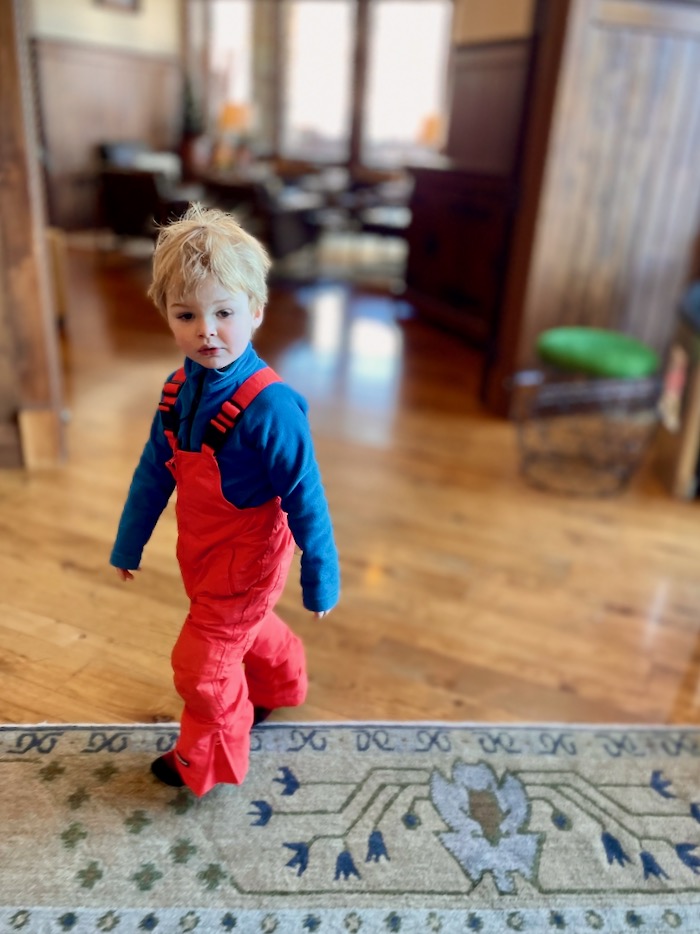 Base layers made of fleece or wool fabrics are especially effective at keeping little bodies warm. Our son would wear his adorable and comfy Spyder fleece top and bottoms every day if given the chance.
6. Don't forget extra layers.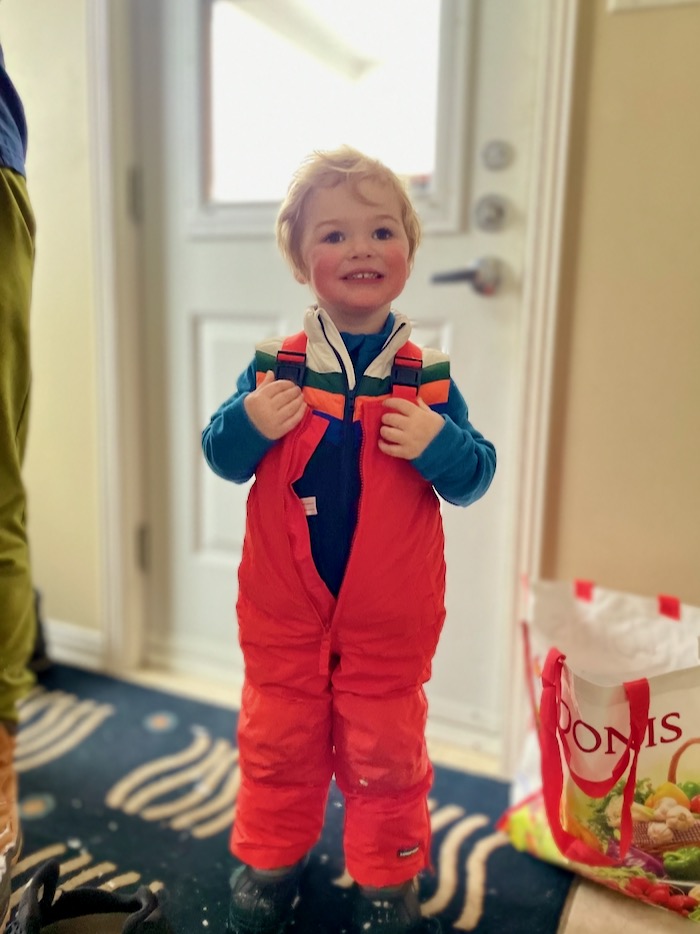 On warmer ski days, your toddler might not need more than a base layer and a jacket. When the sun is hiding and the snow is falling, though, it's best to load them up with layers, like a fleece or puffer vest.
7. Ask your toddler to wear ski goggles.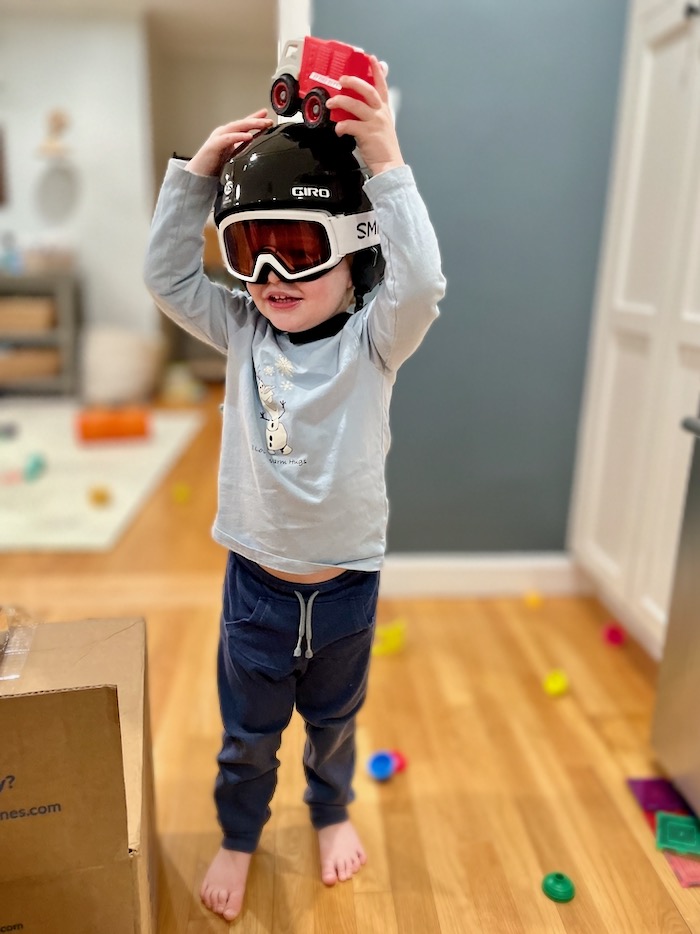 If you can convince your toddler to wear them, it's worth trying ski goggles to protect that precious face from cold temperatures and wind. We love Smith's Rascal youth goggles. They fit securely, and our toddler is comfortable wearing them for extended periods of time.
8. Always use a neck warmer.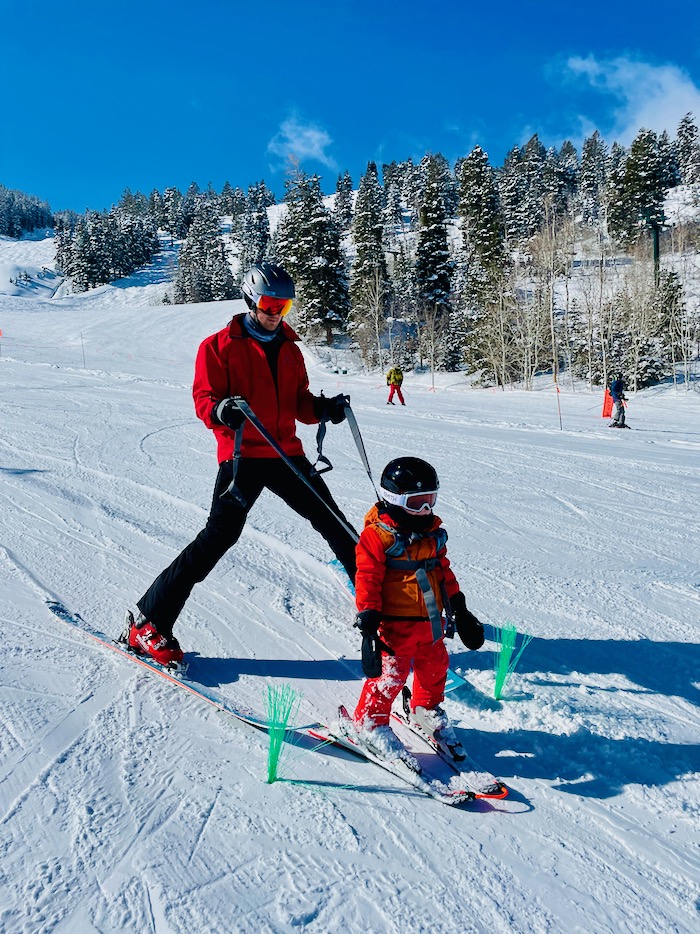 Even on milder ski days, a neck gaiter prevents the wind from targeting gaps between your child's helmet and jacket. Turtle Fur and Smartwool have great fleece and merino wool options in kids' sizes.
9. Pack a balaclava for colder days.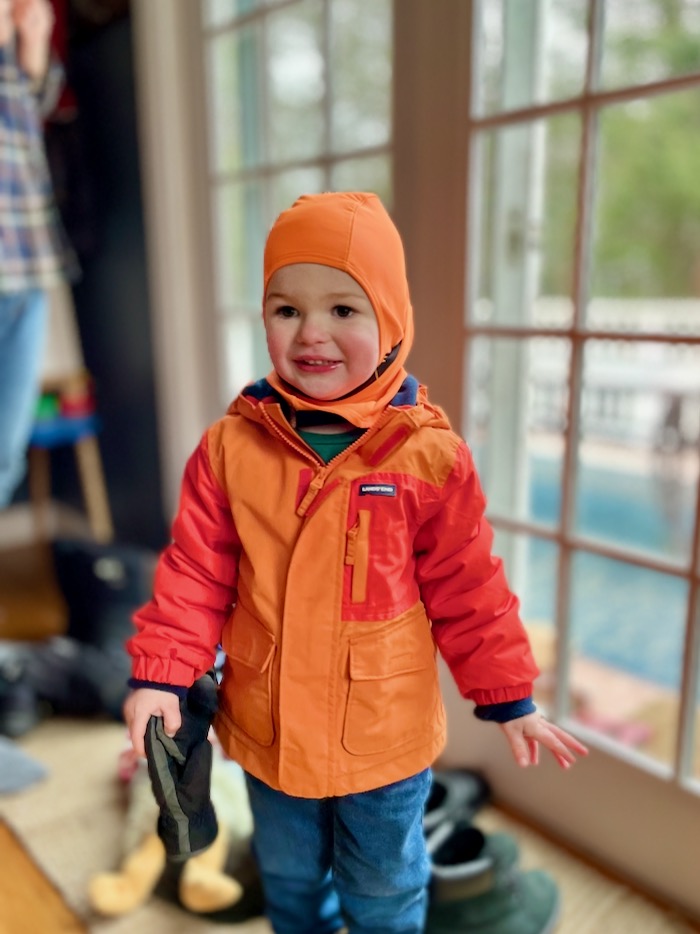 When it's especially cold, you'll want your toddler to have a thin layer of fabric between their noggin and their helmet, so no cold air can creep in and ruin their perfect ski day. Our toddler's Blackstrap balaclava is thin and comfortable over his head (and it looks adorable on any mini skier!).
10. Choose warm socks.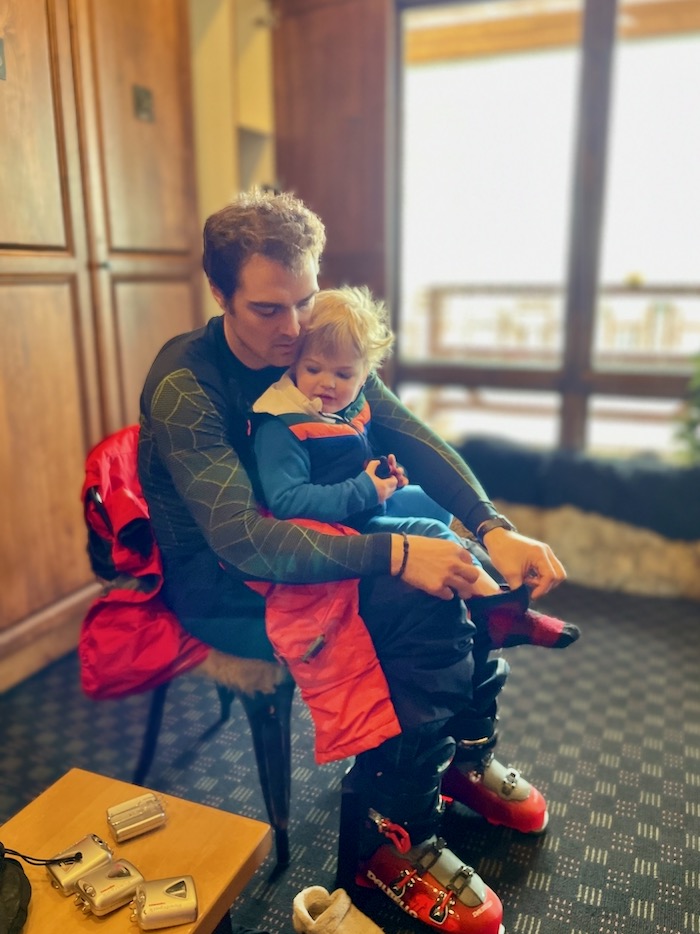 Wool socks that wick away moisture and provide insulation will keep little feet warm and dry on the slopes. Just make sure they come up over the top of the ski boot to prevent uncomfortable friction.
11. Put some hand warmers in your pockets.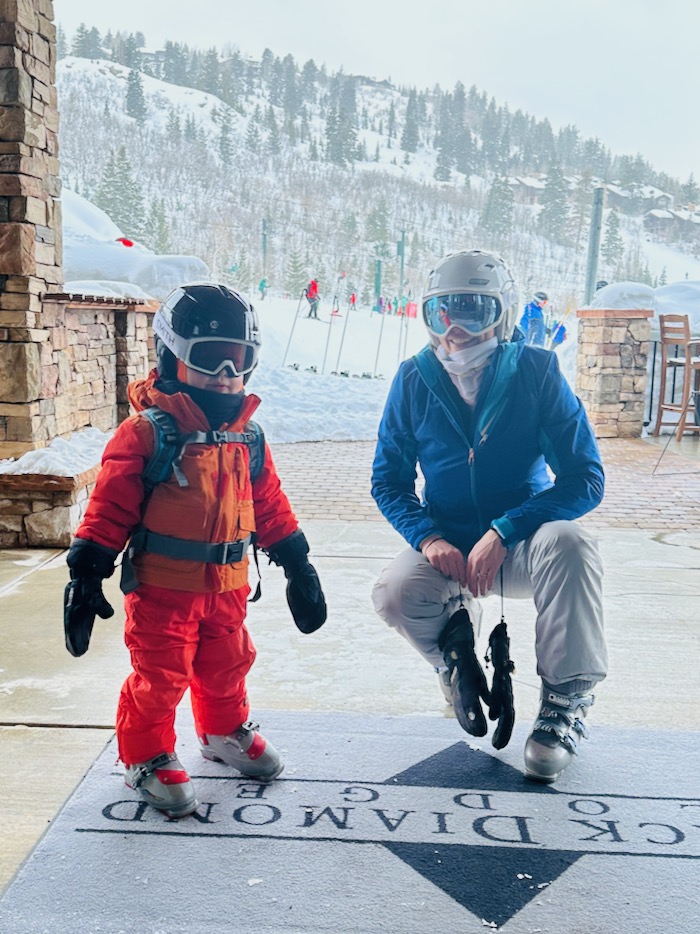 It's best to accept the fact that your own ski jacket pockets are simply receptacles for anything your kid might need during the day. Hand warmers are no exception, so load up on those HotHands warmers for when little fingers start to chill.
12. Use an Edgie Wedgie.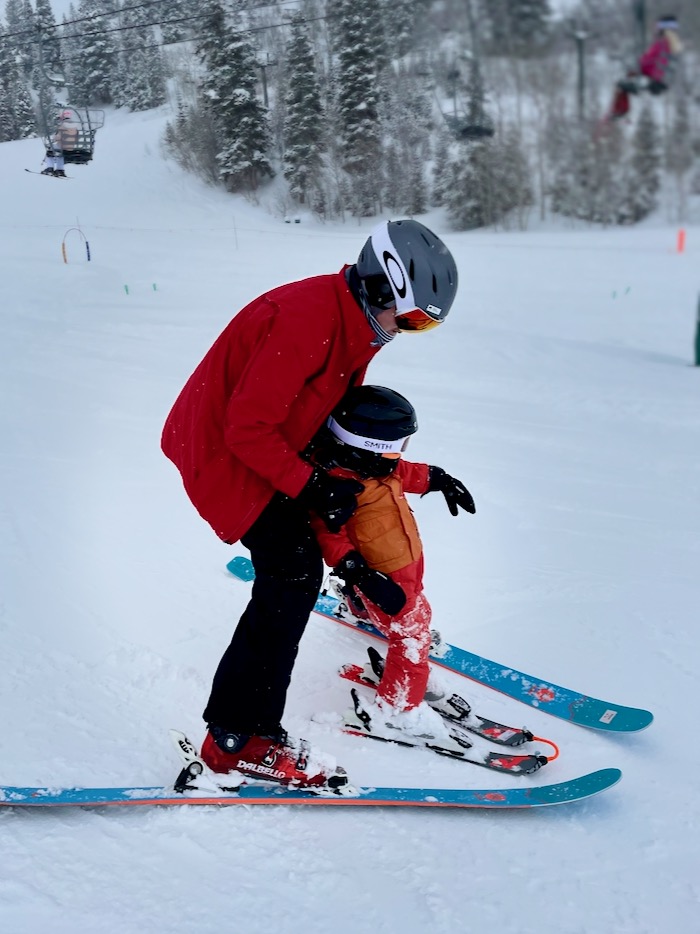 The Edgie Wedgie is an inexpensive, genius invention that positions youngsters' skis in the correct orientation to learn skills and prevent falls. A simple, flexible rubber strap with two clamps connects the front of one ski to the front of the other, in order to prevent the tips from separating. The Edgie Wedgie has been pivotal for helping our toddler maintain a wedge position with his skis and preventing countless wipeouts.
13. Try a harness trainer.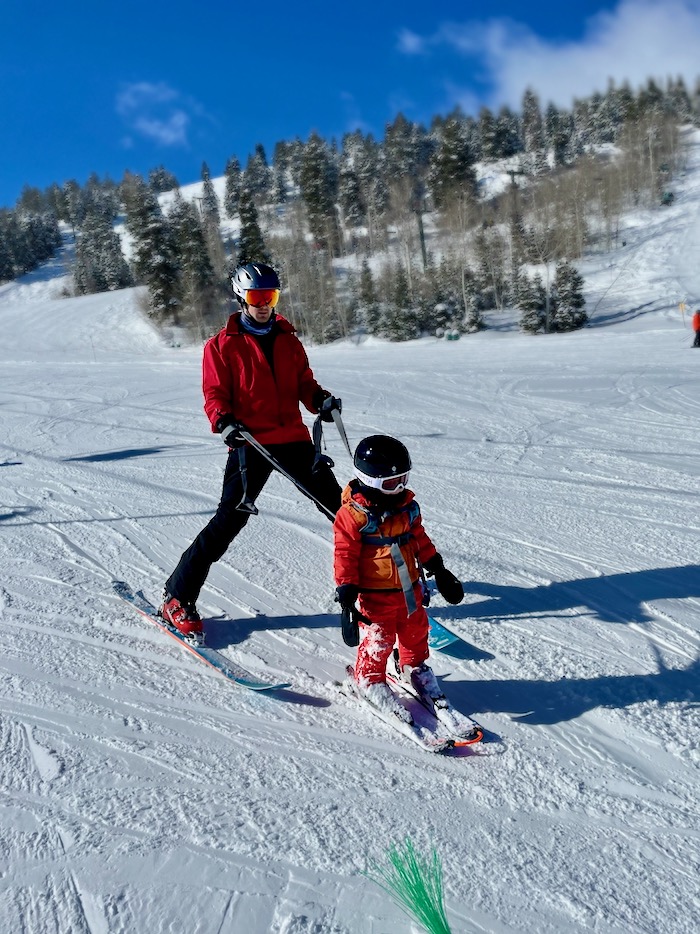 We decided to give this harness trainer a go on our most recent ski trip. Holding onto the straps behind our toddler allows us to control his speed (and give our backs a break!) while letting him build confidence. The harness has a convenient handle for picking little ones up when they've fallen, or when they need help boarding the magic carpet or chairlift.
14. If not a harness, go for a ski safety vest.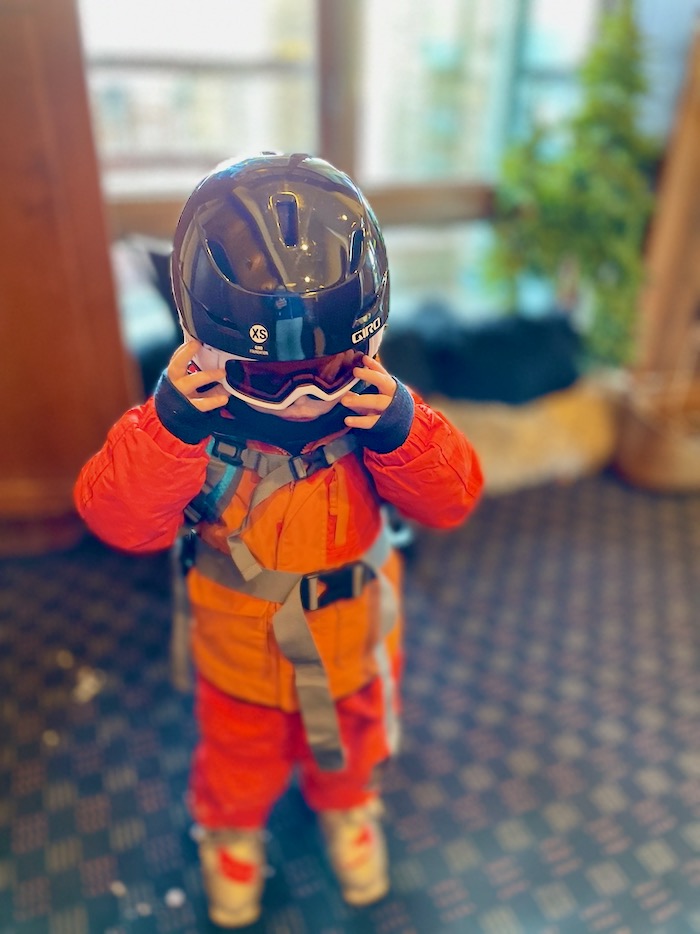 The last time we went skiing, we saw loads of little tykes wearing these ski safety vests. They come in bright colors to improve visibility, and like the harness, they have large handles on the back for helping youngsters up off the ground.
15. Budget 30 minutes to get that toddler dressed.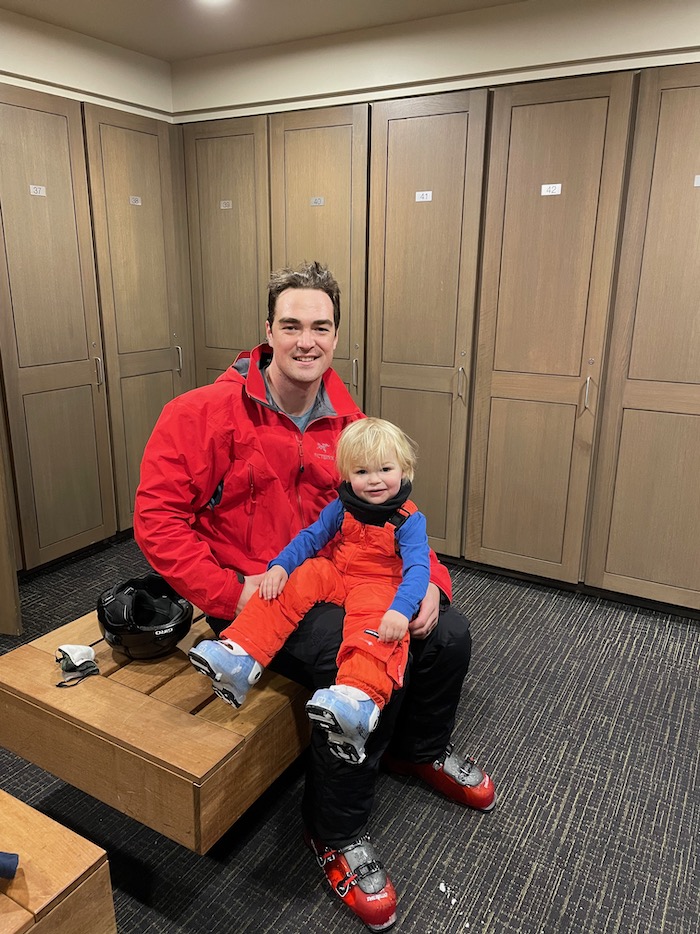 Did you read this gear list? Have you ever gotten a toddler dressed before? Maybe 45 minutes is safer.
Hitting the Slopes
You've got the gear, and you're excited to shred that powder (or plow that bunny slope) with your toddler. Here are a few points to consider when planning out your ski day and managing the mountain:
16. Start out small, even in your backyard!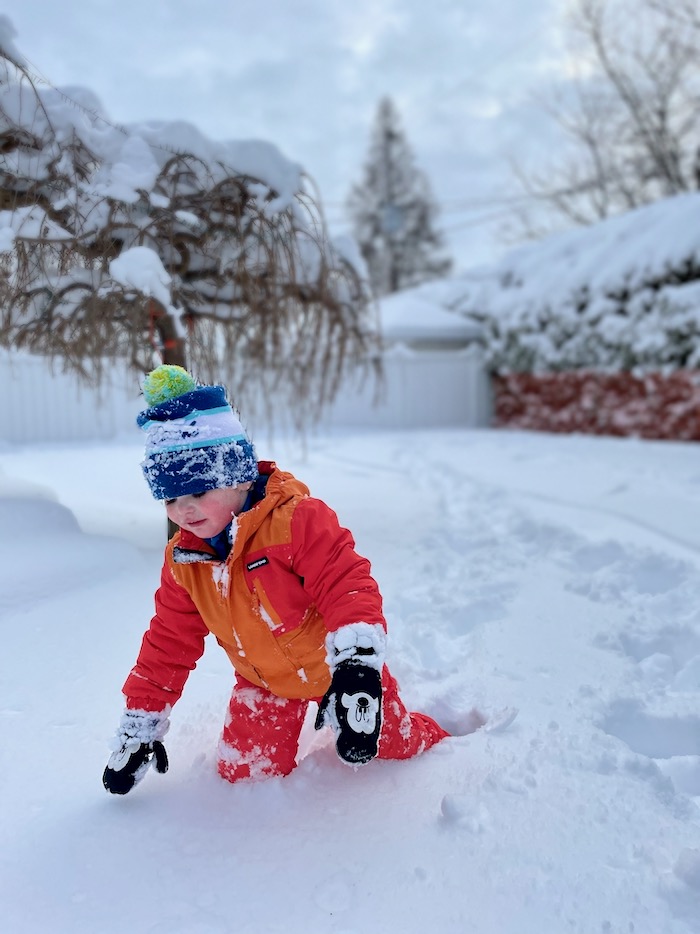 If you're heading out for your toddler's very first time skiing, think baby steps. Some mountains have a small, almost-flat area designated for first-timers. Keep in mind that your tyke might not be able to tackle the bunny slope on your first day out. As they progress, slowly increase the difficulty level of the slope.
If you have your child's gear ahead of your trip, you can always let them get a feel for their ski legs in the backyard or at the local park after a snowfall.
17. Eat a good breakfast before your ski day.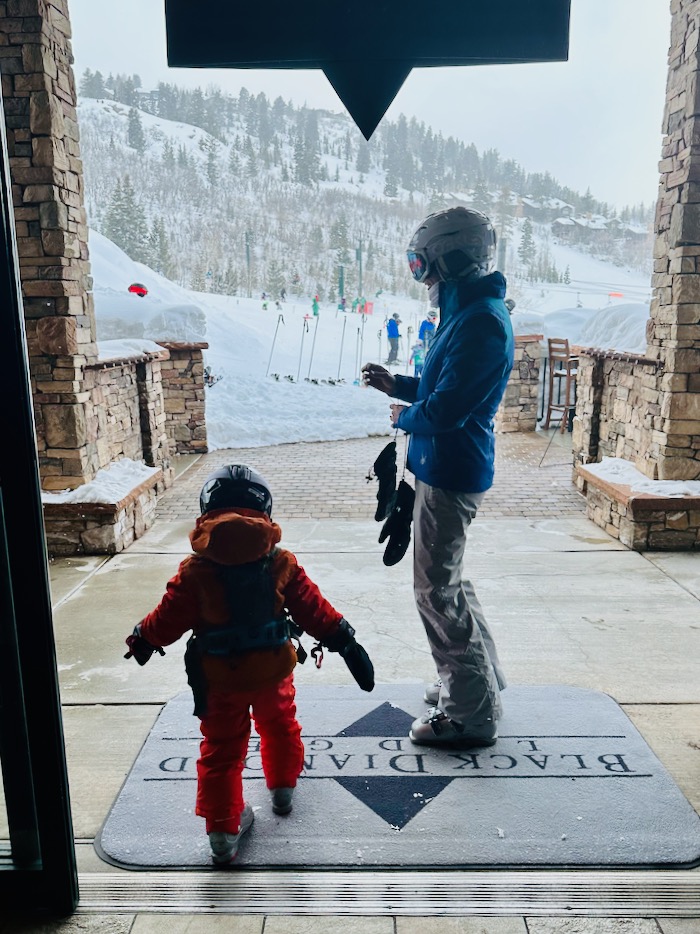 Remember that your toddler is going to be working hard, developing a new skill, and standing on their feet for long periods of time. To keep them energized (and prevent a snack request 10 minutes into the first slope), encourage them to eat a solid breakfast before you head outside.
18. Check for ski school availability.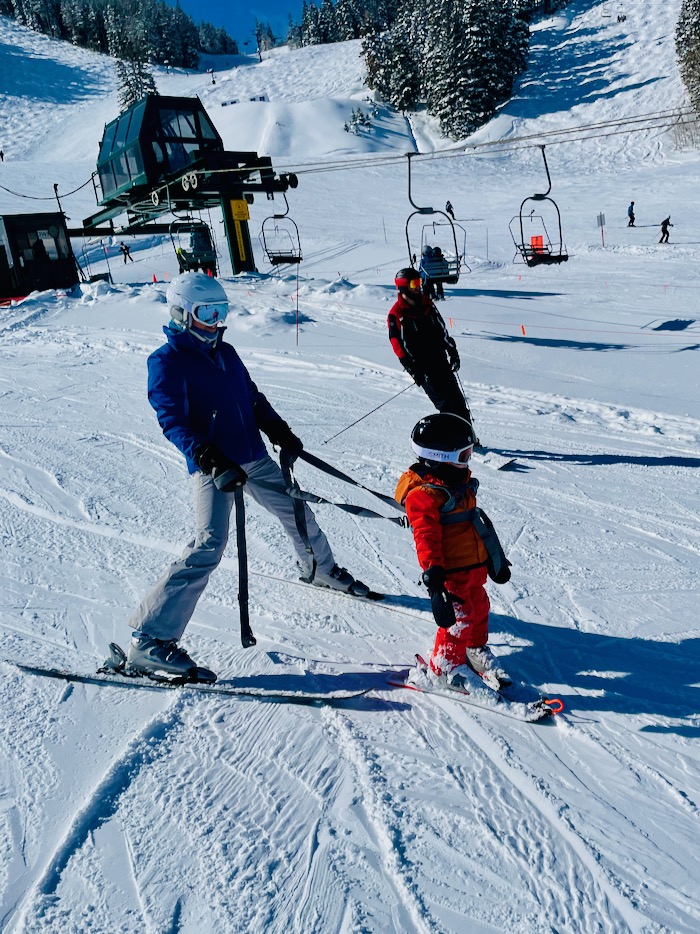 Ski school can be a great way to let your child learn from a professional and surround themselves with other tots who are new skiers. If the mountain you're visiting has a ski school, it's worth checking if your son or daughter is old enough to attend.
19. Moms and dads, prepare for a thigh burner.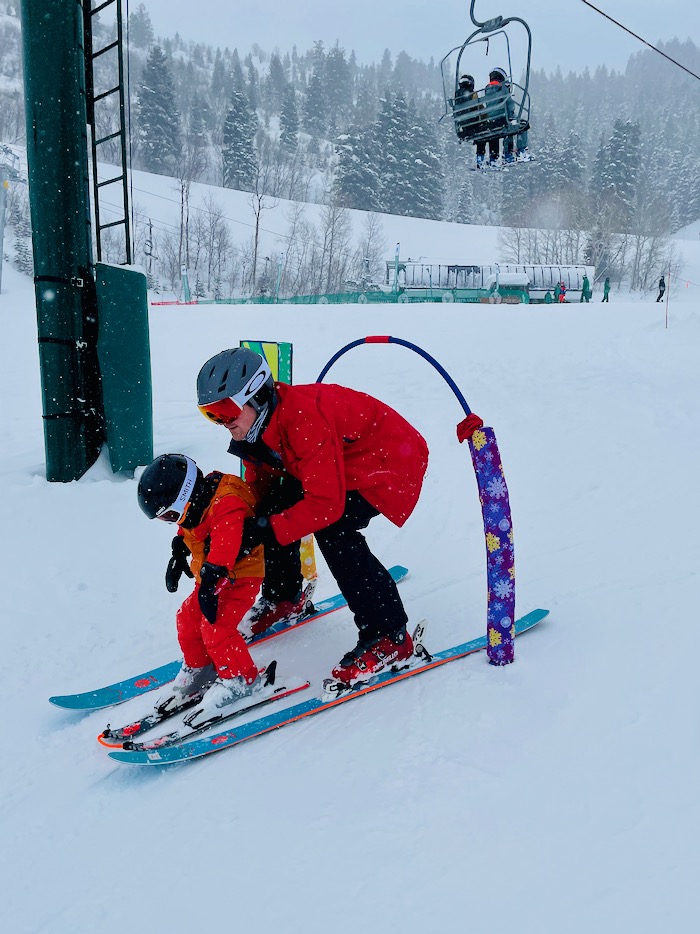 You might picture skiing the bunny slope with your little one as an easy task. You'll quickly learn that constantly bending down to hold them while maintaining your skis in the wedge position is a true leg workout. It usually takes me about five minutes with our son to work up a sweat and realize I'm wildly overdressed for the day.
20. Point out other kids on the slopes.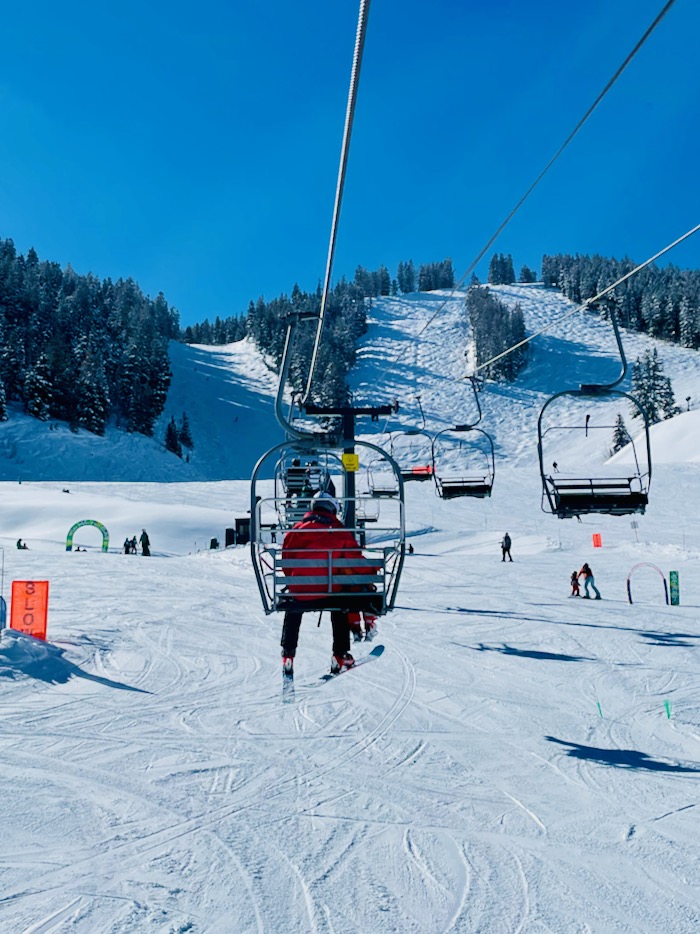 Toddlers love to learn by watching other children, so point out other kids learning to ski when you're riding the chairlift with your tyke.
21. Lose those poles.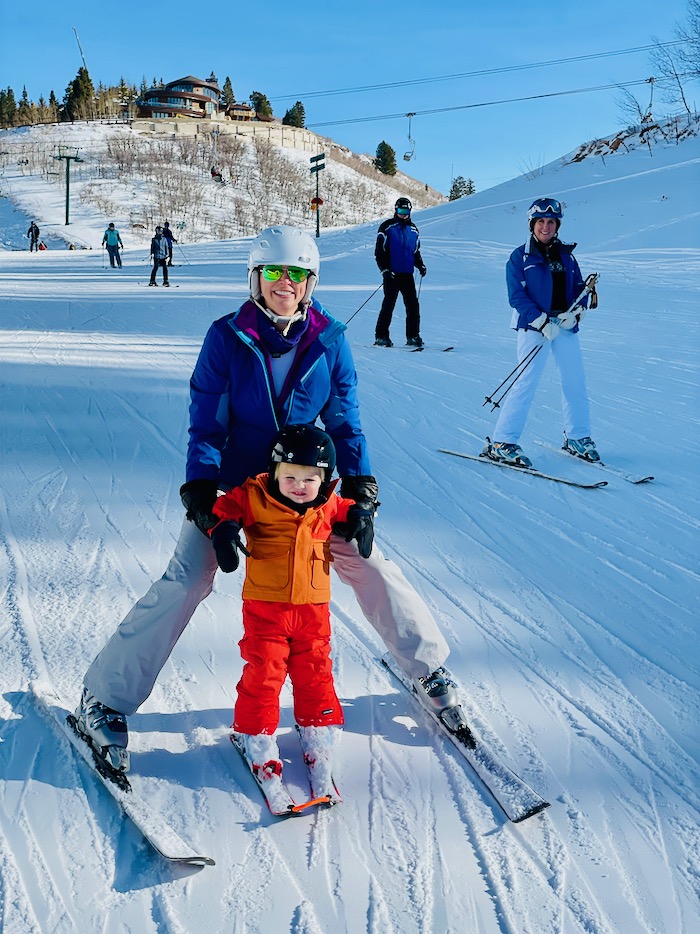 You'll likely be holding your toddler up or picking them up off the ground frequently, and ski poles only mean extra cargo to worry about carrying with you. It's easiest to leave them behind when you're headed to the mountain with a youngster who's just starting to learn.
22. Take turns skiing with your child.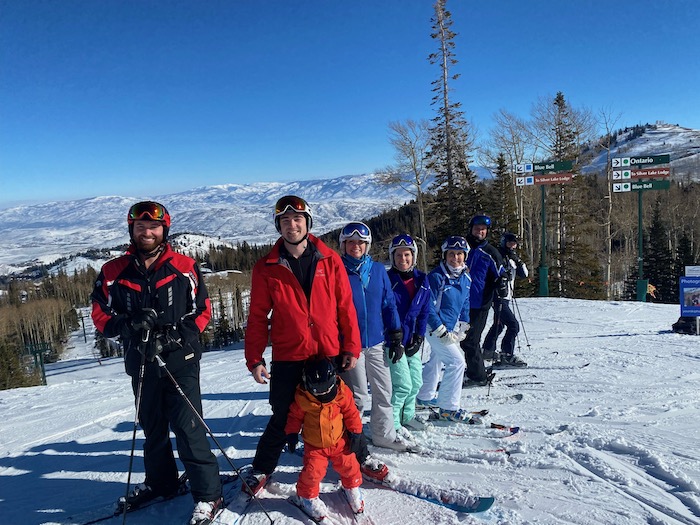 If you're skiing with other adult family members, try to rotate who's taking the little one down the slope. It'll give your legs a break and let you step back to watch your toddler ski from a new perspective.
23. It's all about that snow plow.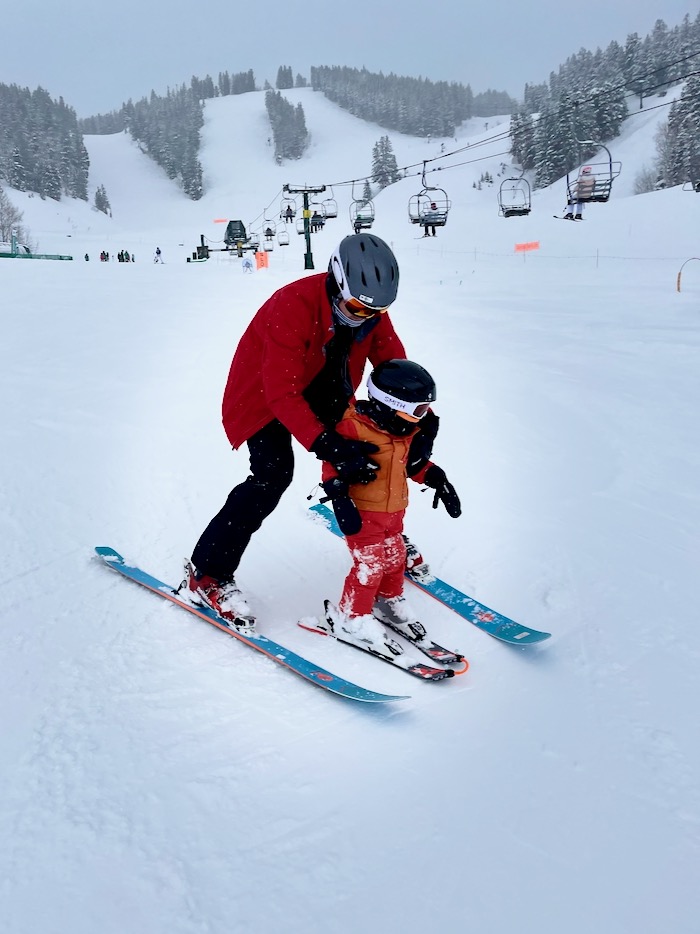 Encourage your toddler to maintain a snow plow or wedge position with their skis, with the toes pointed toward each other and the heels pointed out. It'll help maintain their balance and keep their speed in check. You'll likely be doing the same with yours whenever you're right with them.
24. Beware — the magic carpet is harder than it looks.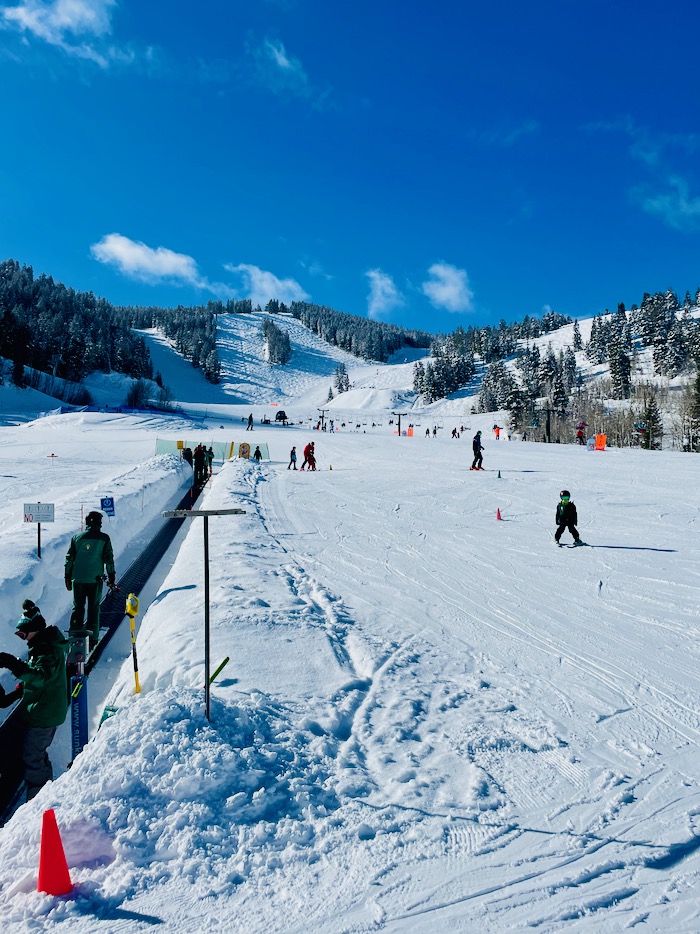 Magic carpets, which are on many beginner slopes, are conveyor belts that carry skiers up the hill. They might look simple, but hold on tight to your toddler, because they can be harder to load onto (and climb off of) than they look.
25. Ask attendants to slow the lift.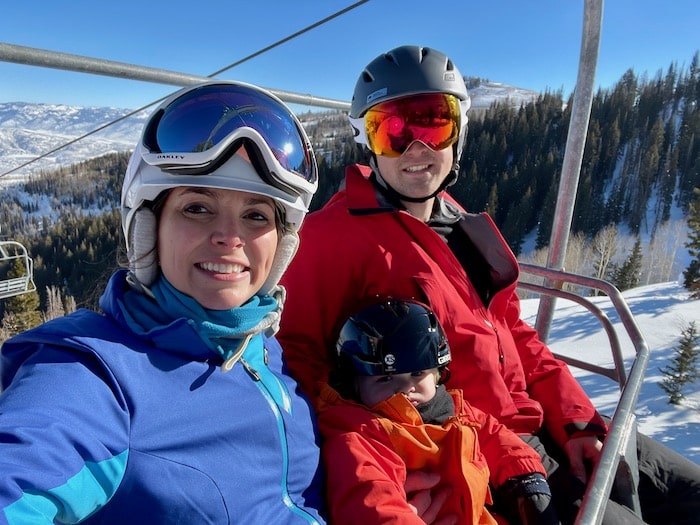 If you'd like some extra time managing the chairlift with your toddler, don't hesitate to ask the lift attendant to slow the chair as you board and unload.
26. Take frequent breaks.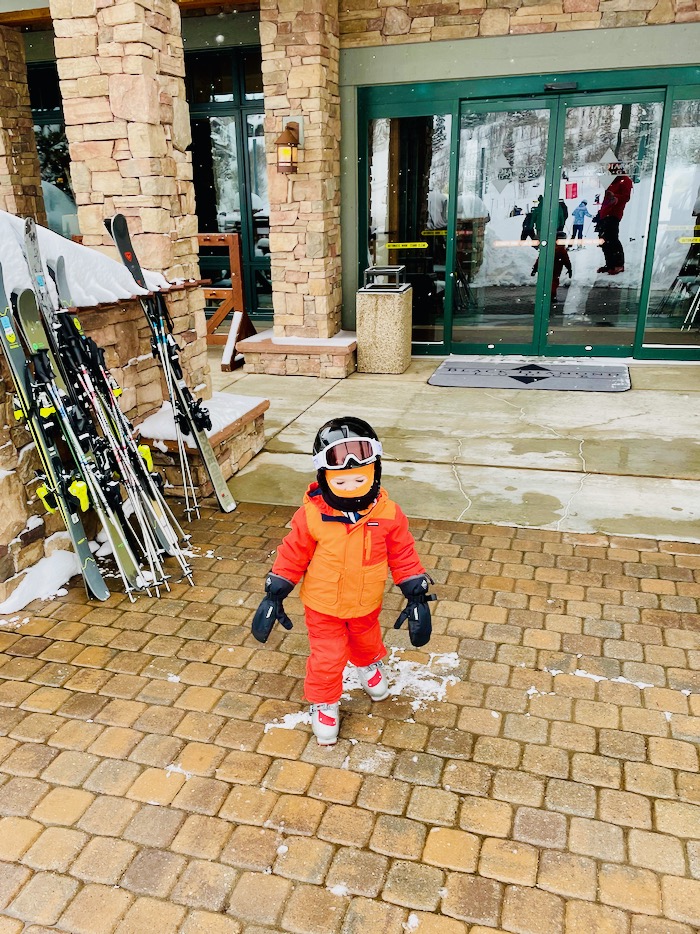 You might be used to skiing hours on end without a break, but it's a different story with your toddler. Although it's daunting to think of reattaching the pile of gear it took you all morning to put on them, kids need breaks to hydrate, use the bathroom, and restore their energy.
27. Follow your toddler's cues for fatigue.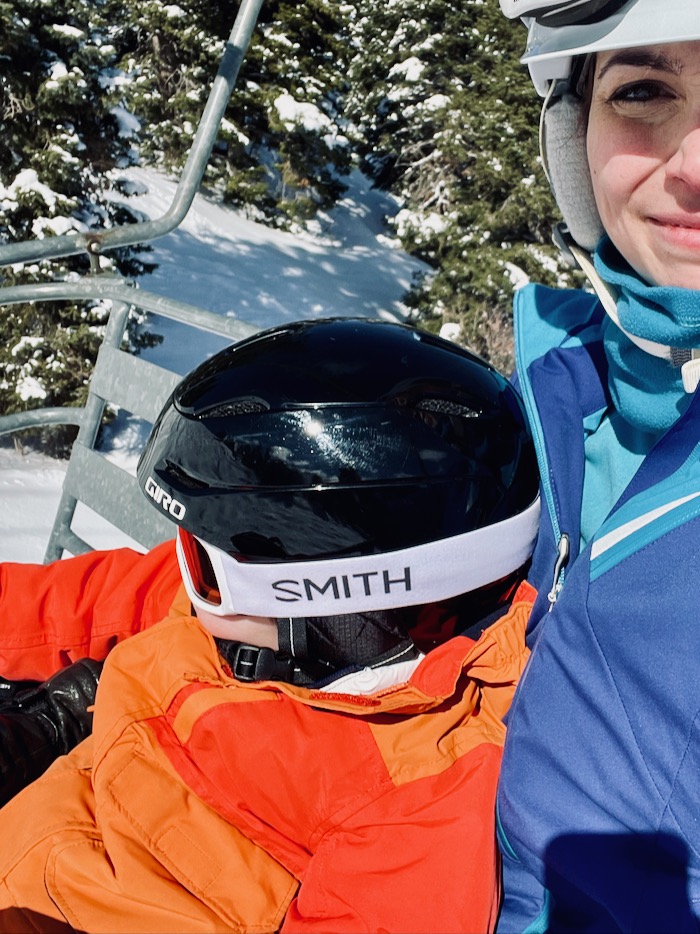 We've learned from experience that it's best to head inside before that toddler becomes overly tired. If you think your child is getting fatigued, check in with them and see if they need to call it a day.
28. Be careful about skiing through nap time.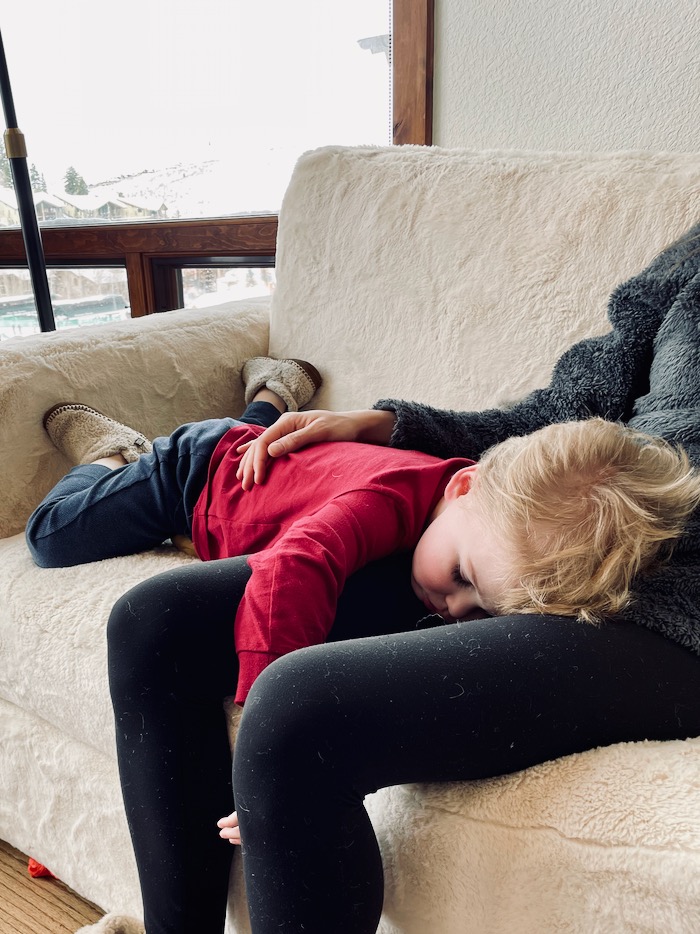 Even on vacation, a toddler who's used to napping daily can struggle if not given the opportunity for some daytime sleep. If you're planning on skiing multiple days, give your little one a chance to nap, so they remain happy and energized for the days ahead.
Off the Slopes
Here are our few final tips for rounding out your packing list and making sure your ski trip is successful on and off the mountain:
29. Show your toddler some ski videos.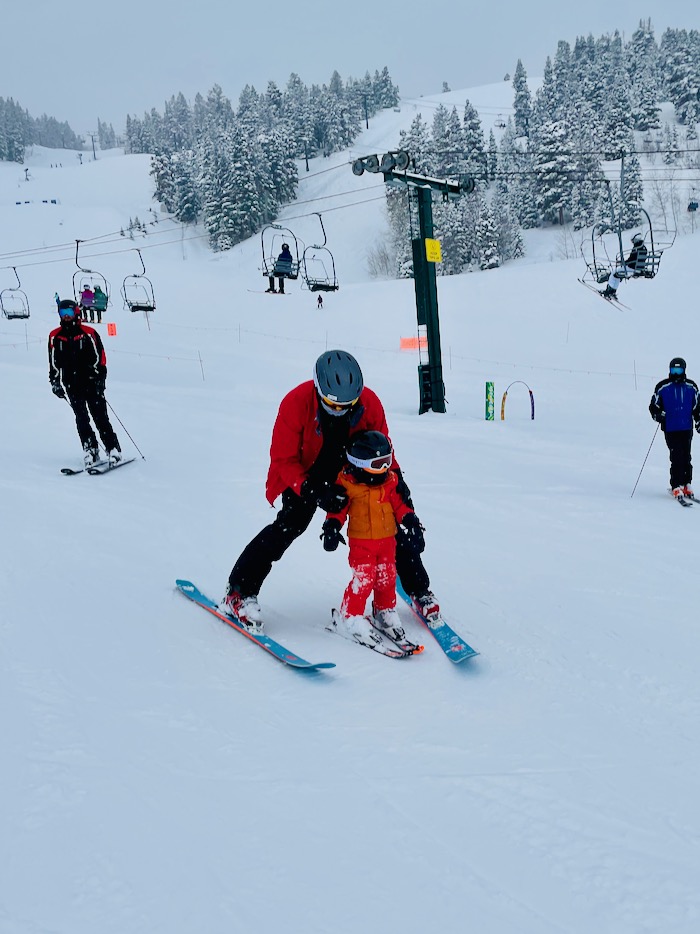 During downtime on your trip, watch some videos of the pros with your child to help inspire them and show them good ski technique in action.
30. Pack activities for travel.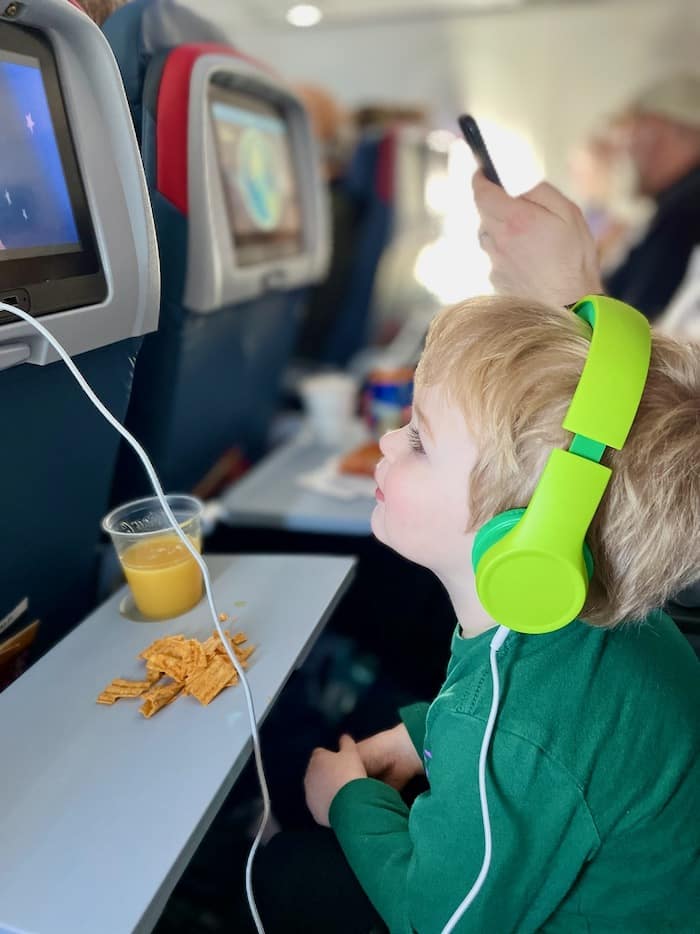 For specific activity recommendations, see our articles on flying or taking a road trip with a toddler.
31. If planning on dinners out, pack restaurant toys, too.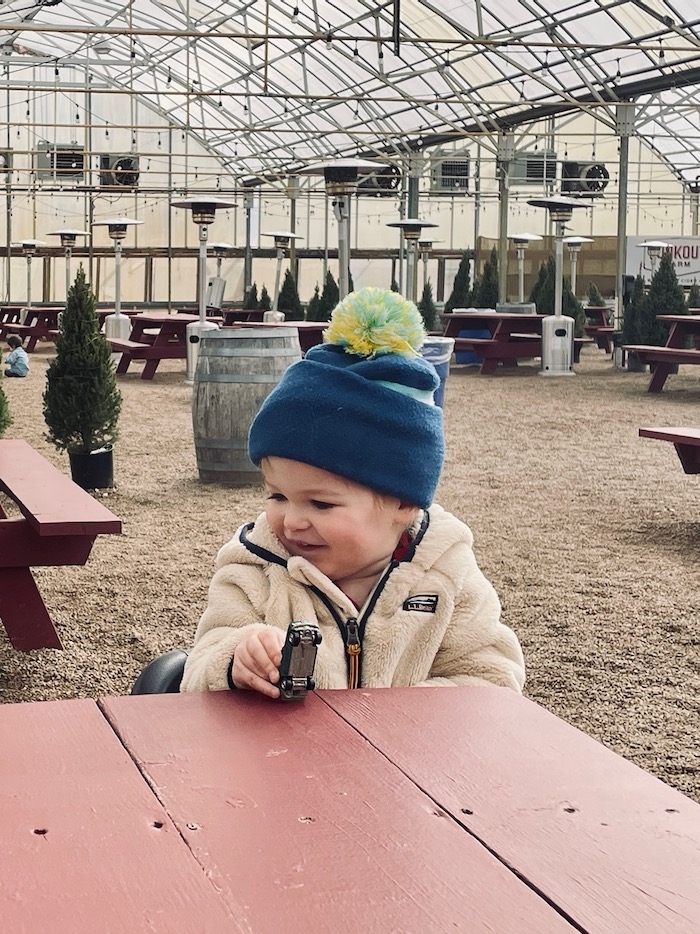 We usually go out for a couple dinners when we're on a family ski vacation. However, a dinner out can be tough on little ones after a long day of skiing, so be sure to have some new activities for your toddler at the restaurant.
32. Prioritize nighttime sleep.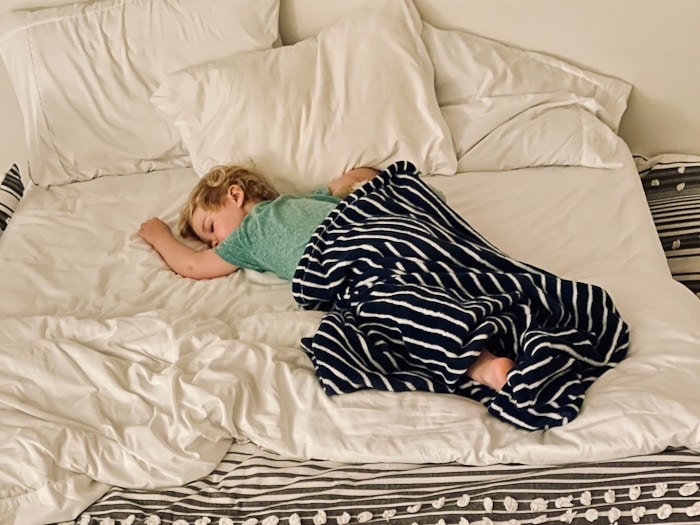 Long ski days aside, travel alone is tough on toddlers. Time changes and lengthy flights can alter their sleep schedules, so try to give them opportunities for good nights of sleep before and after each day of skiing.
33. Introduce your child to that après-ski life.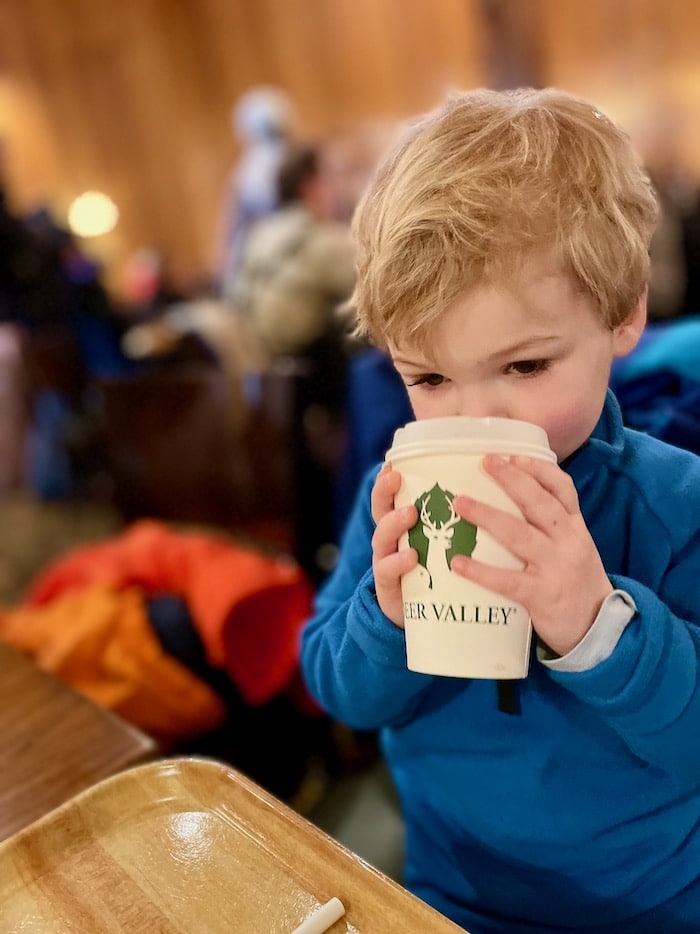 One of our favorite parts about skiing with our toddler is taking him into the lodge after a day in the snow and seeing his smile as we order a hot chocolate for him (and a beer for us).
34. Consider a babysitter.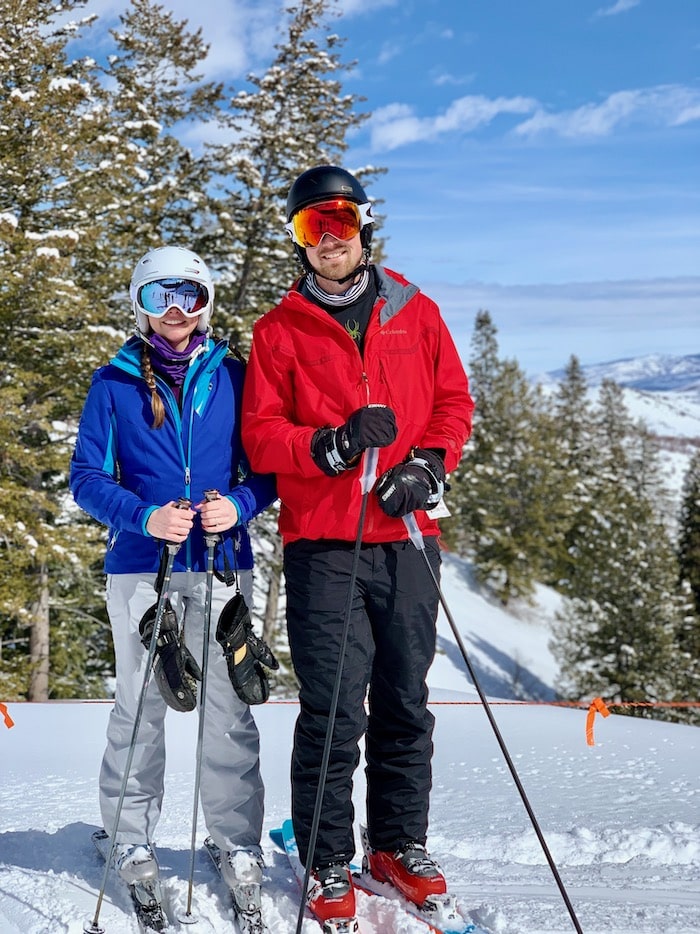 If you're hoping to get some good skiing in without your toddler, look into a local babysitter service. An afternoon nap can be the perfect opportunity to sneak in a couple hours of fast-paced, powder-shredding, get-as-many-runs-in-as-you-can ski time.
35. Bring high-quality lotion.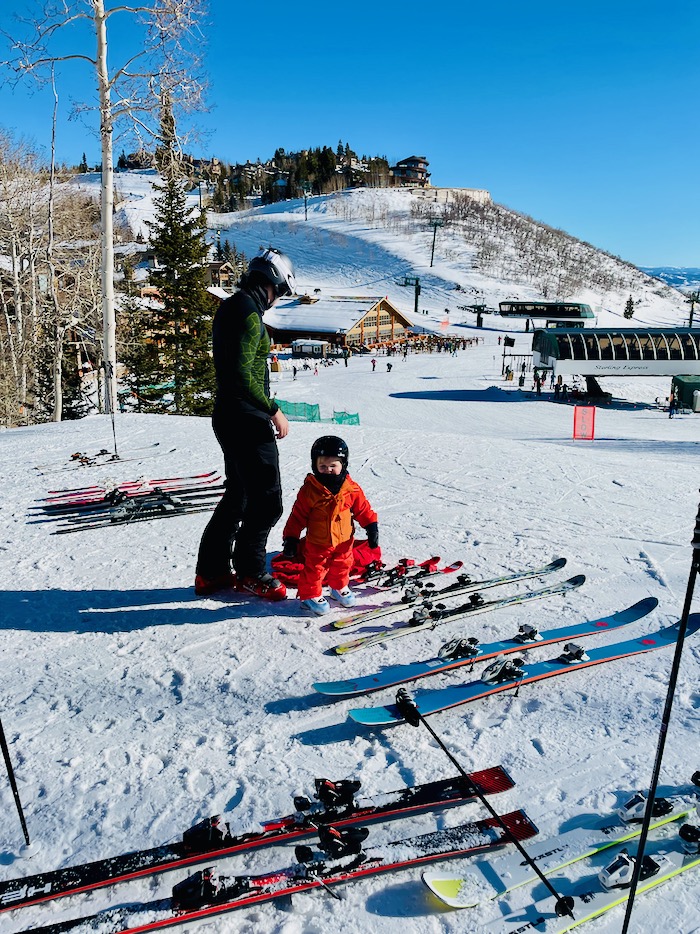 Cold mountain air can be harsh on young skin. Plan ahead and bring high-quality skin cream to prevent painful and itchy dry skin.
36. Pack vaseline for chapped lips.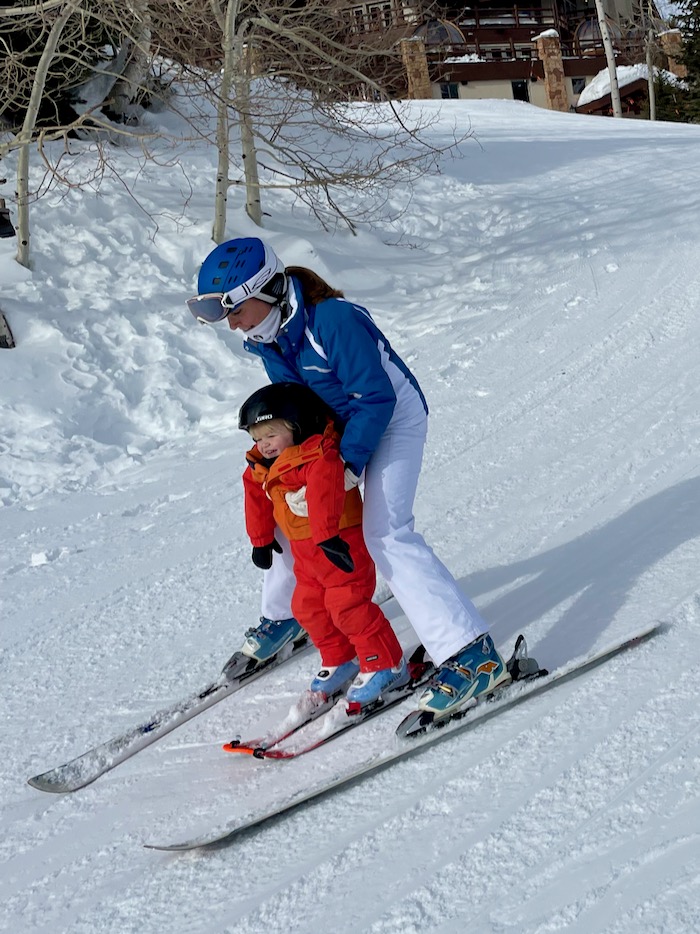 Skiing in the cold with the wind in their face can irritate and dry out your toddler's lips, so don't forget to bring that Aquaphor.
37. Use a humidifier for altitude.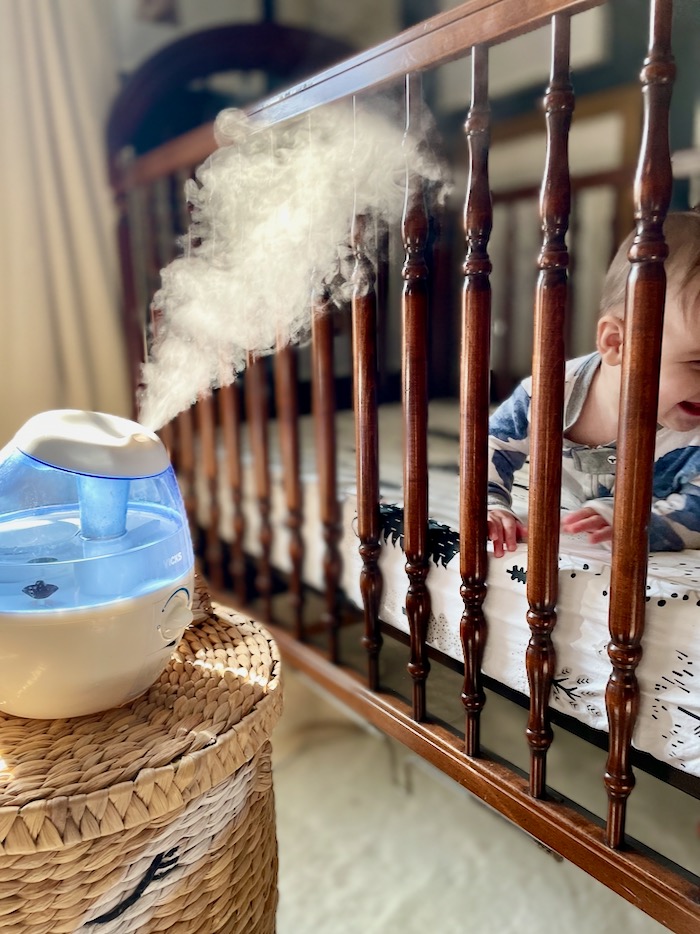 If you're traveling to the mountains, see if there's a humidifier you can use for your toddler at night. The cool mist will help prevent irritation from the dry, high-altitude air.
38. Encourage hydration.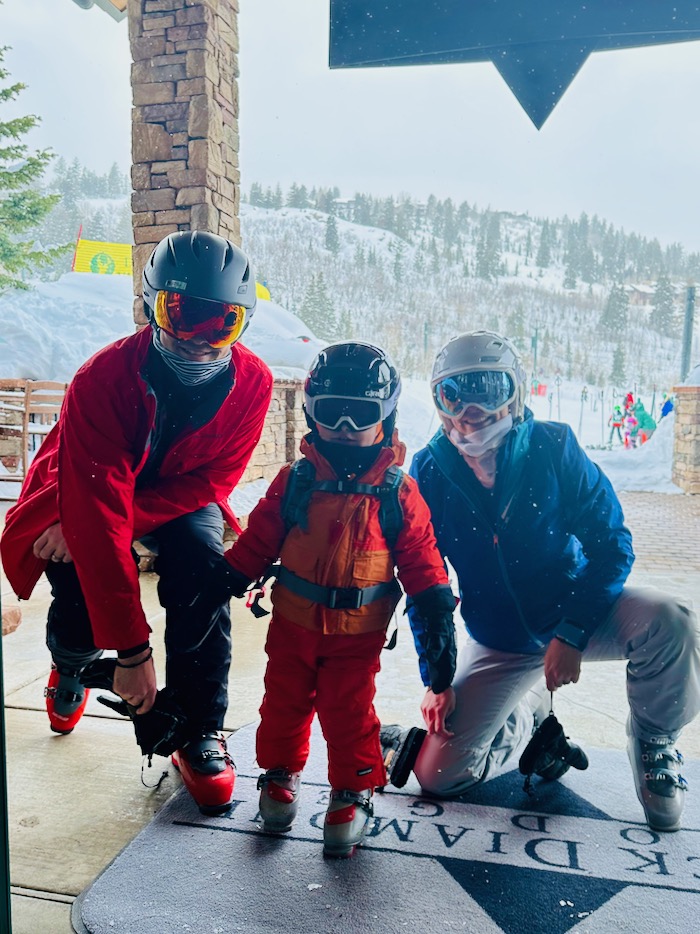 Bring your toddler's water bottle along, and encourage them to use it frequently. Staying hydrated can prevent headaches and discomfort associated with high altitudes.
39. Be ready for a cold.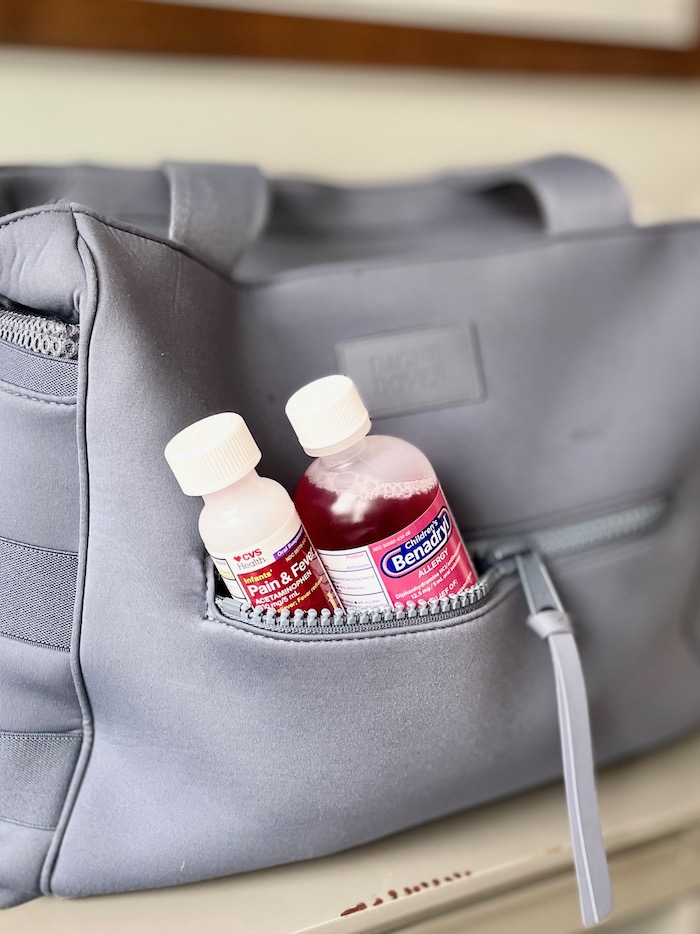 As much as you might prepare for a perfect ski trip, kids get sick, even on vacation. Be ready for illness or injury by researching local urgent care locations and packing any medication your toddler might need.
40. Mix it up with other snow activities.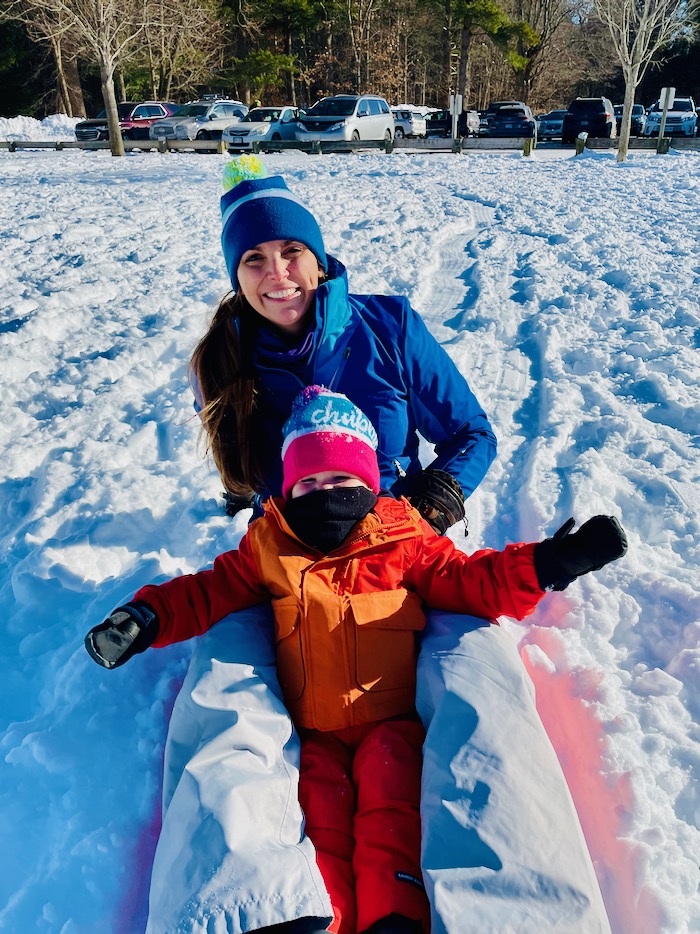 Take advantage of all the snow around you! Try taking your toddler to do other fun winter activities, like sledding or seeing a light show, to add some unexpected fun to their trip.
***
Skiing with a toddler might seem daunting, but it's a great way to bond with your little one and introduce them to a whole new thrill. With a little patience — and the right equipment — you can embrace the cold with your youngster and make great memories teaching them to ski with you. Soon you'll learn to love loading those miniature skis and boots into your luggage for a trip, and your toddler will appreciate the experience for years to come.