How to Travel with Baby Food
My 15 month old has been to 10 countries, has been on a cruise, and has been on several road trips. He's a well traveled baby, so it's safe to say that traveling with baby food is something I do often.
Whether it's flying or driving, this is everything to know about traveling with baby food including how much to bring, what keeps well, what airline rules are, dealing with allergies (we have a lot to contend with!), and more.
Flying with Liquids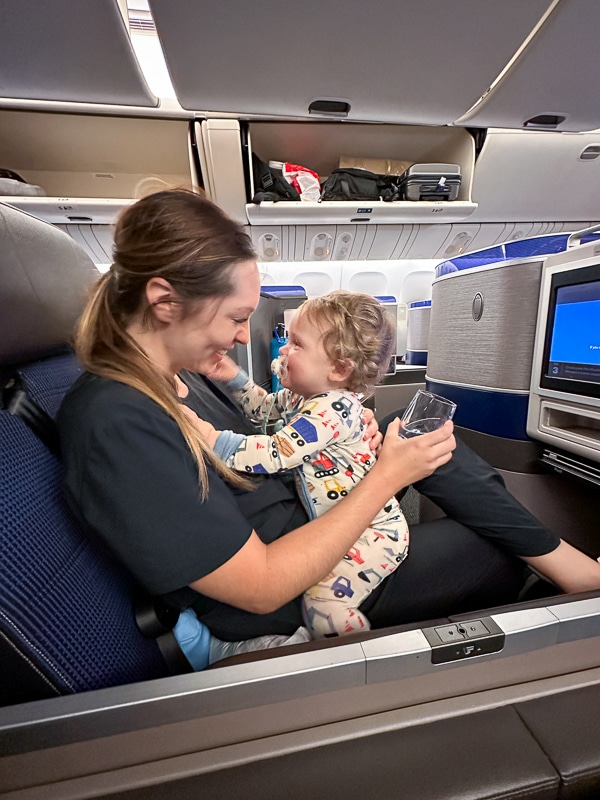 Chances are good you landed here wondering about flying with baby food. How much can you bring and what is allowed? Thankfully, baby food and baby formula and milk aren't subject to the usual liquid limits per TSA regulations, and if you can align with TSA, I've found you can get through almost any other country as well.
Liquids for your baby are allowed 'up to a reasonable amount' for your travel. I've been questioned once, but otherwise, have been able to bring water, oat milk, formula, breast milk, and even an entire Oatly container on a flight without issues. Just know you'll be subject to extra screening in the US. Other countries, I have found, are less likely to care.
We have also traveled through Japan, Mexico, South Africa (where we brought an entire bag full of single serve oat milk through security and nobody batted an eye), Portugal, Canada, and more with milk and baby food not had issues.
It's important to note that most airlines don't carry milk for babies. Emirates is a rare exception that has baby formula onboard and has oat milk in first class and almond in business class, but most airlines aren't able to give out milk for bottles. We were offered a cup of cow milk on United, but I've heard American Airlines doesn't give milk for babies, so it's best to bring your own rather than rolling the dice.
Flying with Baby Food
What about babies or toddlers who are eating solids? It doesn't have to be complicated. You're allowed to bring food and purees over the usual 3oz limit when it's for your baby.
While some airlines, like Qatar, Emirates, Japan Airlines (pictured below) and many more, actually have baby food onboard (be sure to order ahead of time), many of them don't, so I like to bring my own as well.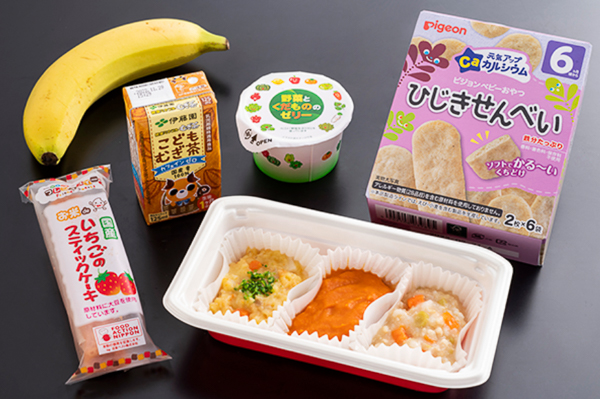 If you've gotten your baby their own seat, they're entitled to an adult meal if the airline doesn't have baby food, and you can also order a low-salt meal for them instead. Most airlines also have vegan, lactose free, and vegetarian meals. These need to be ordered ahead of time.
My favorite flight snacks that don't make a big mess and don't need refrigeration are:
Pouches (the kind that don't need refrigeration)
Cerebelly Bars (they're nutritious and don't have any nuts or dairy)
Cheerios
Rice cakes
Blueberries (be sure to finish all fruit before landing in any International destinations)
These oat milk sachets if your baby is no longer on formula or breast milk and like mine, can't have dairy
I tend to bring enough to deal with flight delays as well (diaper bags don't count against carry on allowance). They happen all the time, and finding baby food in the terminal is unlikely. That said, if you're doing baby-led weaning and your little one is eating the same food as you do, then we have found that chicken and roasted veggies are pretty easy to find during layovers. Plant milk has been a different story. I've paid $5 before at Peet's Coffee to have a cup full of oat milk for my one year old. This is why we now use sachets!
By the way, diapers are also tough to find in the terminal, so bring more than you think you'll need! These are the super absorbent ones we travel with.
It's unlikely that flight attendants will be allowed to keep anything cold for you, so plan to bring things that don't need to be cooled. If you do need to keep items cold for whatever reason, the food jar from Stanley truly does keep things hot or cold for 24+ hours. We've used it for keeping liquid milk cold in the past, and it worked great. I'd use it for hot meals as well. Just be careful it's not too hot before serving – it works that well.
Packing Baby Food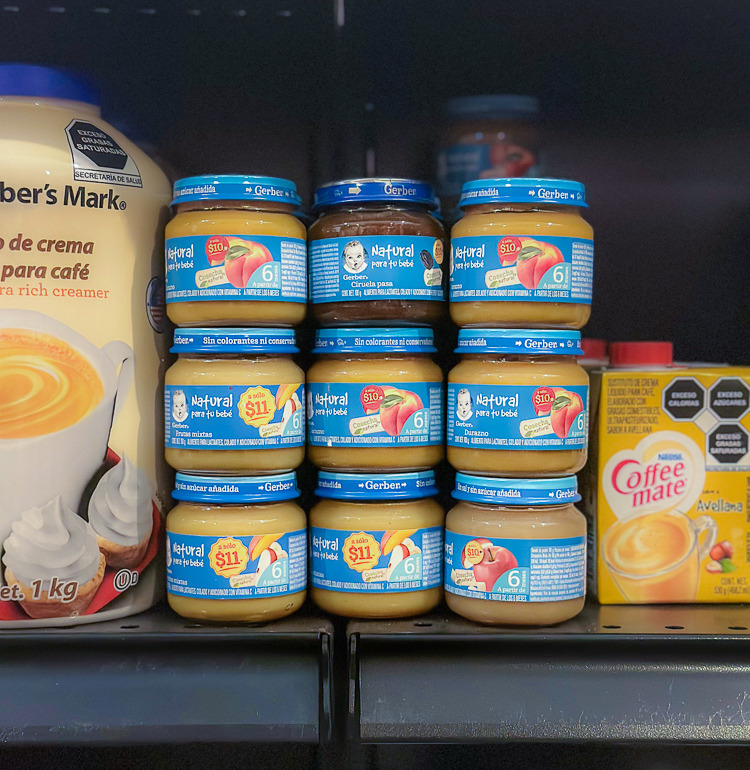 Given the allergies mentioned above, we sometimes travel with quite a bit of food in our checked luggage for my little one, especially in Southeast Asia where peanut is a common ingredient.
If you are also dealing with allergies, and any of them are life-threatening, it's a good idea to have a translation of the allergen information saved to your phone or on a printed card. Obviously, travel with an epipen and ask your doctor about oral Decadron as well.
Although I don't bring enough food with us from home for every single meal – fruit, bread, and veggies are ubiquitous and easy enough to find abroad – I do travel with enough to handle one or two full meals per day if needed. It means we pack more, but it's worth it to make sure he's fed and it's allergen free.
I bring the same things mentioned in the list above – pouches, bars, milk powder sachets, cheerios, and his portable water bottle. Be sure to look into water safety wherever you're traveling to before giving tap water to your baby or toddler.
Unless where you're going is very remote, you're also likely to be able to find baby food in pharmacies or grocery stores abroad. In the picture above, we were in a pretty small grocery store in Mexico, and they still had baby food! Just be sure to travel with enough to get you through at least a few days in case it's hard to find. Research your destination before you go so that you know where to look for baby food on the ground.
Making Baby Food on the Go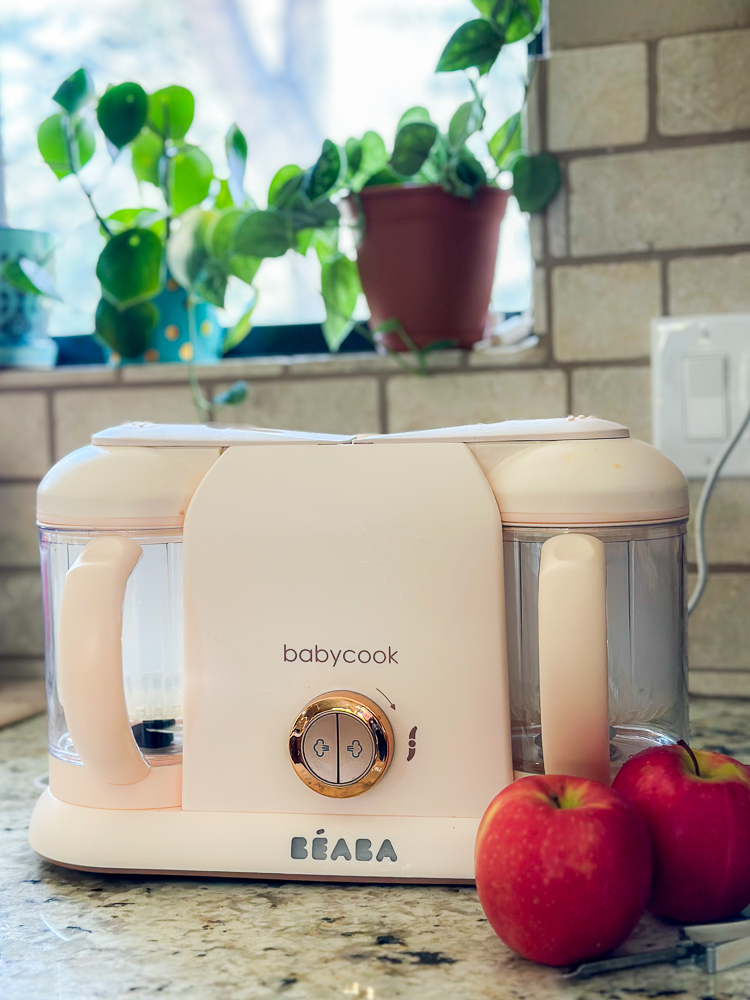 When we're road tripping and space isn't an issue, I like to bring our steamer and baby food puree maker along as well. That way, we can stop by grocery stores and get veggies that I can easily steam in the hotel room, eliminating the need for a kitchen.
It would be possible to fly with it too in checked luggage, provided you get the single rather than the duo to save space.
Overall, we have found traveling with baby and toddler food to be pretty simple and straightforward. Be sure to bring the staples, bring more than you think you'll need on flights in case of delays, and try to pick things that don't need refrigeration or that get messy, and you're golden!