25 Tips for Flying with a Toddler
With low inhibitions, short attention spans, and big energy, toddlers might be the wildest travel buddies of all. As a mom of two who has flown multiple times with my infant and toddler, I'm here to tell you that you can survive (and enjoy!) the flight with your little ones. As you make your travel plans, check out our roundup of helpful toddler flight tips, clever toys, and valuable lessons learned along the way.
Planning Your Trip
Before you pack your bags is a critical time in the flying journey. These key decisions for your travel plans can help set you up for success:
1. Time Your Flight Carefully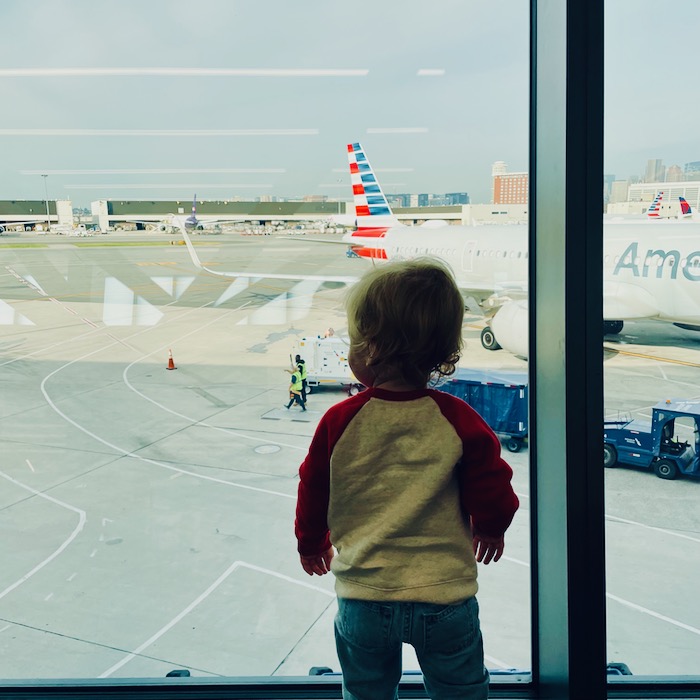 The hour of your flight can have a huge impact on how smoothly your trip goes. I find it easiest to fly midday during naptime or at night so that my toddler sleeps for at least part of the flight.
That being said, things don't always go according to plan. My family and I once took a 7 pm flight from LA to Boston, and my 2-year-old stayed awake the whole time. Thank goodness for Mickey Mouse!
2. Invest in a Quality Travel Stroller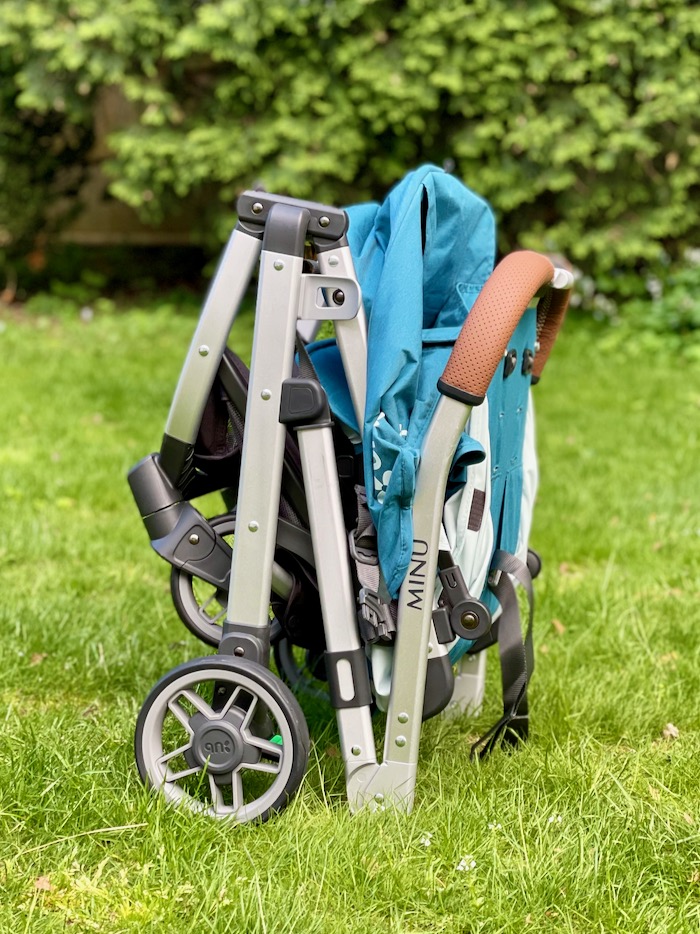 I've flown with my toddler both with a flimsy umbrella stroller and with our travel stroller, the UPPAbaby Minu. There is no comparison. Having a sturdy stroller that allowed us to pile carry-ons into the under seat storage and push our little guy through the airport comfortably was a game changer.
The Minu is UPPAbaby's lightweight travel stroller. Although on the pricey side, it folds into thirds for super compact storage and even fits in the overhead compartment on most planes. That means no more waiting by the plane for your gate-checked stroller when you arrive at your destination. You can read my full review here.
The Minu has great suspension and a supportive seat for toddlers. We originally bought one specifically for flying, but now I use it on a daily basis for errands since it's so easy to collapse and load in and out of the car.
3. Plan Meals Ahead of Time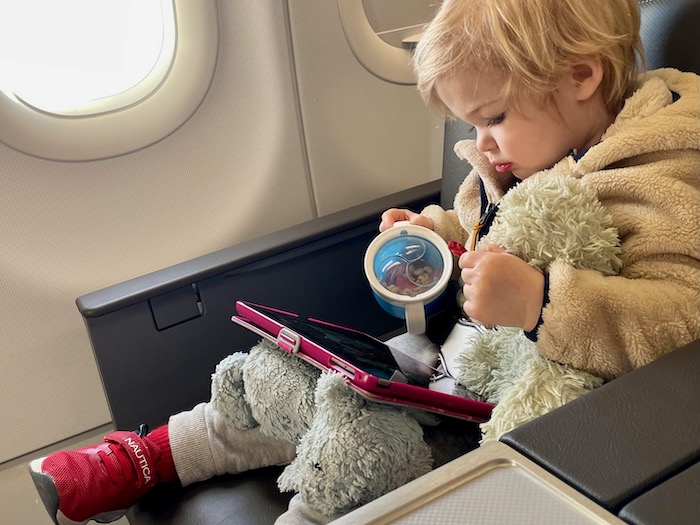 If you're flying during one of your child's meal times, it might be easiest to pack it up and bring it with you. Airport food isn't the most toddler friendly, and the last thing you want is to be hunting the terminal for something your picky eater will approve of. Having a peanut butter and jelly sandwich in your carry on also allows you to offer it just when you're in need of a yummy distraction.
4. Check as Much as Possible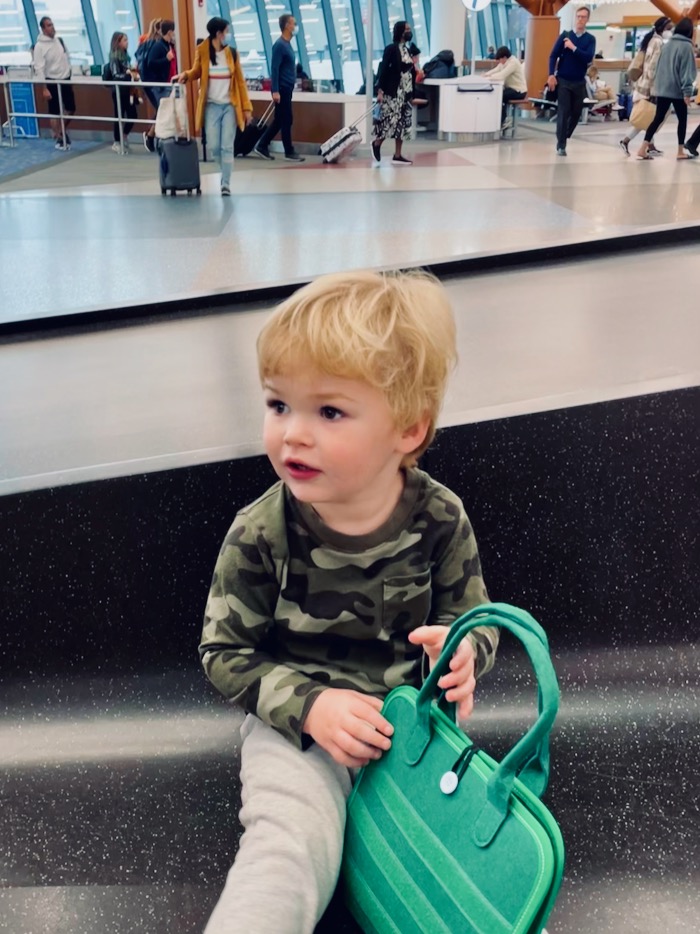 Although my son did lug his busy board from check-in to the gate like a briefcase, toddlers aren't the most helpful at carrying luggage. Since your carry-ons will likely be loaded up with snacks and toys, it's worth checking anything you don't need handy. You never know when your toddler might ask to be carried, and you'll be thankful you're not hauling a heavy suitcase.
5. Make a Car Seat Plan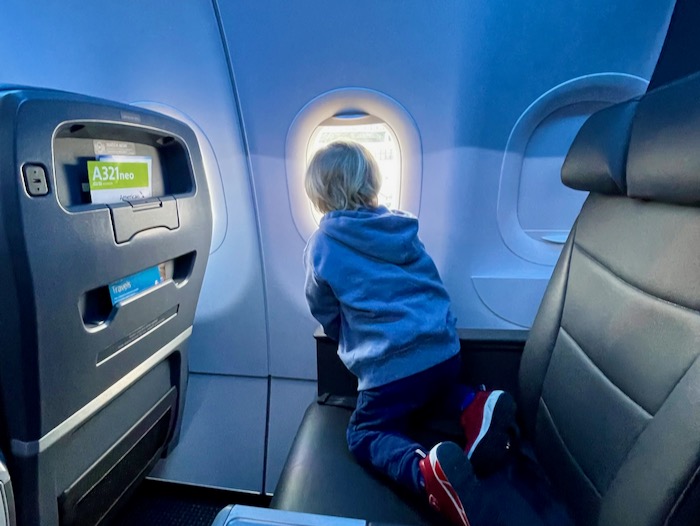 When flying with your toddler, you can either rent a car seat at your destination, check your car seat, or bring it with you for your child to use on the flight. If you choose to rent a car seat, it's best to be as specific as possible about what you need. There's nothing worse than being stuck with a car seat that doesn't fit because of an error in the rental.
Not all car seats are approved for use in aircraft, so check with your airline and consult your car seat label if you prefer to use one in flight. We personally have checked our car seats (it's free!) and haven't had any damage sustained to them. If under two, your child can typically sit on your lap for the flight; otherwise you'll need to purchase them a seat.
6. Buy Some New Toys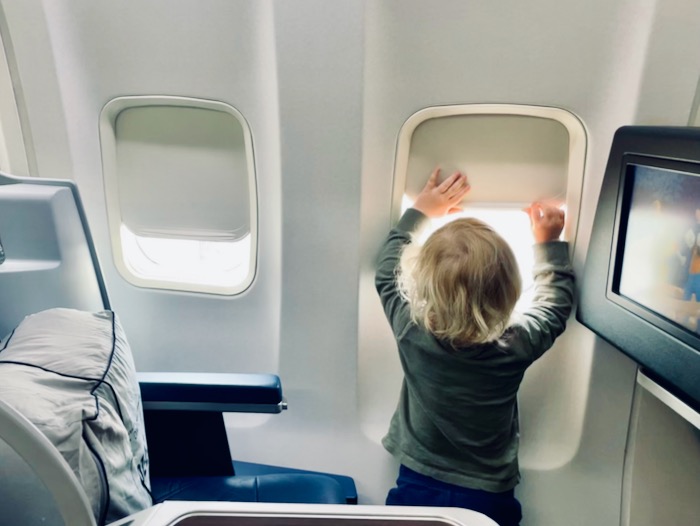 Although the window shade and tray table are fascinating tools for toddlers to explore, you'll probably want to bring along some special toys for the plane. I like to keep new toys hidden and spread them out as exciting surprises throughout the flight.
When you're shopping for airplane activities, it's best to avoid ones with tiny parts, loud sound makers, or pieces that roll. We made the mistake of bringing my son's stacking cup set on a flight and made a regular habit of climbing under our neighbors' seats for runaway cups.
You'll also want to pick toys that are lightweight and portable. In addition to our favorites below, a spiroku toy, a lacing card set, and a buckle square are unique options for creative travel play.
What to Bring on Board
If you need ideas for food, toys, and activities to keep your little one entertained, these are our toddler-approved winners that have saved us on long cross-country flights.
7. Really Good Snacks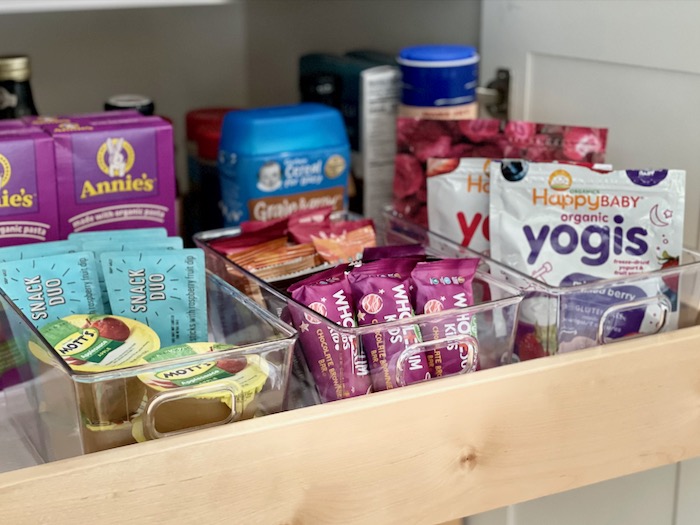 One of the greatest lessons I've learned as a mom is that the key to my son's happiness is to have a variety of food available at all times. Now is the time to make sure you have the favorites—like crackers in a snack container, snack bars, and pouches—and maybe even some special treats.
These don't have to be junk food. Think yogurt cookies, dried strawberries (my son's snack of choice that he doesn't know is healthy), and gummy fruit snacks. These are especially clutch during takeoff and landing when it's time to sit still.
8. Spill-Proof Water Cup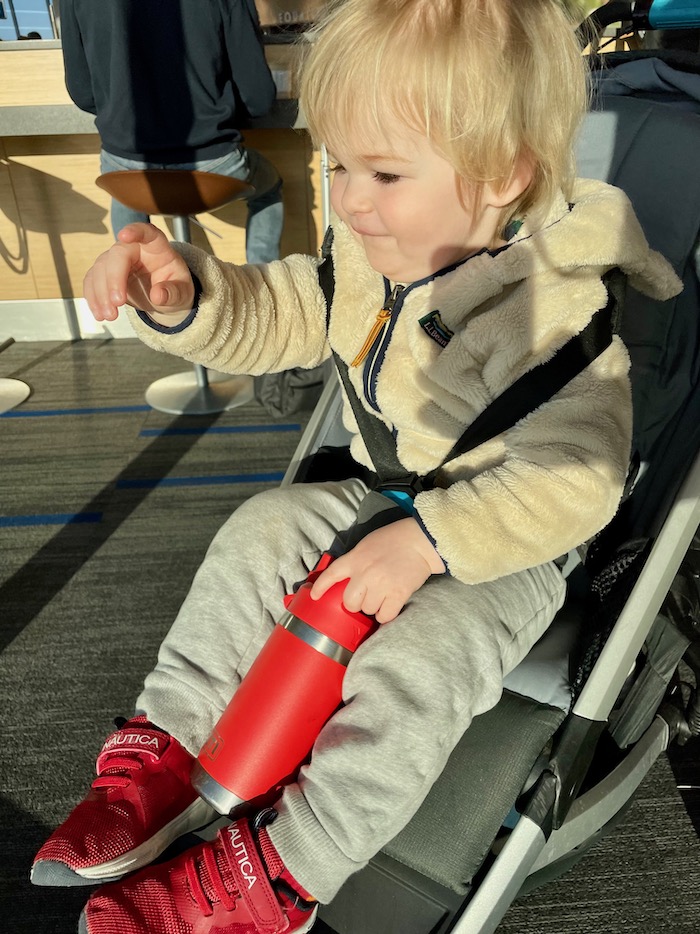 When we once forgot to bring our toddler a water cup for the plane, it was a disaster. Think water all over the seat, wet pants, wet socks, and an uncomfortable flight for everyone. It turns out an open cup on a moving airplane isn't easy for a 2 year old to navigate.
I love these no-spill straw tumblers from Contigo (they're also great for milk at home). For something with a covered mouthpiece, we also love our indestructible kids bottle from Yeti with its convenient carry handle.
9. Beginner Puzzles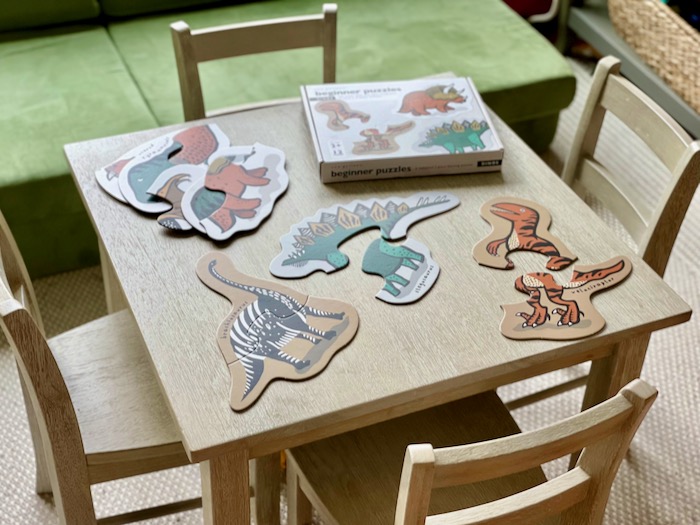 These sturdy dinosaur and pet beginner puzzles from Wee Gallery have just two pieces per puzzle. Packing them up is easy and you won't be looking under everyone's seat for teeny missing parts.
10. Books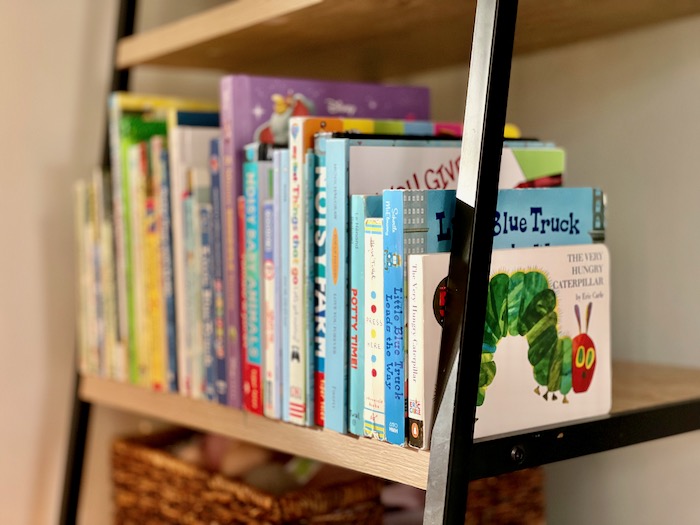 You can't go wrong with a few good books. Bring your child's go-to favorites as well as a few interactive options to keep them engaged. We love this pull and play board book series, this Twinkle, Twinkle, Little Star book with sliders, and Press Here, which was the longest-running picture book on the New York Times bestsellers list.
11. Water Wow Activity Pads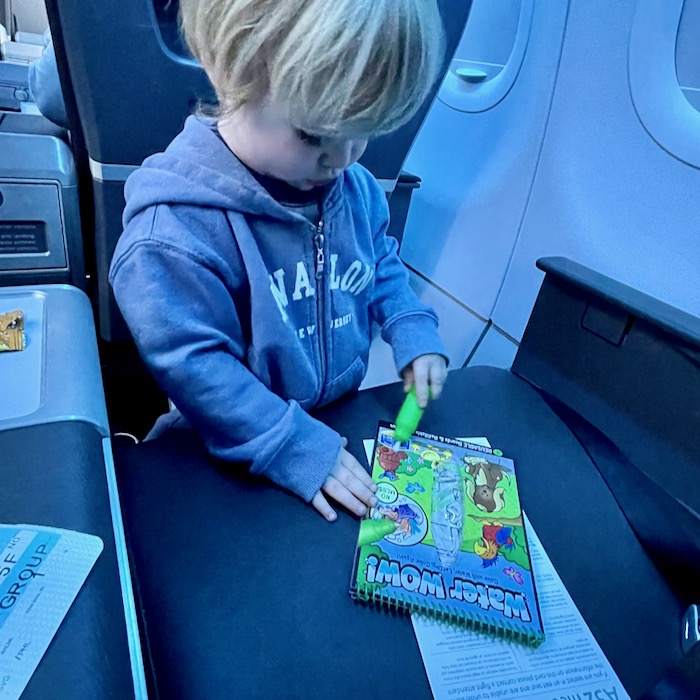 I don't know a toddler parent that doesn't love these genius Melissa & Doug Water Wow reusable coloring books. All you have to do is fill the pen with a little water, and your child can fill the blank pages with colors again and again. The activity pads also come with a list of objects for kids to find on each page.
We don't go anywhere without these. In addition to flights, we bring them to every restaurant we go to, and my son is engaged every time.
12. Suction Toys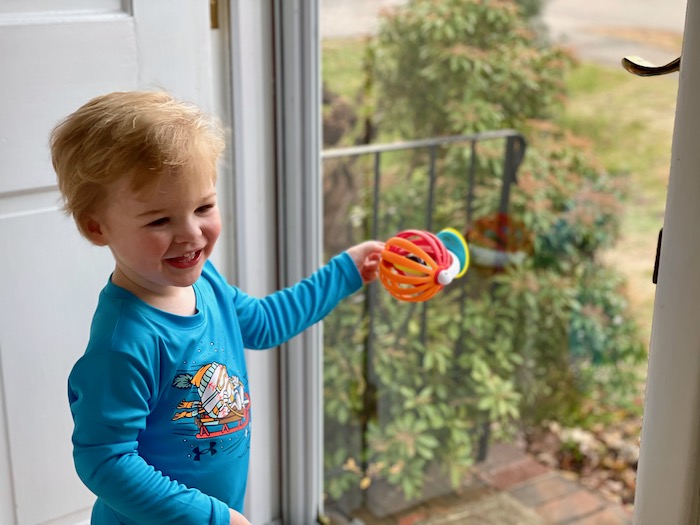 Often branded as toys for the high-chair, suction toys are perfect for sticking onto airplane windows. My son loves these colorful cogs and this simple spinner. I've also heard great things about Squigz. When you get to your destination, use your suction toys in the tub for extra bath time fun.
13. Stickers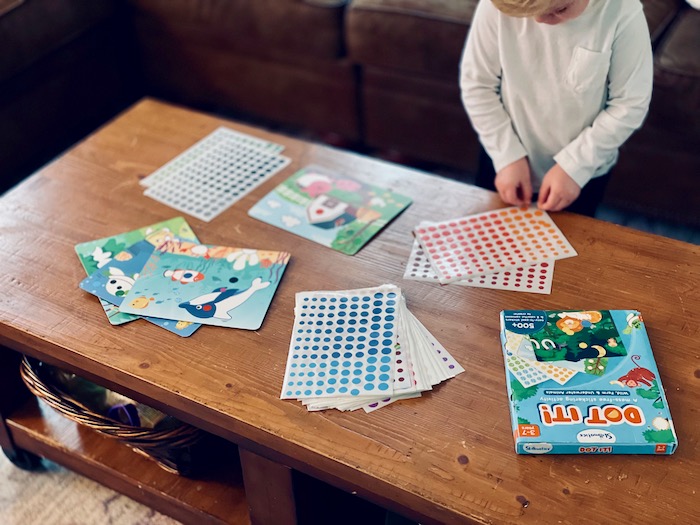 Stickers are a great hands-on activity that lets toddlers use their creative side without making a big mess. We love our Dot It Sticker Art Kit, which comes with four double-sided scenes to decorate and over 500 dot stickers. Melissa & Doug also makes highly rated animal and dress-up themed sticker activity sets.
As an alternative, you can give your toddler a few sheets of colored dot stickers and blank pieces of paper and let them run free. They can also use colored masking tape or sticky notes to decorate their seat back, tray table, or dad's face.
14. Busy Board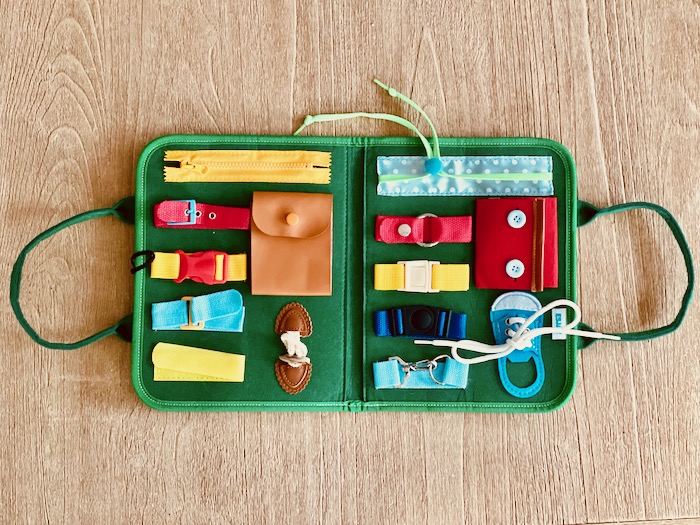 A busy board is a quiet toy with many activities packed into a tight space, so it's perfect for air or car travel. Our busy board shown above came with alphabet stickers that velcro to the outside, while others come with additional inserts or puzzles.
When we arrived at the airport the last time we traveled, my son desperately wanted to carry one of our bags (there's something about toddlers and suitcases). We handed him his brand new busy board and told him it was his special piece of luggage. He loved toting it through the airport and watching it go through the security belt almost as much as he loved the activities inside.
15. Fidget Toys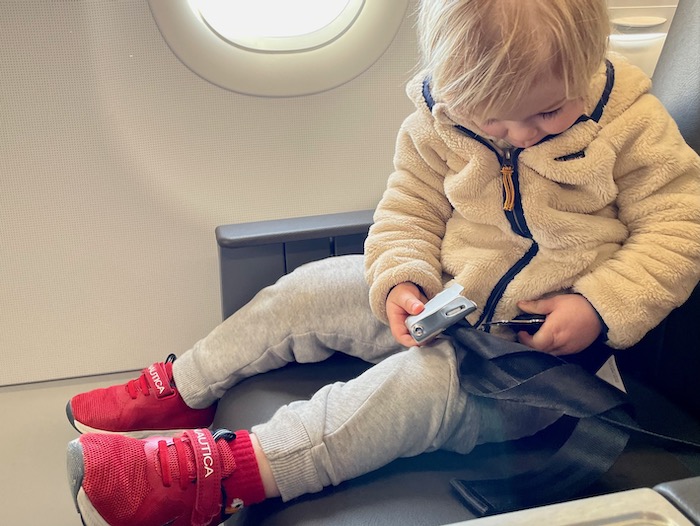 Tiny hands love to be busy, and sometimes throwing new toys at them every five minutes is what you need to prevent them from unbuckling their seatbelt over and over. A good bubble popper, a pocket size Etch a Sketch, and a classic slinky are all examples of simple fidget toys that are great for travel and for restaurants. You can even buy a whole set of fidget toys to keep your little one entertained, but beware of small parts that could pose choking hazards.
16. Doodle Board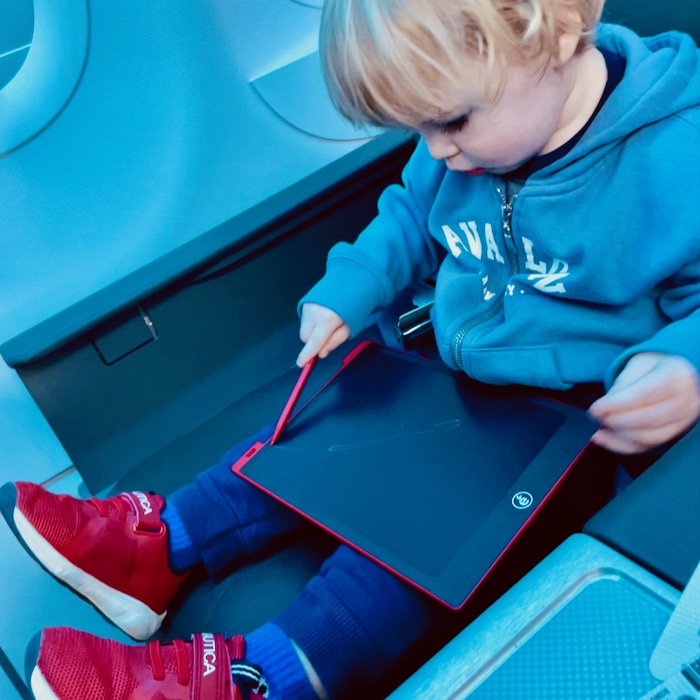 A doodle board lets your toddler draw, create, and erase repeatedly without any mess. My son loves our LCD writing pad, which is small and lightweight for easy packing.
Magnetic drawing boards are perfect for travel. Although a bit bulkier, we also love this Crayola Touch Lights Board, which allows kids to draw with their fingers instead of a pen.
17. Anti-Roll Crayons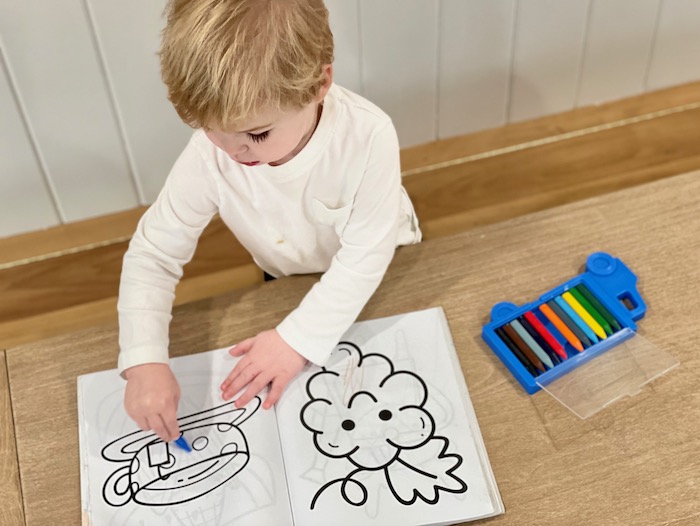 Parents everywhere can thank the mastermind that invented triangular crayons for sparing us the misery of crawling through airplane aisles and under restaurant tables for crayons that have rolled away. The triangle shape is nice and chunky for tiny hands and promotes proper pencil grip. Melissa & Doug makes a triangular set with clever princess and truck carrying cases that are even more fun than the crayons themselves.
18. Poke-a-Dot Products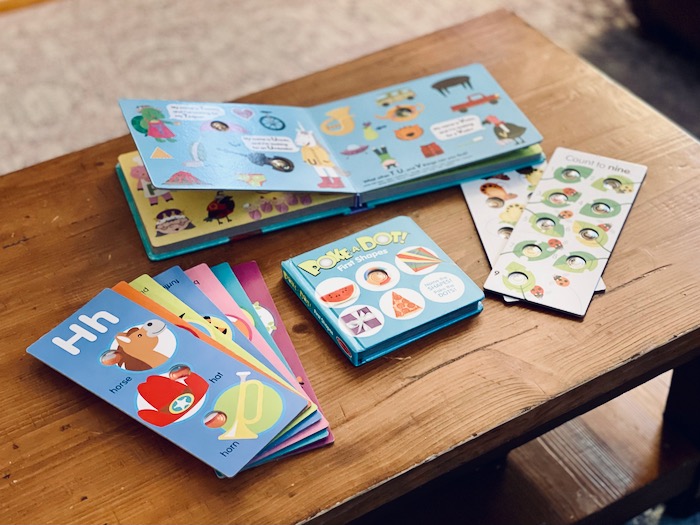 Honestly I'm not sure what the geniuses at Melissa & Doug will think of next. I can't get enough of these Poke-a-Dot books and learning cards. The idea is that each card or book page has several dots for your little one to poke, and something about the sensory feedback and satisfying popping sound keeps them coming back for more.
There are lots of Poke-a-Dot books to choose from—with everything from shapes, colors, and the alphabet to dinosaurs, holidays, and Blue's Clues. The numbers and alphabet learning cards have also been a huge hit with my toddler and are good tools for practicing counting and letters. We've had these products for a while now and the novelty still hasn't worn off, so they're a big win for keeping little ones entertained in flight.
19. Kids iPad Case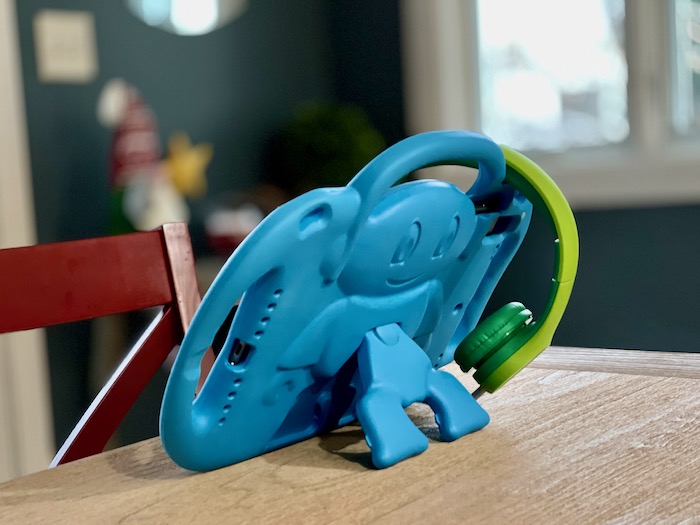 If you're planning on downloading some shows and movies for your toddler to watch on the plane, it might be a good idea to invest in an iPad case that's fun for them to look at and easy for them to hold. This kid's case even comes with a strap for carrying or for hanging from the seat back in a car or plane.
We like to switch the funky case out for a regular one when we're not traveling. That way my son doesn't see the "blue iPad" around the house and associate it with his favorite films.
20. Headphones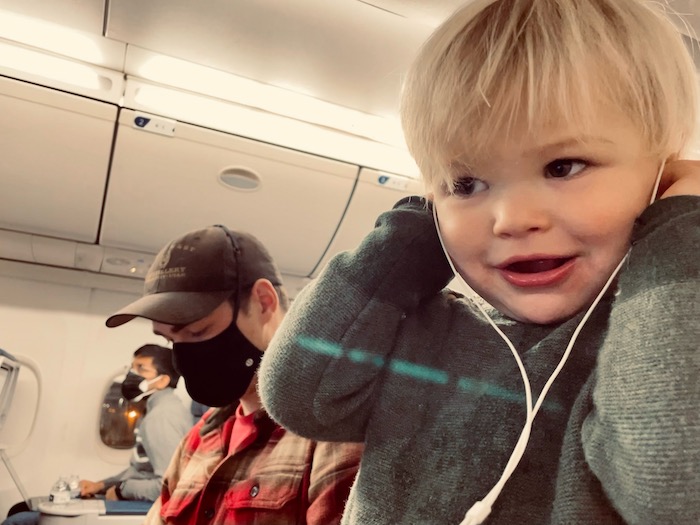 If you think your toddler will wear them, it's probably worth giving headphones a shot. Try a fun set like these kids headphones from Snug. They come in tons of colors and fold up for portability. Belkin and eKids also have cute options for kids.
Don't be surprised if the headphones don't last long. If you need to play a movie out loud, remember that airplane background noise is powerful, so chances that it's bothering anyone nearby are low. And someone hearing Elsa sing "Let It Go" quietly from the seat behind them is way better than a wailing toddler.
21. Sleep Essentials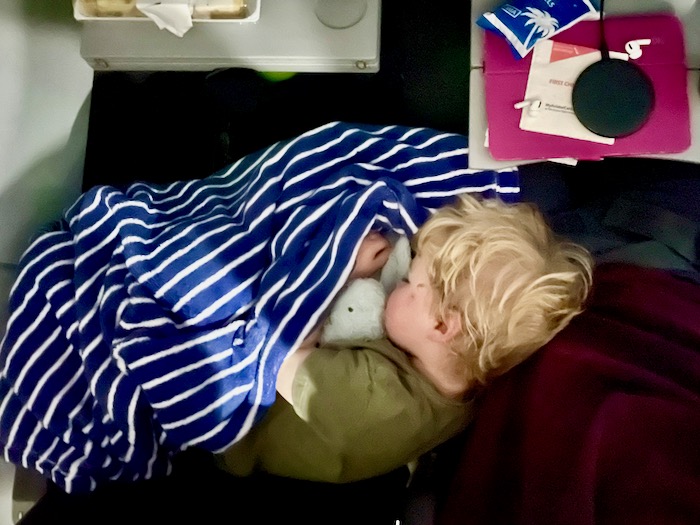 If you're planning on having your child sleep on the plane, it's a good idea to bring the items they usually have at bedtime, like stuffed animals, blankets, and pacifiers. A mini sound machine is also clutch to drown out startling flight crew announcements. Pull these out when it's time for sleep, and get ready for some cuddles.
If you don't want your seat taken over by your tiny passenger (and want the freedom to walk and use the bathroom), consider a Flyaway Kids Bed or a Jet Kids Bedbox. These products extend the area of your child's seat so they can stretch out and lay down comfortably during the flight.
Managing the Flight
Here are some of our final pieces of in-flight advice we've learned from experience flying with toddlers.
22. Dress for Comfort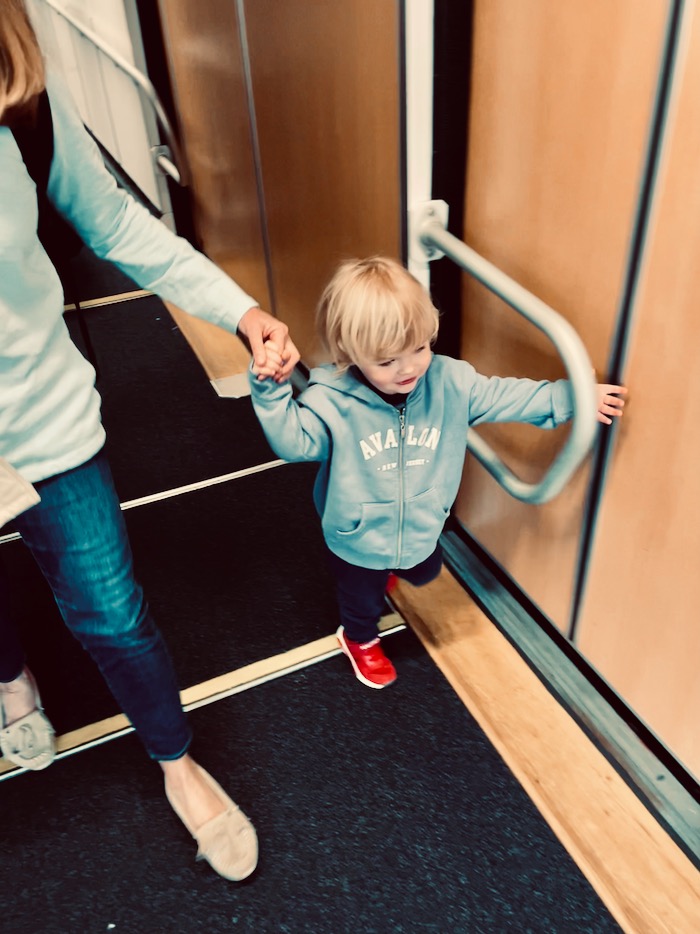 Make sure you dress your toddler in cozy clothes for the flight so they can move around or nap in comfort. If that means sweats, a onesie, or pajamas, go for it. It's also a good idea to bring spare clothes for them in case of spills or accidents.
Depending on where you are in the potty training process, you might want to bring a pull-up if you're planning on some snoozing. And don't forget to bring sweatshirts and layers since planes can be chilly.
23. Splurge for that $5 Wine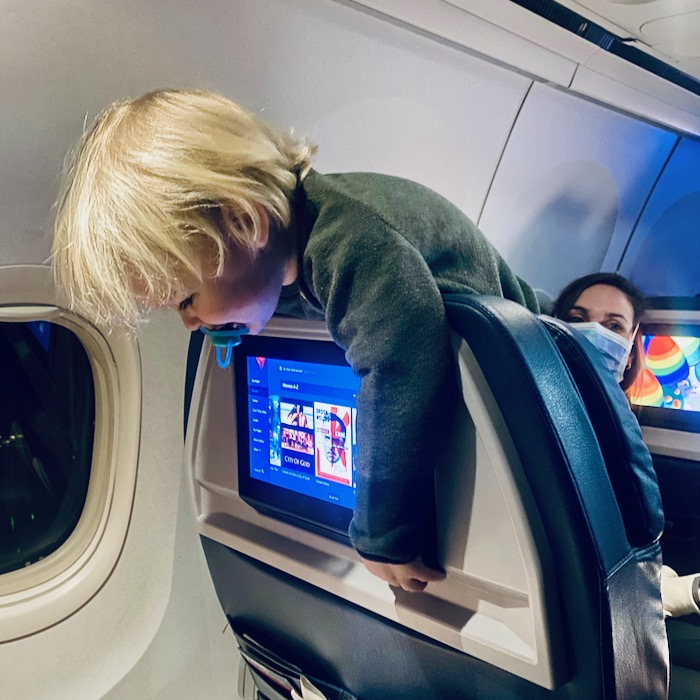 Especially if your kid is asleep. Best wine I ever tasted.
24. Save the Screen Time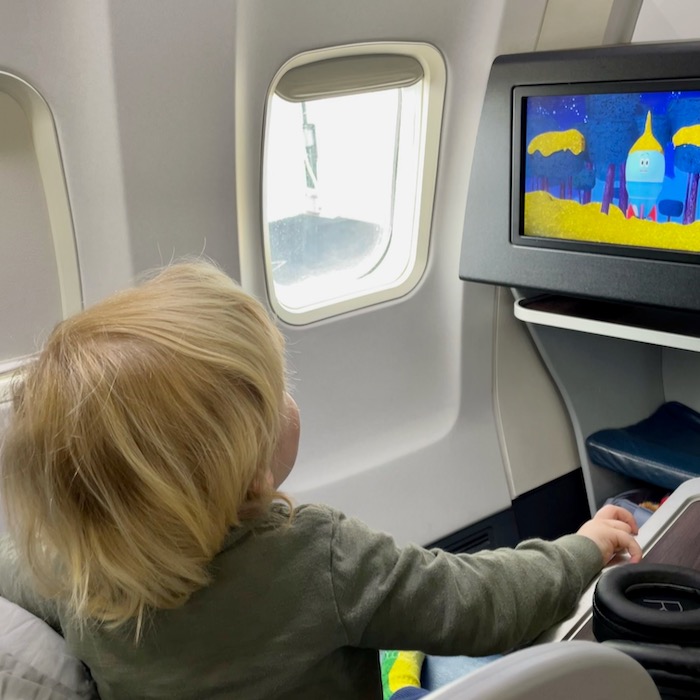 I'm all for limiting screen time and focusing on activities that stimulate our kids' brains and bodies, but screens are also a magical tool that can be a huge help for parents. This is especially true during travel.
Giving in to the screen can make the flight more peaceful for you and everyone around you, but it can be most effective if you save it for when you really need it. Although tempting to let your child watch TV through the terminal and at the gate, saving it for the plane means they'll be more focused when they finally get to watch—and when everyone needs some quiet.
25. Give Yourself Some Grace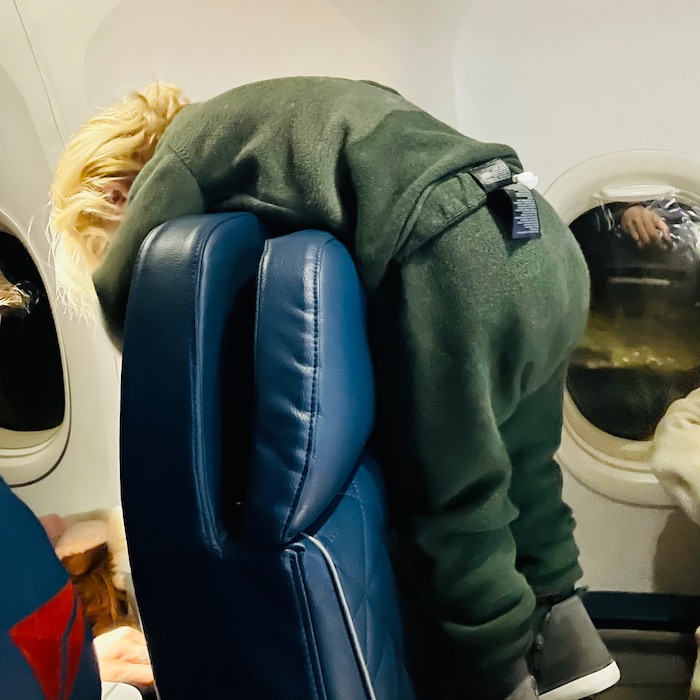 As crazy as that child of yours might be on the flight, remind yourself that at some point the plane will land and it will come to an end—and you will never see these people again. Parents need to travel, too, and you're awesome for bringing your kids along. Go you!
Pin me for later: