Solly Baby Wrap Review – Pros, Cons, and Honest Thoughts
The Solly Baby Wrap was the first carrier I ever put my son in. The day he came home from the hospital, I have fond memories of seeing his dad bonding with him, skin to skin, in what became our favorite newborn carrier.
I'm a big fan of baby wearing. Although we have a stroller for Felix, I almost always ditch it and opt for a carrier instead. I will mourn the day he's too big for them, but until then, out of the six different carriers that I have tried, the Solly Baby Wrap has been one of my consistent go-tos.
Although we've loved it for many months, there are things to consider before buying. From a mom with two of them, this is what I love about the Solly Baby wrap, and what might make me reconsider if I were buying again.
First, the Specs
Twice as soft as cotton.
Made from 100% certified Lenzing modal (sourced from the pulp of Austrian Beechwood trees) No Flame retardants are used.
Dyes are nontoxic AZO-, phthalate- and metal-free.
Claims to reduce crying by up to 43%.
Lightweight, packs up small.
Suitable from birth, or 8 pounds up to 25 pounds.
Promotes skin-to-skin bonding.
Breathable and stretchy.
Hip-healthy certified.
Why We Loved the Solly Baby Wrap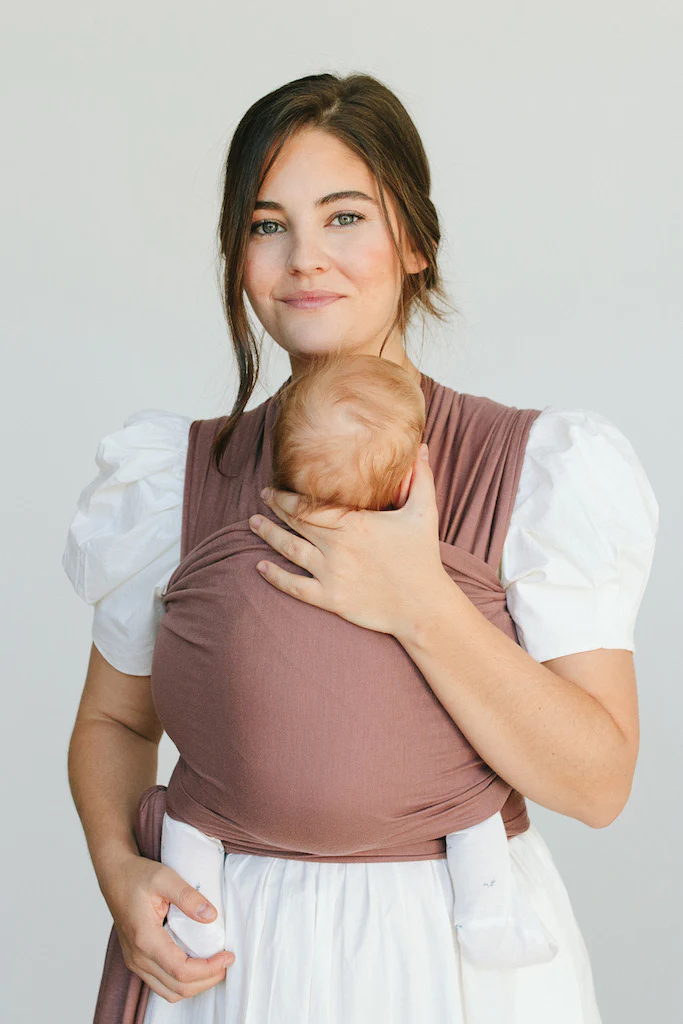 When traveling abroad, particularly in the Andes and East Africa, I noticed women wearing their babies in wraps. It's been this way for centuries, though it's a relatively new way of baby wearing in the States. When I had my baby, I was excited about wearing him in a similar way. Here's what I loved about it:
Super Soft and Hands-Free
This is easily the softest carrier we have. Every time I put it on, I felt confident that both Felix and I were comfortable. Especially as a newborn, he cocooned in there beautifully. I'd take him for a walk every morning, then let him sleep on me as I went about my morning routine. It truly is hands-free.
As he got a bit bigger, it was easy to have the legs out in the wrap as well. I felt like he was secure, like his legs were in the correct position, and I believe this wrap would be great for breast-feeding as well, providing more cover than most carriers would.
Distributes Weight Well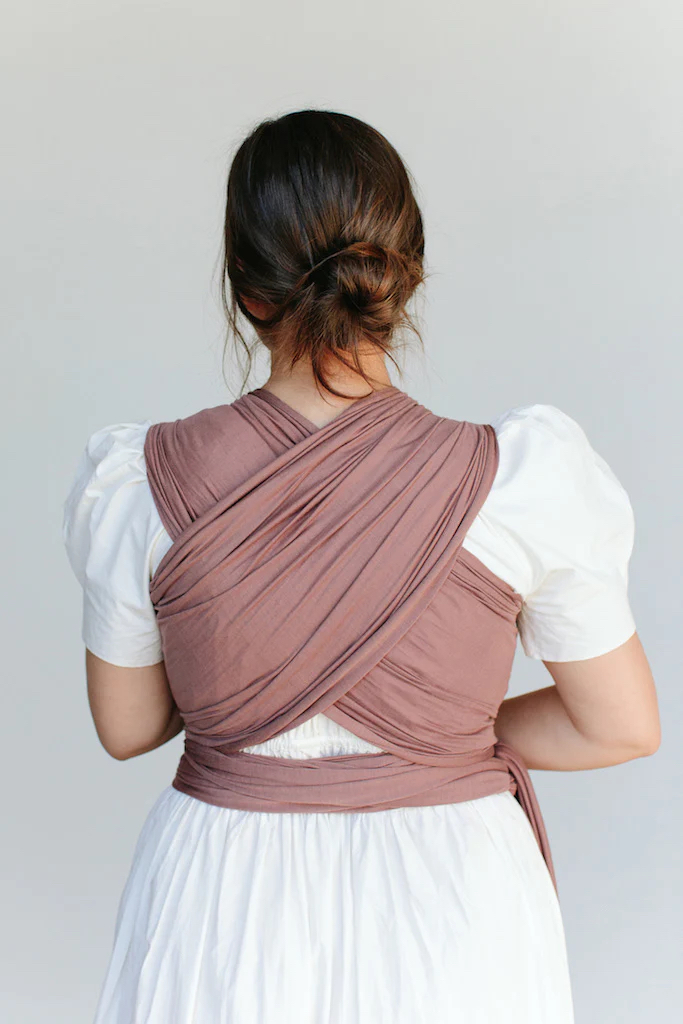 This wrap is soo comfortable! I expected to love the Ergo Baby 360, but it just never distributed weight nearly as well as the Solly Baby wrap did, especially with the newborn insert. It couldn't compare.
That said, after a few wears in the early days, my partner Garrett came to prefer the Ergo Baby to the wrap. He felt like without having breasts, Felix didn't rest on him quite as well in the wrap. I had to agree – he did look more comfortable on me than on his dad.
Great for Sleep
Solly Baby makes the bold claim that the wrap calms crying by up to 43%. This comes from a study that found baby wearing in general calms crying, but I have to agree it did work wonders when he was overtired and just needed to sleep. It does a great job of providing a sun or light-shade for the baby.
For our first flight with Felix, which happened to be across the country and an overnight flight, he's really slept "like a baby" in the wrap the whole time. He was in his happy place and truly comfortable. I wish I could say the same for his parents!
Love the Colors!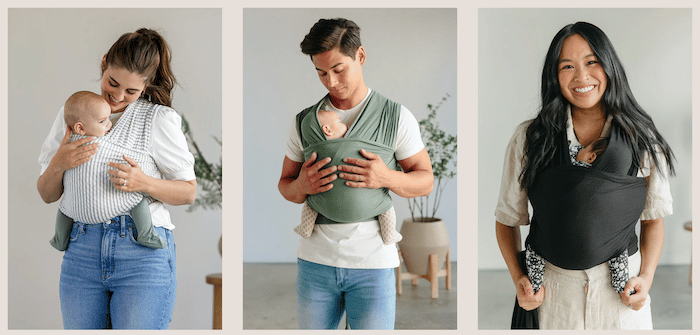 The styles and colors of this wrap are varied and always classy, with neutral, single colors as well as stripes, plaids, florals, and textured patterns. I own one in grey and one in Oat Dot. Both can match just about any outfit, which to be honest, is a big selling point for me.
It's Affordable
Of all the baby carriers I own, this one was the most affordable. Priced from $69 to $79, they're several hundred dollars less than the Ergo Baby or Artipoppe carriers we have. It made for a great registry gift!
Why We Sometimes Chose a Different Carrier
Let's be honest, there isn't a perfect carrier out there. For all the reasons I loved this carrier, there are a few reasons why I also didn't. I'm speaking in past tense since we didn't get a chance to use this much beyond his fourth month. Let's explore why:
It's a Process Getting it On
When I first received the wrap and took it out of the box, I was a bit dismayed to see that it was one long piece of fabric and that there would be a learning curve for getting it on.
It will probably take a few times watching the tutorial before you memorize all of the steps. In the early days I would sometimes have to take it off and start over. That said, once you get the hang of it, it takes less than a minute to get it on and get the baby in.
The other part I didn't love was how the end would drag on the ground during the process of putting it on. The ends of the fabric don't touch the baby, so it's not the end of the world, but the ends of my carrier have touched dirt, asphalt, the floor of the airport, and more places I'd rather not think about.
Can Be Sweaty
One of the biggest selling points of this wrap is that it is made from lightweight fabric and, while true, since my baby was a July baby, I would often just have to wear him without a shirt in this wrap since we would both come out of it pretty sweaty otherwise.
As he got older and his head and legs could be out, this became less of an issue, but when he was a newborn and fully wrapped up, I'd have to make sure we only took very early morning walks and he was just in his diaper. Since there aren't gaping sides and the baby is totally wrapped up, you've got to make sure they're not overheating if you're in a hot environment.
The Weight Limit Tops Out
This was the most unfortunate downside for me. Although the wrap is supposed to be suitable up to 25 pounds, I found Felix would put a bit too much pressure on the fabric from about 17 pounds. Maybe I quit too early and could've given it another chance, but by then I had bought an Artipoppe carrier, and since he was bigger and wanted to look around, we both came to like that one better for months 4 onward.
I have a much bigger baby than most people, though. He has always been in the hundredth percentile for height and quickly matched with his weight, so our experience with this wrap was more short-lived than would be normal.
Since this wrap is only for in-ward facing carrying on the front of the body, it also may limit how long your baby wishes to use it.
All of those things considered, this is the best wrap for newborns, hands down. I would absolutely hang onto mine and use them again if we choose to have more children, and highly recommend it as a gift or baby registry addition as well.
There's simply nothing as soft, supportive, or comfortable for the wearer that I've come across.
*Some links in this post are affiliate links that support this site at no extra cost to you. Thanks for keeping us going!