How to Survive Flying with a Baby (50 Tips!)
As a frequent traveler who had been to over 60 countries before giving birth, I wanted my baby to fit into my travel lifestyle. But would it be a terrible experience? I've heard babies crying on flights and I've watched parents struggle through the airport with a mountain of things.
I didn't want to suffer like that, and I am happy to report that over the past six months and 17 flights, despite a number of extensive delays, it's been pretty smooth sailing with my baby.
"He flies better than most adults," is a phrase I've heard twice.
So how do you fly with a baby and not hate it? These are my 50 quick tips!
When You Book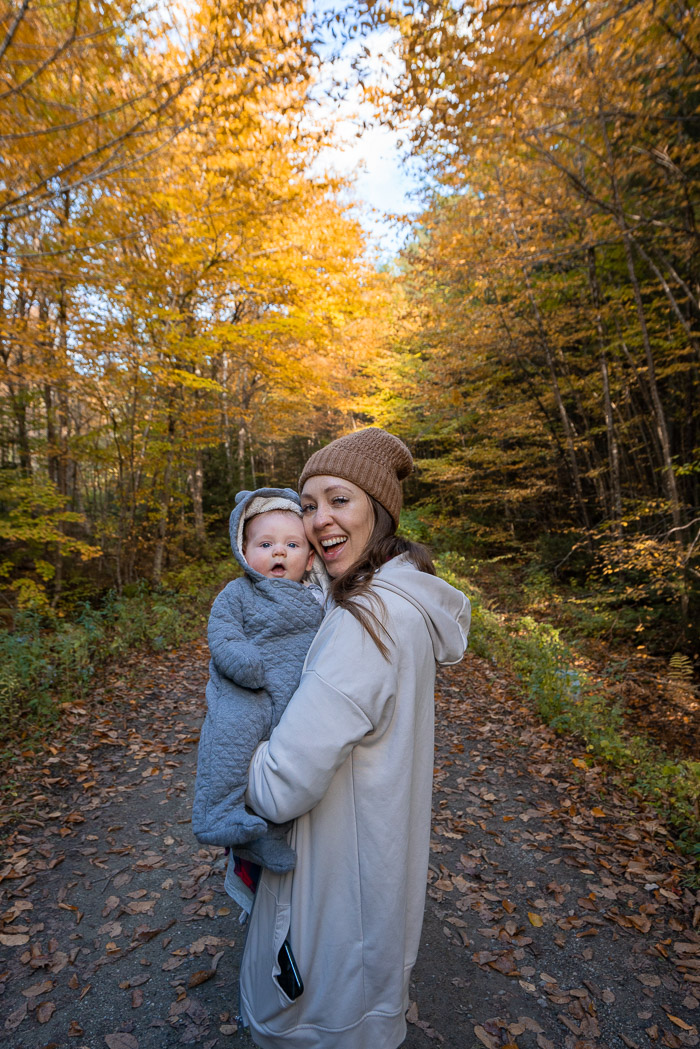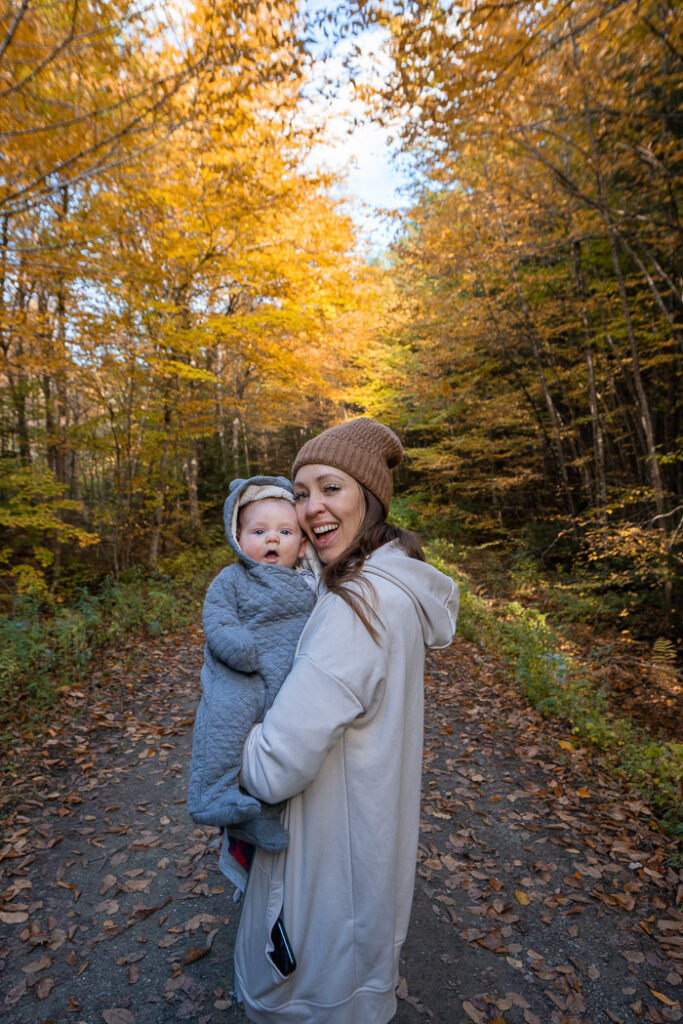 50. Can you go during naptime?
I thought sleep might be difficult on a flight, but the combination of the movement and white noise actually works really well for many babies. Although every kid is different, it's worth seeing if you can fly during naptime to have a sleeping baby during the flight, especially since the airport can be a stimulating and difficult place to nap.
49. Don't fear overnight flights
Our very first flight with my son was right after his two-month birthday. We live on the West Coast and had planned to visit Vermont. The only option was the 5-hour red-eye to JFK. I was terrified of how it would go, but since it was during my baby's normal sleep time, he slept almost the entire way. He did better than his parents!
48. Ask about a bassinet
If you can get a bulkhead/front row seat, particularly on a large or international plane, ask about reserving a bassinet. Some airlines require you to call ahead to reserve one, others will require that you ask at the gate. It just depends on which airline and what their policy is at the time, though most domestic airlines don't reserve ahead of time.
We got lucky on our flight back from Vermont when we nabbed front row seats last minute and the plane happened to have a bassinet on board. It's always worth asking.
47. To reserve a seat or not to reserve a seat for baby?
Until your child is two years old, they can be on your lap for the flight. Some of my friends choose to pay for their baby's own seats so that they can use a car seat and have their lap free, but my baby greatly prefers a lap to his car seat, so we just choose to wear or hold him.
Getting their own seat is the safer choice, though (which I discuss in the safety section below). It usually costs 60 to 75% of a regular seat, and even if they are lap sitting, you may have to pay for that, too. I paid an extra $275 for our baby to be a lap infant in business class on our upcoming Japan Airways flight!
46. Doublecheck your carseat
If you do decide to bring a car seat on board, make sure that it is FAA approved. Target has a listing of carseats here.
45. You can reserve a baby meal!
Is your baby eating solids? You can request a baby meal on many international and long-haul flights! This is best ordered ahead of time, and though it is sometimes an option, it's always best to bring your own food as well. Like breastmilk, you are allowed to bring baby food over the 100ml limit.
Going International?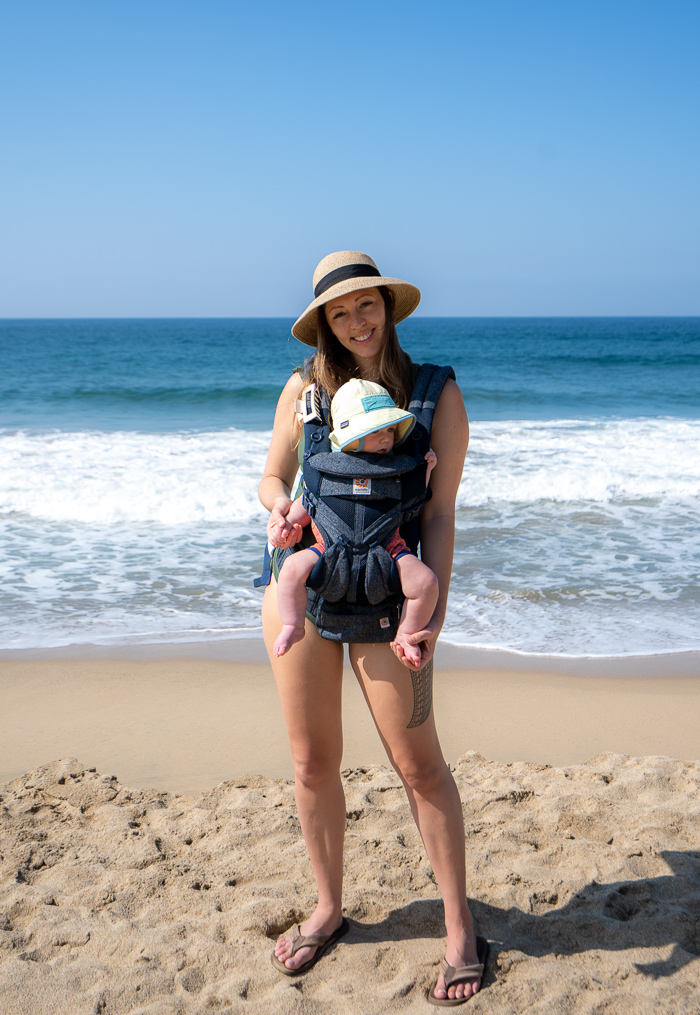 44. Yes, baby needs a passport
Before you can travel internationally with your baby, you will need to get them a passport. Don't leave this until the last minute! Although you can go to a passport agency if your flight is within a few days, which I've done before for my own passport renewal, they are only located in major cities, feel a lot like the DMV, and you'll have to return to pick it up in person.
43. And Global Entry
Although your baby does not need their own TSA pre-check, which I'll get more into below, they DO need their own global entry including the in-person interview! Processing times for this can take months, so apply as soon as you have the passport!
42. Take the passport photos yourself!
If you have some time, take the passport photos yourself, make a post office appointment, and pay extra to expedite if needed. We had ours in about 4 weeks.
41. Immunizations
Be sure to talk to your pediatrician about recommended immunizations depending on which part of the world you are visiting. Generally these are best booked at your local county travel clinic.
40. Baby friendliness
Babies exist in every country on planet Earth, but that doesn't mean every country is necessarily easy to travel through with a baby. Do some research ahead of time on availability of baby items, whether or not a stroller makes sense to bring, whether or not you need a carseat (are you taking taxis or ubers or just using public transportation?), and how difficult it will be to get from place to place.
What to Bring Onboard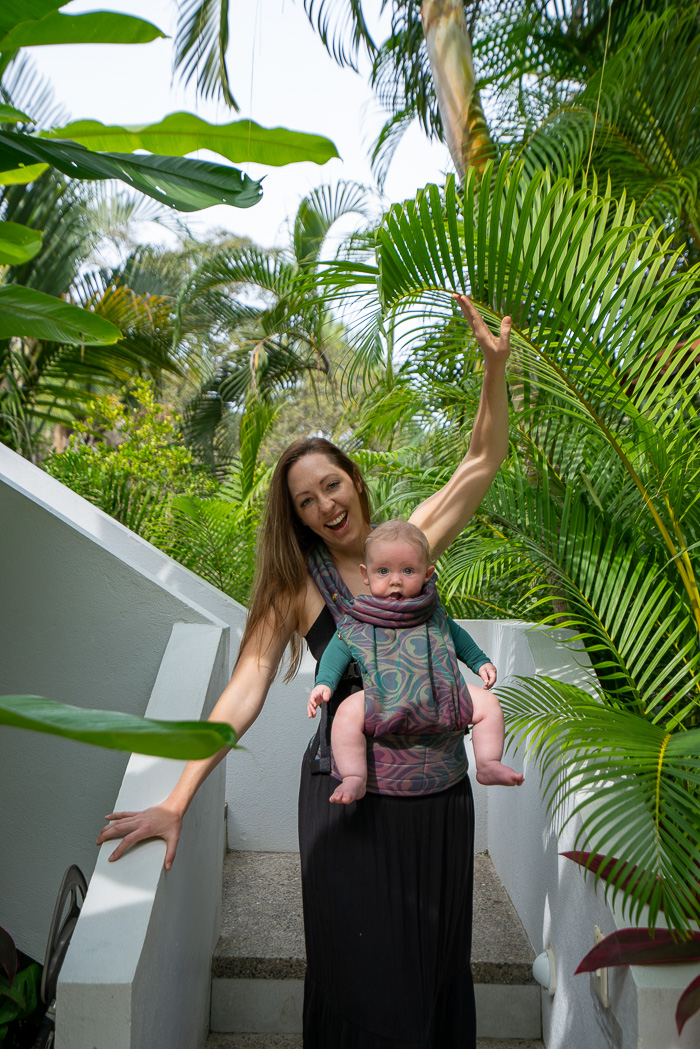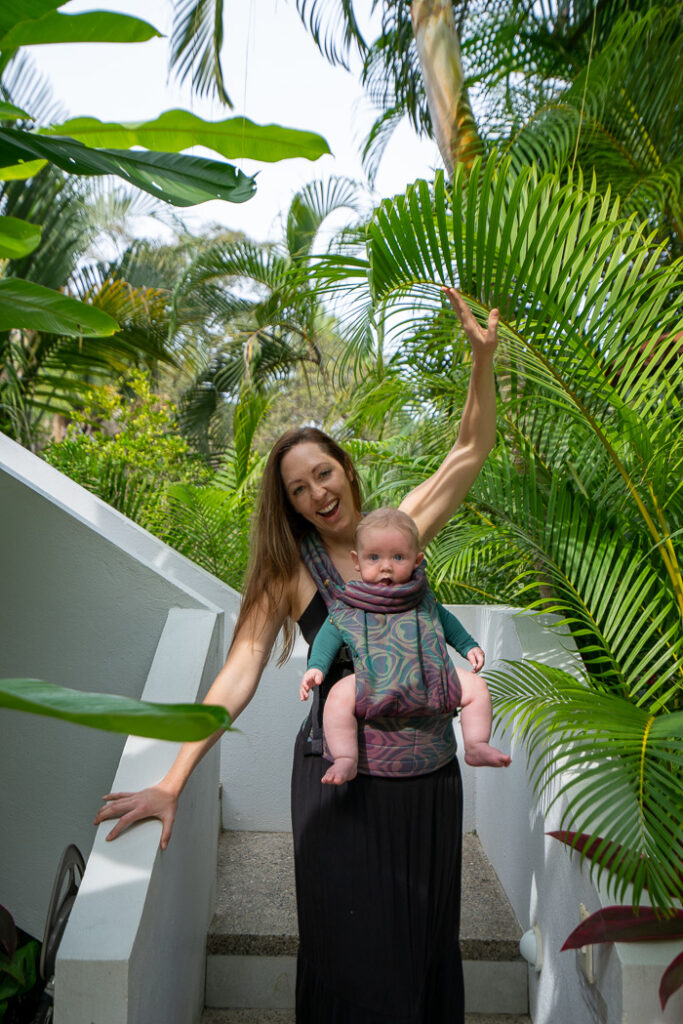 39. A BIG diaper bag backpack
I was overwhelmed when looking for diaper bags. Seriously there must be 1 million of them in circulation and each is different. I eventually settled on a Jeep brand one (that is currently sold out, but here are some great alternatives) mostly because it is huge, the shoulder straps looked comfortable, and it has extra clips for stroller handles. Whatever you do, get a backpack rather than a crossbody bag. It is so much more comfortable.
38. Diaper bags don't count against carry on limits
The great news is diaper bags don't count against your carry-on baggage allowance. Still, I wouldn't go crazy since the more things you have the harder it is to get through the airport!
37. A baby carrier
We don't like to carry a carseat through the airport, nor do we typically even bring a stroller on our trips since so far, we've been mostly to beachy places and he prefers being worn to strolled. While all that is up to personal preference, I 100% recommend bringing some kind of baby carrier. The Solly wrap was amazing for when he was a bit younger in terms of sleep, and these days we use an Ergobaby or Artipoppe carrier.
36. Lots of diapers
Imagine a delay that lasts all day, or maybe even multiple days. I've seen vending machines at airports with two dollar diapers, which are never in the right size for my baby. This is why we always have at least two days worth of diapers in our diaper bag. Thankfully they are pretty compact and very lightweight.
35. Wearable pumps for my EPers
Exclusive pumping mamas, I see you! What we do is not easy, but my journey has been made so much easier with wearable pumps. You can read my full Willow Go review, or consider bringing a hand pump (with flanges that fit you!) for a much more affordable option.
34. Extra water for formula (if bringing)
I combo feed my baby expressed milk and formula (read about my breastfeeding journey here), so we need water that we trust and have boiled and sanitized along with us. It's best to store this in a clear container for TSA. Bring more than you think you'll need, since you never know when there might be a delay.
In a pinch we could, of course, buy bottled water at the airport, but I much prefer bringing my own.
33. Portable changing pad
Airports, and especially airplane bathrooms, are gross. We have our own changing pad rather than relying on there being disposable changing mats for the changing table. I have only come across those once in all of our flights!
32. Portable washing station
You guys, this is the best $20 I have ever spent. I use it to wash bottles, pump parts, and we have even started using it at home as his exclusive bottle washer and drying rack.
31. And soap
If you'll be needing to watch anything on the go, I recommend bringing your own unscented soap as well. I almost never want to use the scented or especially antibacterial stuff that I find in the airport, airplane, or the hotel. I just bring a carry-on friendly amount and we're good to go.
30. Small, easy toys
Some people think that toys are unnecessary for babies, but I have seen how intrigued and even excited our son gets when he has a special toy along on the trip, so we always bring a few small ones. We have the Lovevery playkit subscription and love bringing those along.
29. Pacifier with clip if they take one
A pacifier is very helpful for takeoff and landing to help clear your baby's ears. Make sure that it's on a clip so that it doesn't fall on the floor, and bring a few extra pacifiers that you've cleaned at home just in case it touches a surface you're not thrilled about.
What to Check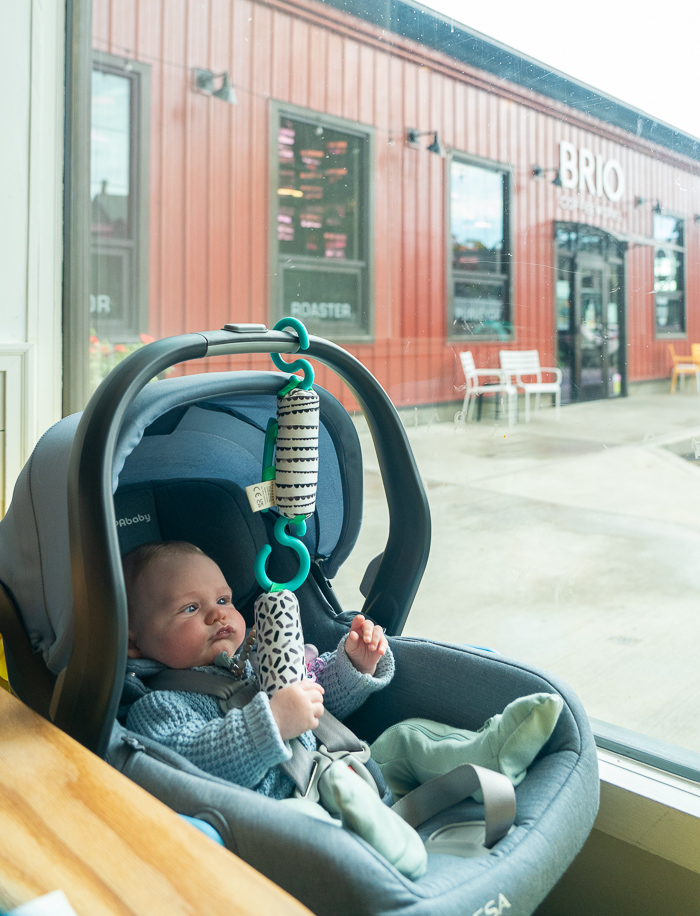 28. Car seat – to check or not to check?
Should you check your car seat as hold luggage, gate check it, or bring it on board? If you have been able to secure a free seat, or purchased a seat for your baby, you'll probably prefer to bring it onboard. Personally, we always check the car seat. We have a separate travel carseat that was handed down to us by a friend, so we know its history, and since it's our 'backup' carseat, we risk it.
That said, it could get damaged, the airline could lose it, and we could be stuck in a situation where we arrive at our destination without a car seat. We have rolled the dice thus far, but I could see a reality in which that bites us. Still, we don't want to cart it through the airport to gate check, though thats totally an option.
27. Baggage allowances
Strollers and car seats generally do not count against your checked baggage allowance. Yay!
26. Either way, get a carrying bag
Regardless of what you choose, a carrying bag can help protect the car seat and make the whole process easier. Some of them have backpack straps, which would be nice. The case that goes with our UPPABaby Mesa has handles.
25. Stoller – same question
Should you check the stroller as luggage, bring it through the airport and gate check, or bring it as a carry-on luggage? You will need it to fold down pretty small if you want to be able to put it in in the overhead compartment. I've also seen carrying backpacks for strollers that would provide both protection and ease when you need to move quickly.
Since we still babywear for almost all of our trips, we usually don't bring one. but if we did, I'd probably gate check it and leave extra time for checks at TSA if needed.
At the Airport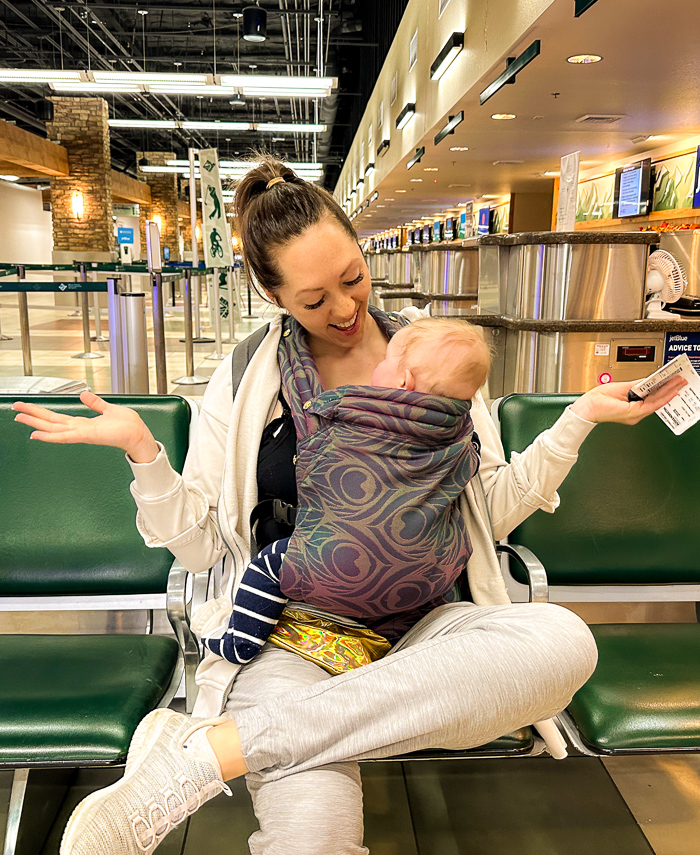 23. Leave extra time!
Get to the airport earlier than you ever did pre-baby. Everything just takes longer, from TSA (more on that below), to stops for diaper changes. We have started giving it an extra 30 minutes to an hour.
24. Does baby need pre-check?
Unlike global entry, baby does not need to have their own TSA pre-check. If both parents have it, then you can all go through expedited security as a family.
22. Breast milk/formula and TSA
Be sure to let the TSA agent know before you go through the metal detector that you have liquids over 100mls in your bag (assuming you do for formula or breast milk). You are allowed to bring liquids up to "a reasonable amount" onboard.
They will probably test the liquid by running it through an additional screening machine. They may also unscrew the top and hold a paper over it for a vapor test. Know that they are not allowed to put anything directly into the liquid. This will all be easier if you put everything in see-through bottles. If you can have every bottle under 3 ounces, which has never been feasible for us, then you may not need extra checks at all. If you have formula with you, they will probably wipe it with a cloth to bomb test it.
How much of a pain this process is depends on the agent you get and the airport. We were waived right through at SFO without extra checks, but I actually had to stand my ground and insist that we were allowed to bring water with us when going through Reno, our home airport. Be sure you know your rights and have TSA's rules saved to your phone if needed. I'm always polite and respectful, but firm when necessary.
21. Can I wear baby?
Yes, you can wear your baby through security, but you will have to remove them from a stroller.
20. Lactation pods
You may be totally confident nursing your baby in public, or maybe you're not. Whether you are nursing or pumping, many US airports now have lactation pods available. It's easiest if you download the Mamava app ahead of time and use to to search out the nearest lactation pod. It'll send you a code to open the door if the pod is unoccupied.
Note that these pods are not meant for a diaper changes. They're actually pretty sparse in terms of what they have, but they do at least offer privacy.
19. Family restrooms
All hail the family bathroom! Garrett and I are always looking for these in the airport. It's so much easier to take care of everyone's needs at once, and they're nice and big. Plus, you don't have to worry that they won't have a changing table.
18. Nurseries
In lieu of a family bathroom or lactation pod, some airports have nurseries near the bathrooms. They typically do not have toilets, but they do have a place to sit for feeding as well as a changing table. If you're out of diapers, you may be able to find a vending machine in one of these.
17. Bringing baby to airline lounges
Generally babies and children under two are not counted as extra guests in airline lounges. We are always bringing our baby with us. They are much nicer places to chill than the gate. Note that you will only be able to use these if you have a credit card that gives you access, possess a business class ticket or higher, or you can find a paid entry lounge.
16. Ask about family seating
At the more popular lounges, sometimes it can be hard to find a place to sit. Ask if they have family seating. The lounge at our home airport always reserves the couch for families.
15. Wash bottles here!
I always save the diaper changes and bottle washing for the airport lounges. Their bathrooms are much nicer and see far less traffic.
14. Look for quiet places
Is the airport or lounge too loud, bright, and stimulating? Sometimes when I know my son just wants to sleep, I put him in the carrier and look for a quiet corridor. Often it will be where there's an art exhibit, at the very end of the terminal, or even just walking around a gate that doesn't have a flight taking off soon.
13. Ask the gate agent about free seats
Before you board, give yourself some extra time at the gate so that you can ask the gate agent if there might be any free seats. If you brought an FAA-approved car seat with you, you may be able to bring it onboard and strap your baby in. Obviously this is just going to come down to luck, but it doesn't hurt to ask politely.
12. Take advantage of family boarding
Almost every airline offers early seating options to families with children under a certain age, whether it's from 2-7 depends on the airline. It usually happens after preferred seating for first and business class and those with disabilities.
On the Flight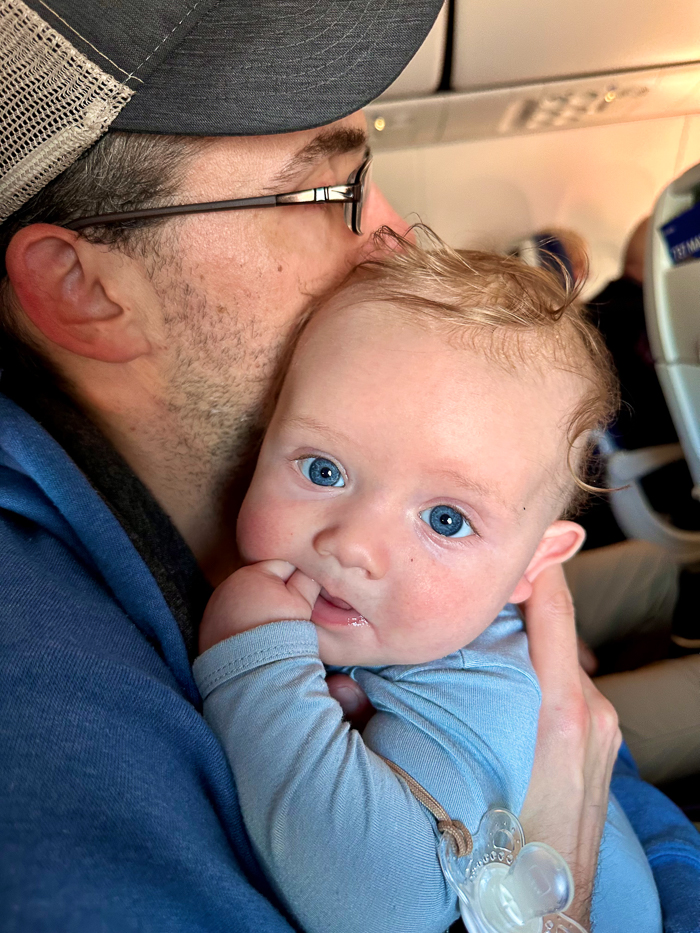 11. Breast, bottle, or binky at takeoff and landing
We are always sure to have our son eating at takeoff and landing if possible. If he's not hungry, we offer him the pacifier. As long as he is swallowing, it will help clear his ears for takeoff and landing. Thankfully we haven't had any issues so far, but every baby is different in terms of their ear sensitivity.
10. Wear baby for better sleep
I find it easiest to wear our baby on flights. He might not be into it if he is wide awake, but the carrier has been very helpful for sleep over our many flights. Be advised you may be told you have to take the baby out of the carrier for takeoff and landing, for reasons I don't understand. We've only been asked to do this a few times.
9. Ask for open seats or a bassinet if you haven't yet
Did someone fail to board? There may be a free seat that wasn't anticipated when you asked at the gate. We have also asked for a bassinet after boarding when we realized that our row could accommodate one. You'll have to get lucky in both instances, but all hope is not lost if you haven't asked before this point.
8. If you need to pump or wash onboard, ask for water
Hopefully you're able to fill up your water bottle with filtered water in the airport, but if not, ask a flight attendant for a bottle of water to wash out bottles or pump parts rather than using water from the tap in the airplane bathroom. Sometimes it's not potable, but even if it is, it's hard to know the status of the water trucks that refill it as it's not meant for drinking.
7. Have the baby near the window
We almost always book a window and an aisle seat just in case we can get that middle seat free. If not, I haven't met a person yet who is mad about being offered the aisle when they thought they had the middle. We tend to have the baby closest to the window so that he's not next to a stranger who may have a cold. It also provides more privacy if you'll be nursing.
6. Be mindful of the brightness
That said, I usually keep the shade drawn because the light can be extremely bright and interfere with sleep.
5. Remember, flights are cold!
We usually bring a fleece onesie specifically for the flight since they can be so cold, and a couple of thinner onesies for the destination, unless it's even colder, in which case we bring thicker ones and a jacket.
4. They may eat more when traveling
Planes are dry. I'm always thirstier on board, and sometimes that's true for my baby. Make sure that you have ample milk or formula available and don't be surprised if they guzzle.
3. It's okay if they cry
I think a lot of parents need to hear this – babies are an essential part of society. They are allowed in planes, lounges, and airports even when they cry. If you have met all of their needs and they are still crying, I know that it's difficult, but you've done what you can and it's okay. If the seatbelt sign is off, perhaps you can bounce them or walk them up and down the aisle. Don't worry about anyone giving you a sideways glare, you will never see them again anyway!
Safety
2. The FAA recommends children have their own seats
According to the FAA website, the safest place for a baby is in their own seat, either in a carseat, or in an approved child restraint system (CRS).
For the time being, we still have our son on our laps or in a baby carrier, but each parent should make their own decision on what's best.
1. How old is your baby?
My son recently turned six months old. That means he has been flying in the age of the cooties, and the worst flu and RSV season on record. His father works in the emergency room and based on his experience, had strict rules about limiting his exposure to the world until he was two months old, at which point a baby's immune system is typically more developed.
You might need to travel before that milestone, but if you can wait or drive, those are great options, too.
I hope these tips help you to have a smoother travel experience.
Traveling with a toddler? It's a different ballgame! Here are our best flying with a toddler tips.
*Some links in this post are affiliate links that support this site at no extra cost to you. Thanks for keeping us going!