Is the Joolz Aer Worth Buying? I Tried it to Find Out!
Friends, I am on a constant search for the best travel stroller, particularly that can fit in the overhead bin of an airplane.
I've searched high and low, trying several in my quest to find the best. On my most recent trip to Southeast Asia, I brought the Joolz Aer along to see if it's a contender. We used it for 12 straight hours in Singapore en route to Bali, and all of the airports on the trip. Here's what to know before buying the Joolz Aer:
My Overall Impression of the Joolz Aer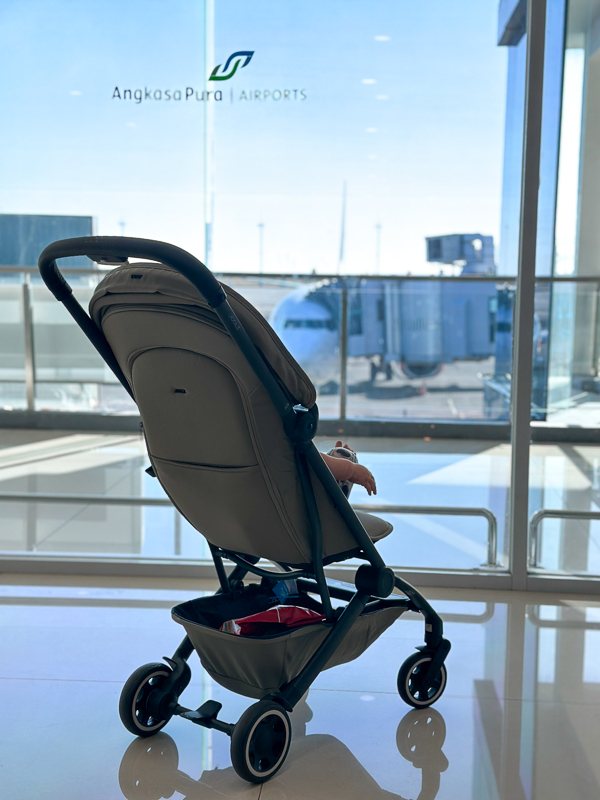 I've tried a few strollers that can fit in the overhead bin now, including the GB Qbit (which is a stretch, the Pockit would be more accepted on any flight), and the Ergobaby Metro Deluxe (read my Metro+ review).
The Qbit would be almost perfect if it were small enough to fit the overhead dimensions, and the Metro+ would be perfect if it had a larger canopy and could be folded with one hand. Could the Joolz Aer shine where those two failed?
Yes, the Joolz Aer is small enough to be cabin approved for most flights, and folds super easily with one hand. It has a huge canopy and seems like a comfy ride for my son, but it not everything is perfect.
Joolz Aer Dimensions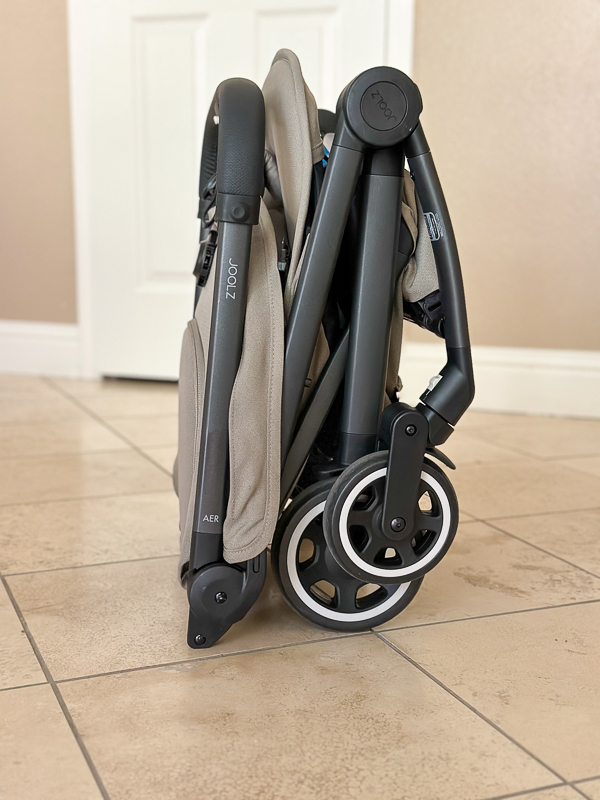 The Joolz Aer is on the higher end of travel strollers, coming in at $450 new (but I got mine for cheaper secondhand on Goodbuy Gear).
It's delightfully lightweight, comes with a carrying bag, and folds down nice and small:
Approximate price: $450
Weight: 13.4 pounds
Folded dimensions: 20.9" long by 17.7" wide by 9.1" high
Open dimensions: 32.7" long by 17.7" wide by 41.5" high
Suspension: All-wheel
Stroller seat age and weight range: 6 months to 50 pounds
Under-seat storage capacity: 11 pounds
Patent pending extra-large comfortable seat.
Made from recycled plastic bottles.
UPF 50+ canopy with peek-a-boo window.
Tall back and adjustable 5-point safety harness.
You can also use it with a car seat (it's compatible with the Nuna Pipa, Pipa Lite, Pipa Lite XL, Pipa RX and Pipa Lite R, Cybex Cloud Q (plus), Aton Q (i-size) and Clek Liing) or infant bassinet with the purchase of adapters.
Joolz Aer Pros
There are some definite pros to the Joolz Aer – the all-wheel suspension, the smooth ride and handling, the adjustable handlebar for tall parents, and how comfortable and plush it feels. These are what stood out to me:
Canopy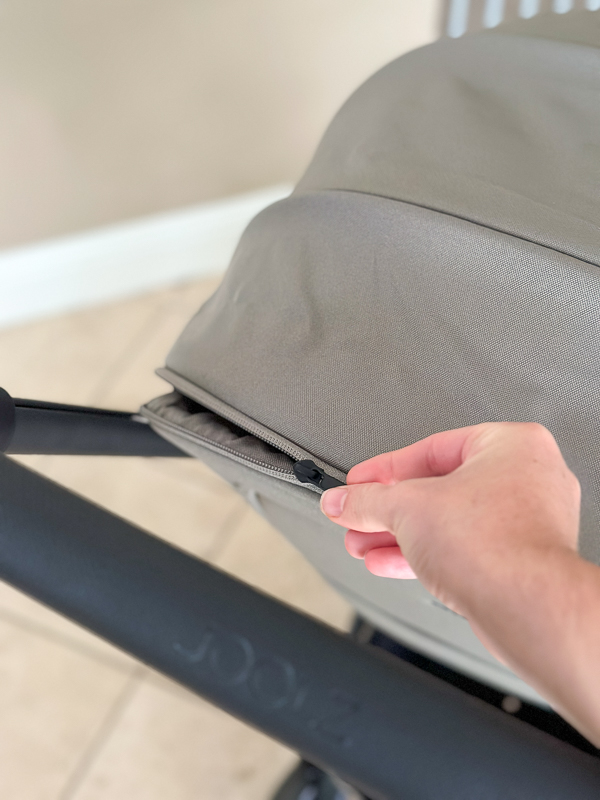 We can all stop looking, this is the best canopy on a travel stroller. Not only is it wide, it has a possible zip-to-open extension with a peek-a-boo mesh window to extend coverage down further if needed.
The canopy is sturdy as well. It's one of the biggest missing elements on the Ergobaby Metro+, which doesn't have enough coverage to prevent my son's arms from being in the sun unless he has them in his lap. I love the material, which is thick and helpful if it rains. This one will be hard to beat in the canopy department.
Storage
The under stroller storage is decent on this one at 11lbs. I still haven't found a travel stroller that can accommodate our large diaper bag backpack (really, only the Guava Roam we use at home can), but it's sturdy enough for us to strap to the handles if needed.
Fold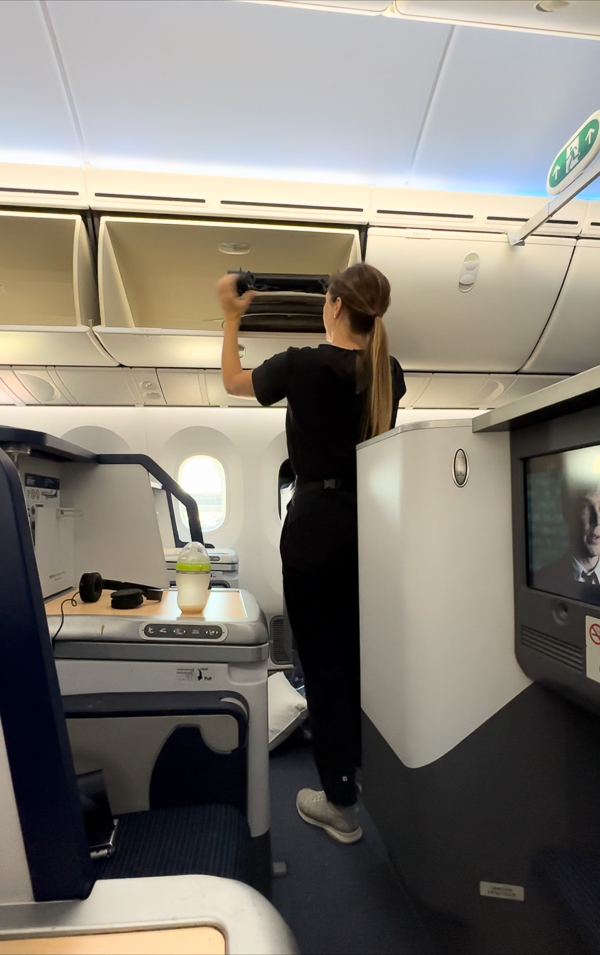 I love how simple it is to fold this stroller. I can easily do it with one hand while holding my son, which is essential for solo travel, and a nice bonus even when traveling with others. It makes getting through TSA much simpler!
Wheel Lock
The wheel lock is really simple to activate on this one. I like that it's so quick and easy, but that does mean I've tripped it on accident before. Still, it's nice that it can be activated or deactivated even when using flip flops.
Handling
I didn't even notice if the Joolz Aer had issues handling any sidewalks or bumps in the pavement, which means there was nothing to notice, and therefore that's a great thing. For such a lightweight stroller, the four wheel suspension and the ease with which the stroller moves made it easy to push around. It was really an afterthought while simultaneously pushing our heavy bags through the airport. The fact that it made things so easy is a pretty big plus!
I also didn't see my son pulling up and forward as much in this stroller as he does with the other travel strollers we have, meaning it's a more upright seat. This is a plus for him.
Joolz Aer Cons
I want to love everything about this stroller so that I can stop looking for the perfect travel stroller, but unfortunately it's not perfect. Here's what I didn't love as much about the Joolz Aer:
Recline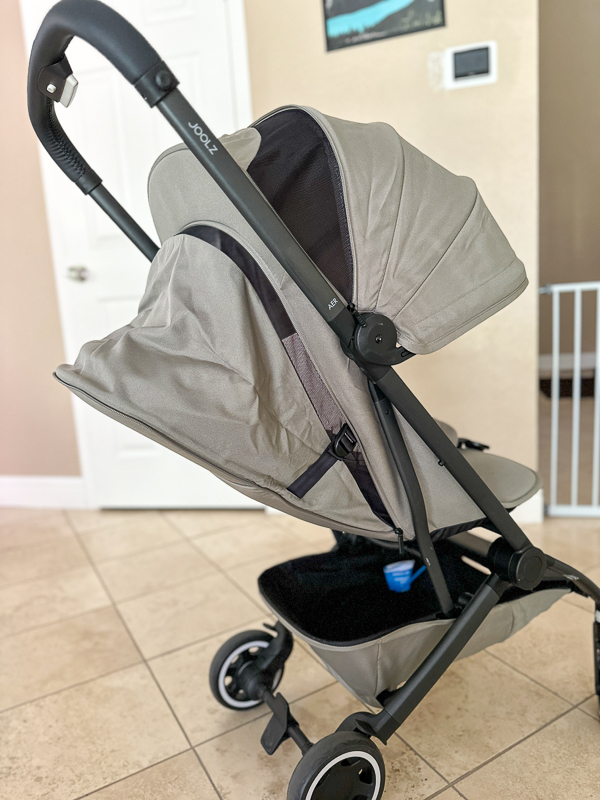 Unlike most strollers that recline by releasing straps on the back, this one is reclined by unzipping a back compartment. This means there's only one amount of recline one can have, and it's not as far back as I would like.
I like that once reclined, it creates a little cocoon where your child is surrounded by fabric (with some mesh) on all sides. I don't like when there are gaps (like most of GB's Pockit lineup). Still, I wish it was more adjustable. I don't always want to do a full recline, but when I do, I like a bigger one than this offers.
No footrest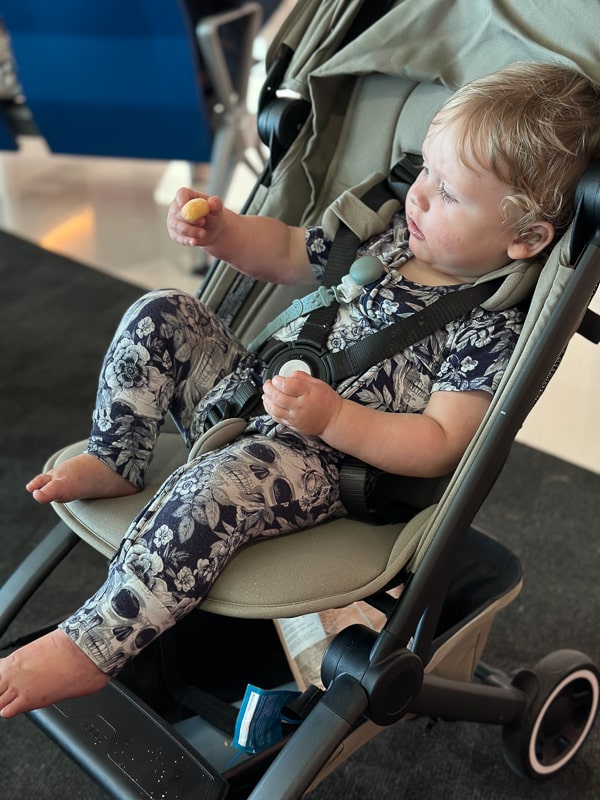 My son clearly wants to be able to put his feet up when he sleeps. I can see him shifting uncomfortably in the Joolz when trying to get to sleep, as he's tall and there isn't a footrest. The Ergobaby and Qbit both have an adjustable one, and since this one doesn't it feels like a big downside. Most of the GB Pockit strollers and the Babyzen Yoyo also lack a footrest.
No lap bar
There's no lap bar on this one, which I don't really care about, but some for some families who don't use the straps and harness, this is a non-negotiable.
Final Thoughts on the Joolz Aer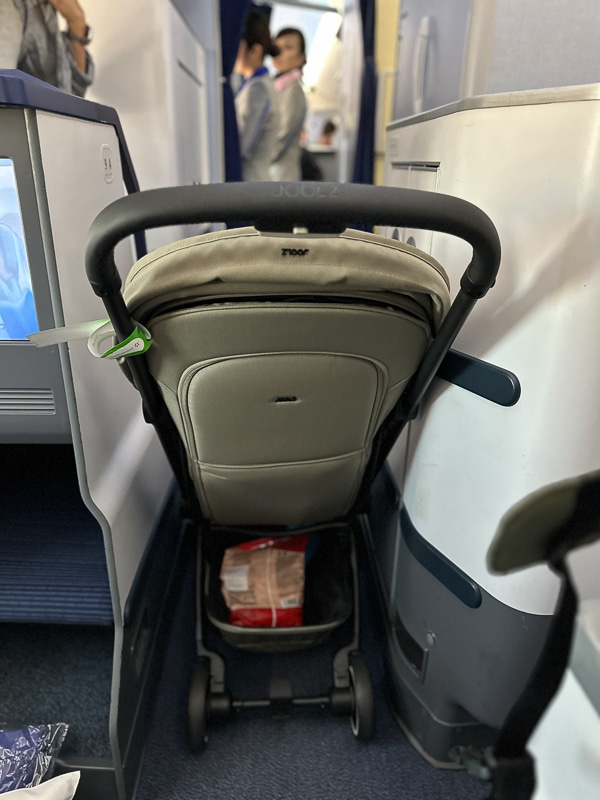 Overall, I like the quality of this stroller. It doesn't feel cheap like some travel strollers do, and it's one of few I feel comfortable strapping our heavy diaper bag to.
I would absolutely love it if the recline was a little bit deeper, and if there was a footrest. That said, I haven't found a travel stroller that has it all yet, and the huge canopy, premium materials, the fact that it's made from recycled bottles, and how lightweight and easy to fold it is are huge bonuses. So far, it's the best travel stroller I've found, and it is our go-to!
If you do buy one, buying through this link helps support us at no extra cost whatsoever to you. Everybody wins! But I also want to encourage you to think secondhand first. Here's how I buy and sell our baby gear secondhand.