The Nugget Play Couch: A Mom's Complete Review
In my experience, there are two types of homes when it comes to kid gear in living spaces: the modern, clean interiors that have no signs of messy children, and the ones with loud and colorful toys at every turn, making it clear to all visitors that youngsters rule the household.
I'd like to think we're somewhere in between. When friends come in, the house appears clean and inviting, and as time passes, they slowly realize that there are toys hidden in every corner, basket, and bookshelf in our home.
The Nugget play couch is a convertible futon that does it all. It can blend in as a neutral accent to any modern interior styling, or it can add bright pop of color to a child's bedroom or play area. It comes in a slew of colors to mesh with any decor, and it delivers endless fun to children while providing a comfortable spot for adults to lounge. Our Nugget has had a prime spot in our living space since we purchased it a couple years ago, and we use it every day with our two young kids.
The Nugget Brand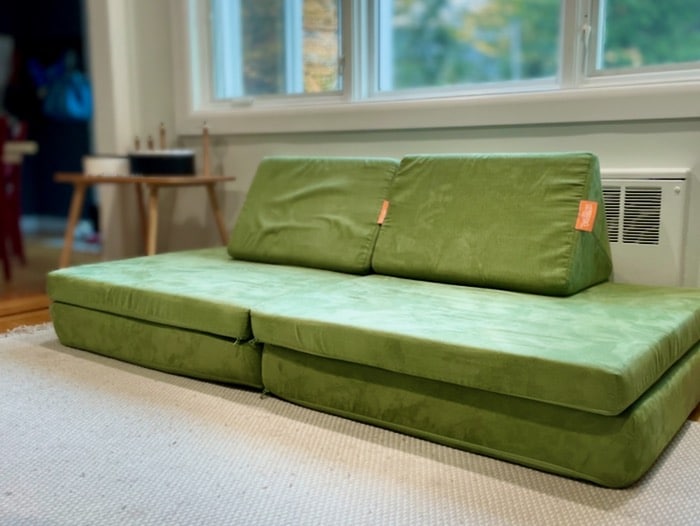 The inventors of the Nugget play sofa launched the Nugget brand in 2014, but surprisingly, they had no intention of creating a children's product. They were attempting to design a more versatile, long-lasting version of the common futon. When they started to sell their convertible product, parents latched onto it and children transformed it into something unexpected: a toy.
Once young families starting using it as a play couch for their little ones, company execs decided to run with it. They tweaked the design and shifted their marketing audience, growing its popularity among parents.
Nugget's goal is for its couch to be modern enough to sit next to luxury home decor and fun enough to act as an enduring toy for children of all ages.
Nugget products typically arrive at families' doorsteps within a few days of ordering, and the brand backs its gear with a 30-day trial period.
Our Experience with the Nugget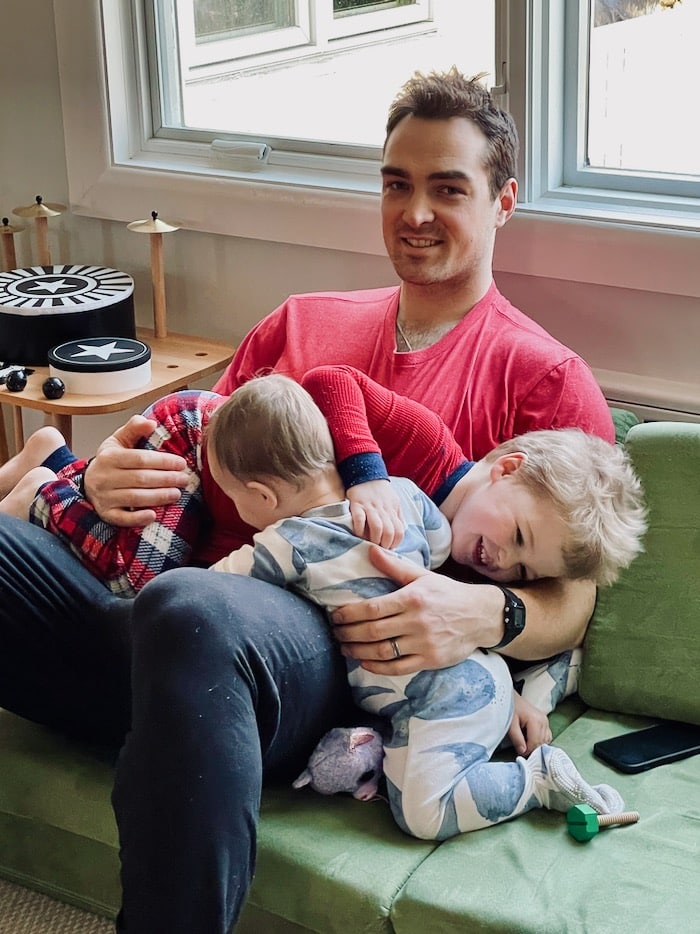 Since our young children are always playing on the floor, having the Nugget in our primary living space gives us a comfortable spot down at their level while they play.
The Nugget is always a favorite among other parents when they come to our house. We have friends who have bought one after trying ours out, and grandparents who purchased one for their living room so the grandkids have a fun spot to play. We even know parents who have bought two Nuggets to expand on its configurations and create plenty of play space for multiple children.
Ways we use the Nugget in our home
When we first received our Nugget, we were so excited about it, we went through a period where we ate most of our meals seated on it. Here are some other ways we use this convertible futon with our children:
Sitting down and reading books together (our most common use of the Nugget).
Making a ramp for somersaulting or rolling down.
Cuddling up with our infant to give her a bottle.
Jumping on it like a trampoline.
Lounging with an early-morning coffee while the kids play nearby for five minutes of bliss (a personal favorite).
Making a fort.
Spreading the cushions out to make a large play area and doing puzzles together.
Sitting on the Nugget like a sofa to chat with faraway family members on FaceTime.
Making a ramp to race toy cars down.
Plopping down and having a snack.
Taking a nap! My son has insisted on napping on the Nugget a couple times. I have also taken many naps on this futon, both intentional and unintentional (especially when pregnant).
The Nugget play couch: Weighing the pros and cons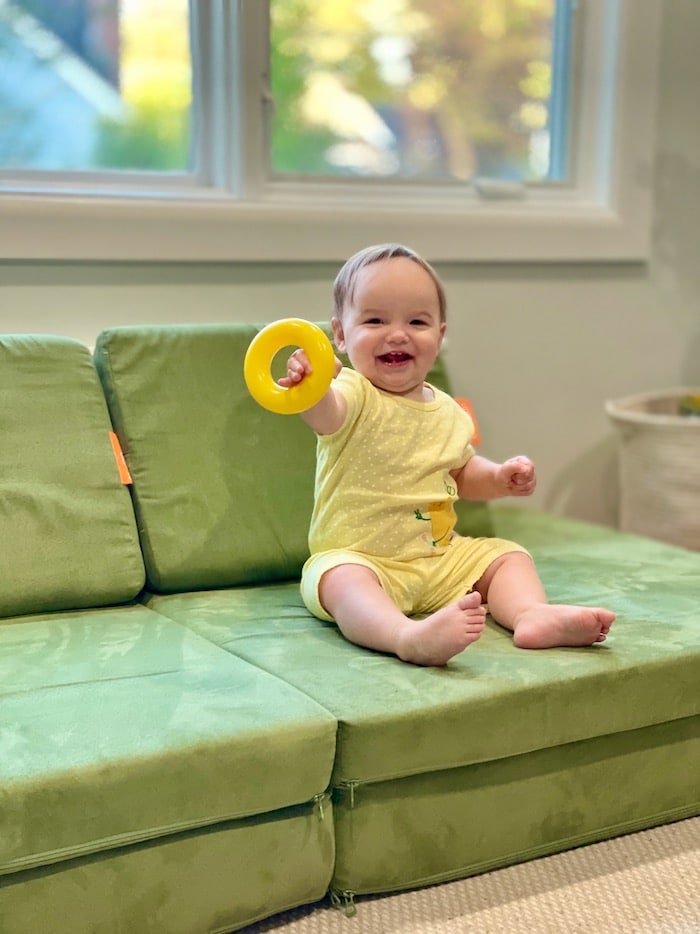 Our Nugget is so comfortable, we've even had relatives sleep on it overnight (by choice!) when they've stayed at our house. Here are some other features we love about this futon, as well as a few drawbacks:
Pros
I'll say it again — the Nugget is super comfortable, for children and grown-ups alike.
It comes in tons of colors to match various aesthetics.
It's easy to clean. Nugget covers are machine-washable.
The Nugget is a fun toy for little ones to rearrange and play with, from babyhood through adolescence.
This convertible futon has many potential configurations that lend themselves to fun activities.
The Nugget is safer than most furniture pieces because it has no sharp corners.
Cons
The Nugget takes up significant living space. Unlike some other baby and kid gear, there is no way to collapse it and move it out of the way.
In order to be comfortable to sit on and lean back against, the Nugget needs to be arranged with a wall directly behind it.
The cushions slide over each other as they're used, requiring frequent repositioning.
It's difficult to slide the microsuede cushion covers back over their foam inserts after washing.
Detailed Features and Specifications
If you decide to purchase a Nugget, it will become a part of your home for years to come, so it's important to make sure it meets expectations. Here are all the details you need to know before adding it to the cart:
Cost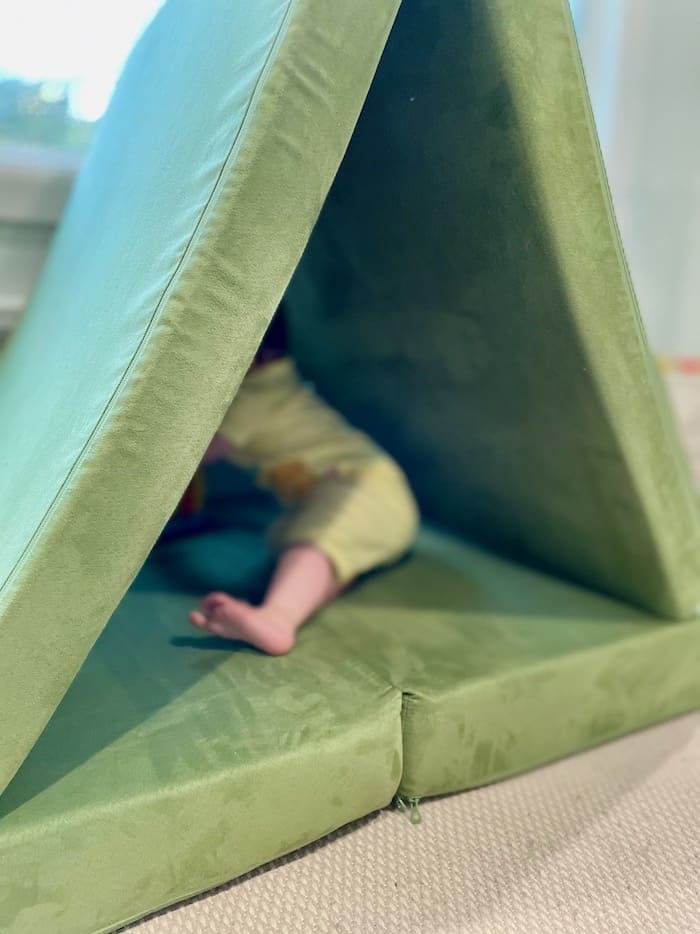 Depending on the fabric and pattern, the Nugget costs about $249–279. This puts it in the mid- to high-end range compared to competing convertible children's sofas. For comparison, Delta Children's modular foam couch from Target costs about $180, while Foamnasium's play couch from Pottery Barn Kids costs about $399.
They're also available secondhand on Goodbuy Gear and Mercari from time to time.
Size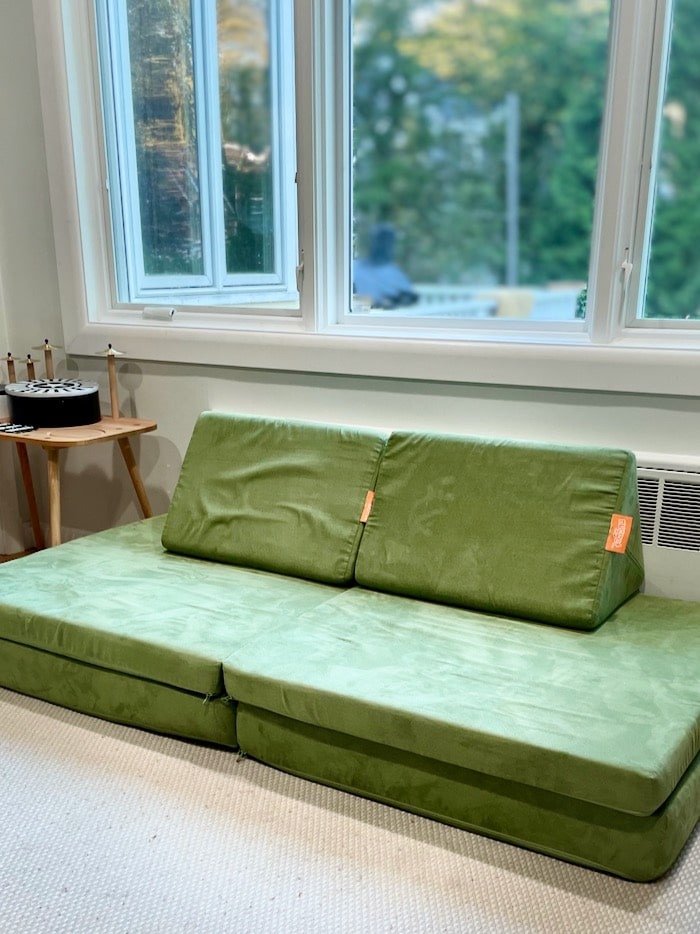 The Nugget comes with four pieces. First is a sturdy base that folds in half, containing two thick, firm foam cushions. Next is a softer, cushioned layer measuring the same length and width as the base. Last are two supportive pillows with triangular sides, which also have firm foam inserts.
The standard setup for the Nugget is with the sturdy base laid out on the bottom and the softer layer placed on top. These two components act as the seating area for the sofa. The two pillows sit side-by-side on top to act as the back of the couch.
In this primary sofa setup, the entire Nugget measures 66" long by 33" wide by 22" high. The two larger cushions on the bottom can be folded in half and stacked on top of each other to take up less floor space, but the entire couch still doesn't fold smaller than 33" long by 33" wide by 31" high.
If you're thinking about purchasing a Nugget for your home, you'll need a large, dedicated area to place it. We decided to put ours in our play area, which is centrally located between the kitchen and living room, so it's visible from many spots in the house. It definitely limits what other furniture and toys we keep in the space, but it has become a focal point of the room that we use on a daily basis.
Colors and patterns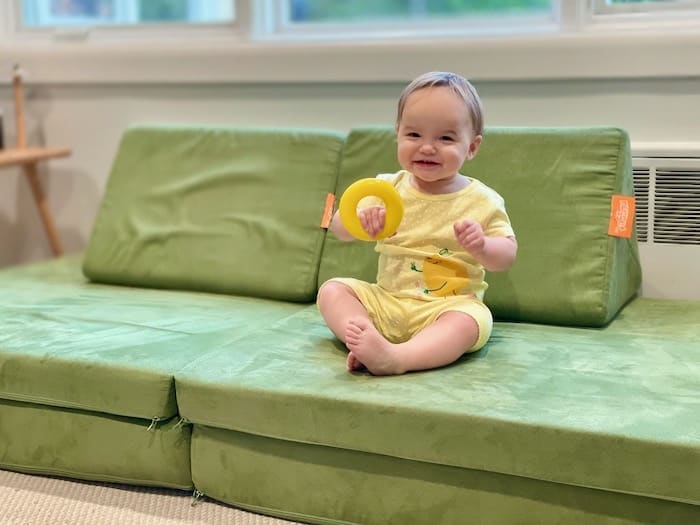 One of the best parts about the Nugget is that any adult can find a color or pattern to match their aesthetic. Parents and grandparents can select a color or pattern that meshes with their family room or adds a pop of vibrancy to a child's bedroom.
The play sofa currently comes in 22 colors and patterns, everything from bright, kid-friendly tones like pink and turquoise to neutrals like brown, gray, or taupe. The futon also features a three patterns inspired by collaborations with Sesame Street and with Disney movies Toy Story and Coco. The hue featured in our photos is the brand's mossy green "bamboo" color.
Material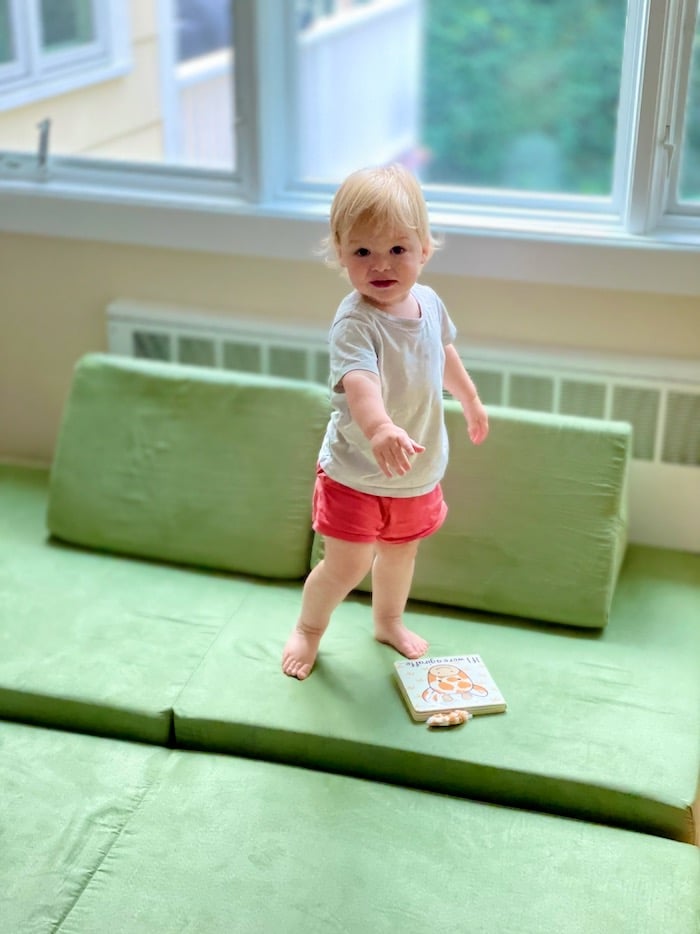 The Nugget's most popular material is its standard microsuede, which is available in the largest variety of colors. Also available are the pricier double-brushed microsuede and textured corduroy fabrics.
The microsuede fabric is durable and extremely soft, which is especially important when precious little faces are lying on it. However, even with the grip of the suede material, the Nugget cushions still do slip over one another with use, requiring frequent repositioning to keep the sofa configuration tidy. We've only tested out the microsuede fabric in person, so Nugget's other options may have more grip to prevent this from happening.
Care and cleaning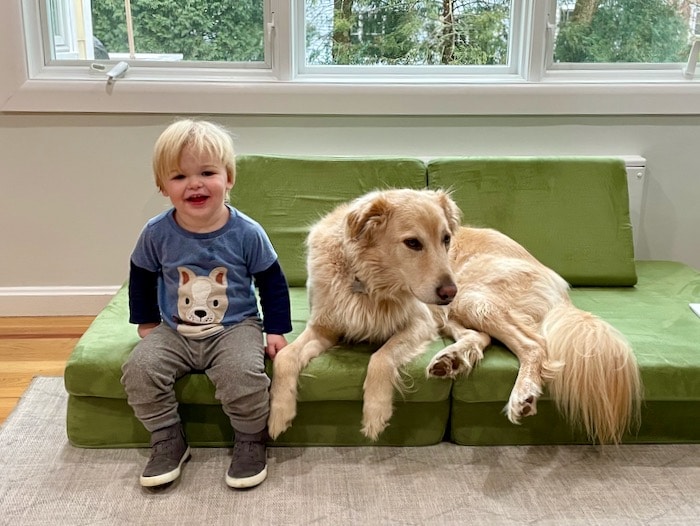 Anyone with kids knows that spill-proof cups are never truly spill-proof, tiny hands have a way of always being sticky, and furniture gets messy and dirty. Except for a few select color choices, Nugget cushion covers are machine-washable, which is essential for any kid gear in our house. All we have to do is unzip and remove the foam inserts from the fabric, throw the covers in the wash on cold water, and hang them to dry.
I will admit that on a whim, I agreed to let my husband do a load of laundry last week, and although he (inevitably) put our Nugget covers in the dryer, they turned out fine.
Our Nugget has been a favorite spot for our dog and cat, adding to its versatility as a pet bed and also creating more opportunities for it to get dirty. From our experience, pet hair doesn't cling to the microsuede, and smaller spills clean up well with upholstery or carpet cleaner.
Configurations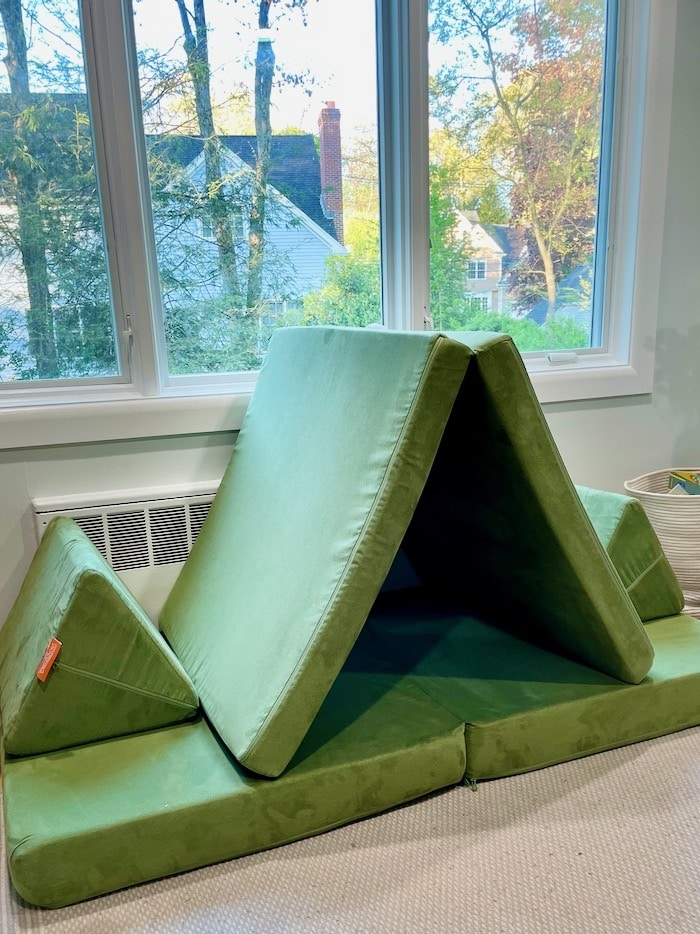 One of the brand's greatest selling points is that the Nugget can be endlessly configured to act as a fun toy for children. Kids and parents can set it up as a slide, a ramp, or a boat for imaginative play. There are many ways to transform the Nugget into a fort, which our toddler loves for flipping through books or playing with toys independently, or for snuggling up for story time with Mom or Dad.
The play sofa's website has a list of possible configurations for families who own one, two, three, or four (yes, four!) Nugget couches. Pinterest is also loaded with Nugget configuration ideas for parents looking for some inspiration.
Accessories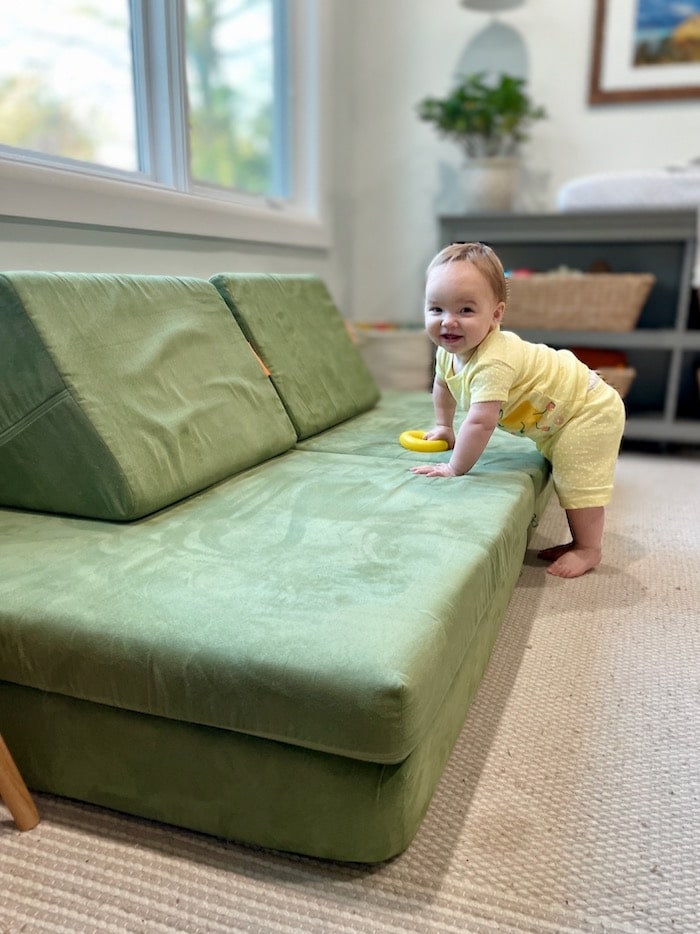 For parents who want to change out colors or replace damaged couch fabric, the brand sells extra cushion covers for $119–139, depending on the material. Nugget's other accessory option is a six-piece waterproof liner that fits underneath the colored sofa cover to protect the foam inserts. Liners cost approximately $99 each and are also machine-washable.
The Upshot: The Nugget Play Couch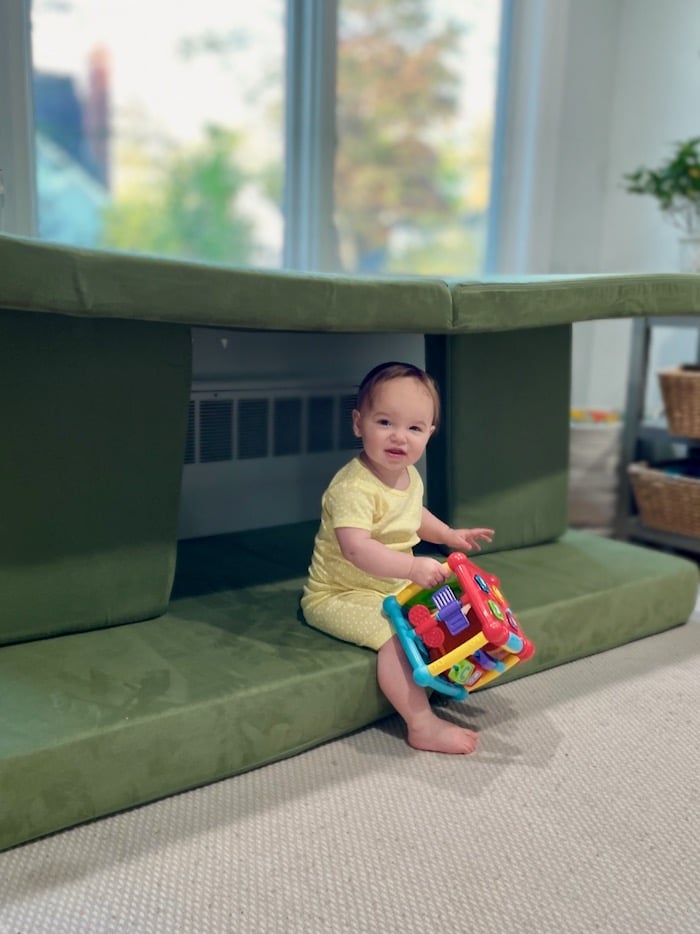 In our home, the Nugget is front and center, and I've been extremely happy with our purchase. I like how it looks in our house, which is important since it's visible from the kitchen, the living room, and the front door. More importantly, it's a great toy for our kids and an easy and comfortable way for us to sit down on their level while we read or play.
For more kid essentials we love in our home, read our guide on how to choose a nursery glider or rocking chair, or our complete reviews of the Melissa & Doug Standing Easel and the Fisher-Price Step 'n Play Piano.