What I'm Glad I Had on My Baby Registry (+ What we NEVER Used)
Figuring out what to put on your baby registry is tough as a first-time parent. I had NO IDEA what I should put on mine, and with every passing week and an additional family member asking for my registry, I felt a little more stressed that I hadn't put one together.
I didn't know what babies need. Apart from a few obvious essentials, what else should I be putting on there? Thankfully a friend came through and I more or less copied hers, with a few modifications.
Here's everything from our baby registry that we have used constantly since having our now 8-month-old, and the things that I have used the least or not at all:
1. Solly Baby Wrap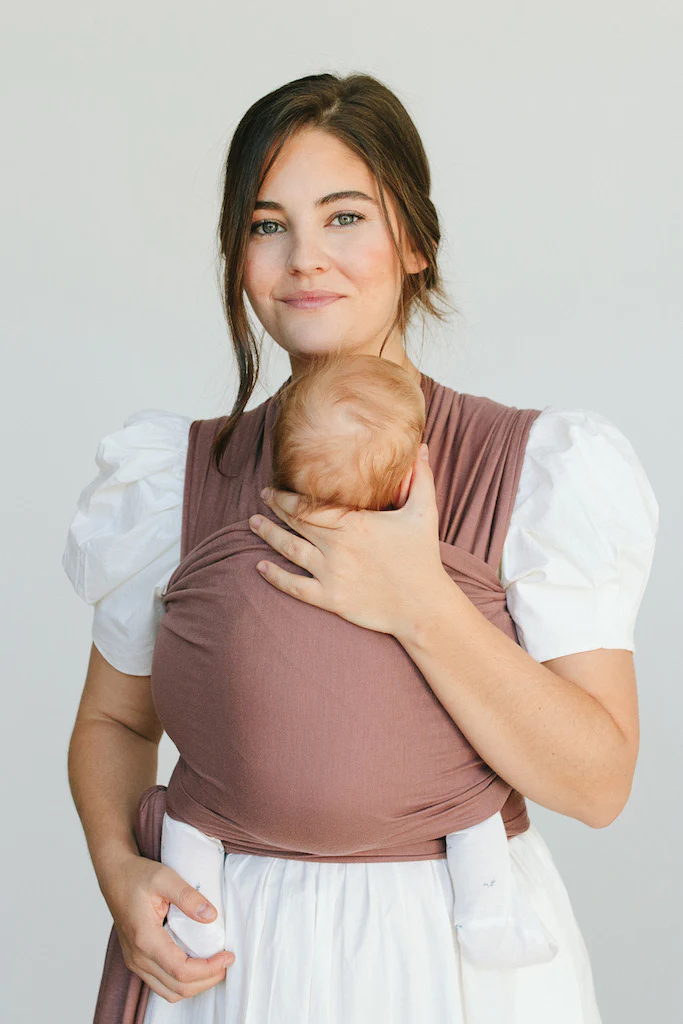 The Solly baby wrap is my first pick for the comfort and softness. It's the carrier that we used not just to go out and about but to baby wear at home. Their claim that it reduces crying significantly was true for us. It was also the wrap I used on his first long haul flight. The soft fabric made this so nice to wear, plus I felt that the weight distribution was the best with this carrier.
There's a learning curve since you have to learn how to wrap it, but I used it almost daily in the beginning, and would have loved to keep going with it had my baby not outgrown it so quickly. That said, it makes my list because most people don't have babies as giant as mine (he's been in the 100th percentile for height and weight since his second month), so it would be useful for much longer.
It's also affordable at around $60+. My ErgoBaby and Artipoppe carriers, while able to carry more weight, are much pricier.
We also use Solly Baby brand bamboo sheets at home for his crib, which I highly recommend.
2. Diapers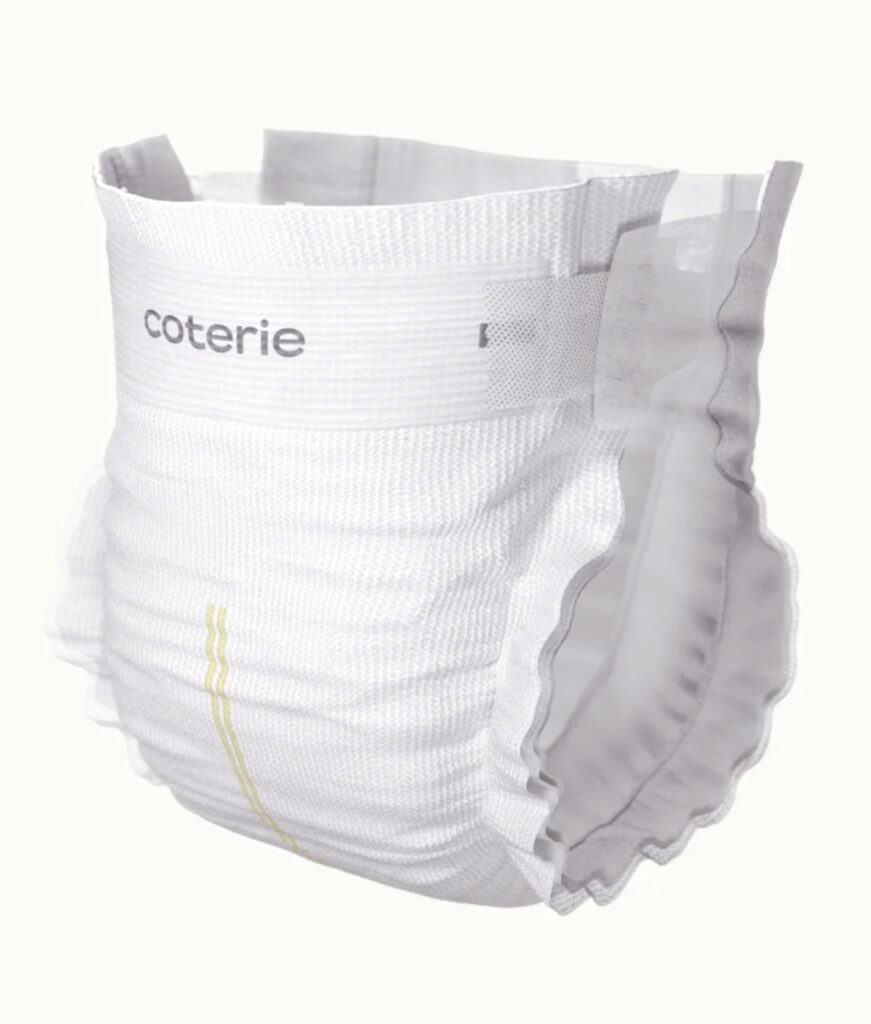 If there is anything you absolutely, 100% need, it's diapers. Unless you're planning to do elimination communication from day one, in which case I salute you.
But for the rest of us, diapers will be a constant need, and they add up quickly. I have tested many different brands (including Honest, Pampers, and Dyper) but there is one stand-out for leak protection – Coterie. They truly are the most absorbent. It's the only diaper we now use at night and while traveling to prevent leaks, which were happening constantly with every other brand we'd tried.
3. Lovevery Play Gym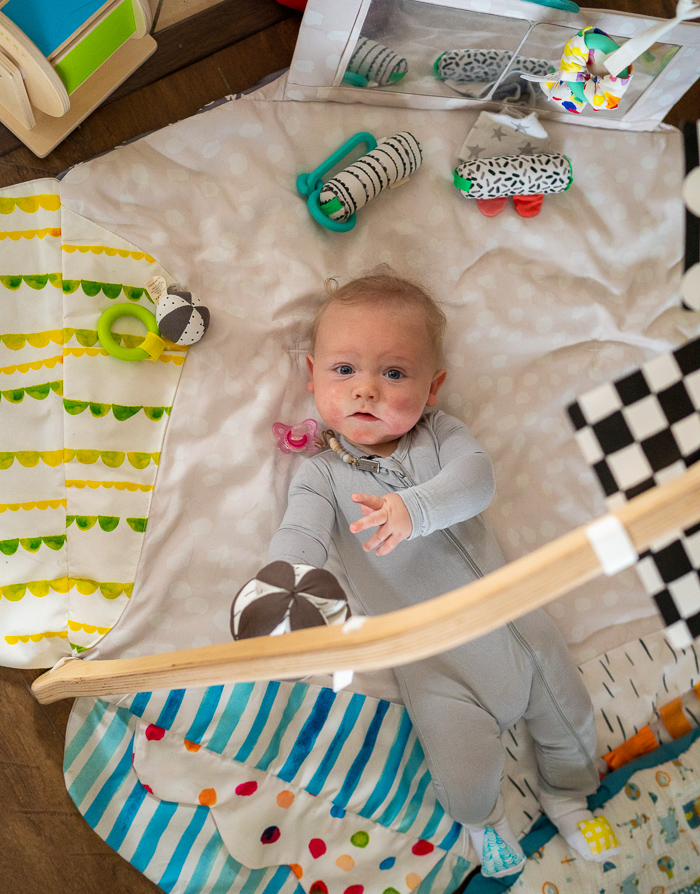 Out of all of the things on this list, this is one item that we truly use every single day. From the very beginning it was great for tummy time through all of our son's developmental stages. There are contrast cards that he could stare at for hours in the early days, and mirrors, textures, and teething rings that they can explore as they grow. Plus, if you get the first play kit, there are additional toys you can hang from the wooden posts to add more variety. I never expected to become such a fan of their play kit subscription as well, but after I saw how much our son interacted with the toys, I've become a convert (read my full review on Lovevery Play kits)
I also appreciate Lovevery's Montessori approach and commitment to using non-toxic materials. It truly feels to me like it's meant to last, there is minimal plastic used, and the mat is machine washable
4. SkipHop Play Center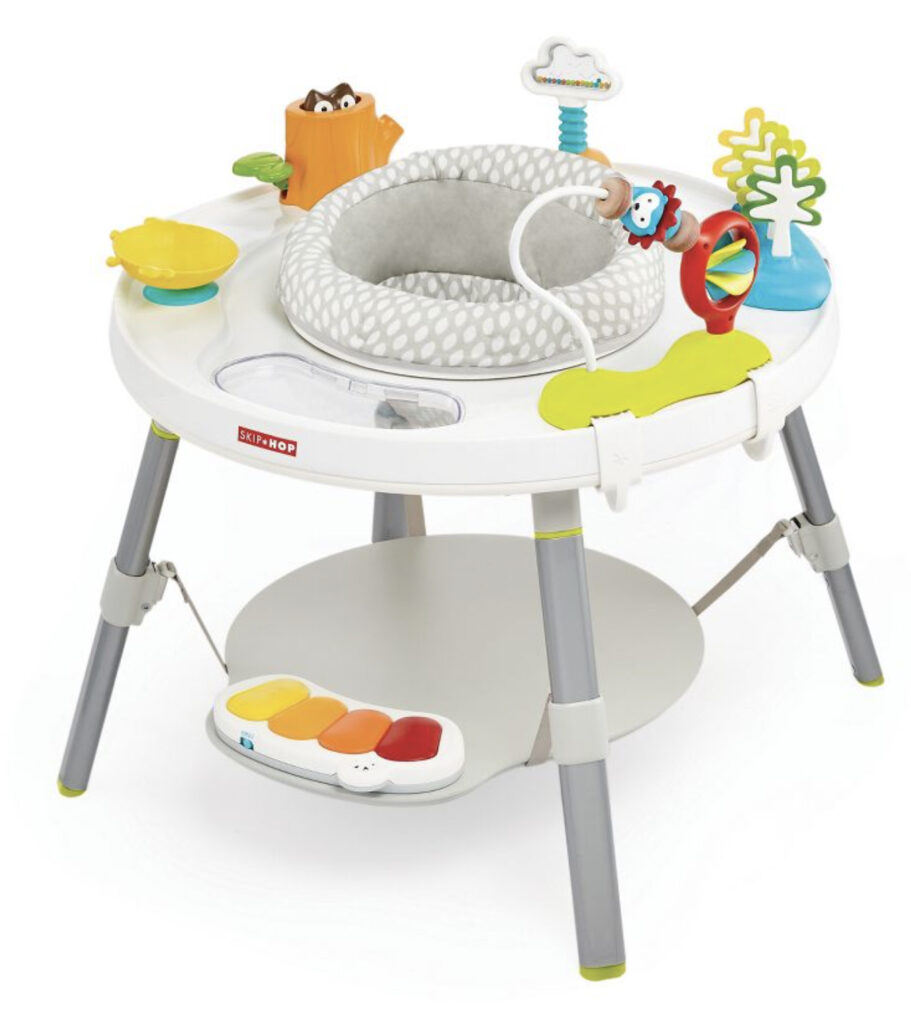 Once Felix turned four months we put together the SkipHop and have been loving it for over four months strong now. As Felix has become more mobile, it's one of the only safe places to stick him when we need to run to the bathroom, and since there are so many toys attached, it keeps him busy.
5. Willow Go Breast Pump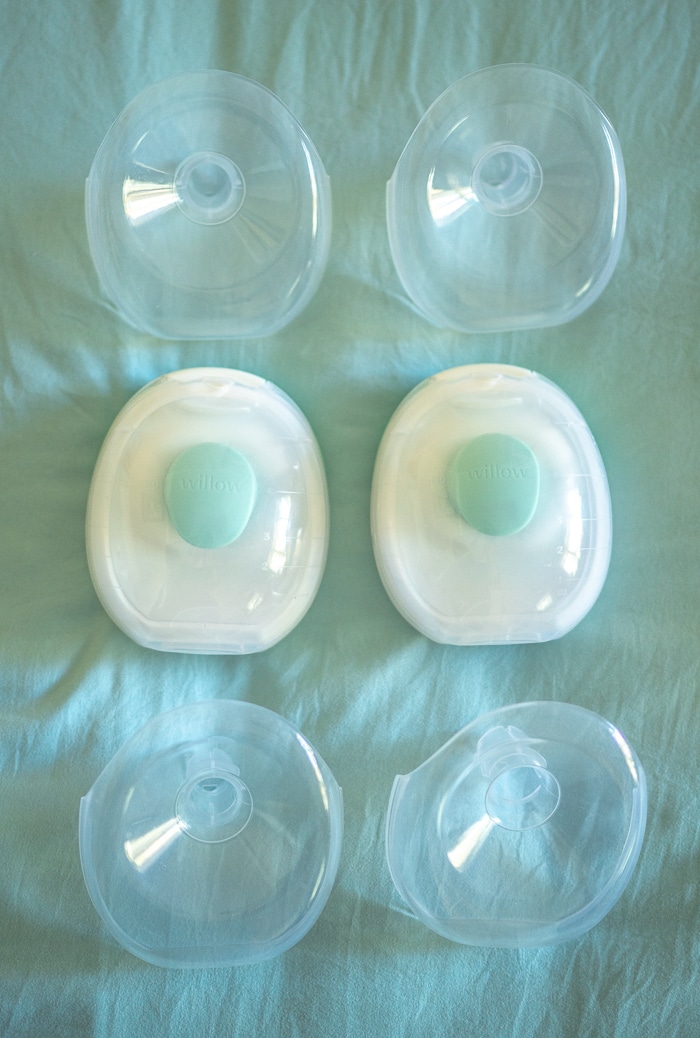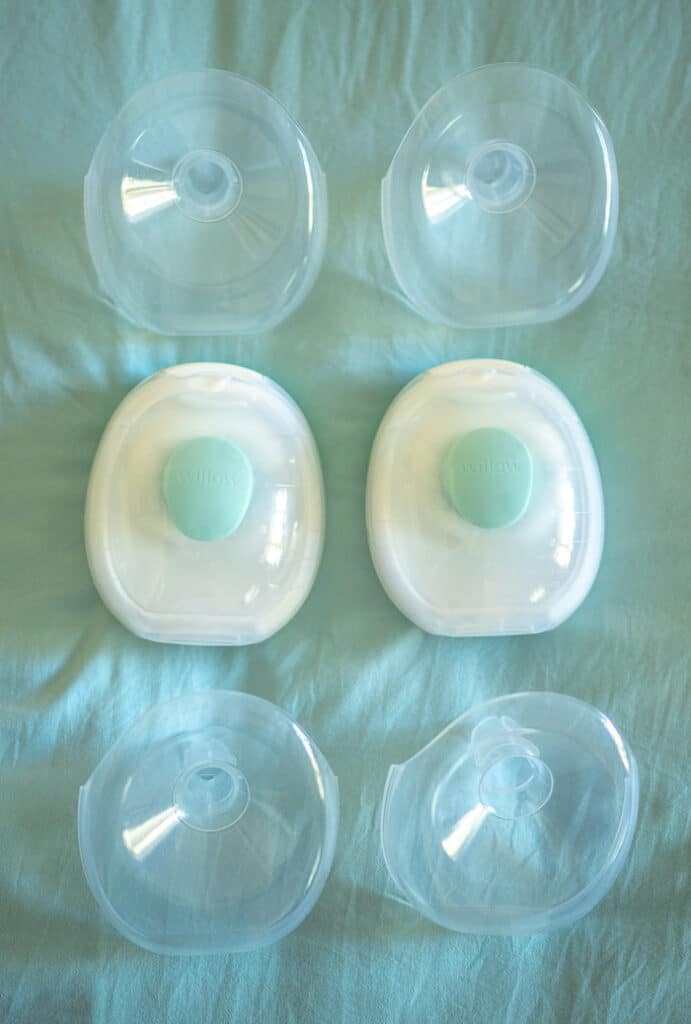 I've added it up – I've pumped for nearly 360 hours with the Willow Go over the course of the 6.5 months that I gave my son breast milk, and if I hadn't had a wearable device like this, there's no way I would have lasted that long. Being able to pump anywhere from a moving car, to an airplane, while walking in the park, and even just while making dinner, have all given me freedom and mobility that being stuck to an outlet with a traditional pump could never have given me.
Not everyone is going to pump as much as I did — I ended up exclusively pumping after a difficult breast-feeding journey — but having this option if you pump at all is so much easier than anything else. Read my full Willow Go Review.
6. Shusher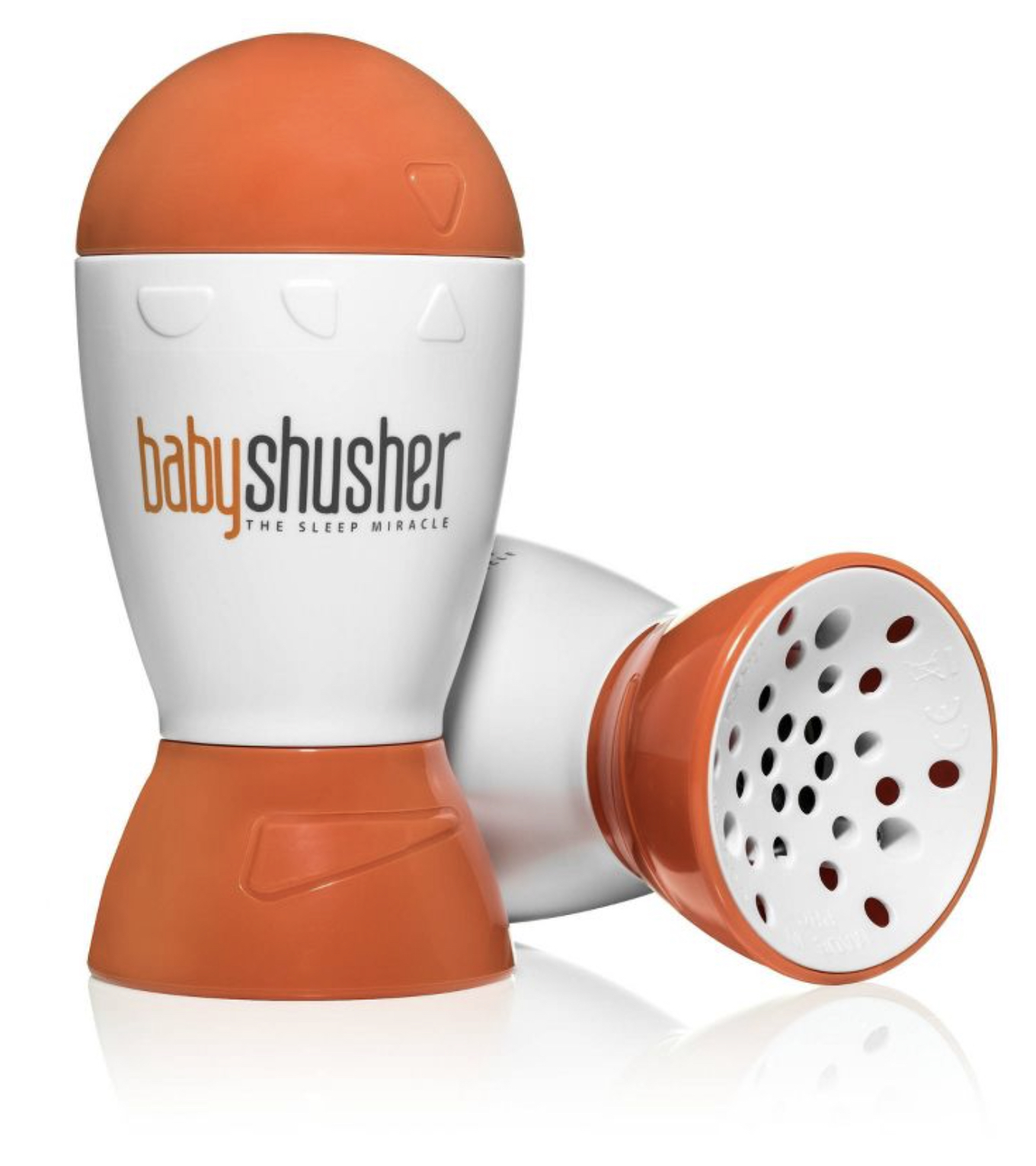 The shusher was the baby item we didn't know we needed. It was actually a hand-me-down a friend gave us that we had never heard of. It basically makes the 'shhh' sound for you.
I remember the first time I decided to try it out and how much easier it made getting Felix to sleep. Yes, I can shush myself, but having a device do it for me took one more thing off my plate. Plus, you can leave it to continue shushing after you leave the room. It will shut itself off after 30 minutes.
7. Guava Lotus Travel Crib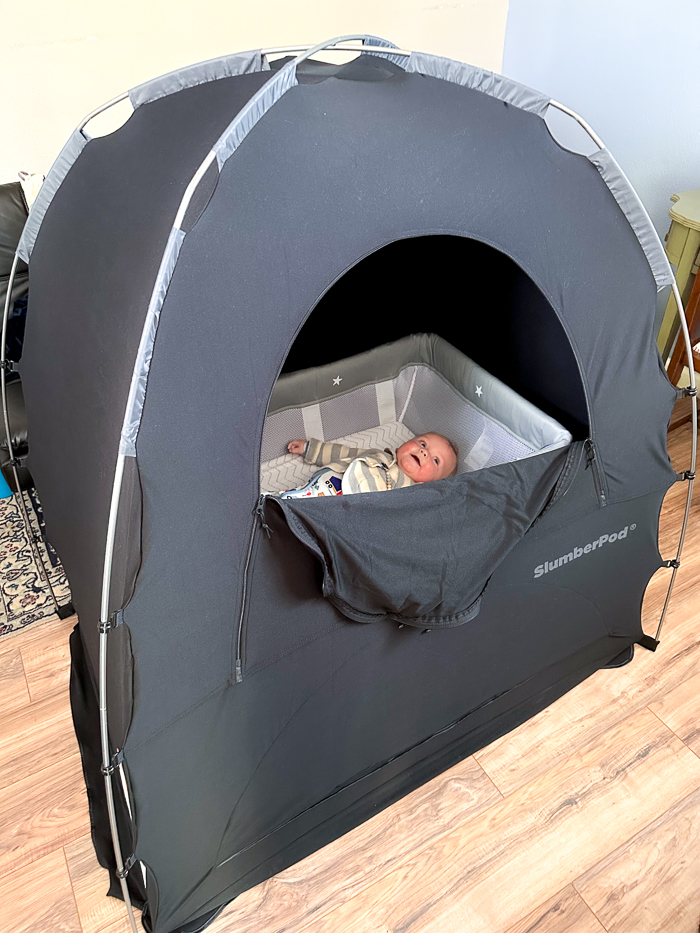 Not everyone travels as much as we do, but having a portable sleep space has ended up being very important for us. Although some hotels have cribs, the quality can really vary and we find our baby sleeps best in a somewhat familiar setting. I like that the Guava Lotus Travel Crib folds up so easily and is truly lightweight. You can travel with it as a carry-on, though I've fit it into our duffle suitcase with a few other items as well.
We are just about ready to convert it from the bassinet to the crib setting, which I hope we can use for a few more years. If we are all in one hotel room, we like to use it in conjunction with the Slumberpod.
That said, in the very early days, we used this foldable bassinet, which could fit in the corner of our suitcase. I loved how small and portable it was – our son just outgrew it quickly because as I said before, he's abnormally large.
8. Boppy
The Boppy is a truly useful pillow whether you're laying your baby on your lap in the early days or using it to aid with bottle or breast feeding. When they get a bit older, you can use it to prop your baby as well. With my 8-month-old, we put it around him while he's sitting for extra support. They have many cute patterns as well.
In addition to receiving one as a baby registry gift, we were given a hand-me-down and we were glad to have both for different floors of the house.
9. SNOO Smart Sleeper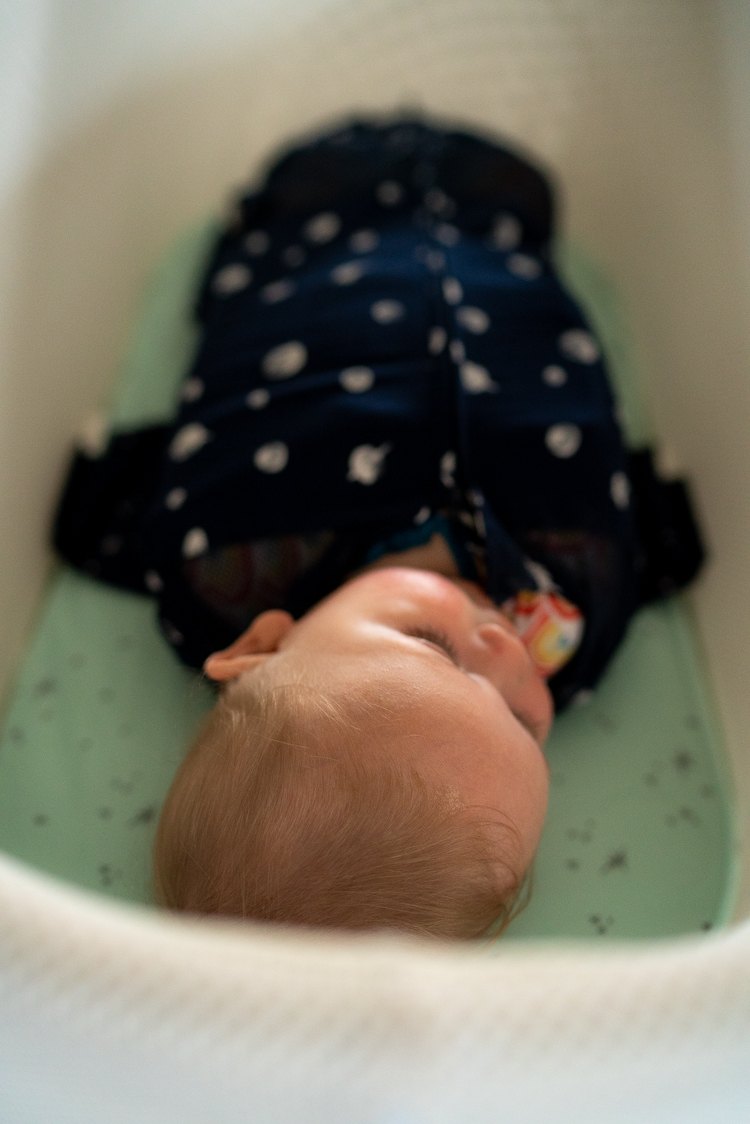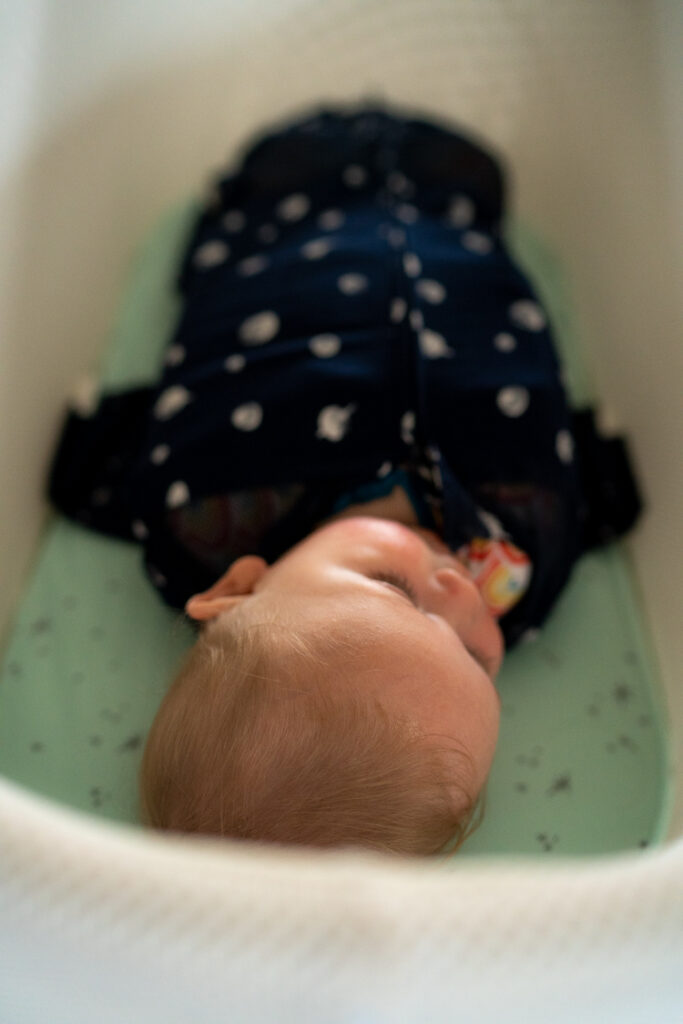 Although this is a super high-ticket item and candidly it wasn't a registry gift for us, if you have family who are happy to provide a rental, which is much cheaper, or to buy the SNOO for you, it's so, so helpful.
It's a smart bassinet that rocks your little one all night long, and will respond to their cries with a series of soothing sounds and motions. The baseline rocking was enough to help us get extra sleep at night. Read my SNOO review and SNOO rental vs. buying comparison.
10. Hatch Rest Sound Machine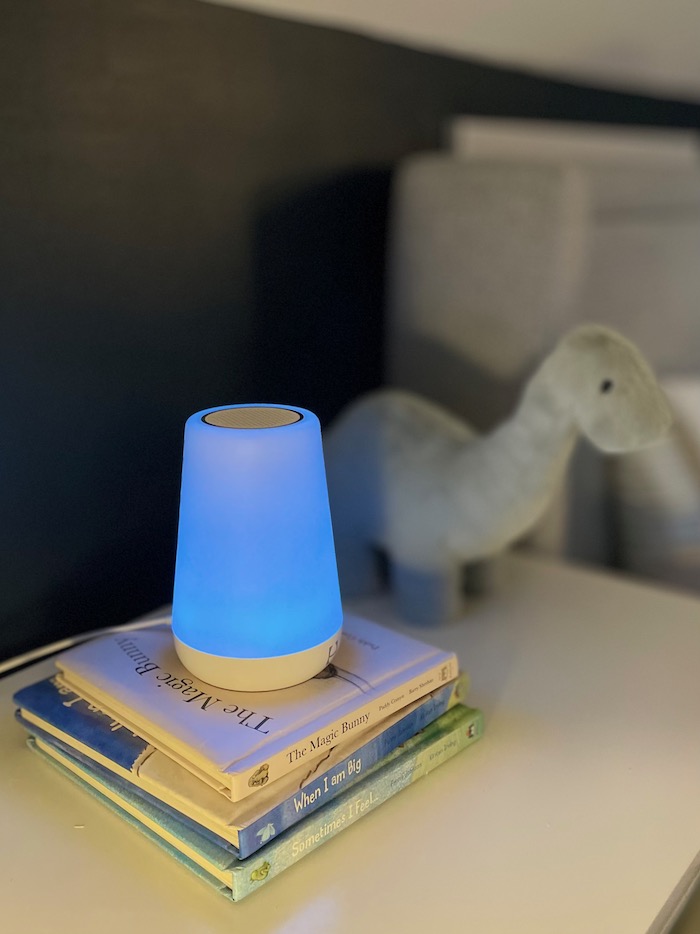 White noise has ended up being a must-use for us. It has been so helpful while traveling to drown out ambient noise, and it's a helpful tool for nap time and bedtime at home, too. Since our baby was used to the white noise of a fan when he was younger as well as the SNOO, when winter rolled around, I realized we needed to still give him that white noise for sleep.
I love the white noise as well, and find it drowns out the loud birds in the morning at home and lawn care, visitors talking, etc. The nice thing about the Hatch is the ability to program it to have different lights and sounds depending on time of day and bedtime routine, this could be particularly helpful for toddler bed times. Read our full review of the Hatch.
What I Never Use
For all of the wonderful things that we received, there were a few things that were straight up disappointing. We either barely used them, sold them immediately, or still use them but are annoyed by them constantly. Here are the things that I would not add to your registry:
1. Dock-a-tot
Although the dock-a-tot was actually very useful in the beginning, as soon as my son got a bit older, the running joke was that putting him in the dock-a-tot was the quickest way to wake him up. He got over extremely quickly.
It's also important to note that the Dock-a-tot is not a safe sleep situation, and can lead to suffocation if the baby is unattended.
If you can get a hand me down like we did, I think it can be great for early infancy when they sleep so much and it's easy to just put them on the couch next to you, but since they are so expensive and run out of usefulness quickly, at least for us, I would have been salty about getting this new.
2. Mommaroo
This baby rocker has mixed reviews, and now I understand why. This is another one that we were able to use for the first month, but since it is so low to the ground, my son got over it very quickly. He wanted to be higher up where the action was. We were given a Fisher-Price hand me down swing that had more directions and was taller, and we got much more use out of that.
3. Owlet Sleep Sock
I'm sure this used to be great, but the Owlet Sleep Sock was flagged by the FDA for measuring oxygen levels and heart rate, and since it was not registered as a medical device, they're no longer allowed to use their full functionality. Now the sleep sock will alarm if baby heart rate drops, but it doesn't provide any stats through the app anymore. I thought we would use this every night, but since it doesn't provide any stats nor connect to the app anymore, we never did.
I also HATE the baby monitor. Reading the reviews in the App Store, I am far from alone. The app quits constantly, I never know if it's showing me an up-to-date picture, and the sound cuts out, too. It doesn't give me any peace of mind because I don't know if I'm seeing an up-to-date feed. Like other reviewers, I know it's not my Internet connection. So it's gotta be the monitor. For over $300 for the whole system, it's definitely not worth it.
4. Stokke Clikk High Chair
I'm sure this brand makes great products, but this particular highchair isn't it. The legs are extremely wide, causing us to trip over them constantly, and the buckle is a pain to use. We still use this one as our high chair, but we curse it every single time.
I wanted to go with a European brand since they tend to have lower toxicity and are held to higher manufacturing standards, but I should've just done IKEA in that case.
I hope this list helps you with crafting your baby registry! For my seasoned parents out there, what would you add?