Our Experience Flying with a Baby on Japan Airlines
Japan Airlines is known for their top-notch service, especially in their premium seats, but how is it flying them with a baby?
Earlier this year we took our six month old on an 11-hour flight from San Francisco to Osaka to find out. Here's everything to know about flying with a baby on Japan Airlines:
Booking with Japan Airlines
Booking with Japan Airlines is simple and straightforward. I booked through American Express, taking advantage of their discounts on premium flights, but you can search and book through Kayak or directly as well.
Reserving a bassinet was less simple. I called the airline and was told that the only way I could get a bassinet was to ask at the gate. By the time I booked, the bulkhead seats that had capacity for bassinets were fully booked, anyways. This is a constant struggle I have with getting these seats, and Singapore Airlines is the only one I've found so far that prioritizes families in these seats.
Otherwise, it was an easy process that let me add the lap infant during booking for the standard international 10% of the adult fare, which was $250 for our cabin.
Japan Airlines Infant Policies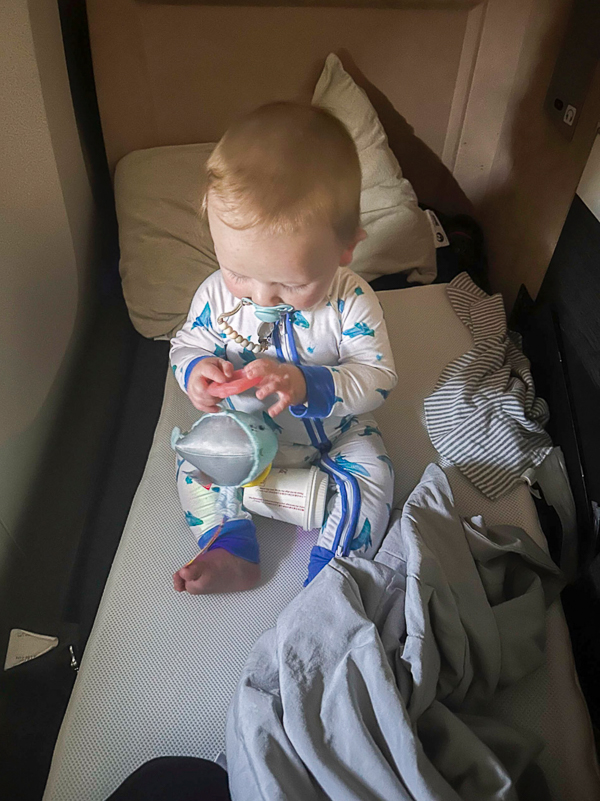 Although not quite as generous as Singapore Airlines with some of their rare amenities, like free checked infant luggage and priority to bassinet seats, Japan Airlines offers perks the others don't, and they're pretty good.
Infant Carry ons and Baggage
Interestingly, the Japan Airlines website doesn't explicitly state baggage allowances or limitations for infants, but I have yet to find an airline that charges for checked strollers and car seats. They also don't address carry-on baggage, but almost every airline I'm aware of allows a diaper bag and breast pump without it counting against carry on limits.
We didn't bring a car seat on this trip since we were using trains to get around, and we chose to wear my baby instead of bringing a stroller, but both can be checked as hold luggage or brought to the gate for free.
Though they'll permit strollers that can fit in the overhead bin onboard, according to their website, "space on board is limited, so checking-in your stroller is strongly encouraged."
Free Stroller and Car Seat Rentals
However they do offer a free stroller rental service at Haneda International, Narita International, Kansai International, Chubu Centrair International, London Heathrow (UK), in case you want to check yours as hold luggage or leave it at home.
Amazingly, they also offer car seat rentals on board if you're traveling with a child under 3 in their own seat. Call at least 96 hours ahead of time to reserve this. If you're bringing your own, read more about the specifications of allowed car seats on JAL here.
Infant Meals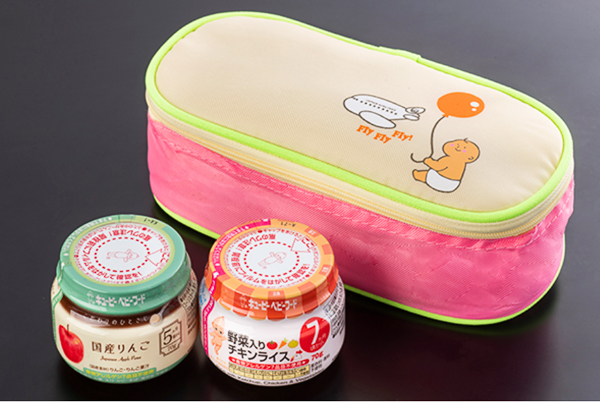 Japan Airlines offers infant meals onboard free of charge, and they look awesome! Our son was barely six months old by the time we traveled to Japan with him, so we were still on milk (here's how I pumped and traveled) and formula, but I would definitely reserve one of these when flying JAL in the future.
They have age-specific options for babies up to 8 months, from 9 months to under 2, and child meals. They even have allergen-reduced meals.
Extras
JAL is a rare airline that has diapers on board if needed in M and L sizes. When in a bind, an extra like this is pretty incredible. We were also offered boarding before anyone else, with a personal escort (we came to find this is normal in Japan for traveling families). Once we boarded, we were immediately offered hot water for formula.
Our Experience Flying With Japan Airlines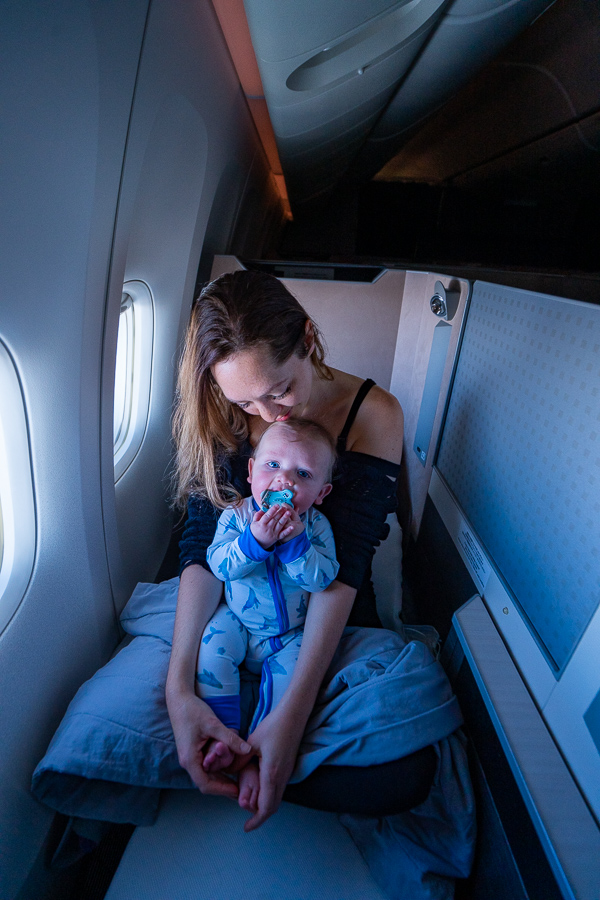 Overall, I had a great experience flying on Japan Airlines. The service was top notch. After boarding, they immediately offered me hot water for Felix, and they even brought over a little toy airplane for him. It was definitely not the right age range for a six month old with its tiny parts, but I assembled and played with it (lol). They also brought a little Japan Airlines cup over as well, which we kept.
Although this can vary by flight, the flight attendants were super friendly and attentive to our baby. They played peek-a-boo with him and gave me all the water I needed to keep him fed and to wash out my pumps.
Although we opted for business class for this flight, I'd happily fly them in coach as a family as well. Japan Airlines has legendary service for a reason. They did all they could to make our flying experience comfortable.
If you're considering business class, you can book with One World points, or look for flight deals and book with cash. Japan Airlines' business class can be pretty affordable (around $2000 and under one way). I say this in the context of paying cash for, say, Emirates, which is not affordable for me at more like $10k+ per way.
The pod configuration of the seats in business class was great. Although this will vary by aircraft, the pods could feel quite private, which was great for pumping and sleeping, and had shades that could be lowered to pass over a baby or have a quiet break.
I also loved that it was possible to order food from an in-seat system. If one did have a sleeping baby, it eliminated having to buzz the flight attendant and ask for something.
Overall, Japan Airlines is a strong contender for the best airline to fly as a family, especially with young children. It's rare to find an airline that will rent out strollers, car seats, and even give out diapers on board for free. I'd absolutely fly them again!
*Some links on this site are affiliate links that support us at no extra cost to you. Everybody wins! Thanks for keeping us going!