How to Help Your Baby Sleep on Vacation
'How did your baby do with jet lag?' is one of the most common questions I receive. I get it, it was one of my greatest worries, too.
We've taken my son to Mexico, Japan, Portugal, and are now in Bali, and each has required some adjusting not only to battle jet lag, but to help him sleep on vacation as well. Since we all know, a well-rested baby is a well-rested family. Here's what we've learned about baby sleep on the go:
How to Handle Jet Lag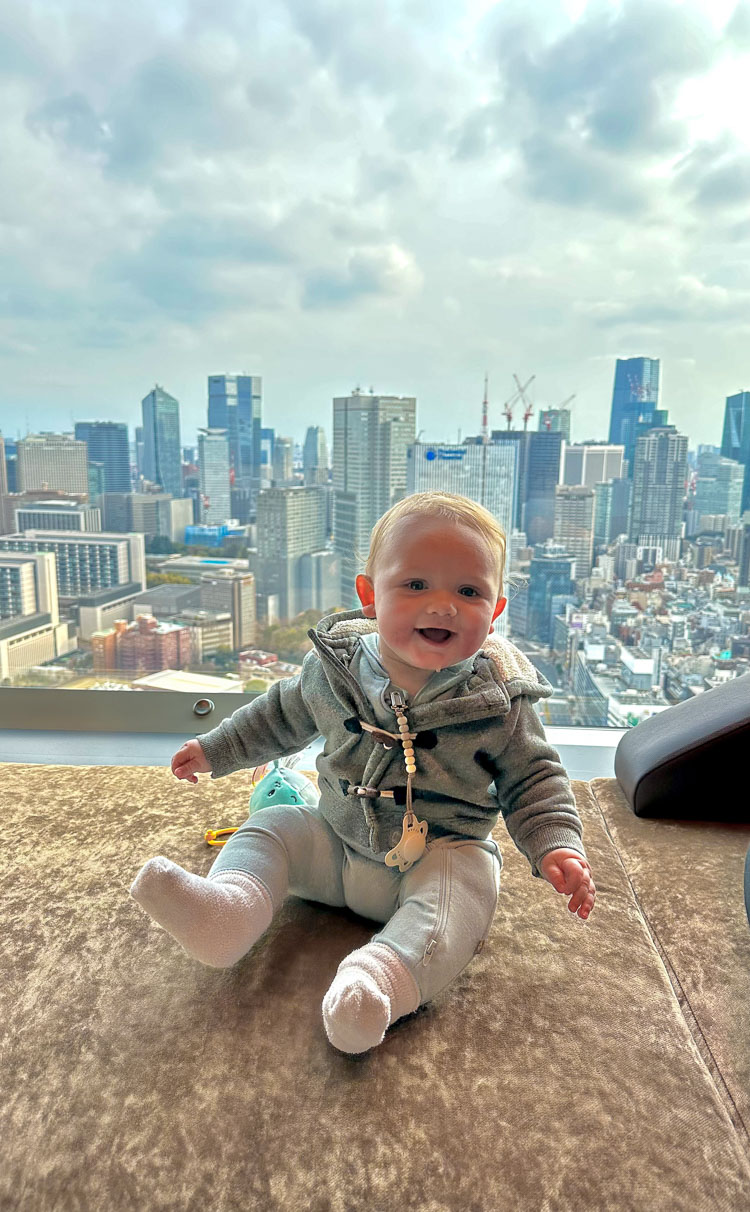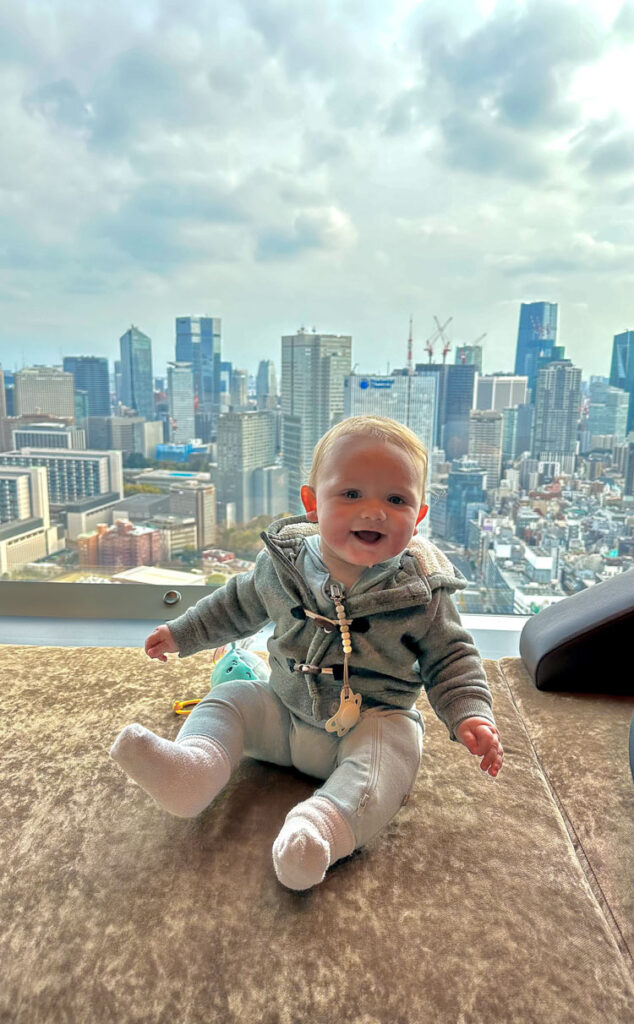 My son is now almost 13 months old and we've done major time zone changes 5 times (going to and returning from Japan, Portugal, and now Bali). The best way to set yourself up for success is to book an overnight flight that lands in the AM and stay up during the day, going to sleep for the evening as close to normal bedtime as possible. You all may need a nap at some point. That's ok, just do your best.
This isn't always possible. When we returned from Japan with our then six-month-old, we had an overnight flight that also happened to land in the evening. Recovering from that was a little more difficult.
Do your best to maintain nap times in transit, keep meal times as typical as you can as well (bring food and snacks!), and if your baby wakes up in the middle of the night, keep things dark, keep them calm and quiet, and do what you normally do to urge your baby back to sleep. You may have some very early wake ups or late nights as you're adjusting, but we've been able to recover from jet lag more easily than I thought during each of our trips.
If you possibly can, use miles and book business class flights so that everyone can sleep. It helps with Jet lag immensely!
Baby Beds – To Bring or Not to Bring?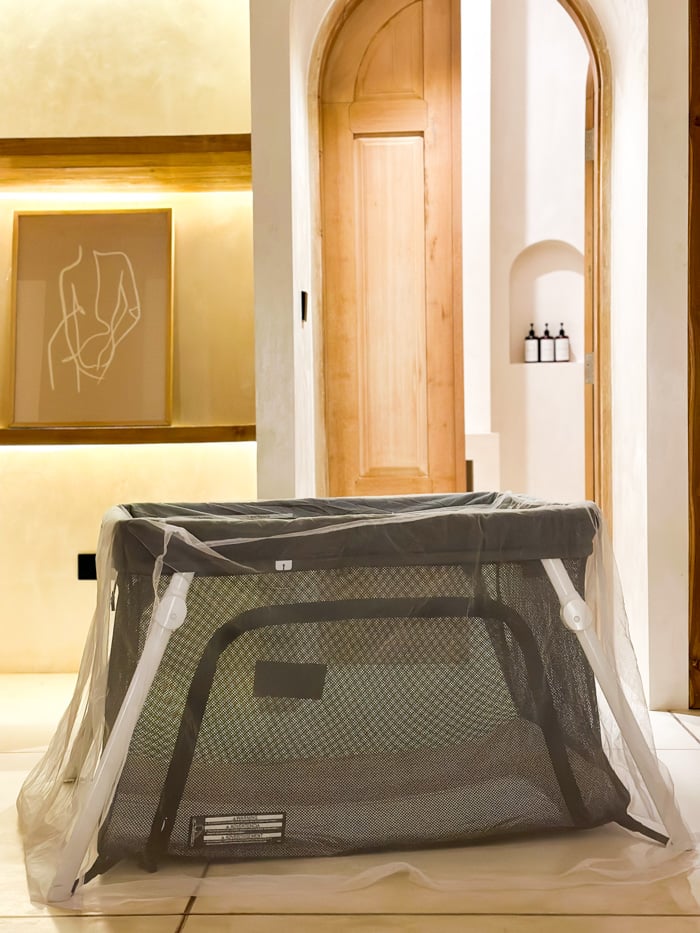 Should you pack a travel crib? It's obviously a big thing to have to bring, but in our experience, it's been worth it.
We have the Guava Lotus, which is lightweight and easy to fold and set up. We actually use it at home for nap time as well, since our son falls asleep much more easily with someone lying down next to him. The Guava lotus unzips in the front making this possible. In Bali, we brought the mosquito net as well.
Some families all sleep together, and some people prefer to use hotel cribs. We relied solely on hotel cribs for our Portugal trip, and they were all amazing quality and worked out great. However in Japan, they were nowhere to be found. In Bali, we just decided to bring our own since we know the quality and features are what we need.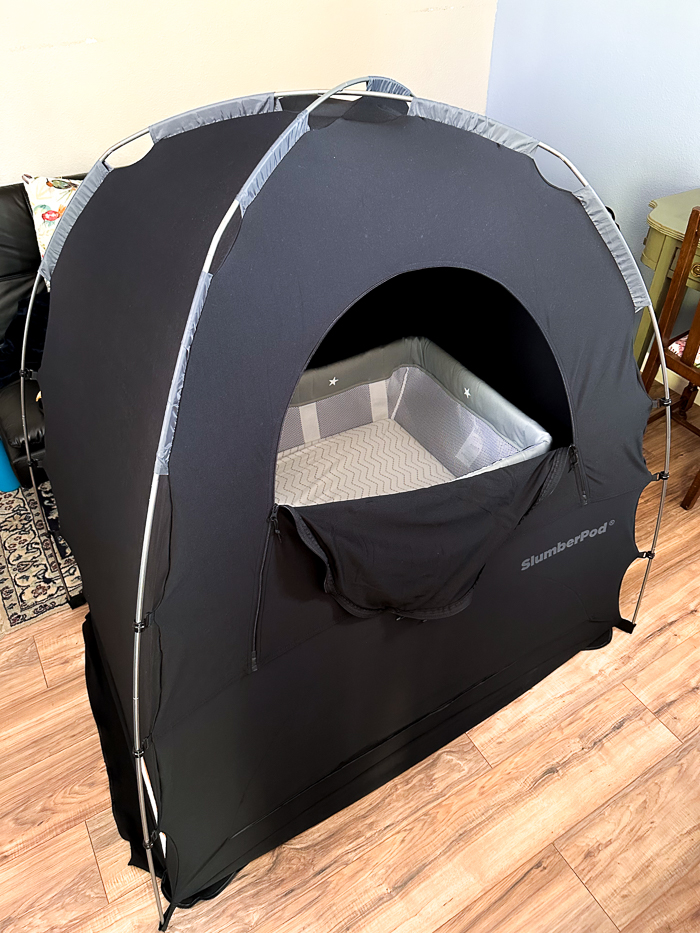 If your baby struggles to sleep without total darkness, the Slumberpod can be helpful as well (read my full Slumberpod review). We tend to bring it along on road trips since we have more space to work with.
We also travel with the Hatch mini sound machine (read our Hatch review), which creates the same white noise on the road that he is used to at home.
Napping on the Go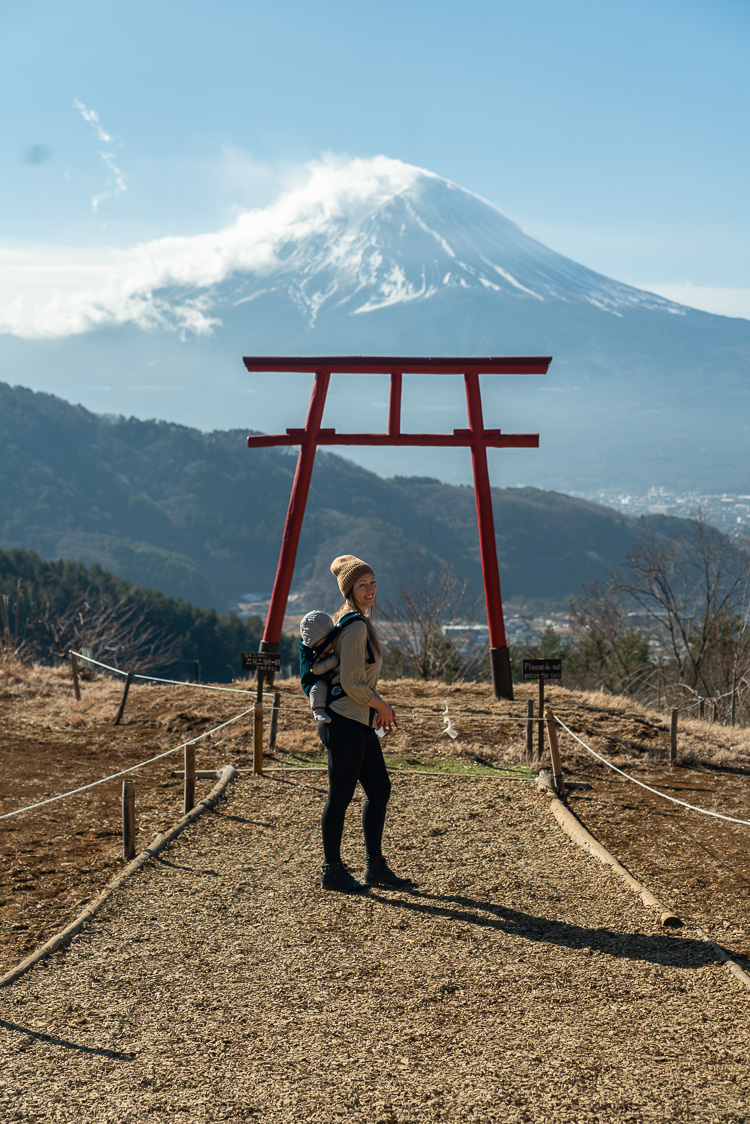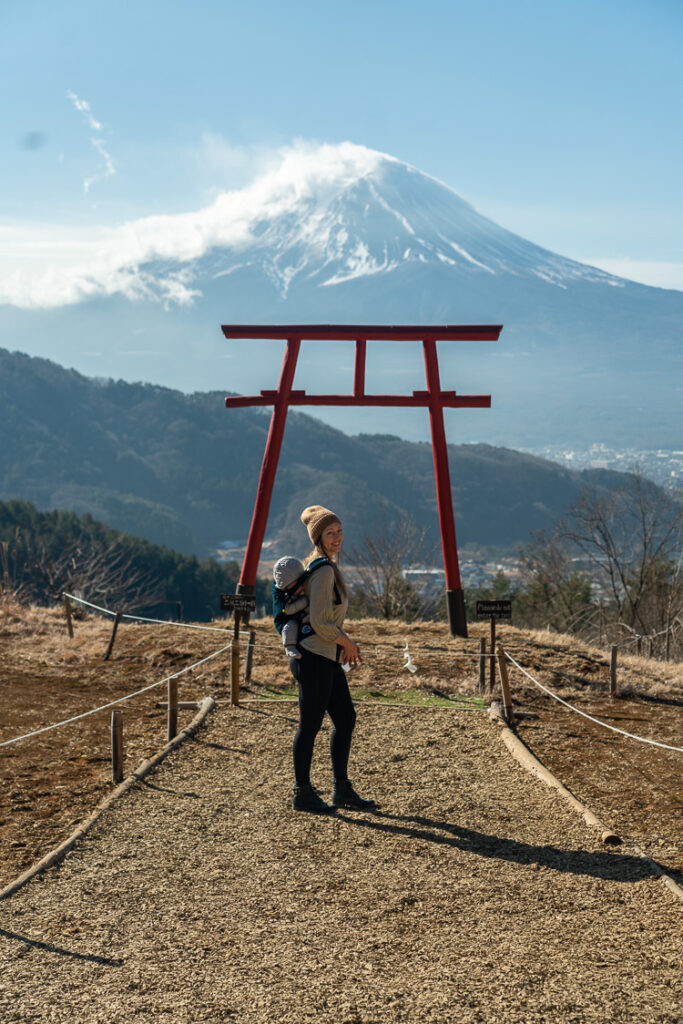 You know your baby best. Can they sleep easily or do they need total darkness, or something in between? For my baby, it's changed over the months.
Baby Carrier Naps
One thing has remained true over the course of my son's first year of life – he sleeps well in a baby carrier. We used a soft velvet Artipoppe one.
For our trip to Japan, we didn't try to work nap times into our trip, instead wearing him everywhere we went and letting him sleep when he wanted to in the carrier. In some ways this worked well, but we were aching by the time we were only halfway through and naps were a bit sporadic this way.
Stroller Naps
Some babies sleep well in strollers. Ours will if he's very tired and he's comfy in the stroller. I particularly liked the GB Qbit we brought along to the Azores, and although slightly over the allowed size to be a stroller that fits in the overhead bin of an airplane, we were mostly able to bring it on without issue.
You can also download white noise apps on your phone, or from Spotify, to have white noise on the go.
Car Seat Naps
For our Azores trip, we drove from place to place and nap time usually had to happen in the car. It wasn't ideal for us, unfortunately, and meant my son only took short naps since there was so much to see outside. This won't be an issue for kids who fall asleep immediately on car rides (our son has never been one of those kids!).
Room/Hotel Naps
If your little one struggles to sleep on the go or in any of the aforementioned methods, you'll probably need to plan a trip that allows for hotel naps. For our most recent Bali trip, we didn't have too much on the docket and mostly just wanted to relax. We were able to keep his normal naps the most successfully on this trip, where we re-created his home sleep environment with white noise and his Guava Lotus bed.
Contact Naps
Sometimes, we just put him in bed with us and nap with him on vacation. Even though we don't sleep in the same bed at home, it seems to work better when we do on trips. Depending on your baby's age, this could be a dangerous choice. It also doesn't work for everyone, but it sometimes does for us, and thankfully he doesn't expect it when we get home.
Planning Naps and Keeping to a Schedule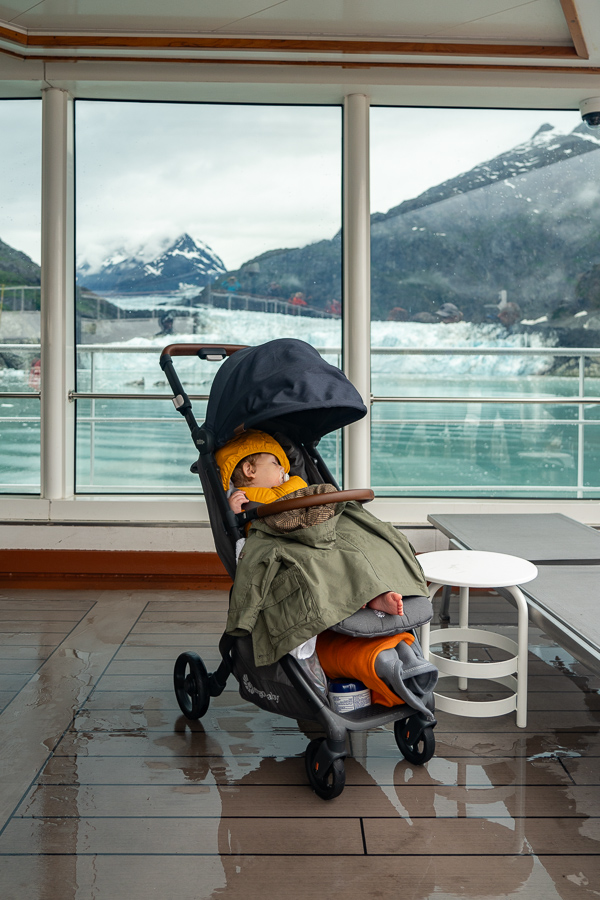 Generally, my son doesn't sleep as well on vacation as he does at home. From talking to other parents, this seems to be a normal experience.
However, he does the best when we have the same nap schedule as at home and keep the environment as similar as possible. This means we don't have a packed itinerary and are typically not moving accommodations much. If we do want to have multiple stops on our itinerary and have more packed days, sleep usually suffers some.
Traveling and getting to be in vacation has been worth it, though.
*Some links in this post are affiliate links that support this site at no extra cost to you when you make a purchase. Everybody wins!