Flying Emirates with a Baby – Everything to Know
Emirates might be one of the best airlines in the world when it comes to comfort and service. They're one of those airlines where economy doesn't seem so bad, and business class feels like being a princess for a few hours.
But how is it with a baby? Over the course of 33 hours, flying from San Francisco to Cape Town, we found out firsthand.
Booking with Emirates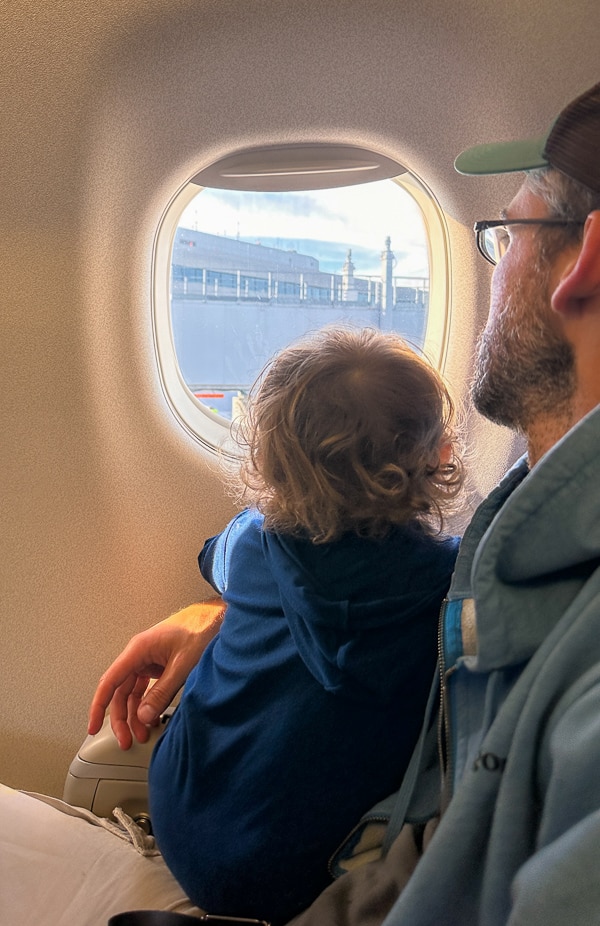 When booking with Emirates, you can add the lap infant during the booking process, or afterwards online on the 'manage trip' section.
It's a little trickier if you book using miles, as the system may try to charge you the same mileage for the lap infant. Like with Singapore Airlines, we needed to call and add our baby as a lap infant and pay 10% of the adult fare, plus airport taxes and fees. Since we opted for business class using miles, this was a painful $500 (although prices for business class tickets regularly top $10k for Emirates, so I was grateful it wasn't more!).
Like Singapore Airlines, Emirates is a rare airline that saves seats with the capacity for a baby bassinet for those traveling with young children. When we called to add our lap infant, they put us in a bassinet seat.
This is such a nice feature that few airlines (I'm looking at you, United and Japan Airlines) do. Since bulkhead seats are popular, it's the only way I've been able to score these seats.
If you opt to book your baby their own seat, Emirates offers discounted child fares.
You can search on their website or compare fares through an aggregator like booking.
Emirates Infant Policies
Emirates has some nice perks for traveling families, particularly if you have a long layover:
Infant Baggage
Like most airlines, Emirates allows you to check a car seat or stroller as hold luggage free of charge. According to Emirates' website:
Passengers travelling with infants (under two years of age) have different baggage allowances based on your itinerary.
All routes, excluding travel to and from destinations in the Americas and Africa:
One cabin bag not exceeding 22 by 15 by 8 inches (55 by 38 by 20 centimetres) of maximum 5 kg (11lbs)
Checked‑in baggage up to 10kg (22lb)
All routes to and from the Americas and Africa:
One cabin bag not exceeding 22 by 15 by 8 inches (55 by 38 by 20 centimetres) of maximum 5 kg (11lbs)
The baggage allowance will be shown on the infant's ticket.
You can also ask our check‑in staff if space is available for you to carry any one of these items on board free of charge:
It's pretty amazing that infants get checked baggage allowance, and is something I've only seen on Singapore Airlines (an amazing airline to fly with babies) and interestingly Airlink in South Africa.
Infant Bassinet
As mentioned earlier, Emirates is a rare airline that reserves bassinet-capable seats for families. It appears that you don't need to call ahead to reserve the bassinet if you're already booked in that seat, which you can add yourself to under 'manage booking' if you didn't select said seat when purchasing your ticket. Emirates bassinets can accommodate children up to 11 kg (24.2 lbs)
Keep in mind that if you've bought your child their own seat, even if they're under two, they can't use a bassinet and will have to be in a CARES harness or cabin-approved car seat. If traveling with an infant that's still in an infant seat, I loved the Uppababy Mesa for air travel until my son outgrew it.
If you do book your child their own seat under the child fare, Emirates does not allow blow-up beds like the Flyaway bed.
Kid's Meals and Baby Food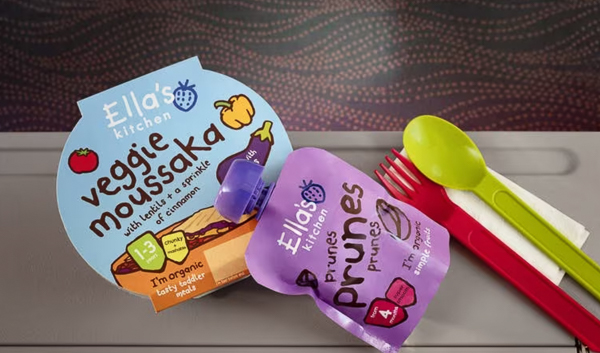 Emirates offers kid's meals and baby meals. Add it at least 24 hours before your flight under 'manage booking.'
Amazingly, Emirates also has formula on board for babies. I have never seen this offered by an airline before. It's ready-made, pre-prepared formula made from whey.
Breastfeeding (or Formula Feeding) on Board
You are welcome to breastfeed on Emirates flights. They can provide an extra blanket for privacy if desired.
You can also travel with your own formula and baby food, or if you're a pumping mama, you can pump onboard. I recommend bringing wearable pumps and a bottle washing station with you. The crew can also help warm bottles if you need.
Exciting Extras (Like a Free Hotel Room!)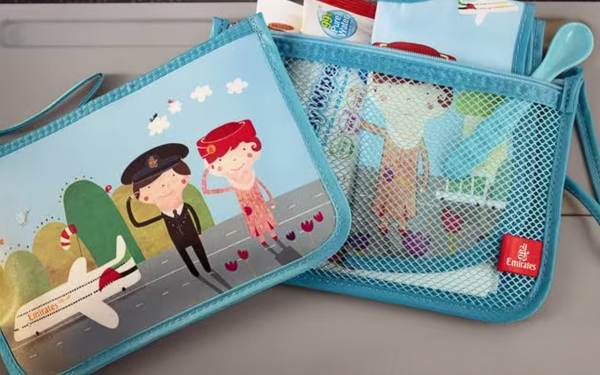 In addition to everything mentioned above, Emirates also has an infant kit filled with diaper cream, bibs and wipes. Their aircraft all have changing tables on board as well. Honestly I haven't been on a flight yet with any airline that didn't have them.
Emirates also offers free strollers at the airport in Dubai in terminal 3, and also has kids' play areas in the business and first class lounges. They also offer kid's toys on their flights.
Perhaps the most exciting option is Emirates free hotel room for anyone with a transit time over 8 hours in economy or over 6 hours in business and first class in Dubai, called the Dubai Connect. You will see the option pop up under 'manage booking' if it's available to you. Note I could not find this on the mobile site and had to do it on desktop. Requesting the hotel room only took a few seconds.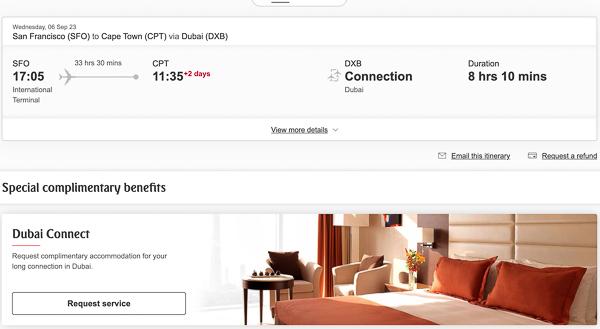 Since you'll need to leave the airport to get to the transit hotel, Emirates will provide a car seat (considering you've probably checked yours if you're traveling with a car seat) along with transportation to the hotel.
Our Experience flying Emirates with our Toddler
Believe it or not, my partner Garrett flew solo with our 14 month old from San Francisco all the way to Cape Town, and even in business class, it was tough. In hindsight, we probably should have gotten our baby his own seat and had them both in economy so Garrett could eat more easily, but you live and you learn.
That said, the staff were very accommodating, and willing to bring food for him when Felix was finally asleep. They also offered diapers when Garrett got low, and had baby food for him as well. Of all the airlines he could have flown with, Emirates was a great one. They're famous for their comfort, service, and food for a reason.
If you have the chance to fly Emirates, take it. Other than Singapore Airlines and Qatar, it's our favorite to fly with our little guy. Browse flight options here.
*Some links in this post are affiliate links that support this site at no extra cost to you when you make a purchase. Everybody wins!