Flying Qatar Airlines with a Baby – Our Firsthand Experience
What's it like flying Qatar Airways with a baby? We recently had the opportunity to find out on a very long 9-hour flight followed by a 15.5 hour flight when we made our way back home from Africa.
Qatar Airways aims to be one of the world's premier airlines. Does it live up to that, especially for families? Here's everything to know about flying Qatar Airways with a baby:
Booking on Qatar Airways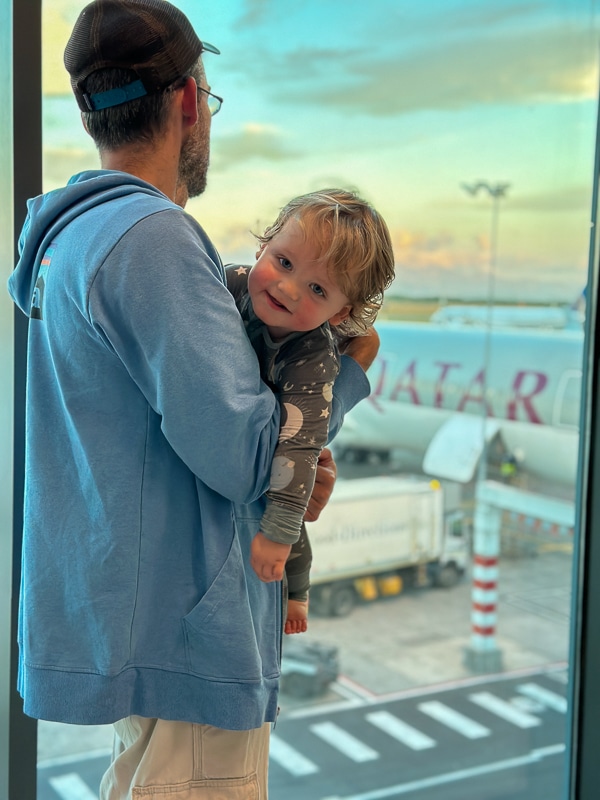 Booking on Qatar Airways with a lap infant is simple and straightforward and can be done at the time of booking. However, if you would like to book your child under two in their own seat, which we absolutely did for our super long journey, the only way to do so is to call. The online system won't allow a child under 2 to be booked in their own seat for whatever reason.
This isn't a huge deal, but still took about 45 minutes to book the three of us as a family with all of the passport details and birth dates that we needed to relay to the booking agent. Child tickets are sometimes cheaper than full adult fares, as well.
Qatar isn't the only airline that makes booking a baby somewhat complicated if you're doing something outside the norm. If you fly on Emirates or Singapore Airlines using miles, you'll also have to call to add the lap infant rather than being able to add during the booking process. I appreciate that whether using points or cash, United makes it the easiest to just add the lap infant at the time of booking on their website or through their portal.
Once that's done, you're good to go.
Policies Regarding Flying With Children on Qatar Airways
When flying with a baby, you're welcome to board first with Qatar Airways. This can be helpful if you have a lot of carry on luggage since the overhead bins can fill up fast, and we always want to have our stroller that can fit in the overhead bin along, and have minimal bags at our feet.
Food, Toys, and Extra Amenities
In addition to priority boarding and the option to reserve a bassinet seat (call ahead to do this and keep in mind the maximum body weight of the infant cannot exceed 11 kgs/24 Lbs), parents traveling with infants will have access to diapers, baby food, and little toys.
By the time that we flew with my one year old, he was too big for the bassinet, but I'm always impressed when airlines have diapers onboard and they did offer us pouches of baby puree.
I still always bring my own ultra absorbent diapers and travel with our own baby food just in case, but these amenities are so nice to have.
They also had toy kits for older kids, as well as healthy kids meals that can be booked ahead of time. They come in little lunch boxes that you can keep!
The entertainment system is also pretty nice, with a big screen and a dedicated kid's channel with cartoons and games.
Baggage
Children are also allowed baggage of 10kg, even when flying as a lap infant. If they're booked in their own seat on a child fare, they are allowed the same weight as adults.
Hamad Airport
Chances are good that you'll be transiting through Hamad Airport in Doha if you fly Qatar Airways. Some of the layovers can be long, but they have kids play gyms and a pool that you can purchase access to. They also offer a (paid) family Al Maha Services Meet and Assist Family Package which allows you to relax in lounges and have your hand held through the layover process.
This might be nice to have, as our only bad experience was with some useless airline employees once we were on the ground and rushing to make our connection due to the delay of our initial flight. We'd hoped they could help us get to where we needed to go, but nobody seemed all that informed or interested. Thankfully we made it anyway!
Our Experience on Qatar Airways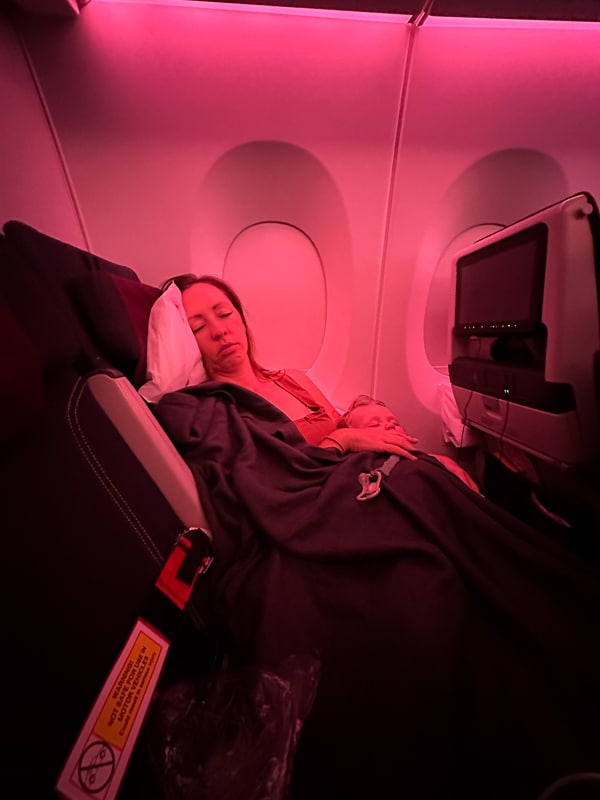 The service on Qatar Airways is excellent. It will always depend on who the flight attendants are when you travel, but overall, I have found that the service is a cut above on airlines like Qatar, Emirates, and Etihad.
The flight attendants came by early on both flights to offer us toys for Felix — they had quite the variety — and were happy to give us water for bottles whenever we needed it. They were also particularly sweet with Felix, but again, that's more of an individual thing than an airline thing, I've found.
This may seem like a minor thing, but I also really liked that Qatar planes use a red/pink colored light onboard rather than a bright white one that most airlines use. This made it possible for Felix to sleep even before the lights were totally dimmed after meal time. When you have a tired and fussy baby that can't sleep due to the bright lights, this is huge.
I'm always impressed when airlines have diapers, baby food, baby baggage allowance, and baby toys on board. Few airlines have all of these, or even some of these, amenities. Couple that with the nice flying experience on Qatar, and I wouldn't hesitate to fly them again. You can look at booking options here.
*Some links in this post are affiliate links that support this site when you make a purchase at no extra cost to you. Everybody wins!