Should You Get Your Baby Their Own Seat on an Airplane?
We all know the deal – babies can fly free domestically (and for 10% of the adult fare internationally), until they're two years old.
It sounds like a golden opportunity to milk those free flights for as long as possible, right? Well, maybe not.
My one year old has now been on over 70 flights and to 10 countries, and depending on the situation, I've started to prefer getting him his own seat, even though we could be paying less to have him in our laps. WHY would I do that? For many reasons! Here's everything to consider when weighing whether or not to get your baby their own seat on an airplane.
Consider Safety When Flying with a Baby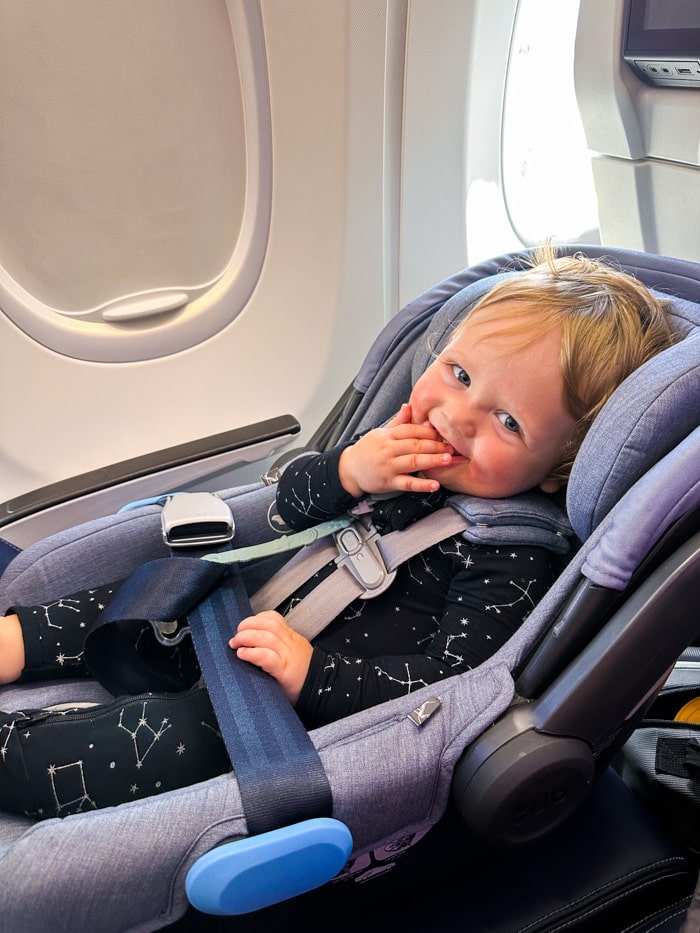 There's always a balance between safety and what you can afford.
The biggest consideration is what happens when there's extreme turbulence or worse. Though rare, if it does happen, you can't count on your ability to hold the baby in your lap when caught off guard. The AAP, the FAA, and the NTSB all recommend using an an FAA-approved car seat or airplane harness device for your baby in their own seat for this reason.
While, yes, having your own seat for the baby is great for safety's sake, what if your little one is young enough to stay in a baby carrier for the flight?
I have been told by flight attendants that the carrier has to be unhooked for the takeoff and landing. I don't understand this rule, since having a baby unrestrained on one's lap seems less safe, but have read that this is because if you have to take the brace position, the baby would be in the way and would be the first point of impact. For this reason, flight attendants are told to inform parents to put babies on the ground and barricade them with pillows if there's a foreseeable event about to occur. If it doesn't sound safe, that's because it isn't, but it's still safer than one's lap.
In the rare event that there's a major problem on the plane, the safest place for an infant to be is in a harness or car seat in their own seat.
However I have flown plenty of times with my son as a lap infant — way more than I have gotten him his own seat. I've also flown nearly a million miles and thankfully never had extreme turbulence or worse (knock on wood). Although we can't predict the future, it's also about weighing the options. These are the other things I consider:
Consider the Baby's Age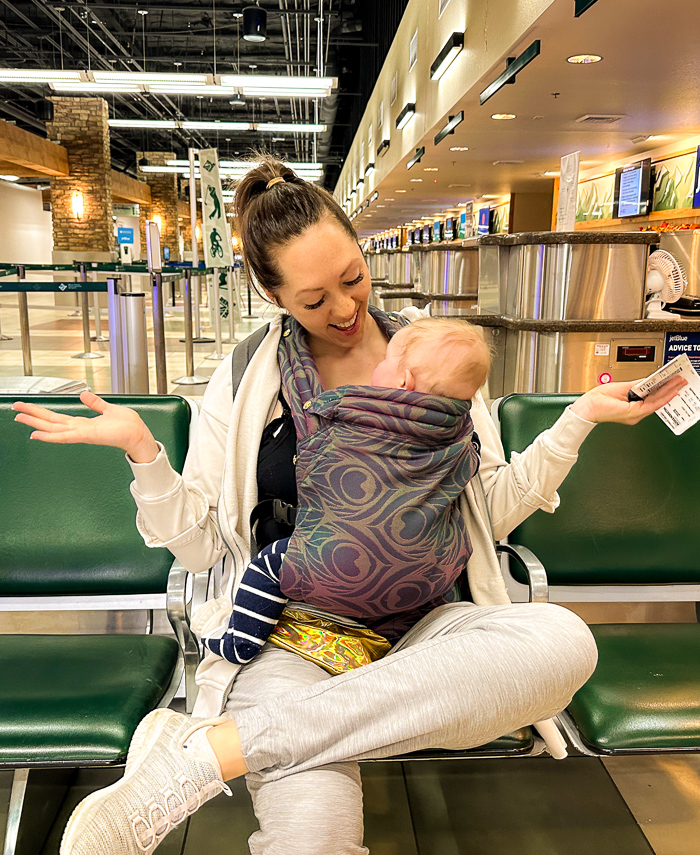 When my son was younger, he mostly slept on flights and did better in a baby carrier than he would have in a car seat. The Solly Baby wrap was perfect for our first flight when he was 3 months old, and I continued to use our Artipoppe until he was about 8 months old and didn't want to be restrained for that long. You can nurse in the carrier if you're nursing, or you can easily do a bottle with formula without having to take them out.
Plus, on international flights or domestic flights with larger aircraft, you might be able to get a seat with a bassinet. Unfortunately United doesn't save seats with bassinets for parents and the bulkhead seats are popular and book out first, but some airlines like Singapore airlines or Emirates block them out specifically for parents! Keep in mind you have to remove the baby if there's turbulence and they have weight limitations as well. Our 30 lb baby is much too big for them now.
The more mobile he's become, the harder it is to have him as a lap infant. International flights with him at six months were just much easier, but now that he's one, I get him his own seat for anything but super short flights for both of our sanity's sake. I also won't have him as a lap infant even on short flights if I'm traveling solo with him. He's much too long and too tall and will most definitely kick or squirm onto the person next to me. I imagine most one year olds are similar.
Consider Your Comfort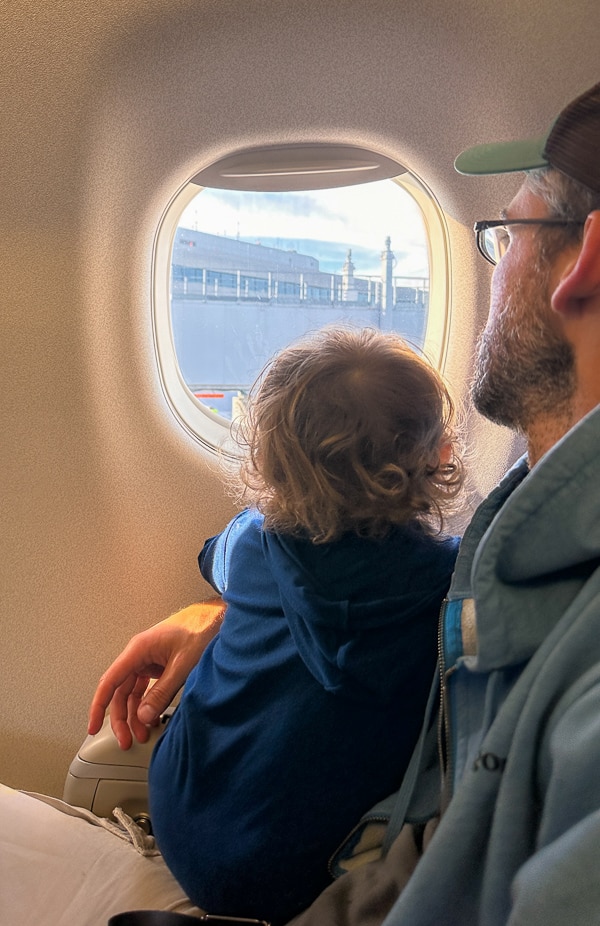 The first time my son had his own seat was on a solo flight from Reno to Vancouver via Seattle when he was right around a year old. I normally would probably not have gone for two seats, but a client had booked this for me (I run a travel blog as well and was taking him on our first cruise!). I could not BELIEVE how much easier it made our journey. Since most of the flights we took had 4 seats per row (two on each side) we had a row to ourselves.
He went right to sleep on most of the flights and rather than wriggling and squirming, it was more like a car ride to him. He could see out the window, he had his own luggage allowance, and I had lots of space for my legs. It felt downright luxurious.
For international flights in economy class, we absolutely spring for his own seat as well. I'm writing this a couple of days after we flew from Cape Town to Reno via Doha and San Francisco. We went from a 9 hour flight straight to a 15.5 hour flight and then 45 minutes to Reno. It went amazingly smooth considering it's one of the longest journeys in the world, and it's all because he had his own seat. We had our own row, and I could still hold him in my lap for sleeping and to stretch out my legs.
The biggest consideration will be how you want them restrained during the trip, I did a car seat for the shorter flights, but we used a CARES harness for the super long haul flight. Let's talk about why:
Should You Use a Car Seat or CARES Harness?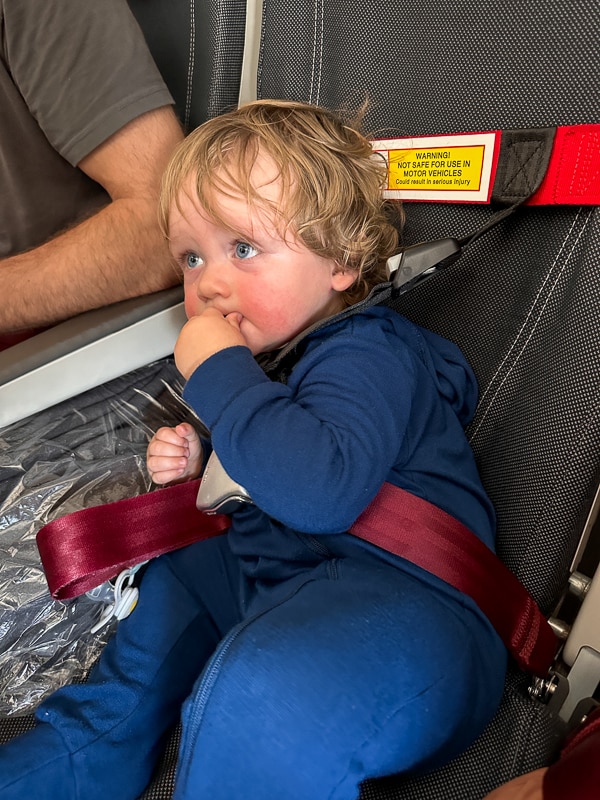 A car seat is the obvious option since you are probably traveling with one anyway. Before my son got too tall for it, I loved the UppaBaby Mesa for air travel. It's super easy to install with the lap belt, and it's a comfortable rear-facing ride. Most importantly, it's FAA-approved and snaps into the UppaBaby travel strollers easily.
But as you can probably see from the image above, by one year, my taller-than-average son was getting too big for it. We have since changed over to the Cosco Scenera car seat for traveling, but it's bulky and I didn't think it would be ideal for our long haul flight. If he got over being in the car seat, which he definitely would at some point during those 26 hours, it would be too big to put in the overhead bin or under the seat. For this reason, and in scenarios where we're traveling without a car seat, a CARES harness makes sense.
The CARES harness is essentially a seat belt that makes the normal airline seat belt safer and more wearable for a baby. They're FAA-approved, small and easy to travel with, and can take the place of a bulky car seat. It also meant my son could sleep in my lap for the remainder of the flight when there wasn't turbulence or during take off and landing. Of course, this was not as safe as having him in a car seat for the entire flight, but let's be realistic. How many one year olds do you know who would happily sit in a car seat for 15 straight hours?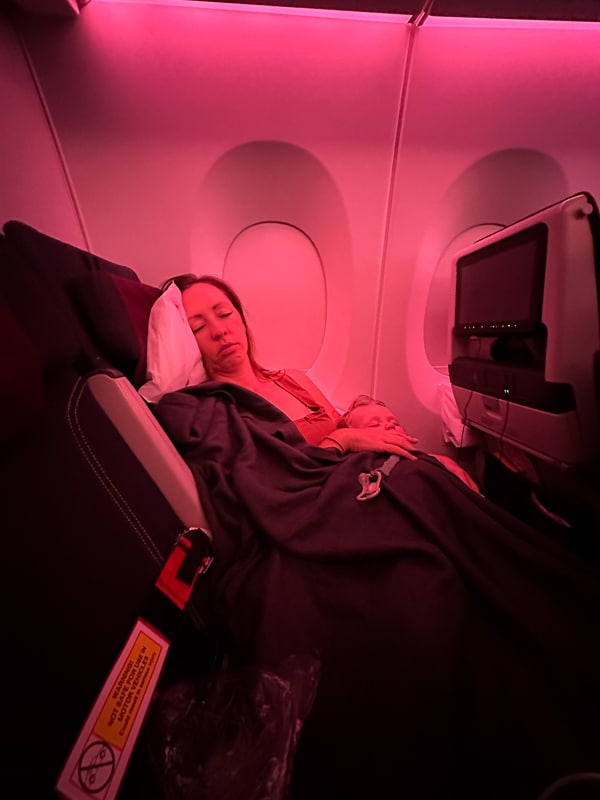 There are some downsides to it – I don't see how it could be as safe as a rear-facing car seat, and it's not appropriate for all babies. They have to be between 22 and 44 lbs to use it, and obviously have to be able to sit up on their own. You also need to wrap it around the seat, meaning you'll need to ask your behind-neighbor nicely to open their tray table so that you can wrap the harness around. I can't imagine most people would have a problem with this, but it's a consideration.
Our son also slouched in the harness. It's still better than nothing or being on my lap, but it's not totally ideal.
Economy vs. Business Class Considerations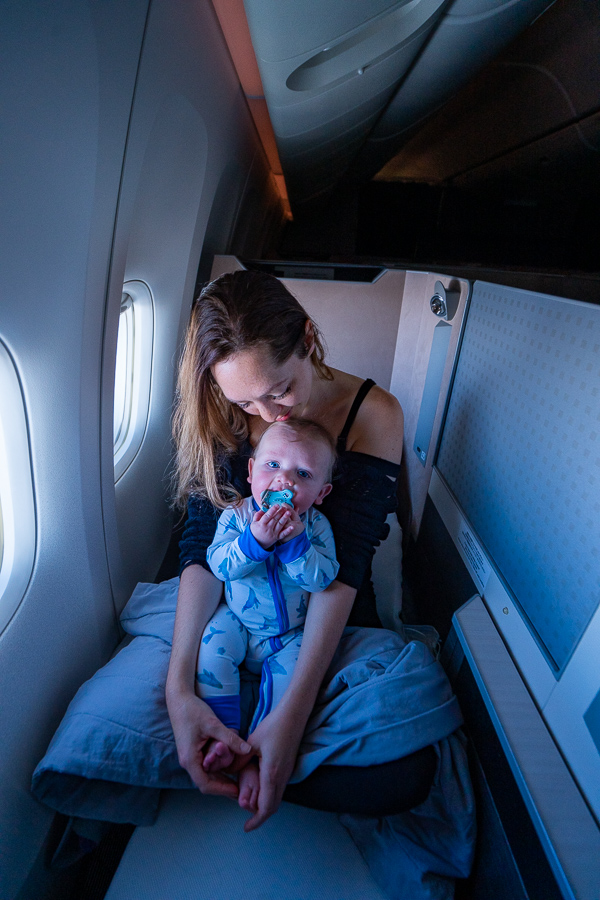 My son was a later-in-the-p@ndemic baby, so we had a fair amount of miles racked up that we were able to use for business class flights. I've been into travel hacking for a while now, too, so we continue to fly business class whenever possible. If it seems out of reach, it might not be for you, read more about how I do it here.
We love business class since it gives us more space for him to move around, sleep next to us, and it's generally a better way for all of us to get some rest. Business class with a baby on your lap is MUCH easier than in economy, though now that I've gotten Felix his own seat in economy, I have to say both options are pretty good. It comes down to the cost or miles comparison for me.
I probably wouldn't get him his own seat in business, however. He'd be farther away and harder to wrangle, and it seems like overkill even for a 2-3 year old. I guess we'll cross that bridge when we come to it, but for now, we'll keep doing business class as much as we can until he's 2.
Overall, getting your baby their own seat is likely to be easier on both of you, especially if they're mobile. It's also the safest option, though not the most economical. Some airlines discount child fares, but most of them don't. If you can swing the extra ticket cost, go for it, but if not, you've got two whole years for your lap infant to fly for free!
*Some links in this post are affiliate links that support this site at no extra cost to you. Everybody wins!