The Veer Cruiser XL Wagon: Full Review from a Mom of Two
Since our son was a baby, my dad has loved pulling him around in his classic red Radio Flyer wagon. But when my parents found out they were having more grandkids, they knew they had to up their wagon game. With a four-seat capacity and all-terrain suspension, the Veer Cruiser XL was the perfect solution.
This large wagon has been a great way to explore the outdoors with our family. Although it's heavy and bulky, its souped-up features and long list of compatible accessories make it a lasting purchase for group adventures.
The Veer Brand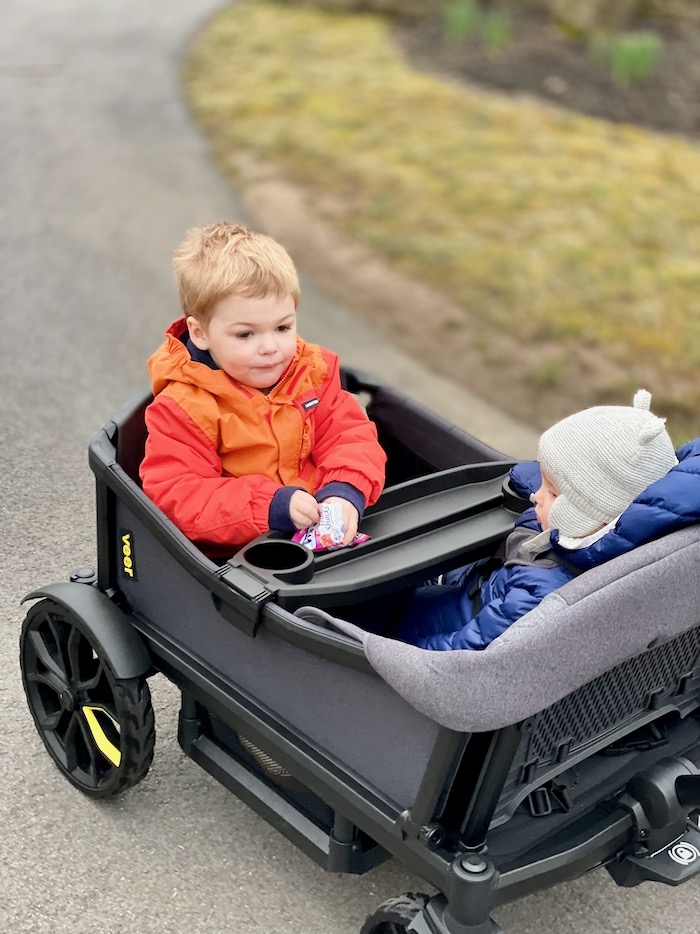 Co-founder Andrew Bowman developed the Veer concept at his daughter's soccer game, when he witnessed parents struggling to haul their gear and children up steep terrain. He set out to design an all-terrain wagon that would allow families to explore the outdoors without sacrificing comfort and safety, and in 2017, the Veer Cruiser was born.
Thanks in part to social media users and celebrities flaunting their Veer gear, the Cruiser quickly became popular among young families.
In addition to the Cruiser, Veer now sells the four-passenger Cruiser XL (reviewed in this post), an outdoor children's play yard, a family-sized tent, and a stroller seat compatible with a standard stroller frame, a jogging frame, and a camp chair base.
The Skinny on the Veer Cruiser XL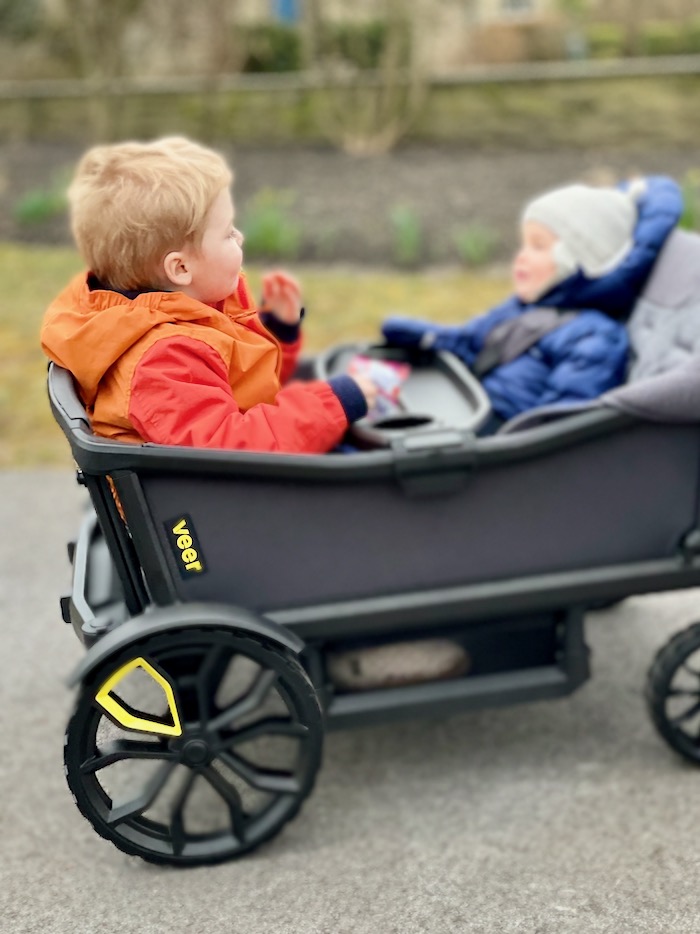 The Veer Cruiser XL is a souped-up, sophisticated, four-seater wagon that has a pile of compatible accessories and folds to fit in the trunk of a car. It has a sturdy aluminum frame with soft fabric sides that hold up well over time, even in rough conditions.
The Cruiser XL boasts all the features of a luxury stroller with the fun and practicality of a wagon. Parents can push the wagon for a comfortable stroll or pull it to help navigate bumpy trails. The wagon is designed to tackle sand, snow, and rocky paths. The Veer is perfect for going around town with a pile of kids, for hauling children and equipment at sporting events, or for equipping grandparents to tote multiple grandkids who don't all fit in a stroller.
Buy it now from:
Pros and Cons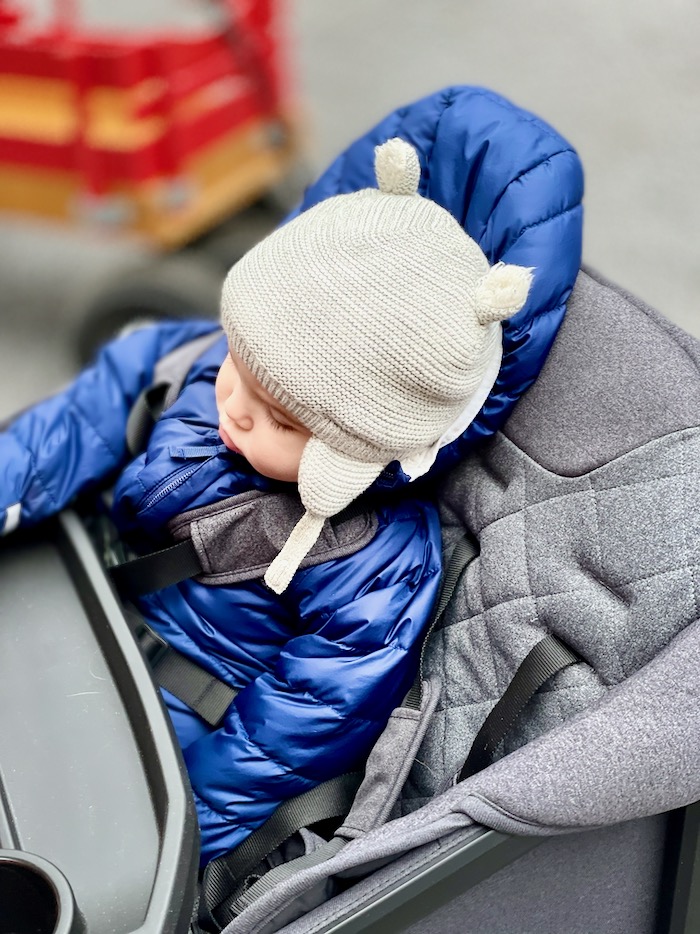 Here are the greatest advantages and drawbacks we've found with the Veer Cruiser XL:
Pros
The Cruiser XL comfortably seats four kids!
It includes a large snack and drink tray — the key to happiness for many young children.
This wagon has a huge list of compatible accessories for keeping kids comfortable and protecting against the elements.
The Cruiser XL folds to fit in the trunk of a car.
In pulling mode, the wagon can conquer any terrain, including sand and snow (which is a struggle for most strollers).
The Veer's classic design means parents can load up the body of the wagon with cargo, especially if children aren't occupying all four seats.
Cons
True to its name, the Cruiser XL is large, and it feels cumbersome indoors.
The wagon is expensive, starting at $800, not including a sun canopy or storage basket.
Even though the sidewalls fold flat, the Cruiser XL still takes up significant space when collapsed. Loading into the car trunk won't leave space for much else.
Wagon seats don't recline, which can make naps difficult.
Detailed Features and Specifications
Here we'll dive in and discuss all the nitty-gritty details you'll care about if you're thinking of buying a Cruiser XL:
Cost
It costs about $800 to purchase a new Veer Cruiser XL, which is $100 more than the two-seater Veer Cruiser. The Veer is more expensive than most wagons on the market, but less expensive than many high-end double strollers.
Size and portability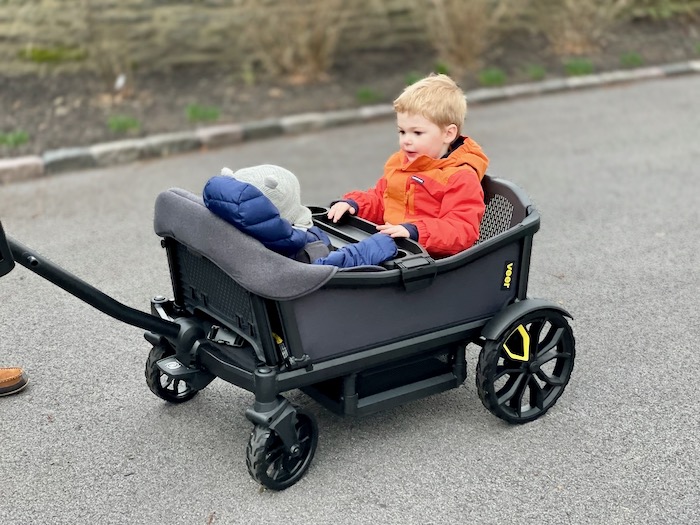 There is no denying that the Cruiser XL is heavy; it weighs 36.7 pounds without any accessories attached. Its weight is on par with many competing large strollers, though. The UPPAbaby Vista, for example, weighs 34 pounds in double-stroller mode.
The Cruiser XL's large size is helpful for hauling lots of kids and cargo, but it makes it difficult for us to navigate the wagon indoors. With its dimensions (37" long by 24" wide by 23" high), this wagon is difficult to steer through store aisles.
The sidewalls of the wagon collapse flat, and the handle folds on top of it. When folded, its height is significantly reduced (to 14"). Parents can remove the wheels to further drop the wagon's height to only 9". Although the folded wagon fits into the trunks of most cars, families won't be able to pack much else in unless they drive a truck or large SUV.
Maneuverability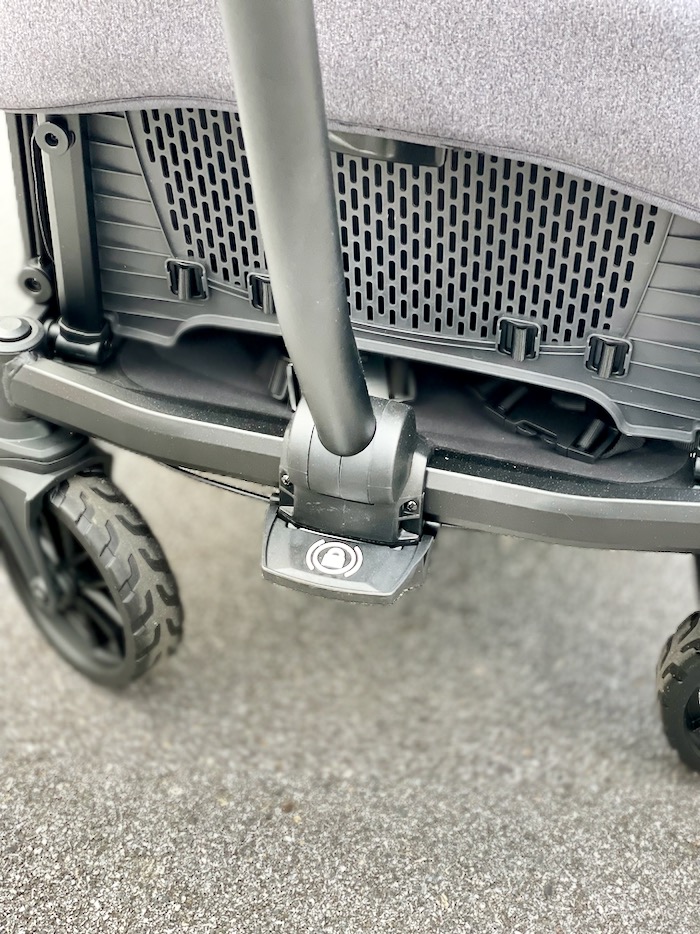 We find the Cruiser XL to be easy to maneuver, even when it's loaded up with children. Adults can pull the stroller behind them for navigating more varied terrain, or they can lock the wagon handle in its upright position to push it instead.
We enjoy pushing the wagon to give our backs a break and cruise over smoother surfaces. The wagon pivots and steers in a fashion similar to a stroller.
In pulling mode, with smaller wheels in front and larger ones in back, the wagon rolls over sand, snow, mud, and rocky trails. This is one of the huge selling points of the Cruiser XL over most strollers, which are not compatible with such varied terrain. When dragging the suspension-equipped wagon through water and mud, rear wheel fenders keep grit from spewing upward onto its body (or its passengers!).
An adjustable, telescoping handlebar makes the wagon comfortable for adults of varying heights. The wagon's robust handle, which was inspired by mountain bike grips, is ergonomic and padded. A convenient foot brake prevents the Cruiser from running away when not in use.
Veer specifies that adults should pull, not push, the wagon over curbs. Although it's designed for all-terrain use, the Cruiser should never be used in place of a jogging stroller.
Age range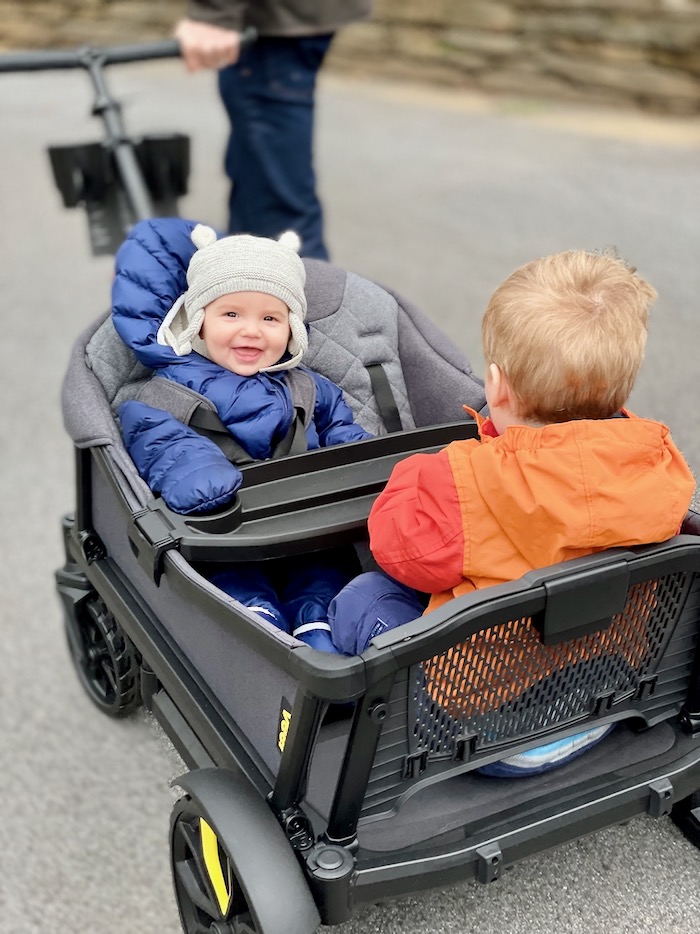 The Veer Cruiser XL transports an impressive four passengers of up to 55 pounds each. Babies can ride in the Veer once they are six months old and able to sit unassisted, or at birth with an infant car seat. Kids will fit in the Cruiser until about age five, or when they reach 45" tall.
Harness and seat style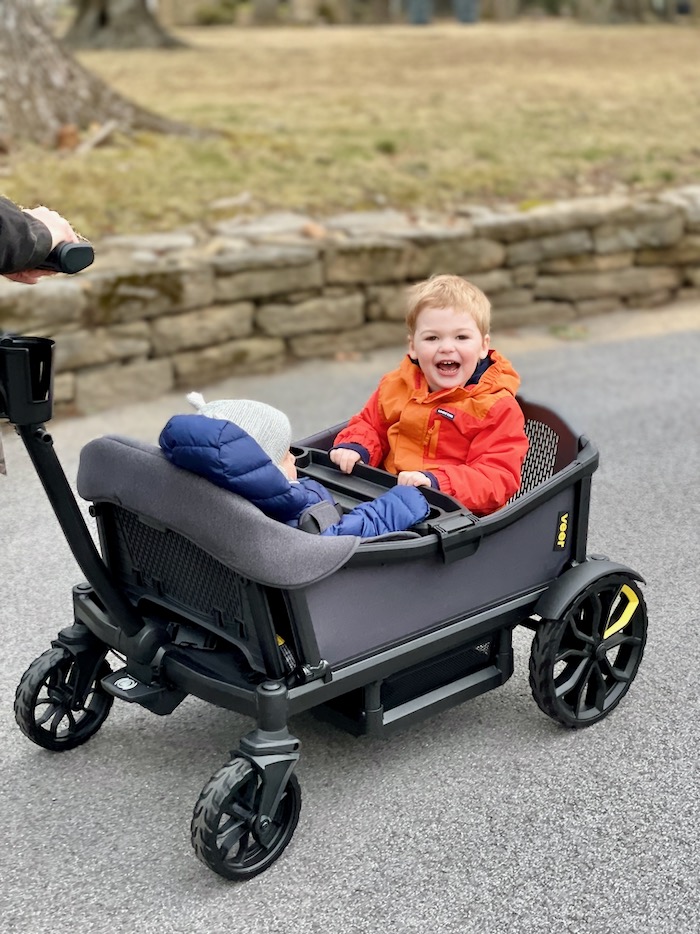 The Cruiser XL comes with four standard seats equipped with a three-point harness. The harness fits like a lap belt, similar to what you'd find in a shopping cart, with an attachment between the legs. The harness system is a bit less secure than the five-point safety system found in most strollers.
Car seat compatibility
The Veer is unique because it connects to an infant car seat to make it suitable for newborns from day one. The wagon can only hold one car seat at a time, and the car seat occupies two of the wagon's four bench spots. Parents can purchase adapters to connect car seats by Graco, Britax, UPPAbaby, Nuna, Maxi-Cosi, Cybex, Clek, Chicco, and Peg Perego.
Care and cleaning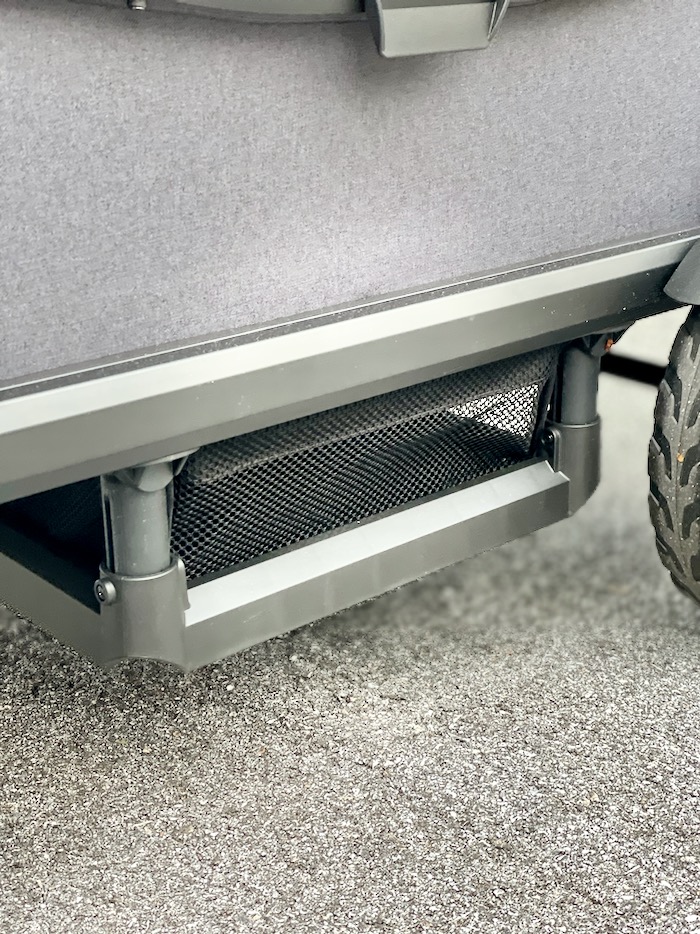 Certain parts of the Veer, like the harness straps and the stain-resistant sidewalls, can be removed for hand-washing. The manufacturer recommends hosing down the rest of the wagon shortly after use to remove dirt and grime. Adults should take the wheels off the Cruiser XL when hosing down its components, and allow them to dry completely before reattaching.
Salt water in particular needs immediate hosing off to prevent erosion. If you're taking your wagon through sand, Veer recommends using a brush to eliminate sand immediately and prevent it from creeping into the wagon's joints.
The center of the wagon has a convenient foot well with mesh walls, pictured above. This has been a lifesaver for us when spills happen in the wagon, because it creates a convenient spot for liquids to drain out with a quick hosing.
Storage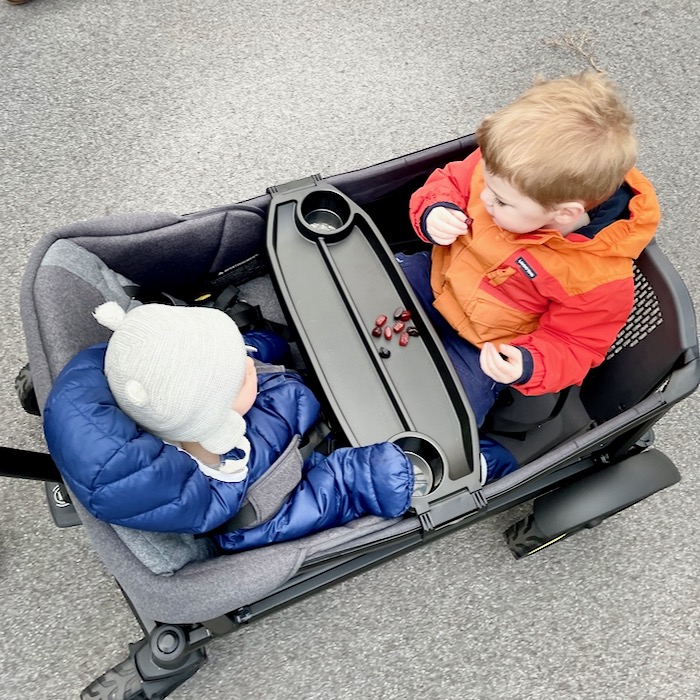 Any spot in the Cruiser XL that's not occupied by a tiny passenger is a great place to stash gear. The wagon can hold a total of 300 pounds of cargo (including the weight of its passengers), which is huge. The Cruiser comes with storage nooks on the side of each child seat to store small toys. Additional storage pockets on the inside of the wagon, which hold up to two pounds each, are great spots for mittens, snacks, or a juice box.
Aesthetics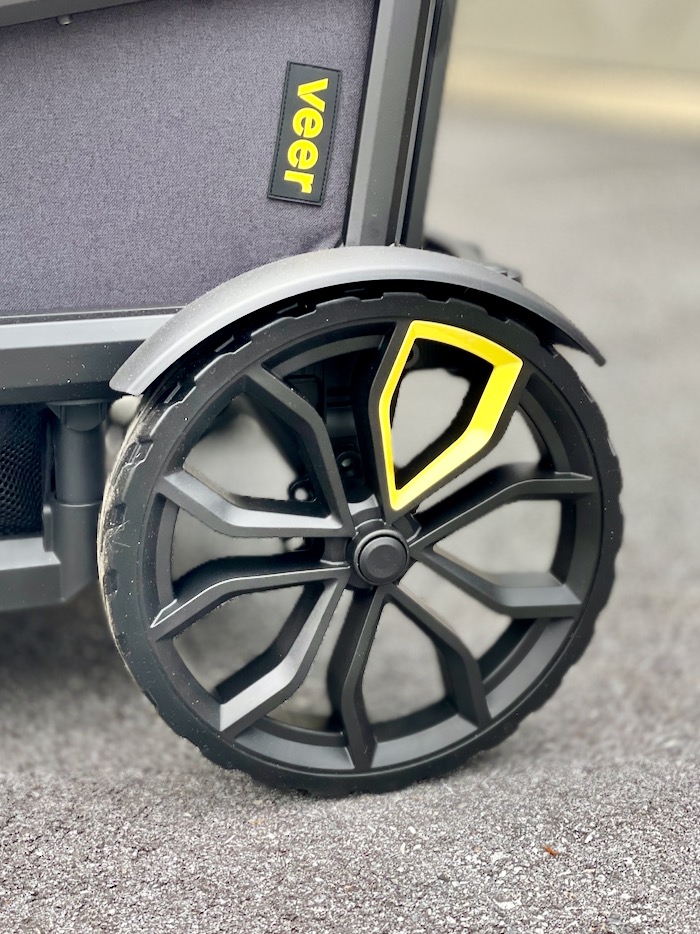 The Cruiser XL has a modern, rugged design while maintaining that classic, nostalgic wagon look. The wagon comes with standard dark gray sides. Customers can purchase an additional fabric sidewall kit and coordinating sun canopy in the color of their choosing. Color options include six solid tones and two camouflage patterns.
Accessories
The multitude of accessories available for the Cruiser is where Veer really dominates the market and makes its wagons versatile. Let's take a look at everything that's included and available for the Cruiser XL:
Drink and snack tray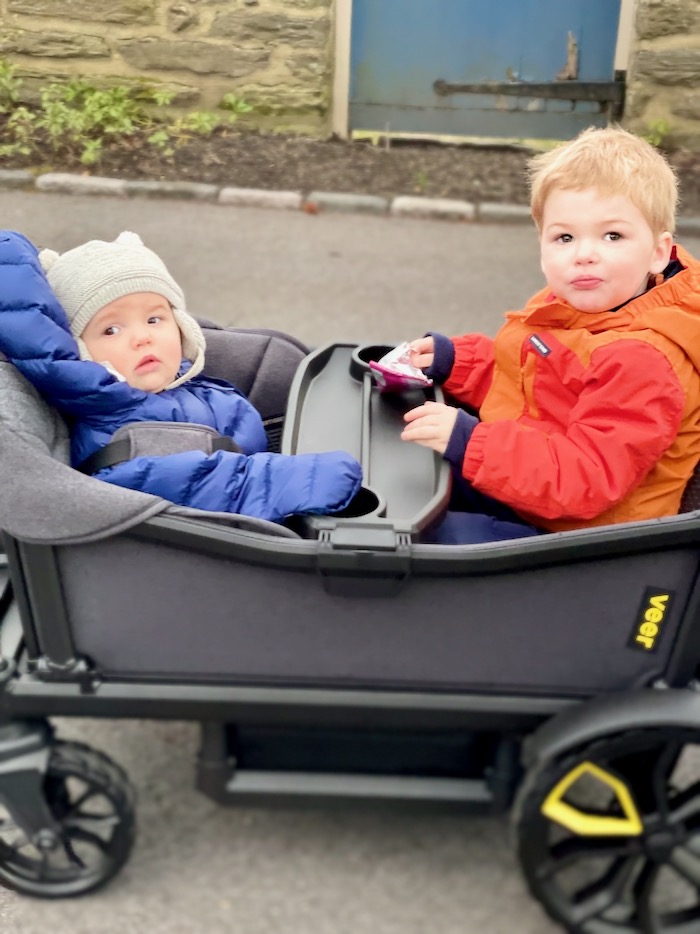 The wagon comes standard with a large drink and snack tray. The tray has two cup holders and a large food area with a divider to keep things tidy. Parents can buy a replacement tray for $39. This huge tray is clutch for motivating our youngsters to sit in the wagon and keeping them happy on longer walks.
Parent cup holder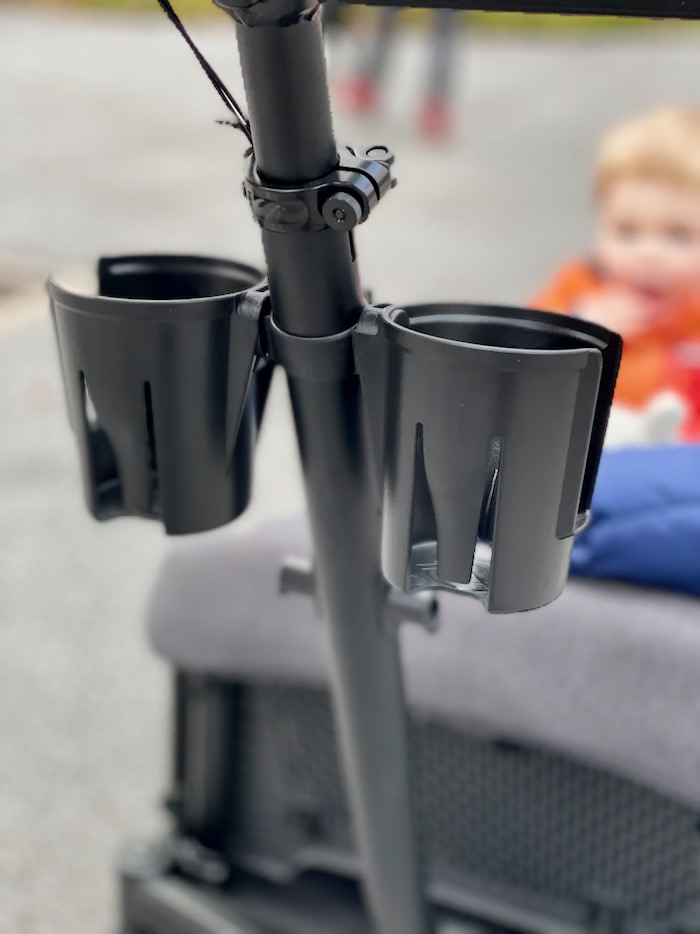 Included with the Cruiser XL are two parent cup holders on the wagon's handlebar. The Veer can hold four additional cup holders (one on each corner of the wagon), which are sold at $29 a pair.
Sun canopy
One of the greatest drawbacks of the Cruiser XL, when compared to most strollers, is that no sun canopy is included with purchase. Parents can buy one or two retractable canopies for $64 each, with the option of adding a $19 zip-on visor to provide more UV protection when the sun is low in the sky. A bug shield, which zips onto the wagon's sun canopy to protect from mosquitos or debris, is also available for separate purchase at $34.
Foldable storage basket
If your wagon is full of kids and you need extra room, Veer's 20-pound-capacity storage basket is a great addition. Its sides detach for machine washing, and its mesh hood allows families to stuff it to the brim while protecting the goods inside. The $89 basket is great for storing extra layers or a picnic lunch, and there's no need to remove it when folding up the wagon.
Comfort seat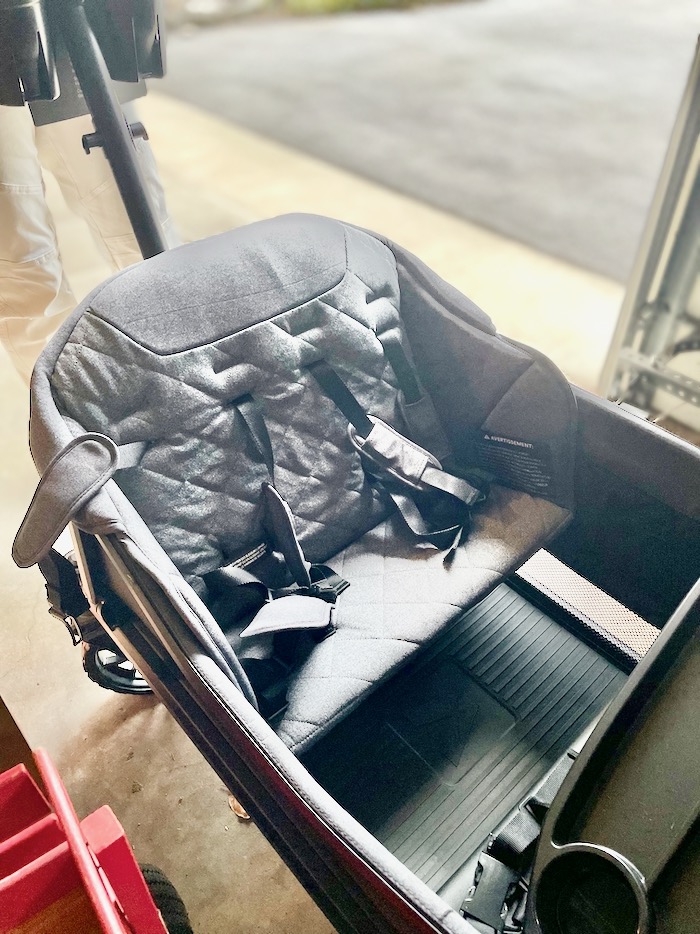 For $99, Veer sells a padded seat cover with a five-point harness that gives extra support for babies from six months to 35 pounds. Our eight-month-old daughter is a bit wobbly in the wagon's standard seat, so the comfort seat lends extra safety and security, especially over bumps.
Travel bag
If your airline allows you to gate-check it, the Veer would be an awesome vehicle for rolling through an airport terminal and lugging kids and carry-ons. For $109, Veer sells a padded nylon travel bag designed to protect the wagon from damage during air travel. The bag has a storage pocket for wheels and two handles for easy carrying.
Weather cover
For adventurers that hit the outdoors no matter the weather, Veer sells a clear plastic weather cover. Costing $109, it protects from rain, wind, and snow. It requires separate purchase of a canopy (see above) and allows access to passengers via a weatherproof zipper.
Nap system
Parents love that most modern luxury strollers are compatible with an infant bassinet for sleeping. For $109, the Veer nap system transforms the Cruiser XL into a changing station or a safe-sleep bassinet. The nap system comes with a soft mattress pad, magnetic walls that attach to the wagon, a storage pouch, and a mesh bug shield.
Switchback seat
As a final accessory option, parents can purchase Veer's $399 Switchback seat. The Switchback looks like a regular stroller seat and sits over the wagon. Attaching the Switchback seat is the only way to put little ones in a reclined position on the Cruiser XL.
The Upshot: The Veer Cruiser XL Wagon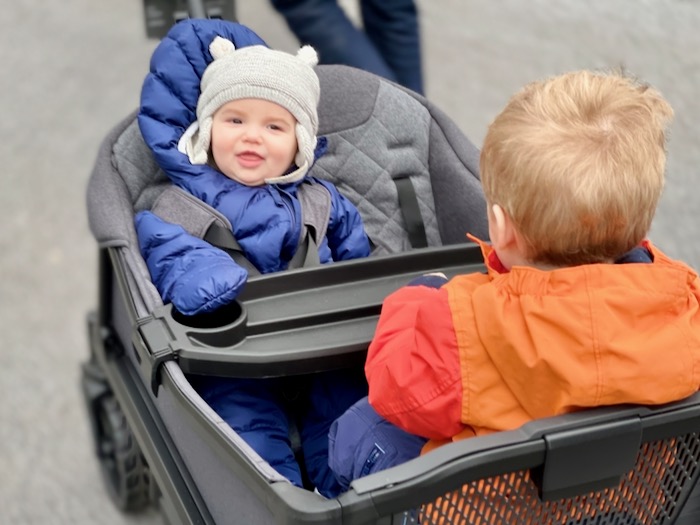 The Cruiser XL is a sturdy, nostalgic wagon with all the comfort and extras of a luxury stroller. It's a versatile vehicle for parents and grandparents alike to transport an impressive four children and tackle any terrain.
Although it doesn't come standard with some of the accessories many parents look for in a stroller or wagon, families can tailor the wagon to their needs by choosing which extras to purchase.
The Cruiser XL is fun and comfortable. We'd definitely recommend it for anyone who needs to haul lots of kids — and lots of gear — on outdoor adventures.
*Some links in this post are affiliate links that support this site at no extra cost to you. We only recommend products we've tried ourselves!