Are Seraphine Babywearing Coats Worth Buying?
When I first saw photos of the Seraphine Babywearing coat, I thought it looked adorable and wondered if they were worth it.
We had one of the biggest winters on record where I live (near Lake Tahoe) and had a few big winter trips planned as well when my baby was about 3-8 months old. I ended up buying the hoodie as well as two parkas. Here are my honest thoughts on whether or not the Seraphine coats are worth it.
Are Seraphine's Babywearing Coats Worth Buying?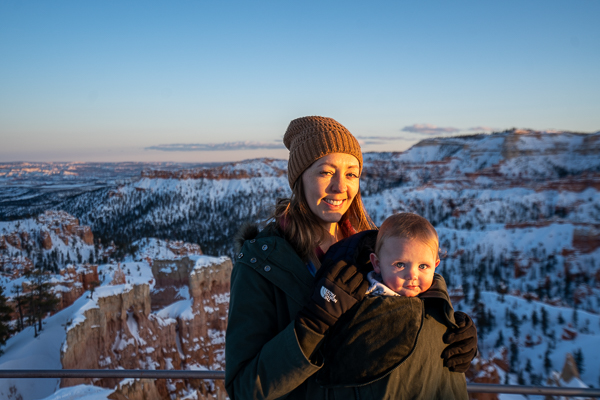 For me, the purpose of these is to keep both you and baby warm in scenarios where you're not using a stroller. Even if you can use a stroller, body heat will keep your baby warmer than blankets can. Plus, in most of the photos in this post, you'll see the environment would not have been stroller appropriate. The snow has a way of making that the case.
While you could wear a baby carrier on the outside of your coat and strap baby to the outside, to me that's clunkier and would require putting baby in a puffer as well, and everything starts to get complicated this way. Imagine having to take everything, including baby, off when you went indoors.
We could alternatively have used a hiking backpack carrier, which we do now, but we have to make sure he's in full winter gear, and wearing him when he was smaller was just easier.
Plus, I loved the look of these jackets. It's adorable, no? I loved having my little guy cocooned on me, which made feeding, keeping him warm, and napping on the go all easier. I also love that they have a men's version for the dads.
Though the coats aren't exactly cheap, they go on sale often. They also have a nice resale value. I bought one of mine secondhand and sold it for exactly what I paid a year later.
Seraphine Sub-Zero 3 in 1 Maternity Parka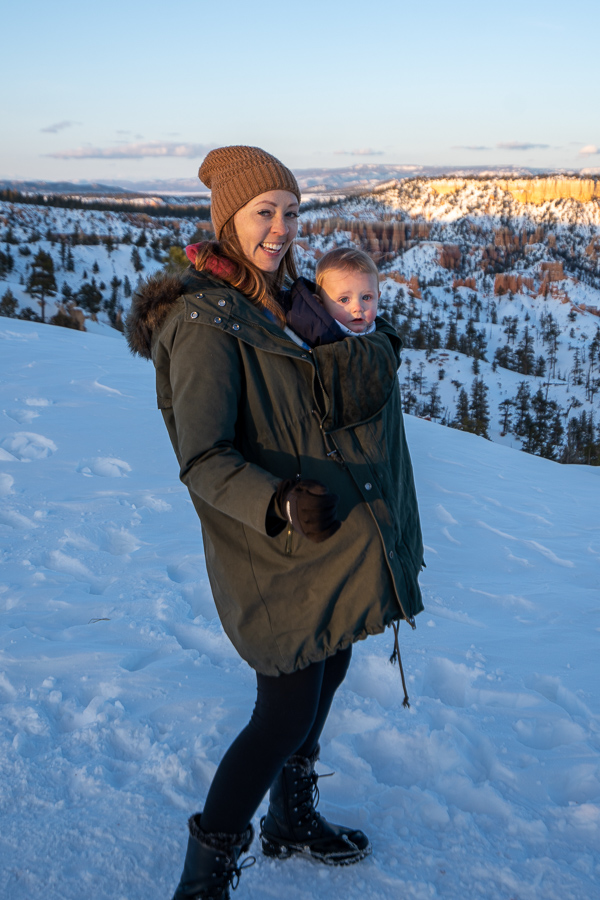 The Sub-Zero 3 in 1 Maternity Parka was the first proper winter coat I got from Seraphine (after loving the hoodie, which I'll talk about later in this post).
I loved wearing my son in the hoodie so much, I wondered how it would work if we had more of a winter coat, too. We live near Lake Tahoe and road tripped to Utah, so I knew I'd need a coat that could truly handle winter temperatures.
This coat is rated for level 4 cold, the lowest Seraphine goes, and I agree it gets toasty. However since it has a removable inner down jacket, it can be versatile if you don't need so much heat. The faux fur hood liner is also removable for easier washing and drying.
There's also drawstrings at the empire waist and bottom of the coat to keep in more of the heat, and scrunch it over a bump, if you have one.
Like all of their coats, the panel for babywearing can be zipped on or taken off. Note that it doesn't come with a baby carrier and you'll need to wear one underneath.
I adored the zip-in function so much, and wished I had bought it while I was still pregnant so I could get more use out of it. That said, without the center zip panel, it looks like a fairly normal coat, so I can still use it on a daily basis now that my son has outgrown being worn.
If it doesn't get as cold where you live, check out the next level down, which is cheaper and doesn't have the inner down jacket.
Seraphine 3-in-1 Down Maternity Coat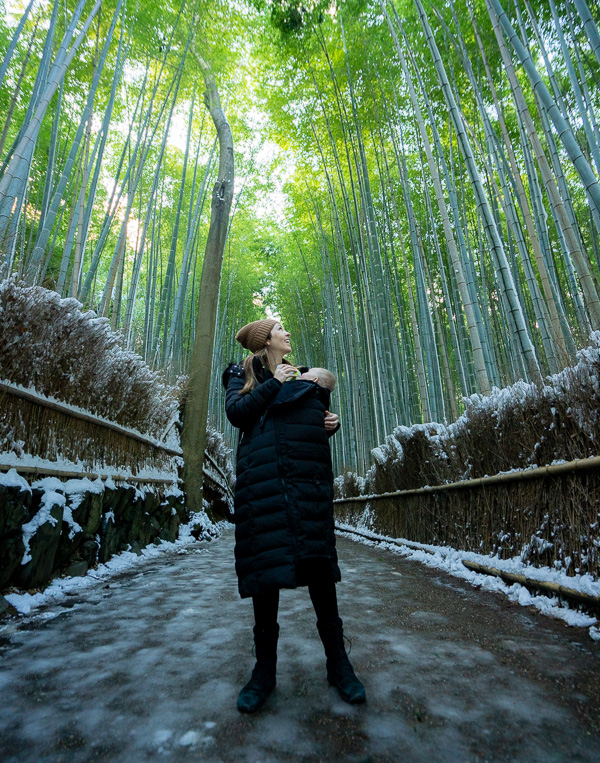 Although I already had the khaki coat, I wanted to test out more of Seraphine's lineup, so I got the black 3-in-1 down maternity coat too.
My son was about six months old when we traveled internationally with him to Japan in the winter. It turned out to be one of the snowiest couple weeks of the year, which delighted me and was what I'd been hoping for, but it also meant it was essential to keep the baby warm.
I was really glad to have the babywearing coat with me. It made it so much easier keeping him warm and there was plenty of room for him, the blue velvet Artipoppe carrier, and my sweater as well. It also could zip a bit over his head, which created a dark sleep environment but still had breathing room. One night, we were out almost the entire evening while he slept in his carrier in the coat, peacefully staying warm while the snow fell around us (pictured above with the umbrella).
The jacket is great quality and I'm glad I had it along for the trip. Having a long coat was also quite helpful to block out any wind from my legs since I was mostly wearing thin maternity leggings (I didn't fit my other winter gear at the time).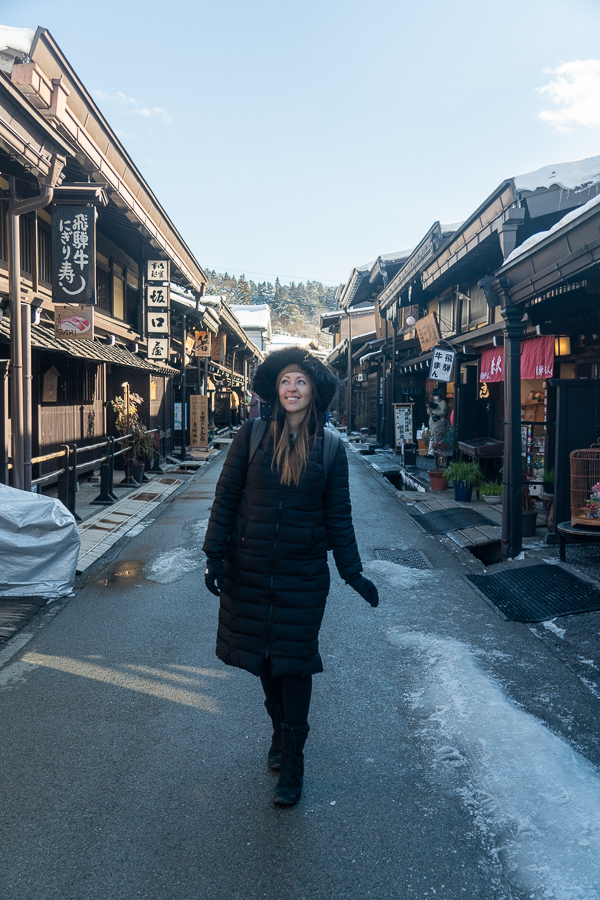 My only qualm with the parka is that while my son was warm and the zip-in surrounding him was really soft and well-lined, I was not as warm as I would have liked. If he wasn't on my chest, the parka wasn't actually warm enough for the sub-zero temperatures. While it's advertised as a warmth level four, I actually think the Khaki Sub Zero 3-in-1 was better insulated since it has more layers. And while I loved it with a baby in it, it looks slightly awkward without.
I think if I were pregnant — as this is meant to be a maternity jacket as well — it would work great, but now that my son has outgrown it, I've sold it on Poshmark.
Still, I adore the photos we have together from Japan, and think it was the perfect coat for that trip.
Seraphine 3-in-1 Babywearing Hoodie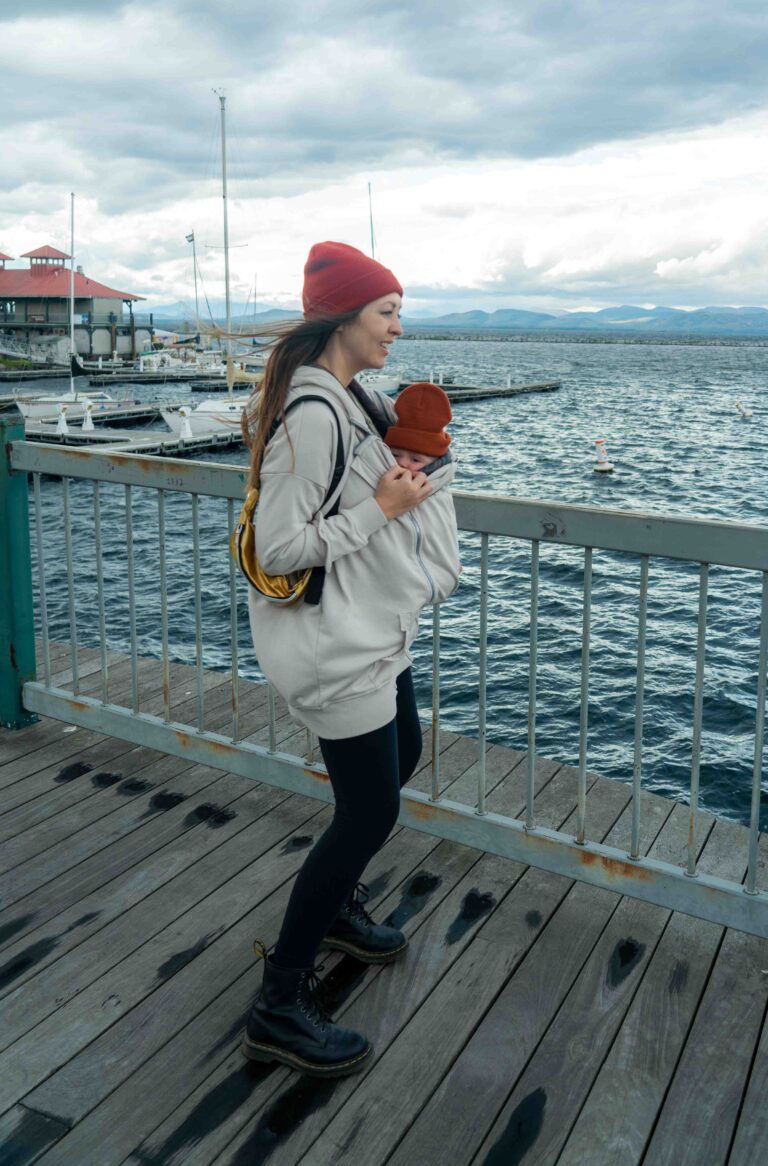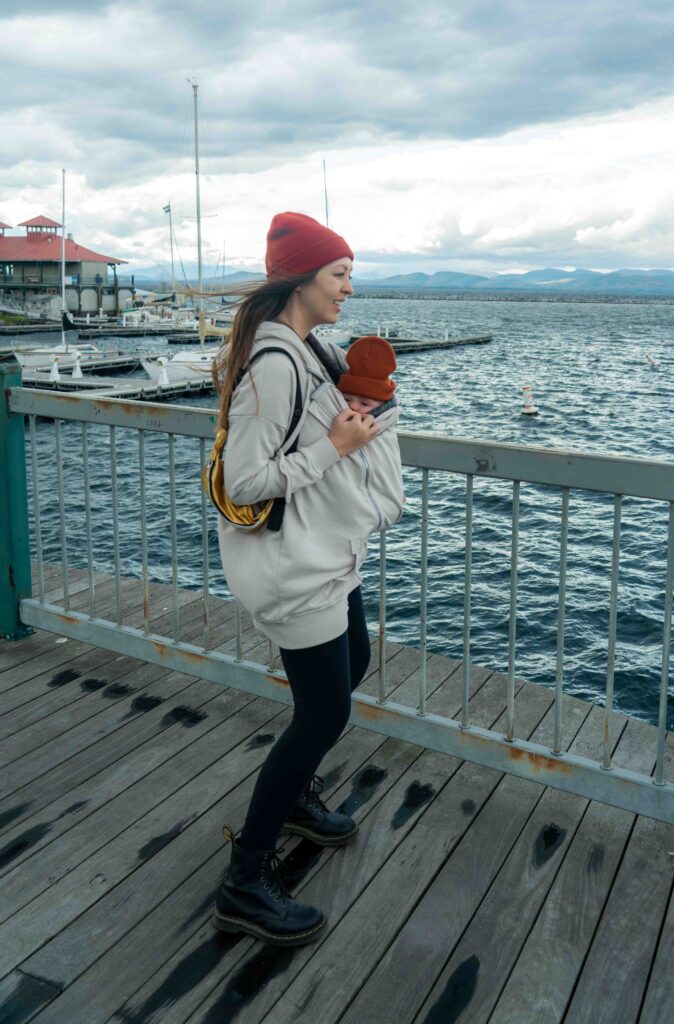 The 3-in-1 hoodie was the first Seraphine babywearing jacket I bought for the cooler fall temperatures that didn't yet require a full coat. I love how long it is and find the fit to be really nice. It's not an obvious maternity coat, so I am holding onto it even though I no longer need it for wearing my baby.
It's not appropriate for winter temperatures, but it does great on a crisp fall or early spring day. Or for those who live in California or places where it doesn't get as cold, this may be all you realistically need.
Final Thoughts
Having tested three of these, I can vouch that they are good quality set of hoodies and coats. The zippers worked without getting snagged, the styles are cute, the photos are adorable, and they worked really well for the scenarios that I needed them. The thing is, now that he's older, I just don't need them for my baby anymore.
That's the thing about these coats and hoodies – although they're so cute and useful for the maternity and babywearing years, they aren't as useful afterwards unless you really like the style, or can sell it secondhand (read more about how I buy and sell secondhand here).
Still, I think they're worth buying for the one or two seasons you may find them useful, or if you plan to have more than one child, you'll get way more use out of it and then it's absolutely worth buying. Although they're pricey, they often go on sale, so keep a look out and remember, if you keep it in good condition, someone else may want to buy it when you're done!
*Some links in this post are affiliate links that support us at no extra cost to you when you purchase through them. Everybody wins!