Ergobaby Metro vs. Babyzen Yoyo, Which is the Better Travel Stroller?
I've been testing travel strollers ever since my son turned 8 months old. I knew that I wanted something that could fit in the overhead bin, and maybe even down those narrow airplane aisles.
I've tried 5 different compact travel strollers now, and these two are the most compact I've found. While others might be just a few centimeters too big to fit in the overhead bin on smaller planes, these two have always worked.
So which is better between the Ergobaby Metro and the Babyzen Yoyo? Here are my honest thoughts after using both:
Ergobaby Metro vs. Babyzen Yoyo Specifications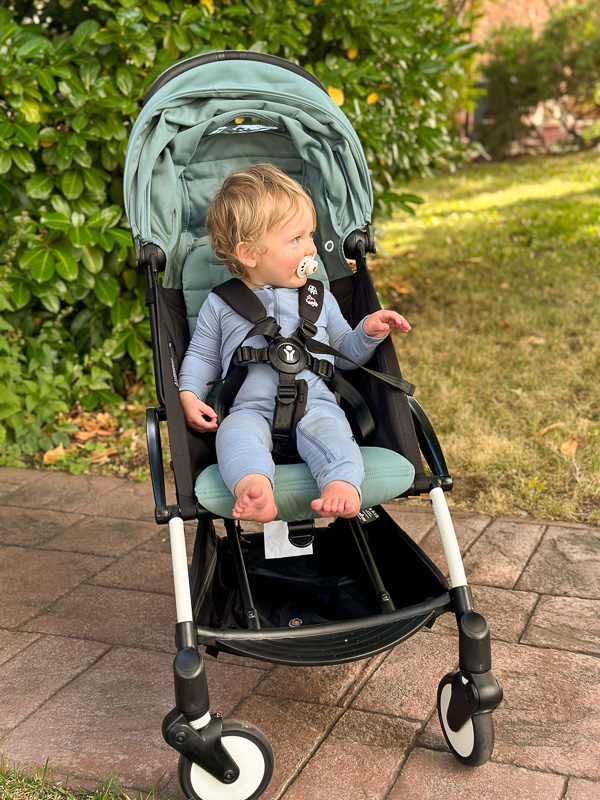 Babyzen Yoyo:
Folded dimensions: 20.5 x 17.5 x 7.25 in
Unfolded dimensions: 34 x 41 in
Stroller weight: 13.8 lbs
Max baby weight: 45 lbs
Storage capacity: 11 lbs
Folding ease: 6/10
Comes with rain cover: No
Color variety: Decent
Warranty: 2 years
Polyester fabric
Cost: $499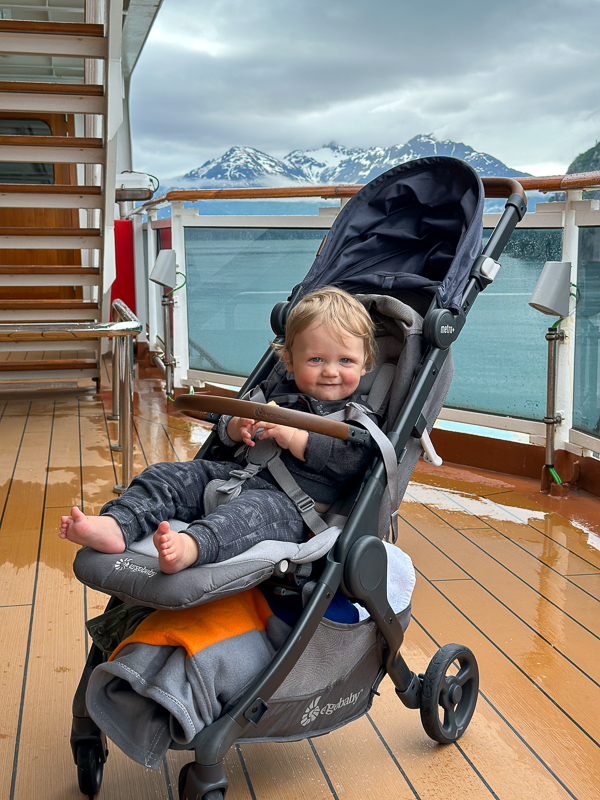 Ergobaby Metro+
Folded dimensions: 21 x 18 x 10 inches
Unfolded dimensions: 17.5 x 34 x 38 in
Stroller weight: 18.1 lbs
Max baby weight: 50 lbs
Storage capacity: 11 lbs
Folding ease: 5/10
Comes with rain cover: Yes (Deluxe)
Color variety: Decent
Warranty: 2 years
Polyester fabric
Cost: $299/$399
The Ergobaby was provided to me for free to test, and the Babyzen sort of became free when it arrived broken, I was refunded, and I glued it back together and it still worked. So techincally, these were both free strollers, but that has not impacted my feelings towards either one.
Between the two travel strollers (of maybe a dozen strollers that will fit in the overhead bin of an airplane), these are the two I've found that are truly the most compact.
The Babyzen Yoyo is probably the most compact I've tried. It's the lightest and it folds up the smallest. It's also the one that all of the airlines seem to know. When we get questioned about bringing a stroller onboard, they almost always ask, "is it the babyzen?" which seems to get the automatic green light.
While the Yoyo does fold up slightly smaller than the Metro, both will fit in the overhead bin even on the smaller planes with 2 seats per row. It's really the length and width that matter, and both are small enough in that regard.
Weight-wise, the Metro is the heaviest travel stroller we have. That's not entirely a bad thing. I feel more comfortable strapping our diaper bag to the handles on this one since it's a bit heavier and sturdier, and unfortunately the Yoyo has a curved handle which makes that impossible.
Ergobaby Metro vs. Babyzen Yoyo Price
You may have noticed a big difference between the two strollers not just in weight, but in price. The Ergobaby Metro is much cheaper. Even the Metro+ Deluxe, which comes with an additional lap bar, a bigger storage area, comes with a cup holder, and uses more premium materials, is $399 as opposed to Babyzen's $499.
The Metro also comes with a rain cover and has a foot rest, which you must buy separately for the Yoyo.
Ergobaby Metro vs. Babyzen Yoyo Fold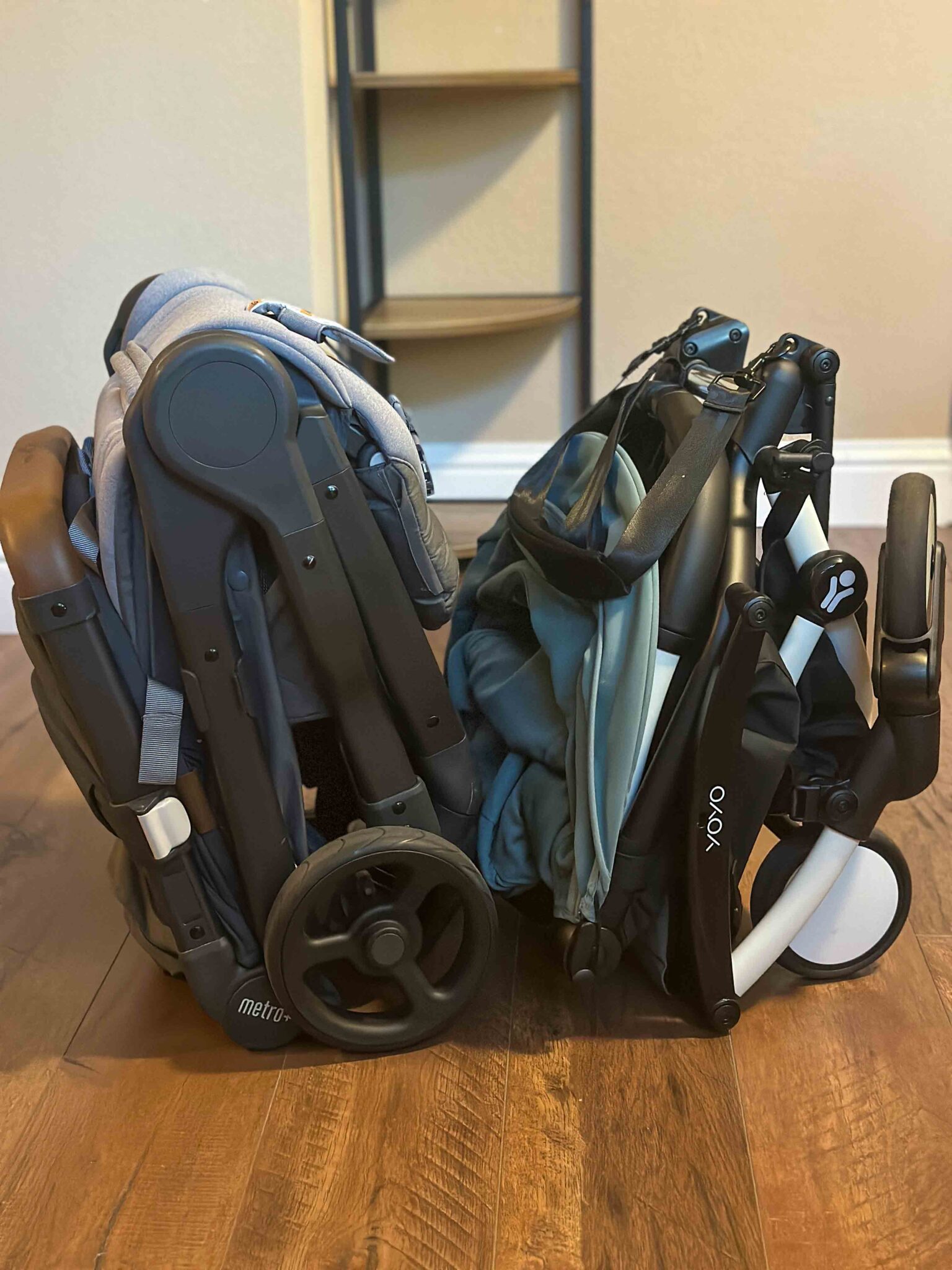 Unfortunately the fold on both of these is annoying and more involved than I want it to be. When flying with a baby, it seems like you never have enough hands, especially in the TSA security line. I made the mistake of taking the Ergobaby when I was traveling solo with my baby and since it's not a one-handed fold, I had to put him down on the ground to close it up. This presented problem after problem and made things more stressful than they already were.
Partially it's my fault for not practicing more with how to close it before I went. Now I can do it quickly, but at the time, I was cursing the stroller. If I were traveling with my partner and baby, I might still opt for it since it's truly small enough to fit in any overhead bin, though. It's also narrow enough to fit through the aisle of an airplane, which the Joolz Aer is not.
The Babyzen Yoyo is also not a one-handed fold. It's slightly less complicated than the Ergobaby, but only slightly. Neither one is all that bad once you get the hang of it, but neither one can be closed while holding your baby in the other hand, either.
The biggest downside of the Yoyo fold is the wheels facing in different directions, which basically dooms you to getting your shirt dirty. It does, however, have a built in shoulder strap, which the Ergobaby does not.
Ergobaby Metro vs. Babyzen Yoyo Canopy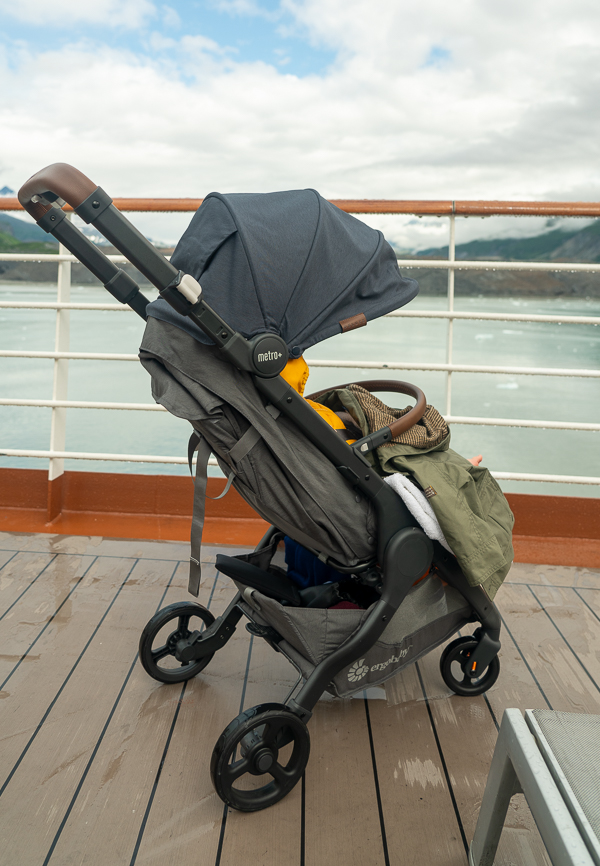 This is my other issue with the two strollers. I don't love the canopy on either one. The Ergobaby would almost be the perfect travel stroller if the canopy weren't so narrow. On our cruise to Alaska, thankfully I didn't worry as much about the sunshine, but the Ergobaby wouldn't be the best option in a super sunny and hot place where the canopy cover is really important. We left it at home when we went to Bali.
The Babyzen Yoyo canopy unfortunately isn't much better. It's wider, but it curves in at the bottom, which my son doesn't like. He's constantly leaning forward in order to see. This is my biggest qualm with the Yoyo as well.
In the canopy department, the Joolz Aer wins. It's wide and has great coverage.
Ergobaby Metro vs. Babyzen Yoyo Storage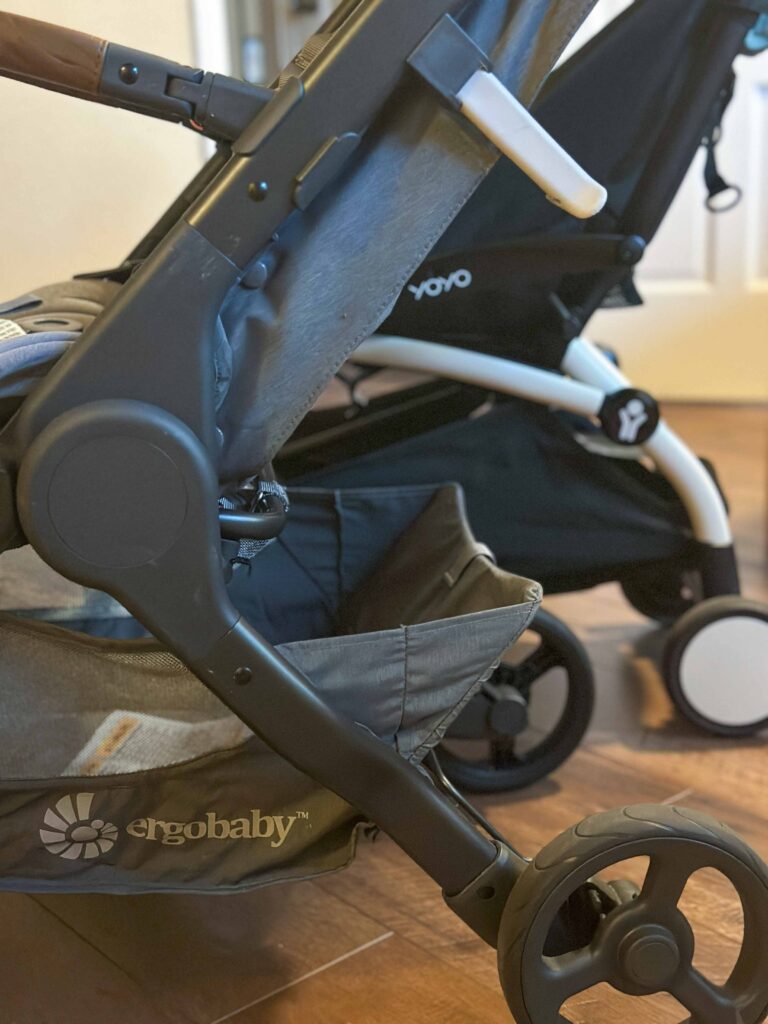 The under-seat storage is definitely bigger on the Ergobaby Metro+ and is even larger and expandable on the Deluxe. This stroller has the largest under-seat storage of any travel stroller that we have.
It's still not quite big enough for our diaper bag backpack, but it was large enough to store a blanket, snacks, two water bottles, and a small purse, pictured above. The Yoyo storage is still decent, and more in line with what we have found with other lightweight travel strollers. You'll notice that the Yoyo is much narrower at the back and with a smaller wheel, which really drives home for me how compact it is.
Ergobaby Metro+ vs. Babyzen Yoyo Recline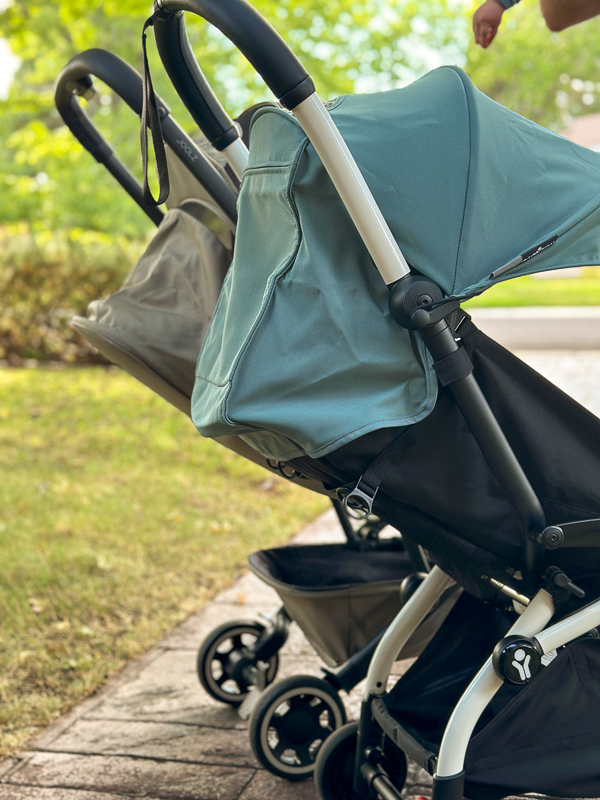 The recline is deeper on the Ergobaby Metro+ and will go nearly flat. This, coupled with the extendable footrest, makes for a comfortable sleeping experience for my son. I love this feature and it is one of my favorite things about the stroller. In the photos above, you'll see the babyzen vs. the Joolz Aer on the right, and compared to the Metro+ on the left. There's really no competition between any of them – the Ergobaby reclines MUCH more.
There's also a flap cover over the back that can be lifted for breathability. This makes the stroller newborn-appropriate, and you can also purchase adapters for a car seat.
The Babyzen Yoyo recline is not as far. This and the lack of footrest makes napping a bit harder for my little guy, though you can purchase the footrest separately.
You can also purchase a separate bassinet or newborn kit for the Babyzen (read more here), as well as adapters for various car seats.
Ergobaby Metro vs. Babyzen Yoyo – Who Wins?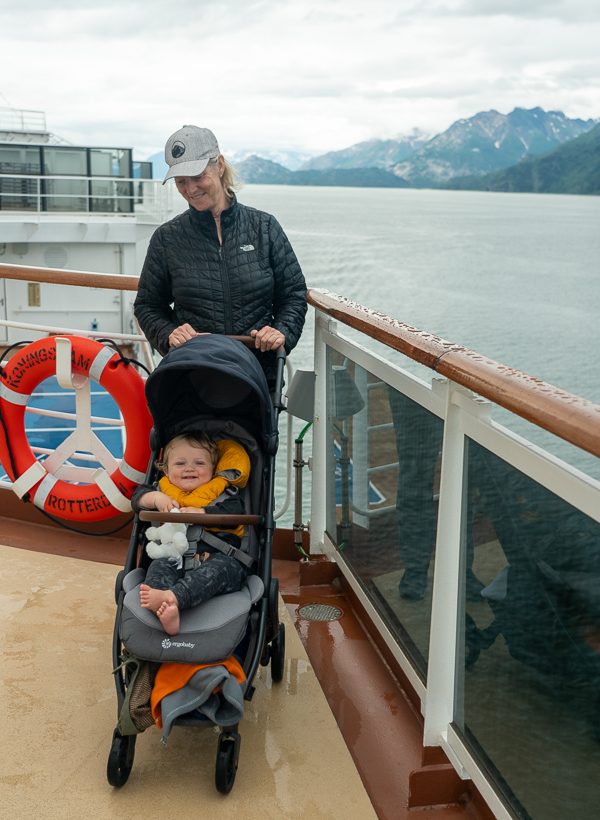 For me, the Ergobaby Metro+ and especially the Deluxe are the better stroller. There's more storage space, the footrest is included, there's a better recline, and it's much cheaper.
The advantage of the Babyzen is that it's better known by airline staff and truly is one of the smallest travel strollers on the market, but that isn't a big enough reason for me to want to use it over the Metro. The canopy is also slightly wider, and as mentioned before, this is my biggest qualm with the Metro – the canopy is just too narrow to provide enough coverage in particularly hot or sunny locales. However these two strollers are so nice and compact, they are both ultimately great to travel with, they're just not perfect for everywhere.
This is how I've ended up with several travel strollers for different scenarios. However the good news is you can often find great deals on secondhand or open box strollers on GoodBuy Gear or Rebelstork if you travel enough to need multiple strollers as well.
*Some links in this post are to affiliate links that support this site at no extra cost to you when you purchase through them. Ergobaby provided me a free stroller, however it does not impact my feelings in this comparison.