Is the BabyBjörn Bouncer Seat Worth It? A Mom's Honest Review
Out of all the baby gear we own, the BabyBjörn bouncer seat is the one item I tell every expecting parent to add to their registry. It folds up for transport in a cinch, and it's been a happy spot for our two babies to lounge in.
In this comprehensive BabyBjörn bouncer review, I'll discuss how this seat has been helpful for our family and why I think it's worth the expense.
The BabyBjörn Brand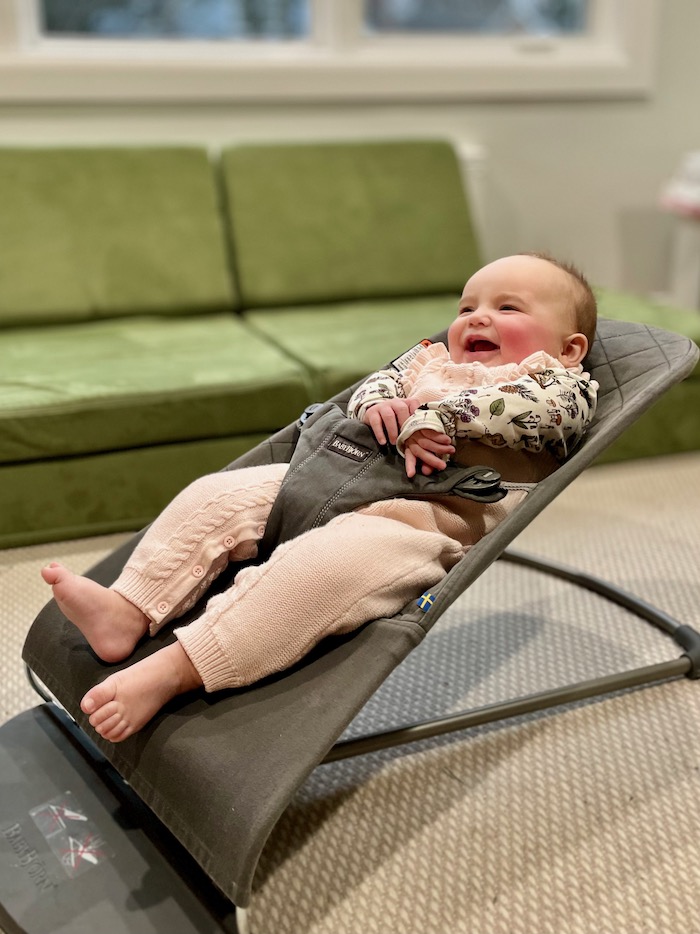 Björn Jakobson and his sister-in-law Elsa Jakobson founded BabyBjörn in 1961. Their first product was a popular baby bouncer seat, which was similar even then to its current design.
Babybjörn continues to be a family-owned company. Although the US is its biggest market, its home office is located in Sweden.
The brand prides itself on making products that focus on baby safety and ergonomics. In addition to its famous baby carriers and bouncer seats, BabyBjörn also makes baby and toddler kitchen and bathroom gear, as well as a cradle and travel crib.
The Skinny on the BabyBjörn Bouncer
The BabyBjörn bouncer is a simple, light, and small ergonomic bouncer seat for babies. With an easy-to-use folding mechanism, it collapses flat for storage.
It comes in the Bouncer Bliss model or the Bouncer Balance Soft model, or as a bundle with a toy included. Given its two modes of use, it's suitable from birth until toddlerhood.
The brand claims it runs on pure fun, without plugs or batteries, and honestly it's true. It's impressive to see how much little babies will kick their legs to keep this thing rocking.
Our BabyBjörn Bouncer Experience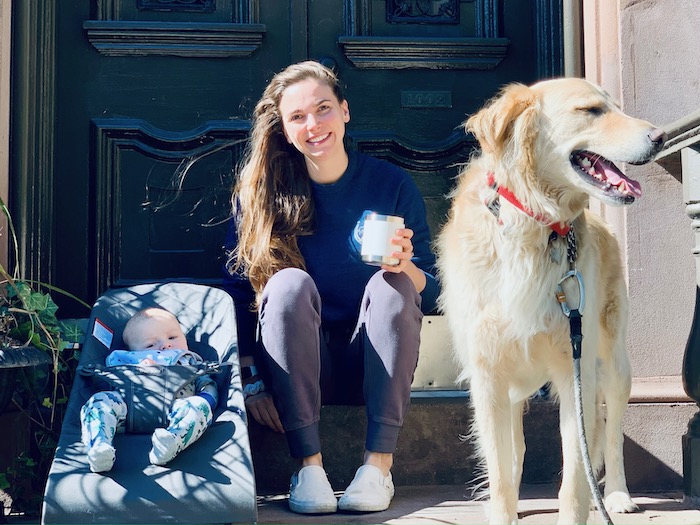 I can't explain to you how helpful this chair has been for our family. I have two kids: a toddler son and an infant daughter. My son struggled with reflux as a baby, and he didn't like to lay flat on his tummy or his back. There were a few baby products that really helped us keep him relaxed when we couldn't be holding him, and the BabyBjörn bouncer was one of them.
Because this seat is so easy to move from room to room (and outside!), it gave my son a spot to play and be comfortable wherever we were at the time. It allowed me to rediscover the simple joys in life that all new moms cherish, like taking a shower, emptying the dishwasher, and — can you imagine — sitting to eat dinner while it's still warm.
Fast-forward two years, and along came our daughter last summer. She couldn't be more different from my son. At six months old, she never fails to return a smile, and she loves to play on the floor. Even though we don't rely on this chair quite as much as we used to, I still use it every day.
We take the BabyBjörn bouncer seat everywhere: plane trips across the county, road trips to grandmom's, dinner at a friend's house, a fire on the back patio, or coffee on the front stoop. It's one of my must-have baby gear items that's stood the test of time in our household.
BabyBjörn Bouncer Seat: Weighing the Pros and Cons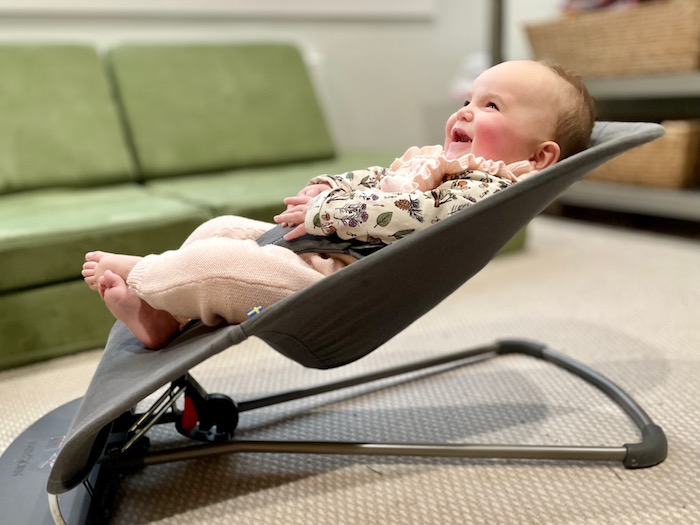 Here are some of the things I find most valuable about this bouncer, and a couple factors that parents might find limiting.
Pros
The seat folds completely flat without disassembling, for easy portability.
Use it anywhere. No batteries or outlets are needed.
A simple hammock seat with adjustable recline is comfy for babies of varying ages.
Cons (I have very few; I love this chair!)
It's expensive.
It's perhaps less comfortable for kids who want to sit up straight.
Toy accessories are limited.
Detailed Features and Specifications
Let's walk through the features that matter when you're deciding whether or not to invest in this innovative bouncer.
Cost
The price range of the baby bouncer market is wide, anywhere from $40 to $270. The BabyBjörn bouncer is at the top. It currently costs between $210 to $270, depending on the fabric and bundle you choose.
Although expensive, this chair is sturdy and durable. We've been using ours (nearly daily) for almost three years now between our two kids. It works just as well as the first day we used it, and it shows almost no wear.
Size and Weight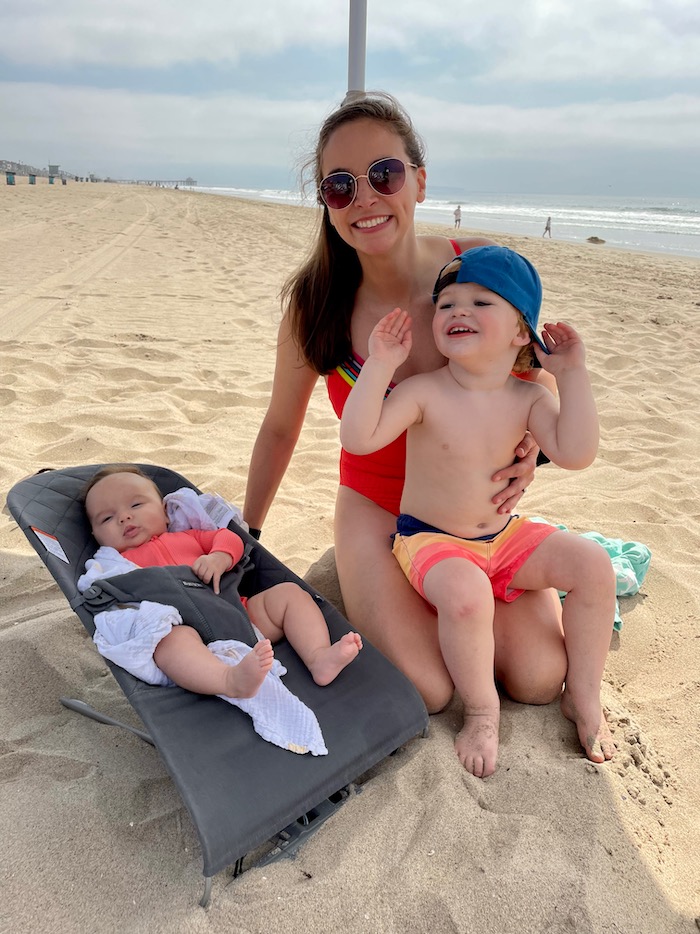 The BabyBjörn bouncer seat is light, weighing 4.6 pounds. It measures 15.5″ wide by 22″ high by 31″ deep when in the upright position, which is in the smaller range compared to most bouncers.
Anywhere we go, inside or outside, the BabyBjörn bouncer comes, too. Above you can see us using it on the beach outside Los Angeles, a long haul from our Boston home. Its size and weight make it easy to travel with, and we've taken it on flights and on road trips.
Portability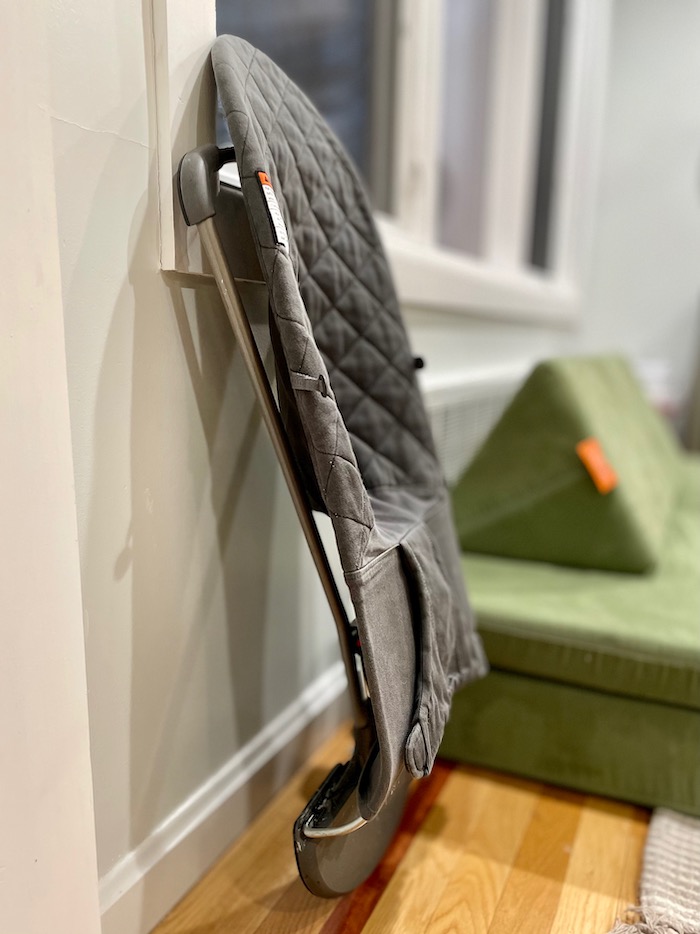 One of my favorite things about this chair is that it folds completely flat. A simple notching system under the seat allows parents to release the seat support and collapse the chair into its compact position. Its transport dimensions are 15.5″ by 4.5″ by 35″.
We fold the chair flat to lean it against the wall, out of the way, or pop it into the car trunk if we're driving to a friend's house. At a time when I feel like my house is being taken over by giant baby gear items, I'm thankful to have this chair that doesn't have to take up the whole living room when our baby isn't in it. We're also able to fit it in the bottom of our larger duffle bags for flights.
Bouncing Mechanism
If you walk down the bouncer aisle at any baby gear retailer, the BabyBjörn model stands out from the rest. Others are loaded with complex bouncing mechanisms, involving variable settings, batteries, and power cords.
The BabyBjörn bouncer runs simply on ergonomics and on the engine of your child. We learned from our two babies that little ones can learn to bounce themselves in the chair at a young age, probably around two months. The more they kick their legs, the more rewarding of a swing they get from the bouncer.
Age and Weight Range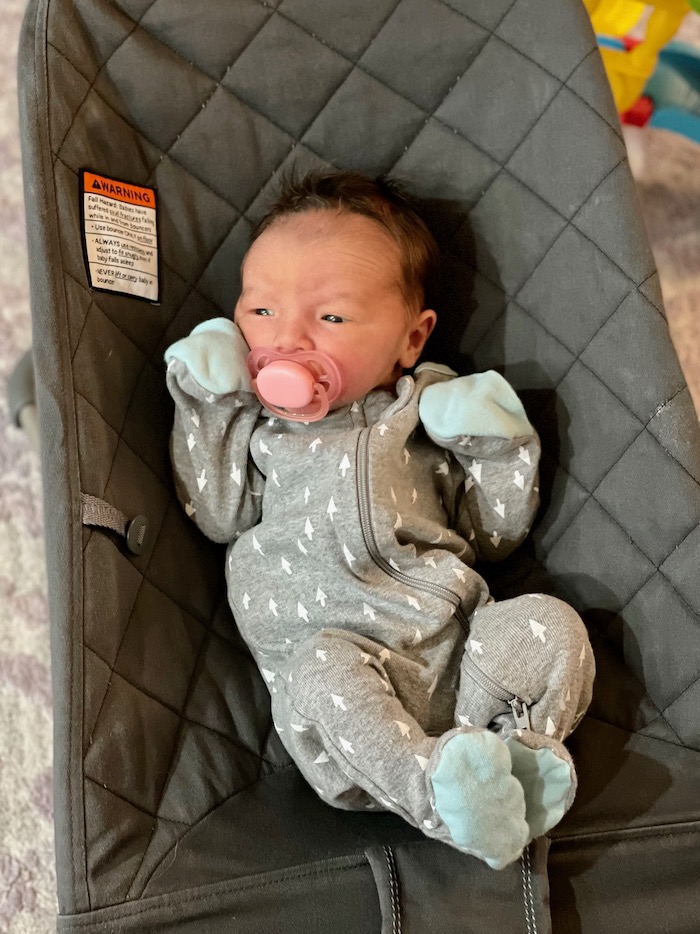 BabyBjörn brands its product as one that will serve your child from birth to two years old.
The maximum weight for the product as a bouncer is 20 pounds. After 20 pounds, you can turn the seat fabric around in order to change the product from a bouncer into a toddler seat. This mode is good for kids who can walk and sit on their own, and has a weight limit of 29 pounds.
We've found the BabyBjörn bouncer to be most useful from the newborn stage until our babies could sit at the table in an upright or clip-on seat, like the Inglesina Fast Table Chair (see my Fast Chair review here!).
No matter your baby's age, you should always fasten the harness when your infant is in the BabyBjörn. (I took the above photo of my daughter at just a couple weeks old, just after resting her in the seat before securing the harness.)
Fabric Care
Care instructions advise parents to wipe the frame with a damp cloth to clean it and prevent a buildup of lint underneath. Seat fabric instructions recommend washing it separately in warm water and hanging to dry.
With two babies eager to spit up on anything in sight, we wash our seat fabric constantly. I think I hung it to dry once or twice before losing patience and tossing it in the dryer. Spoiler alert: it turned out fine. I've done this many times now, and the chair still looks great.
Here's a helpful video from BabyBjörn that demonstrates how to remove and clean the seat fabric:
Aesthetics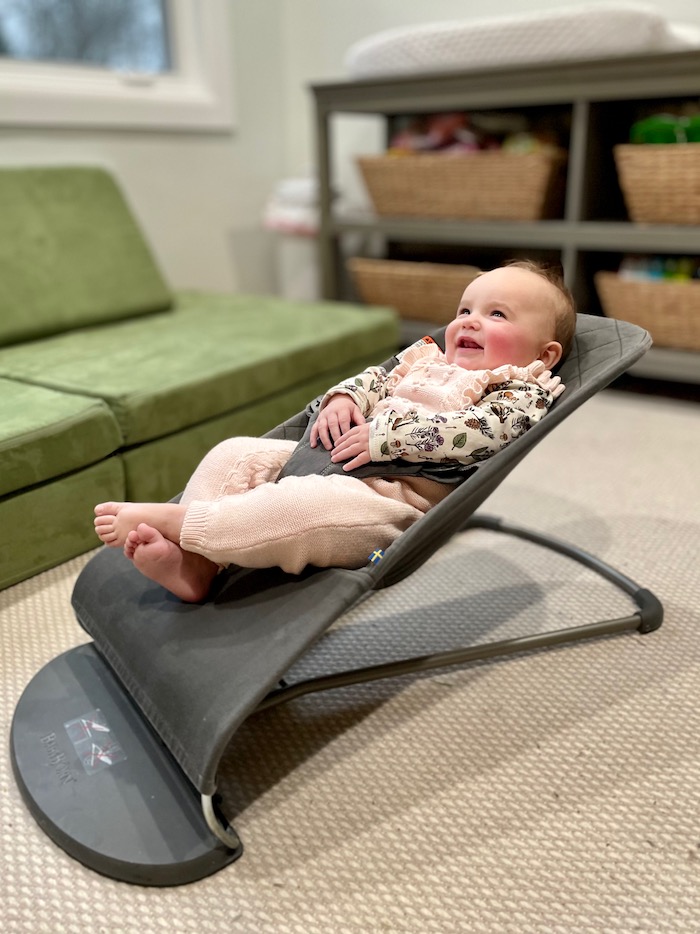 Because there are no motors and few toy attachments, the BabyBjörn bouncer has a streamlined design, with clean lines. The brand offers over 30 color choices to match the aesthetic of your home. The chair fabric comes in cotton, quilted cotton, jersey, or mesh styles.
Parts and Setup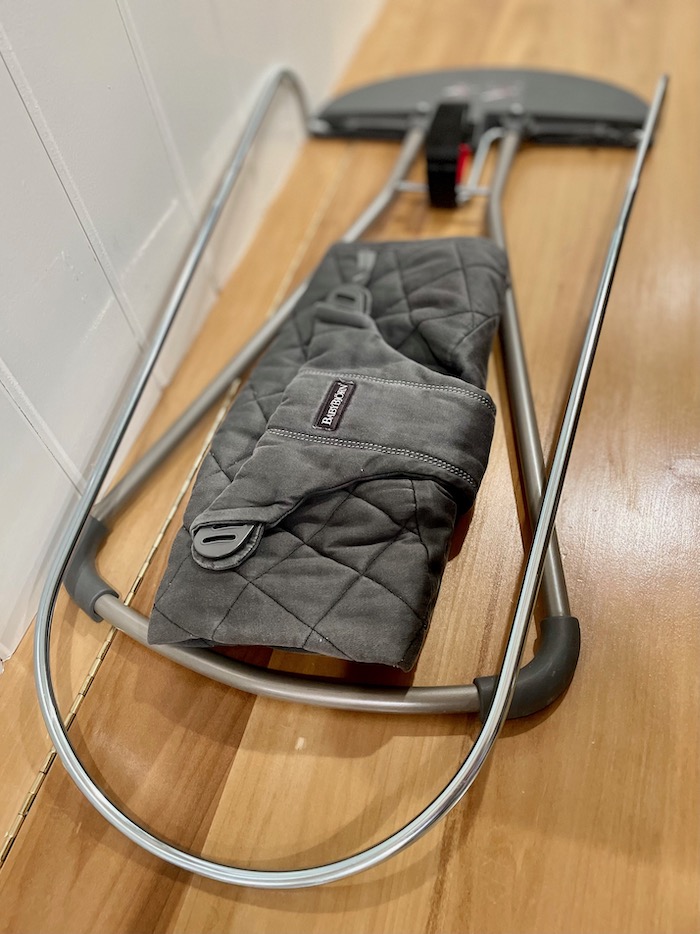 The BabyBjörn bouncer seat has a simple setup with two parts: the frame and the fabric. Unlike other bouncers, no complex assembly is required. The fabric detaches for cleaning by unhooking two elastic straps and sliding it off the metal frame.
Safety Features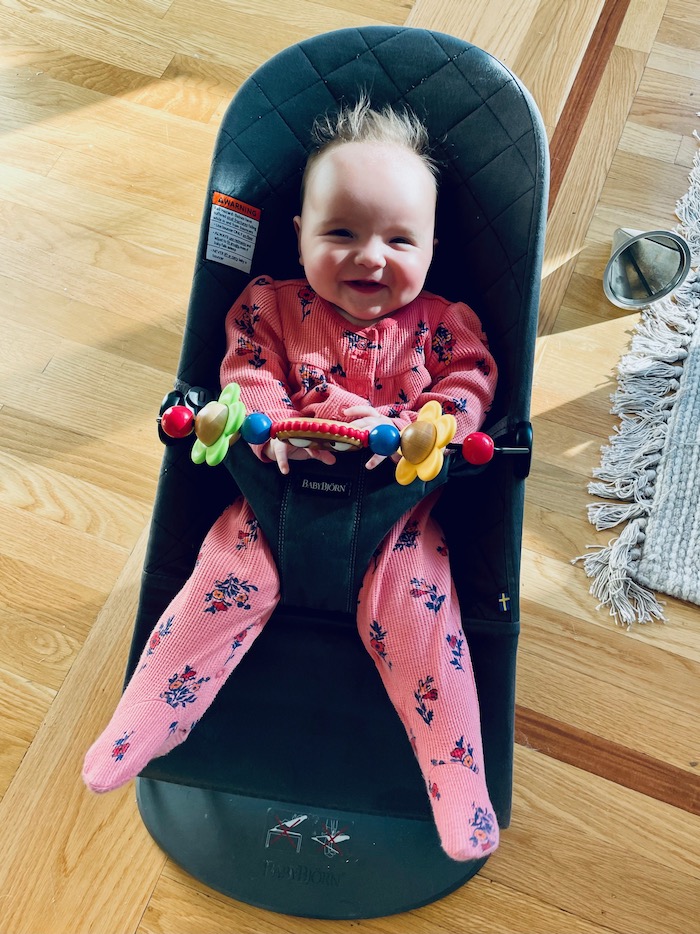 The bouncer seat has a safety harness to keep your child from slipping out of the chair. Parents can use two settings to fasten buttons on the side of the harness, depending on the size of your child.
Safety instructions for the seat make it very clear that parents shouldn't place the chair anywhere other than the floor. Parents also should not carry their infant while seated in the product.
Remember that the American Academy of Pediatrics has issued warnings to parents about the use of inclined infant seats. Inclined seats are not a safe spot for babies to sleep, and infants should never be left in bouncer seats without close supervision. Make sure you're following the guidance of your pediatrician and the safety warnings on your products to protect your little one as much as possible.
Accessories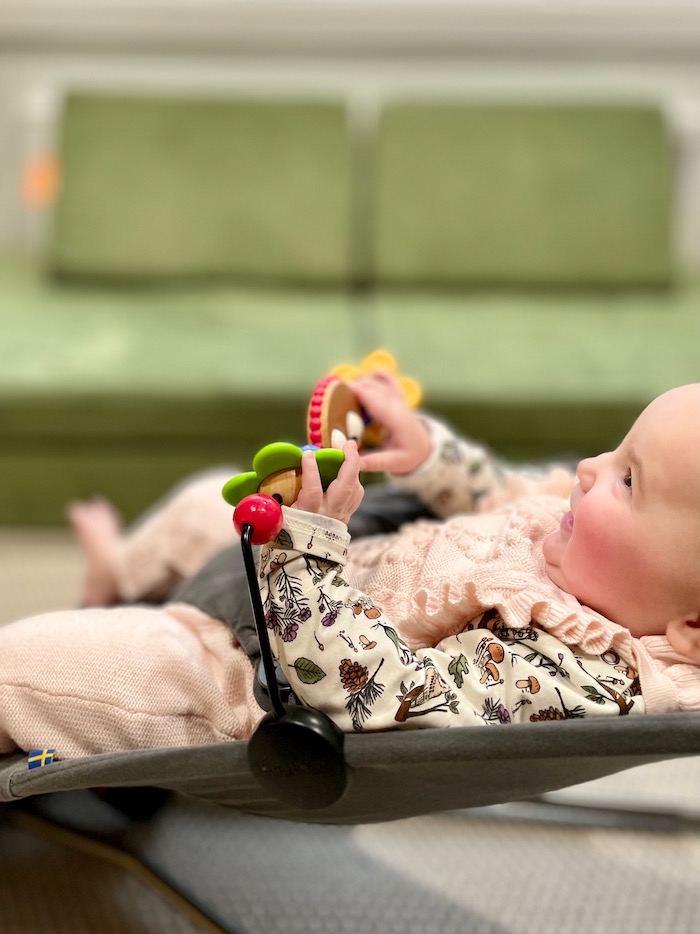 BabyBjörn sells three toy options. They attach to the chair in front of your little one and give them something to bat and spin.
We received our chair as a bundle with the googly eyes toy. Although it's bit odd-looking, both my kids love it. The brand also sells a similar-style toy with a flower and butterflies, as well as a plush option with three hanging critters.
If purchased separately, toy attachments range from $45 to $60. BabyBjörn also sells extra fabrics for your bouncer or a travel bag for $40.
Seat Style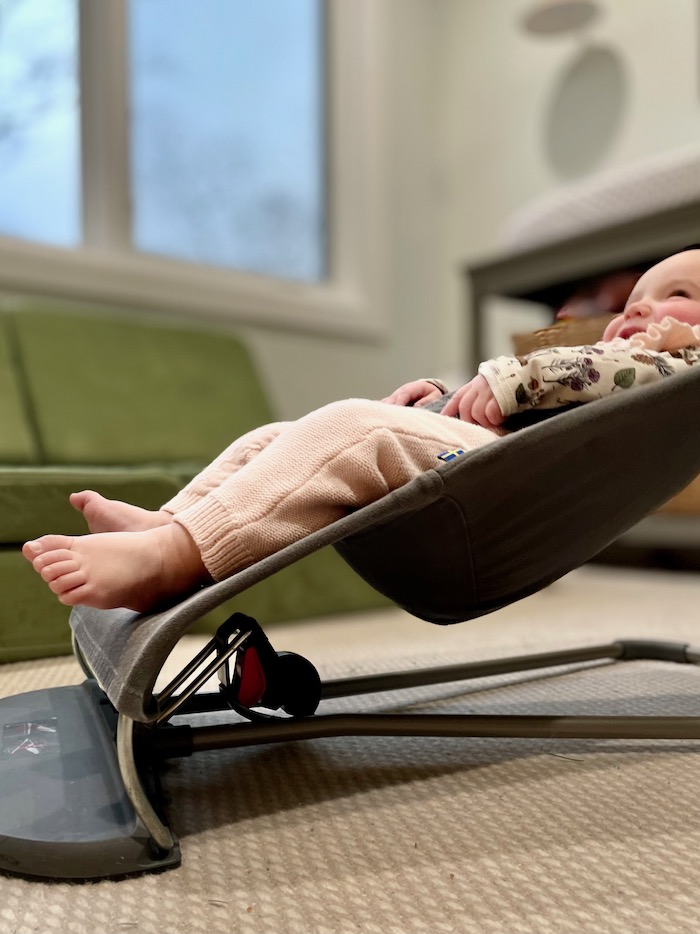 BabyBjörn advertises its chair as having an ergonomic seat for the baby. The chair has a hammock-style seat that seems supportive and comfortable for little ones from day one until around the time when they can sit independently.
Parents can adjust the chair among three reclining positions using a simple notching mechanism underneath. See how in the video below. The seat can provide your newborn a comfy spot to rest using the flattest position, or you can let your older baby see more of the room around them in the upright position.
Comparing the BabyBjorn Bouncer Seat Against Others in the Field
Baby Jogger City Sway 2-in-1 Rocker and Bouncer
The City Sway Rocker and Bouncer from Baby Jogger offers two vibration speeds, with bouncer and rocker options. The seat includes a removable toy bar and travel bag. It weighs nine pounds, which is significantly more than the BabyBjörn, but it does fold down flat for easy transport.
The Baby Jogger City Sway has adjustable calf support, an infant insert, and breathable fabric to keep babies comfy. Like the BabyBjörn, parents can set it to one of three recline positions. The City Sway seat costs about $230.
Bright Starts Playful Pinwheels Portable Baby Bouncer
Bright Starts' vibrating bouncer seat has excellent reviews from parents and costs less than $40. Included toys spin around to provide entertainment for your little one in any room.
The Playful Pinwheels Bouncer doesn't collapse for travel, but it does disassemble and only weighs 3.6 pounds. While some parents might find the colors to be a bit loud, this bouncer is a great budget pick.
Ingenuity SmartBounce Automatic Baby Bouncer Seat
The SmartBounce bouncer seat from Ingenuity comes in neutral colors, with soft fabric and cute toys to hang over your baby's head. The seat has an included newborn bolster to provide extra support from day one.
This bouncer is battery powered to provide 30 minutes of continuous bouncing motion while nature sounds, white noise, or one of twelve songs plays. The SmartBounce seat does not collapse for travel. It costs about $85.
We have some family members who own this seat, and my infant daughter has enjoyed a few short stints in it while we've sat down for dinner together.
The Upshot: The BabyBjörn Bouncer Seat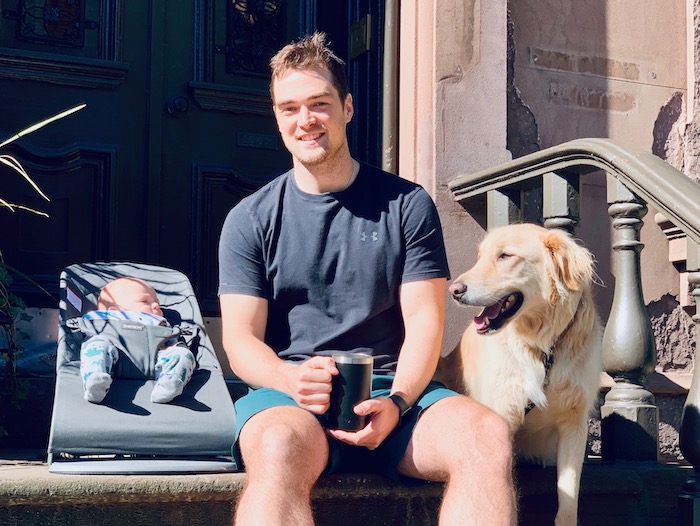 How much you rely on baby seats as a new parent may depend heavily on the temperament of your baby. If you have one that doesn't love to lie and play or have tummy time (although it's important!), this bouncer might be their new favorite spot. Even for babies who are happy all the time, the BabyBjörn bouncer is a great place for them to lounge with the family inside and outside.
The BabyBjörn bouncer seat is sturdy and durable, and it truly doesn't show wear and tear (if anyone's did, it would be ours!). It's perfect for large homes, small spaces, and travel. Even though it's pricey, it's a high-quality product, and you can't go wrong giving this seat to a new parent in your life.
Pin me for later: